When you enter the temporary exhibition gallery at the Albuquerque Museum, you're immediately surrounded by visual contrast.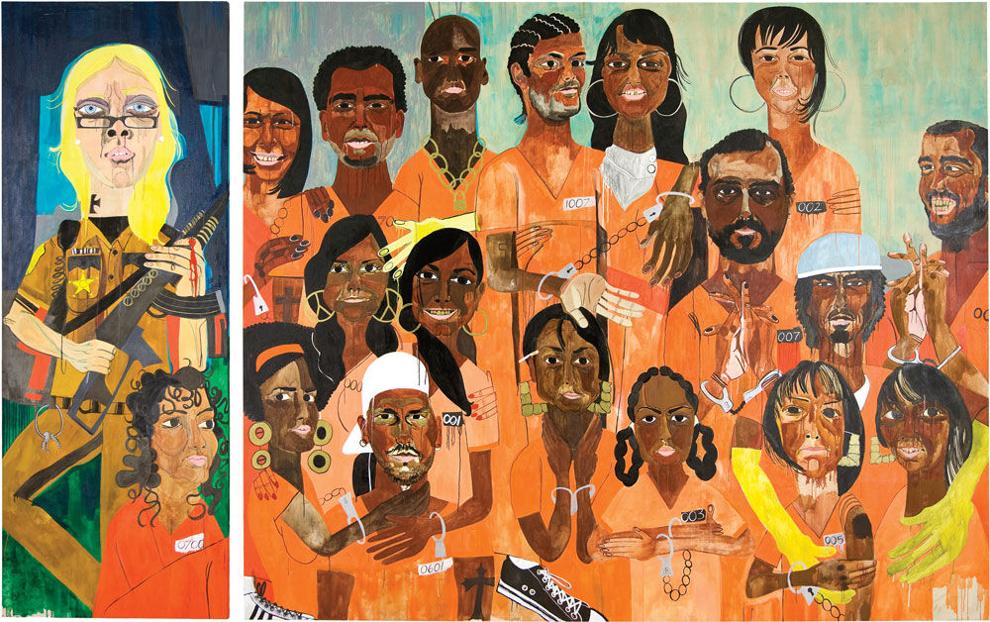 Take Nick Cave's "soundsuits." Typically handmade from a startling variety of materials — from buttons and sequins to feathers, horsehair, bird and rabbit figures, jack in the boxes, and metal globes — they often swallow the figure that wears them. Here, in Soundsuit (2008), a towering superstructure surrounds a person in tights to their waist. Enormous flowers at once familiar and strange festoon the cage. It is an explosion of color, pattern, movement, and meaning, if only you had Cave's personal cheat sheet.
Not far away is Rashid Johnson's black-and-white portrait. In contrast to Cave's work, Johnson's image is a study in simplicity. In The New Negro Escapist Social and Athletic Club (2008), an inscrutable Black man in a houndstooth jacket, tie, and button-down shirt stares at the viewer. Unlike his neat attire, his hair is softly wild, like a continent that sprawls the world. Around him, swirls of smoke create a kind of moody mystery. Where (and who) is he and where (and who) are we?
Taken together, the soundsuits and the portrait make for a contemplative, conflicting, confounding, and transportive introduction to 30 Americans. The traveling exhibition will be on display at the Albuquerque Museum until Jan. 3.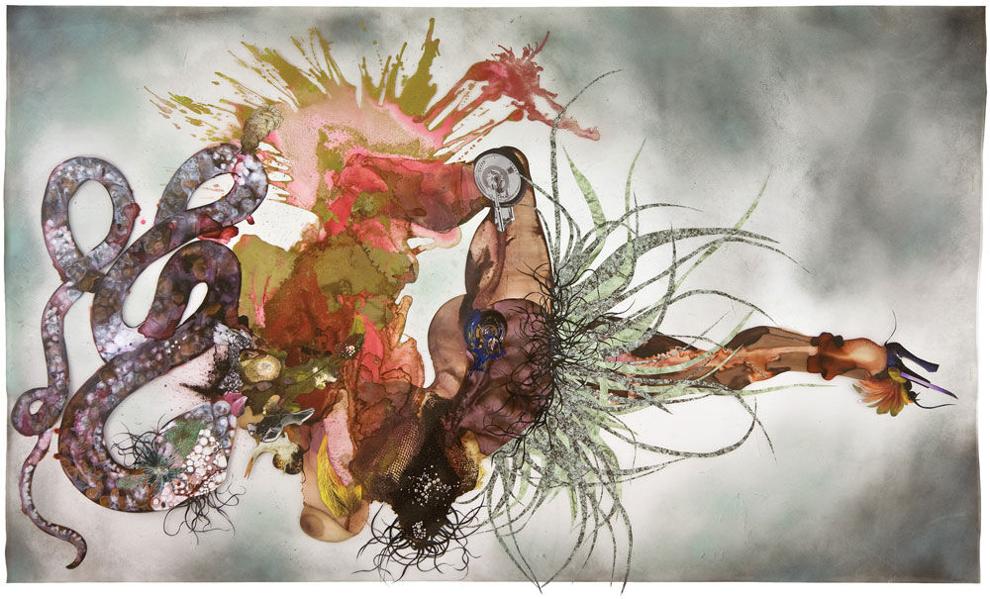 Johnson, a trained photographer and accomplished artist in a variety of mediums, uses the portrait to experiment with the notion of belonging and membership while forcing race and identity to the forefront. Meanwhile, Cave, a Chicago sculptor and performing artist, uses his soundsuits to cover identity. "This sculptural form is based on the scale of my body," Cave says in the exhibit's catalog. "It creates a camouflage, masking and forming a second skin that conceals race, gender, and class, forcing one to look without judgment." Their pieces introduce the themes of racial expectations that can be found throughout the exhibit. Collectively, the artists in the exhibit challenge our perspectives of the Black experience in America.
"Certain exhibitions get a reputation as being ahead of their time, and that is certainly true of this survey of work by 30 contemporary African American artists that has been on tour since 2009," wrote a reviewer in The New York Times.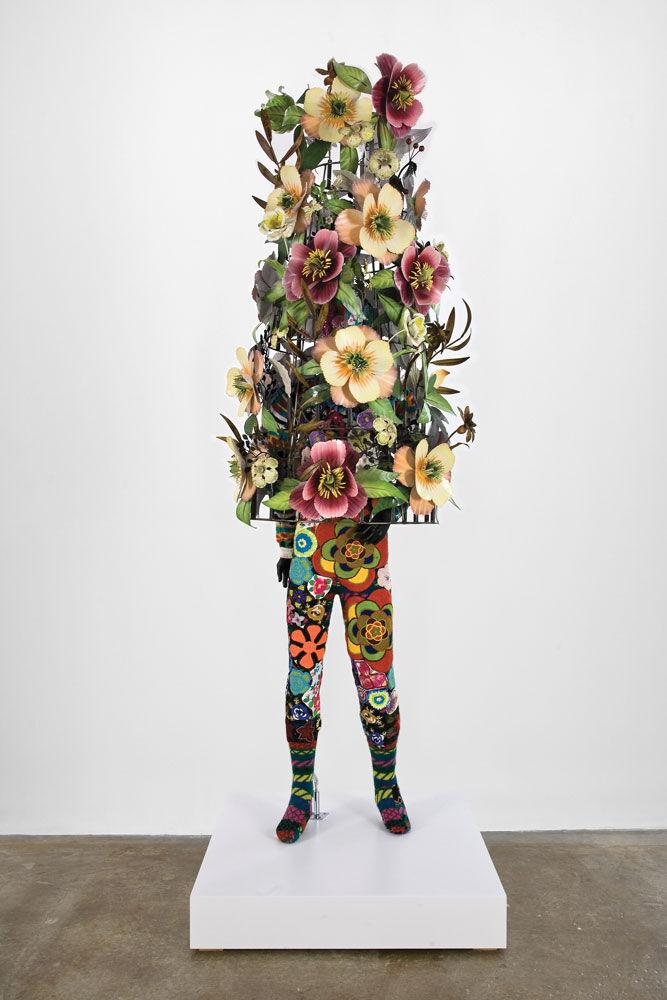 Originally assembled from the Rubell Family Collection in Miami, 30 Americans is a collection of paintings, photographs, mixed-media displays, sculptures, and neon from 30 African-American artists made over the last five decades. The pieces almost all explore the African American experience in the United States, but it would be a disservice to the artists to claim that the art is all political in nature. Rather, many of the artists experiment with imagery of Blackness and confound it with Caucasian expectations; almost as if they are subverting their commentary before their statements are finished.
This exhibition didn't really need to be political in nature, because politics have informed the viewer's perspective on this art from the moment the collection premiered in Miami in December 2008, just months before Barack Obama's inauguration as president. More than a decade later, the art is an implicit conversation with the Black Lives Matter movement and the drive to remove systemic oppression in the United States.
Neither the staff of the Rubell Museum nor the Albuquerque Museum planned the exhibition around these momentous events. The Albuquerque Museum began to make arrangements for 30 Americans two years ago. The Rubell family had collected art for decades and moved to Miami from New York in 1993, in part so that they could find more affordable exhibition space for their collection. The seed of the idea for an exhibition of African American art solidified around 2005. "My son came up with the title, 30 Americans, and I think that was the clincher," Rubell says. "Jason [Rubell] came up with that name because the Museum of Modern Art [in New York City] for years had these new American exhibits, 15 Americans, [featuring] young emerging artists." Most, if not all, of these young talents were White men. The 30 Americans exhibit presents a different vision of art in the United States, but not one meant to run the gamut.
"This is not a comprehensive history of African American art, but what it is [is] a really powerful cross section of works by some of the most important artists working over three generations of African American culture," says Josie Lopez, curator of art at the Albuquerque Museum. The museum selected the pieces from the Rubell Museum's collection, and it includes Jean-Michel Basquiat and Kehinde Wiley, who painted Barack Obama's official presidential portrait. Also included are works by Nina Chanel Abney, Robert Colescott, Lorna Simpson, Kara Walker, and Carrie Mae Weems.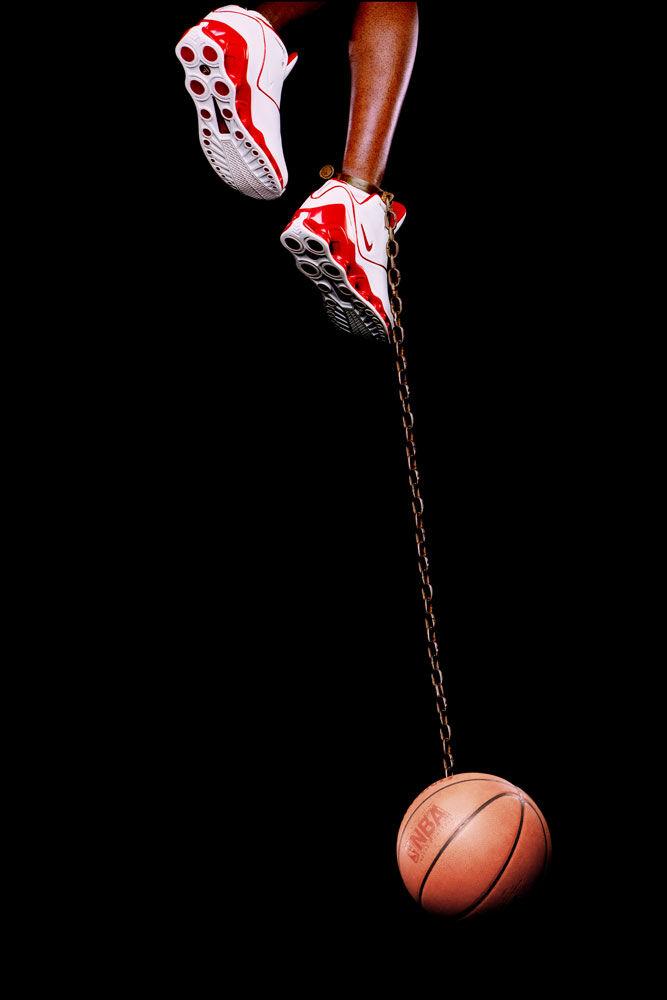 The exhibition is divided into six sections that explore the underlying ideas of work on display. Sections include race relations, economic and social inequality, urban life, slavery and segregation, and depiction of the body.
Although much of the work in the exhibit is provocative, it isn't meant to be comprised of a singular purpose or theme. Mera Rubell believes that the art in 30 Americans is representative of the power of collecting. "We always collected the most compelling art that we could find," she says. "We don't believe that the greatest art is in the past, we believe that it's always going to happen today and tomorrow." ◀