The landscape paintings of local artist Michael Scott are equally familiar and strange. Familiar, because many of us have experienced nature in all its untrammeled glory at some point in our lives, and strange because we spend so much time separated from it — or at least we live under the illusion of separation. Far from being merely idyllic or pastoral, Scott's paintings feel vital, charged with energy and spirit. They're alive.
There's a common thread running through most of the paintings on view in his current exhibition, Fire and Ice (through Feb. 20) at Evoke Contemporary (550 S. Guadalupe St., 505-995-9902, evokecontemporary.com): America's national parks. These protected lands, long the subjects of many a landscape painter and landscape photographer, are designated areas for conservation, where nature runs its course and animals roam free. Scott, who's spent the last decade of his career focused on the landscape in national parks across the country, seeks to impart to the viewer something of the transcendent power of such places, whether it's by depicting the dramatic site of erupting geysers in Wyoming's Yellowstone National Park or the pale blue sky and salmon-colored clouds over Oregon's Crater Lake as the day wanes.
"What I try to do is give the viewer an entry into the timeless qualities of those magical parks and educate them about why they became such special places," says the 68-year-old. "The experience is a personal narrative. I don't impose that onto viewers. I allow them an entry point where they can find their own experience within it."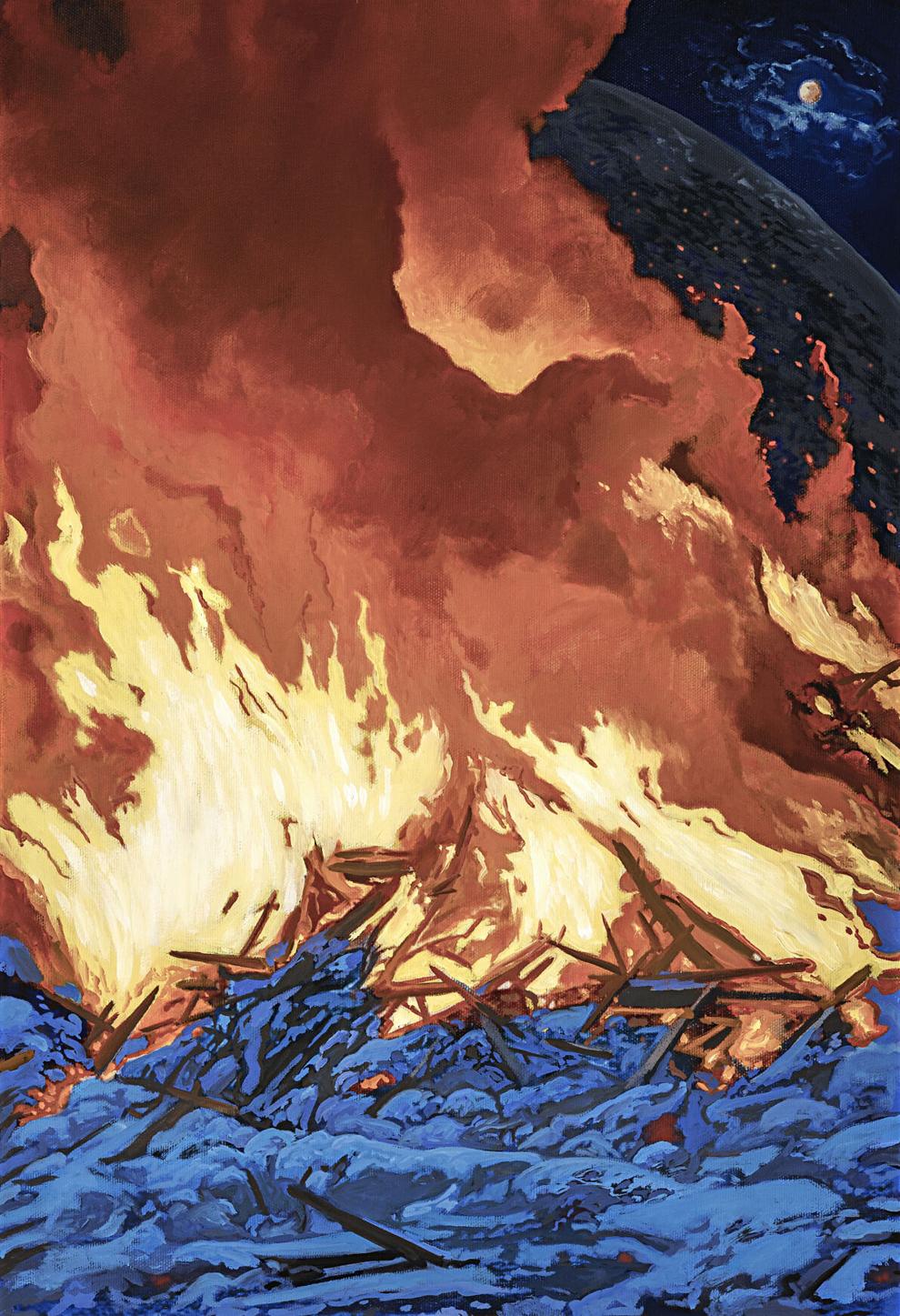 Scott doesn't provide viewers with a didactic narrative, by any means. He "educates" by capturing in paint the essential qualities of the landscape — the elemental forces of earth, air, fire, and water — as they conspire to create a scene, untamed and driven by forces greater than man's.
Several paintings in Fire and Ice, an exhibition of more than 40 of Scott's oils on panel, show its titular elements in consort. Fire and Ice, study #1 (20 by 13.75 inches), for instance, depicts a great conflagration rising up from stacked wood amid blue winter snow, all illuminated by a distant full moon. Many such smaller paintings, which served as studies for larger works made in the studio, were field studies, made on location. In some, such as Fire Orb, study #1 and Fire Orb, study #2, flames are depicted running rampant, ravaging forests and bathing them in angry red and orange light. For these field studies, however, unlike most of the other smaller works, Scott was not going out into a raging forest fire and calmly whipping out his paints and brushes. But he has driven through such fires, "and that activated my imagination to create these," he says.
What draws him to such an ornery element is its ephemeral quality. "There's this unusual psychology behind fire that, to me, is fascinating," he says. "It's beautiful and seductive but can be very dangerous. It's a life force, and it dances in front of you. If you sit in front of your kiva fireplace, it offers a respite where your imagination can grow and dream."
Scott is just as intrigued with the transient geysers at Yellowstone National Park, which he depicts as though they were almost figurative, rising vertically like phantoms from the earth. He often sets such momentary bursts of primal forces against a backdrop of the sun or the moon, seeing in the interplay between these momentary bursts of earthly power and ever-present celestial bodies, a metaphor for constancy and change.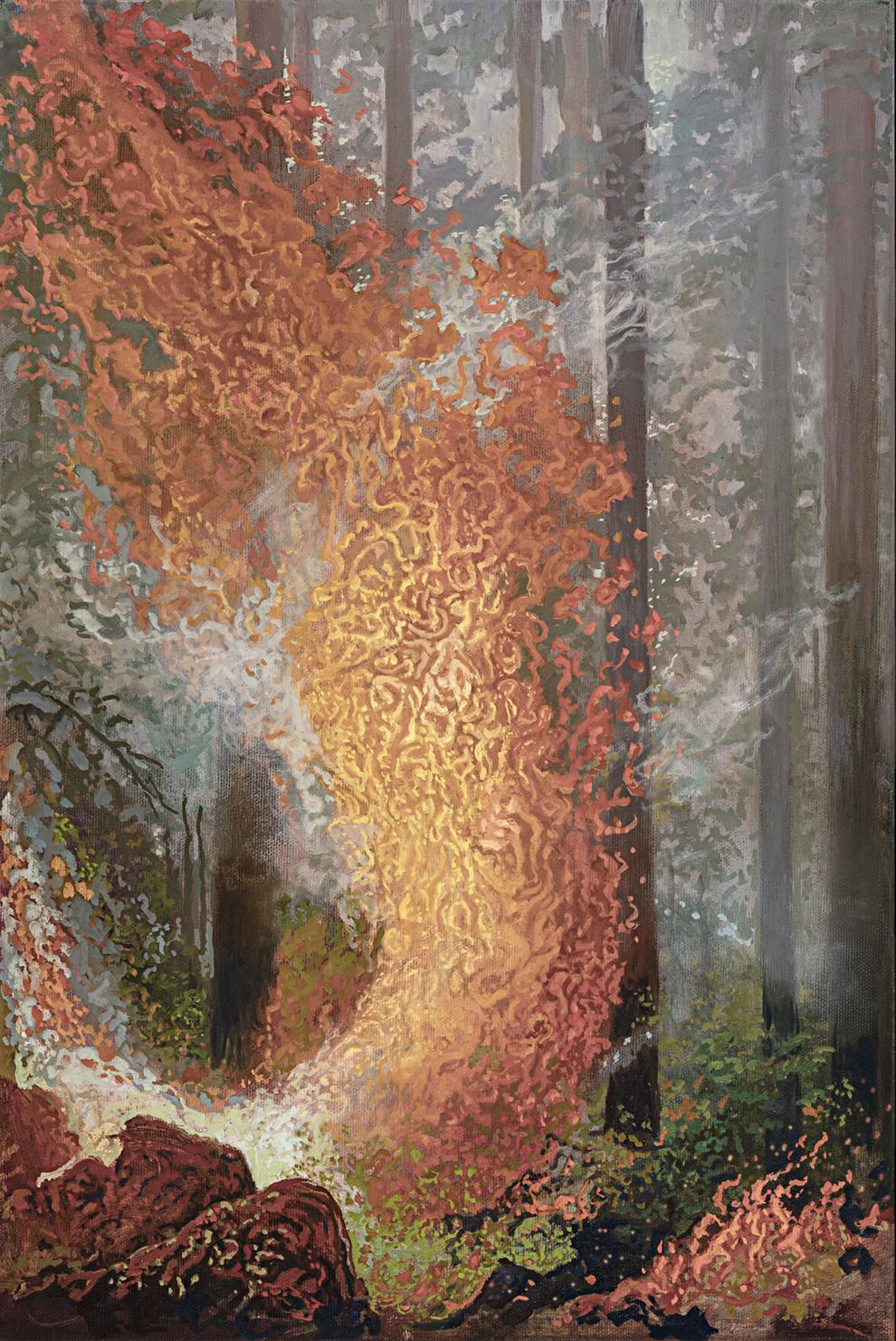 "I use the circle a great deal in my paintings, as a Jungian type of archetype where it motivates the viewer into the concept, subconsciously, of eternity," he says, pointing out the moon in the background of Fire and Ice Pacific, study, in which a fire burns among the rocks and eddies along the shore of a tempestuous sea. "It places this moment, of experiencing the light and the fire, against this timelessness."
The larger paintings in the exhibition, some as big as 58 inches high by 96 inches wide, don't all depict fire in any overt way. However, the sun as a celestial sphere, the blood-rimmed clouds, or distant mountain tops emblazoned by the light of sunset all suggest fire.
But it's the place that draws him, more than anything. The four elements will always be there. "The landscape has always been a part of me," he says. "When I started this series, I said to myself, I want to investigate the landscape, and I want to do it with the national parks — because they're kind of America's cathedrals, if you will. But it kind of migrated. When you're painting these places, and they're remote and pristine, et cetera, it raises questions: Are they endangered? How do you address that in a painting? And what kind of conversation do you want to be involved in? So it migrated from the national parks into paintings regarding the four elements. There's a suite of fire paintings, a suite of water paintings, earth paintings, and air paintings."
The allusion to cathedrals is apt, especially considering the work of one of Scott's artistic forebears, German Romanticist Caspar David Friedrich (1774-1840), who often painted ruins — cathedrals, churches, cemeteries ravaged by time — in which nature itself was the constant, wrapping its vines and leaves over crumbling masonry as though reclaiming the stones for itself.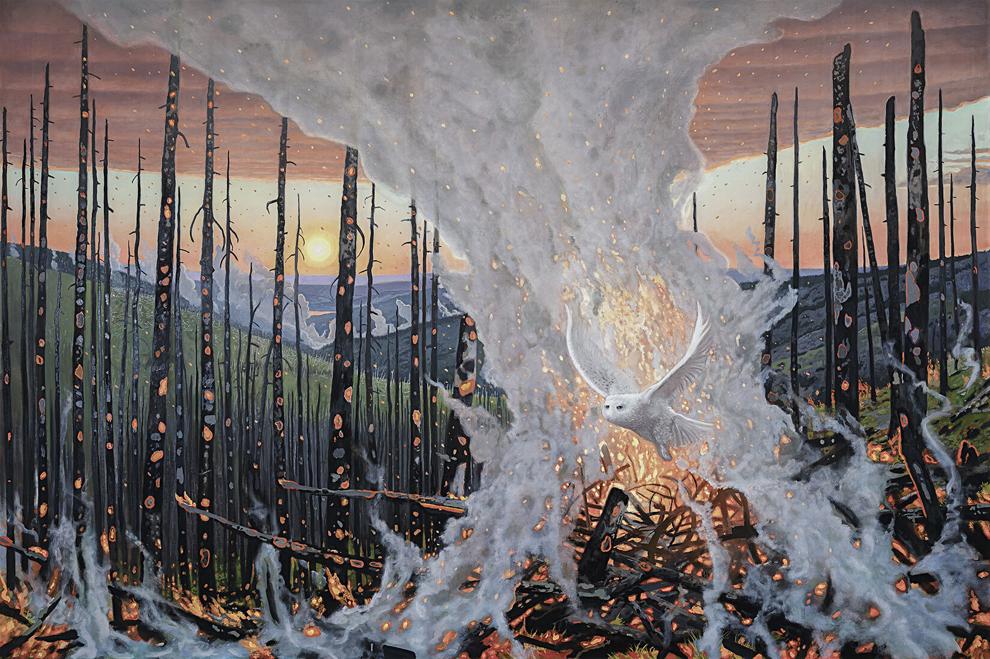 "Friedrich is probably one of my greater heroes, I would say. He and Thomas Cole. Friedrich, like Thomas Cole, viewed the landscape as a God-embedded environment. Even if you look at Friedrich's church ruins and abbeys, he's basically saying to the viewer, 'You can put these structures up — they'll come and go — but God really exists outside and is not limited to that interior space that man has created.' "
One can get a sense for this reverent view of nature in Scott's larger compositions, in particular, because their scale envelopes you, drawing you in. And Scott wants you to enter them, so to speak, and provides you with a gateway to pass through. You can see this readily in Late Light, Crater Lake, in which two dead pines, mostly denuded of bark, stand as sentinels in the foreground. Between them, the lake beckons, reflecting the deep blue of the sky, and thinly veiled by low-hanging clouds.
He almost included a deer he encountered while visiting the lake in the composition but decided against it. The deer would be a distraction, taking the viewer's attention away from the visceral experience of place. "It was too specific and too limiting at the same time. The eye focused so much on it that it robbed you of this other experience that I wanted the viewer to have, which is this entry, which is just hypnotic." But to honor the deer, which was a part of his personal experience, he painted in a pair of antlers, jutting out of a snow-blanketed outcropping on the left side of the scene.
Each painting in Fire and Ice is a narrative, Scott says, because he's not just an outside observer. He's a participant, working in the field, and carrying that experience back to the studio. He's a part of it, even if his presence in the landscape isn't apparent.
He describes one painting, Moonlight, Yellowstone Falls, as an attempt to capture the sensory experience that occurs when you find yourself as a part of the landscape. "It's about sound," he says of the painting, a nocturne depicting the falls under a light snowfall, glimpsed through pines laden with heavy snow. "When you're next to falls like that, it's a constant and yet ever-changing kind of moment you're experiencing. The water is creating this sound, this harmonic within the silence of the snow, within the structure of the rock. That's a narrative that you exist in."
And yet, although Scott paints known sites with names that can be found on the map, they appear otherworldly, like the landscapes of some distant planet that can only be imagined.
"Before I release a painting, I try to ask one question: Is it magic? Making a painting in the field is all about that rhythmic dance between you and the place. It offers you shape, form, sound, color — all of these sensory kinds of experiences. You are alive. And, as a painter, it's the best kind of life." ◀