You might easily mistake a painting by Austrian artist Julius Paul Junghanns (1876-1958) for a much older work, perhaps something by the Barbizon realists of the mid-19th century. But Junghanns' work, while still historic, was painted more recently. Like his predecessors in the French Barbizon school, such as Jules Dupré (1811-1889) and Jean-François Millet (1814-1875), he emphasized the pastoral: life in Europe's rural, agrarian villages, where shepherds gather their flocks, farmers tend to the livestock corralled in weathered barns, and mighty draft horses drag heavy plows through the soil.
Though much of it was painted in the post-industrial world of the 20th century, Junghanns' work recalls another time.
"In his sort of post-impressionist style, the movement is still from the Barbizon school as it relates to a judgment against industrialization," says KSG Fine Art Gallery owner Scott Gordon. "I do love that he's also hearkening back to the old masters, in part."
KSG's exhibition No Time for Düsseldorf, which is centered on the work of Junghanns, is a rare U.S. exhibition of the artist's work. Junghanns was an academic painter who studied in Munich under German painter Heinrich Johann von Zügel (1850-1941). And it was at von Zügel's suggestion that he became director of animalier and plein air painting at the Academy of Fine Arts in Düsseldorf at the age of 28, remaining at the institution for more than 40 years. The irony is that although he spent so much time in Düsseldorf, it was never a preferred subject.
Junghanns was known more for paintings that featured animals down on the farm, often horses and cattle. And he imbued his compositions with symbolic meaning through the associations between his animal subjects and their human counterparts.
In the undated oil on canvas Summer in the Pasture (Farmer's Wife with Cow), for instance, there's something of the animal's demeanor reflected in the stance of the female subject and vice versa. The head of the aproned woman, basket in hand, is slightly bowed, angled downward in a manner that mimics that of the grazing cow beside her. But in addition to their posture, their stances should be noted.
"If you look at the mien of the figures, the solid form, they're really grounded," Gordon says. "They're in communication. There's a communion here."
You see that communion even more in Young Shepherd with Montbéliarde Calf (1934), in which a young shepherd rests beneath a tree next to a standing calf whose legs are slightly splayed, as is typical of young cattle. In the background, across a grassy field dotted with cows, are the houses of a nearby rural village. Man and calf gaze off in the same direction, their sight directed at something outside of the picture frame. By rendering the calf with its young eyes shrouded beneath heavy lids and the man's face half in shadow from the brim of his hat, he establishes a rapport. The two figures are, in a sense, one.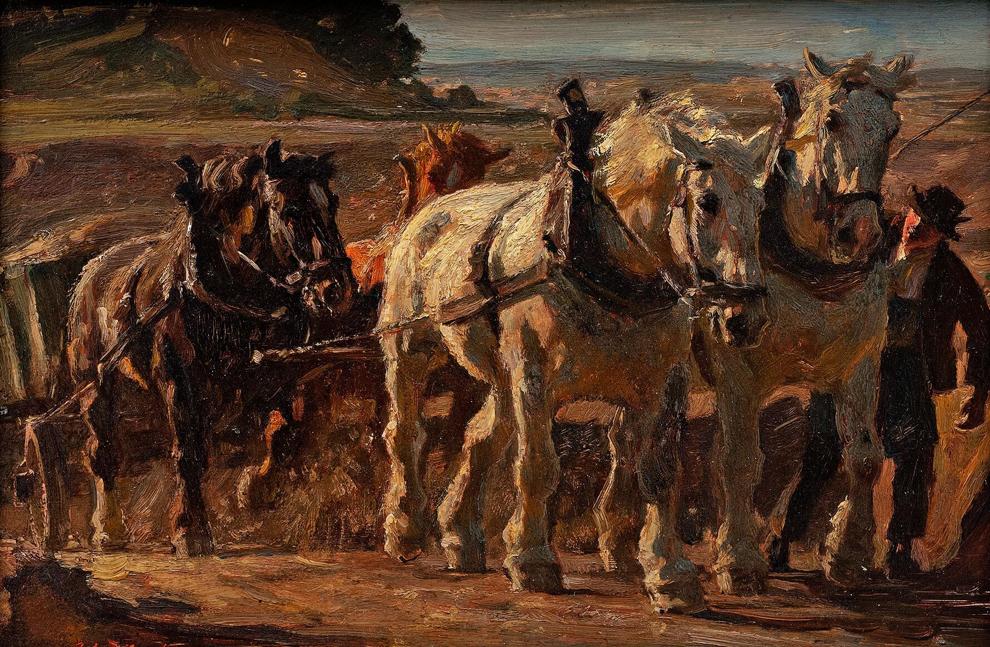 Junghanns was an animalier, an artist devoted to the realistic representation of animals. Perhaps not surprisingly then, the faces of his human figures are often less realized and sometimes rendered almost featureless. One senses that the animals were what he wanted to bring to the viewer's attention and for which he held the greatest reverence.
What stands out in Junghanns' painting style is his masterful brushwork, which expertly weaves in a profusion of colors in an animal's coat while giving the impression of a single dominant hue. In the case of the Montbéliarde, which is a particular type of piebald dairy cow, the color is predominantly white, or shades of white, flecked here and there with splotches of reddish brown. But there are hints of pale green and blue as well.
"The old masters would paint that kind of cow," Gordon says. "It's obviously the young man's prized possession. For a village raising calves like that, it's their livelihood. It's their bread and butter. It's their value, all of their material wealth."
Junghanns was adept at rendering musculature through variations in color tones. He was a keen observer of animals, whether they were in motion, as in the undated oil painting Returning Home in the Evening Light (Quadriga), or at rest, as in Dapple Horse in its Stall (also undated), a watercolor and gouache on paper that was likely rendered as a study.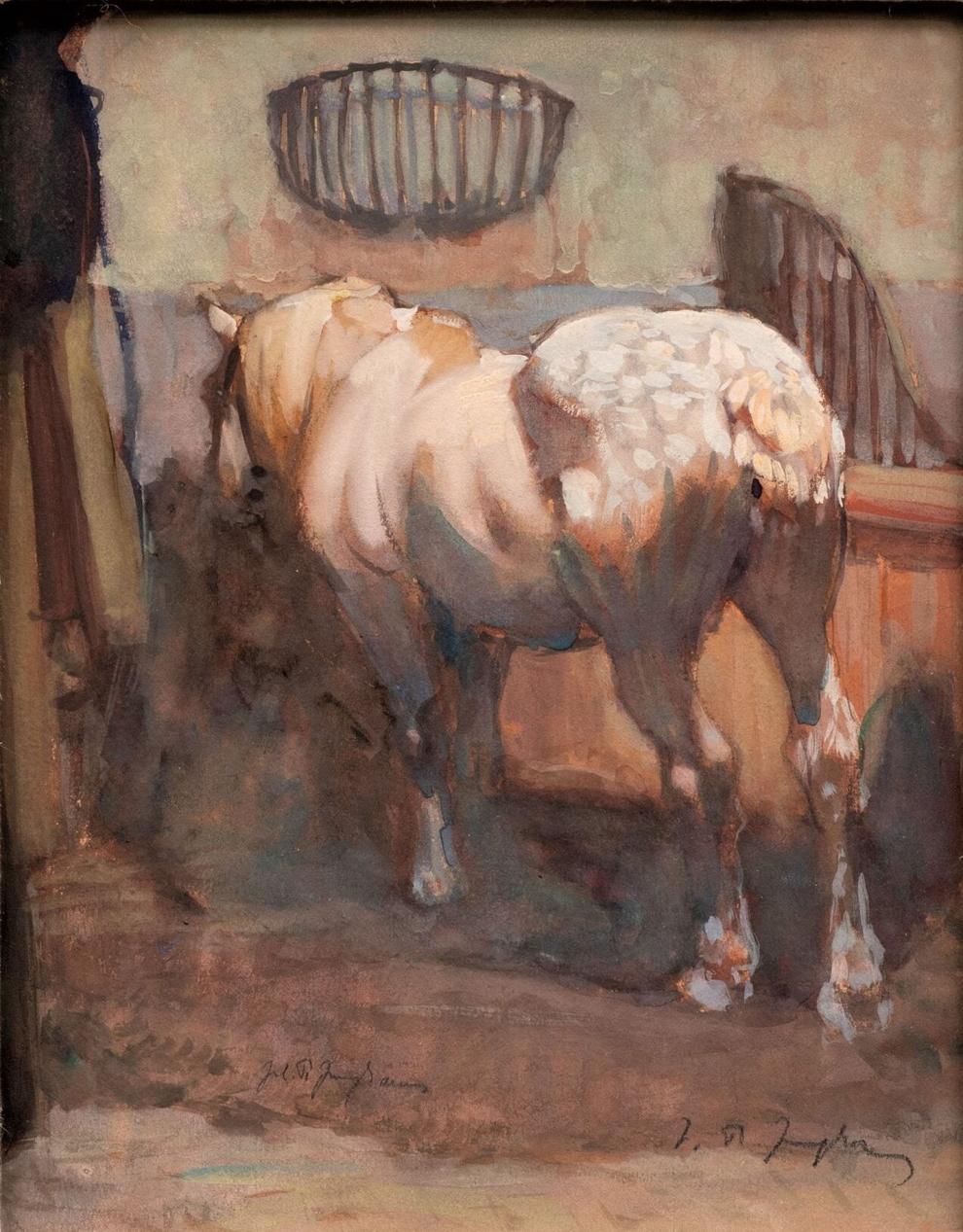 "There's so much texture," Gordon says of Dapple Horse. "For a watercolor, it's nuts."
But a standout addition to the exhibition is a work by Junghanns' protégé Georg Wolf (1882-1962) called Standing Horse in Pasture (1911). An oil on canvas, this mid-sized painting is remarkably powerful. The draft horse, tall and stoic, stands against a backdrop of autumn colors. But until you step far enough back, you don't get the full sense of what the artist was trying to achieve with the work. More than just a rendering of any old horse, this one is a well-groomed specimen painted by someone with a keen sense of its bearing.
"That was a horse that was just brushed," Gordon says. "You get that silkiness. You get the play of light on its coat and can make out the sheen. It's not about 'Wow, these are really cool animals' but about their value: spiritually, economically, historically. That's what Wolf really tried to put together."
And in that sense, Wolf was following Junghanns' lead.
"The symbiotic relationship between people and their animals was very important to this school, starting with von Zügel. Wolf finished his studies at von Zügel's school of animal painting."
Collectors coming to Santa Fe for its profusion of Western-themed art, where the horse still reigns, may appreciate these slices of agrarian life from halfway round the world, even if they've never heard of Junghanns.
"I think, if not for the Third Reich, he would probably be much more famous," Gordon says. "But his timing was not good. The 1920s through the 1950s was not the best time to be a German painter."
That may be true, particularly in regard to the American art market, leery of championing German and Austrian artists who maintained associations with the National Socialist Party throughout World War II. But in Nazi-era Europe, Junghanns' received some notoriety. His work was widely circulated by members of the Third Reich who praised its traditional style and idyllic representations. Although he regularly exhibited at the Great German Art Exhibition of National Socialist art, it was something he regretted later in life, and he never joined the Nazi party. But it's likely that the association continues to hinder his reputation today.
"He was known all over the world," Gordon says. "And then he just fell away."