W. Herbert Dunton, a founding member of the Taos Society of Artists, was known for images of cowboys, prospectors, and rodeo riders clinging with one hand to bucking broncos, as well as dime store novel illustrations that romanticized the West. But a painting he did of his children in 1920 is among his most compelling. Dour and emotionally charged, My Children, an outdoor scene, shows a young boy in the foreground standing in the sagebrush. His eyes are downcast as he looks off to the side, unsmiling, with the reins of his horse clutched in his hand. His sister, mounted on a second horse that faces the opposite direction, away from the viewer, turns slightly, aiming a more direct gaze back, perhaps at the painter. But she, too, looks downtrodden.
Dunton captured this view of his children after a divorce. That much can't be inferred from the narrative, but a sense of sorrow can be. The melancholy moment is heightened by the dusky setting, in which deep blues dominate the background, cloaking the surrounding terrain in ambiguity.
"This is one of the best pieces that he's ever done, arguably, and he's chosen to represent his children in this heavy emotional moment," says Christian Waguespack, curator of 20th-century art at the New Mexico Museum of Art. "It's a very somber piece. It's something we can enter into a personal one-on-one dialogue with."
That's true of many of the works on view in the museum's exhibition, Storytellers: Narrative Art and the West, which explores the various ways that artists use their mediums to tell a story and, sometimes, different versions of the same story.
The exhibition began as a way of highlighting pieces from the museum's collection, but in a way that prompts dialogue between them.
"We were looking at the calendar and realized that we didn't have an exhibition schedule that was serving that need to showcase the collection," Waguespack says. "I put this together with the idea of making sure that a lot of those iconic pieces were out, especially for people who were coming to visit over the summer. I came up with the idea of focusing on story because so many of those classic pieces are representational. They're figurative, and they're narrative."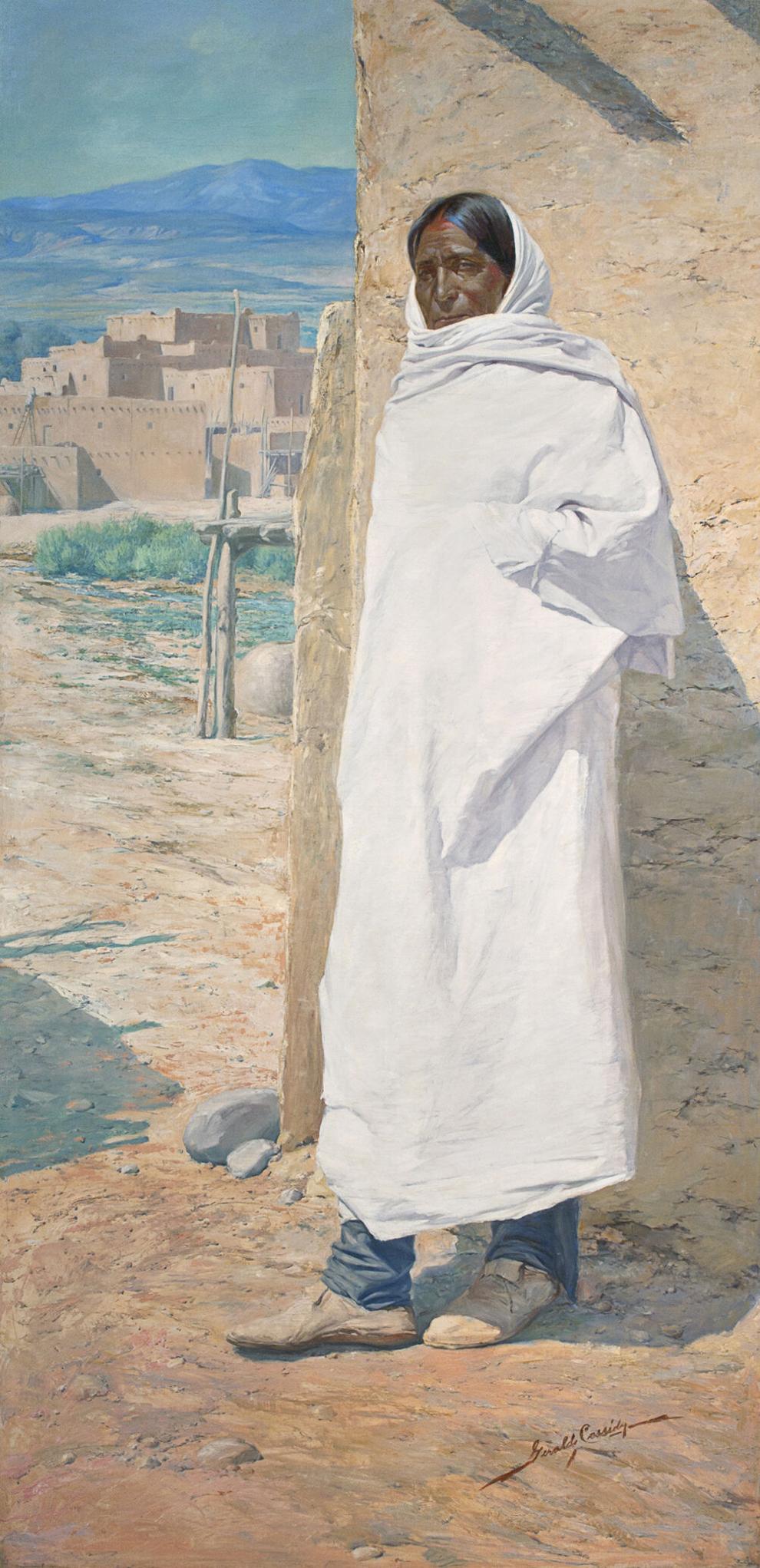 The exhibition includes works by Dunton, Joseph Henry Sharp, Victor Higgins, and Harrison Begay, and features some of the museum's most well-known works, such as Gerald Cassidy's towering oil on canvas Cui Bono? (circa 1911).
Cassidy's work depicts the life-sized figure of an unidentified Native American man, draped in white garments. His dark features serve as the focal point, contrasting with the crisp drape of his robes, the sand-colored walls of Taos Pueblo and the sky blue mountains in the distance. His piercing gaze is a challenge, although perhaps more inquisitive than defiant. But the viewer has the impression that the figure is a sort of gatekeeper.
Cassidy was asking who benefits from the interaction between Indigenous peoples and Americans of European descent. Painted at the time of statehood, it questions the idea of the outsider, a position Native people whose legacies stretch back over millennia found themselves in more and more since the days of European contact and conquest.
Hanging by Cui Bono? is Luis A. Jiménez Jr.'s Border Crossing (1986), a large-scale work on paper that Jiménez created as a study for a sculpture that depicts a family's migration across the U.S. border from Mexico.
"Through the pairings and being in the presence of other important works, the paintings take on a slightly different significance or are allowed to speak to each other in different ways," Waguespack says of the works on view, emphasizing that unexpected narratives can emerge through the visual and thematic relationships between them.
"Visually, they pair very well," he says of Cui Bono? and Border Crossing. "They're these large, vertical pieces that show two figures in three-quarter profile. They both talk about issues of regional migration that bookend the 20th century. Cassidy was using an allegorical figure of a Taos Indian to speak to the narrative of what cultures benefit from New Mexico statehood and how Indigenous cultures are faring in this way. When you put that in dialogue with Luis A. Jiménez's Border Crossing, it's that same story getting played out a century later."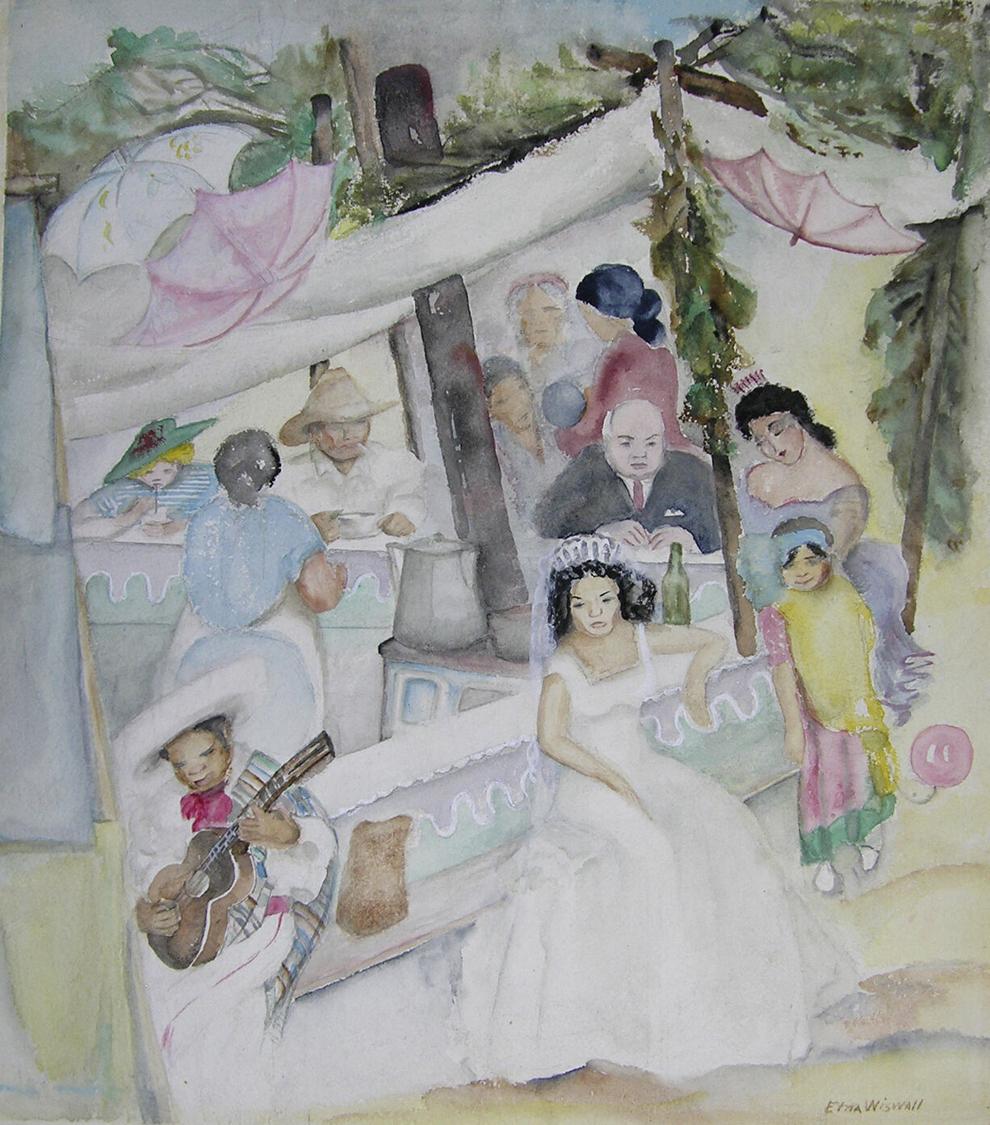 Storytellers is broadly arranged by theme: death and mourning, celebration, agriculture, ecology, and local history. Curating the exhibit this way allows for more well-rounded stories to emerge. For instance, numerous depictions Santa Fe's annual Fiestas, including Etna Wiswall's watercolor Fiesta Booth (circa 1935) and Elias Rivera's oil on canvas Fiesta at Santa Fe (1985), capture the spirit of a community celebration: the mariachis strum their vihuelas and guitarróns; the artisans sell their wares; the tourists chat; and old-timers watch the crowds from a park bench. Fiestas commemorates Don Diego de Vargas's 1692 reconquest of the city after the 1680 Pueblo Revolt.
But putting these works in dialogue with Cochiti Pueblo artist Diego Romero's terracotta vessel Siege of Santa Fe (2009), underscores the notion that the event commemorated at Fiestas isn't celebratory for all concerned. The stylized imagery depicted on the bowl shows Spanish conquistadors on one side and Pueblo warriors on the other at the time of the revolt; locked in struggle and with no apparent victor. In recent years, the nature of the reconquest, which was often described as a bloodless reoccupation, has become a focal point of contentious discourse between Hispanic and Indigenous communities. In 2018, the debate, which sparked protests, prompted the city to replace its annual re-enactment of the reconquest, a longtime feature of Fiestas, with a Community of Faith Celebration that honors the city's cultural heritage from a more inclusive perspective.
"Siege of Santa Fe bites in deeper to the critical edge of Fiestas and makes us take a second look at what's actually being celebrated," says Waguespack. "Now is a good time for us to really reevaluate how we tell stories about our region, and what the impact of iconic images are on the way we see this place and talk about this place."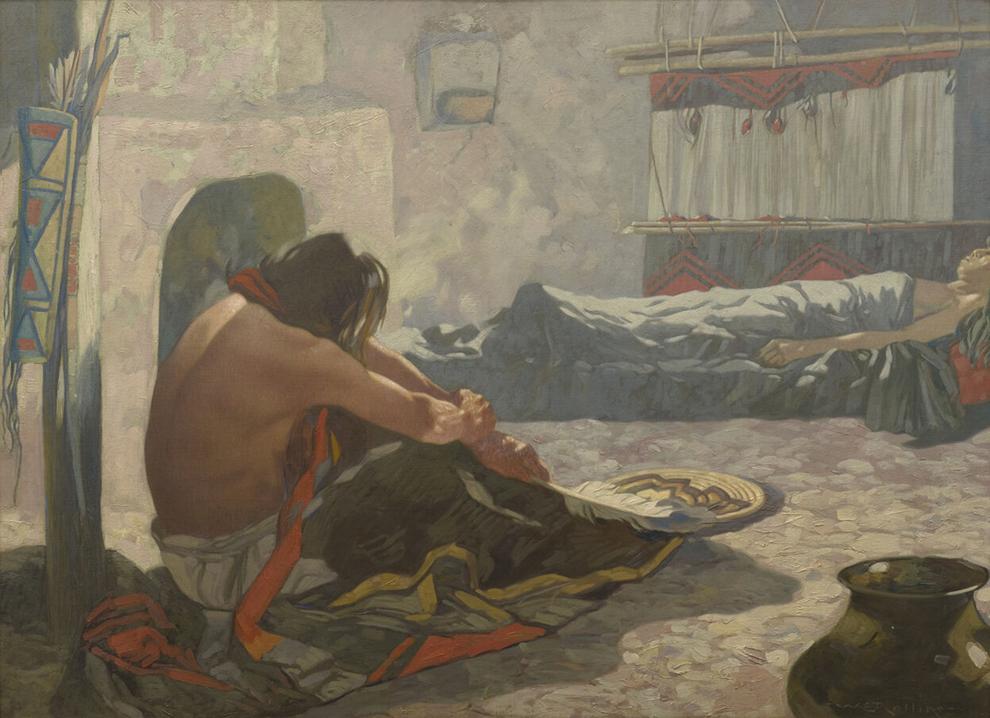 Most of the exhibit labels were written, he says, to reflect the themes of a group of paintings, rather than delve into the narratives of individual works or their makers. For the purpose of this exhibit, for instance, it's not important to know about Dunton's connection to the Taos Society of Artists. What is important, is how My Children — and other works that explore the idea of loss, such as Warren E. Rollin's painting Grief (1917) and Joseph Henry Sharp's painting The Stoic (1914) — treat the subject matter.
"It's not incredibly didactic," Waguespack says. "I didn't want people to walk in and get slammed with having to shoulder the critical discourse of narrative throughout art history. I think it's something that any visitor can walk into and pick up on. Everybody tells stories. Everybody interacts with stories. You can't escape the idea of story in contemporary culture." ◀