It is not a given that providence should play a role in the trajectories of two artists, despite working in a similar vein. But what emerged from a conversation between local artists Arthur López, 49, and Noé Garcia Chávez, 23, was not only a sense that fate had a hand in bringing them to where they are in their careers but also that at times their experiences were quite similar.
López, an established santero at midcareer, and Chávez, an emerging artist who used to showcase his work as a youth artist in Traditional Spanish Market, met for the first time at the Museum of Spanish Colonial Art to discuss the art of the santero, including their materials, themes, and inspirations.
The artists sat with Pasatiempo in the midst of the exhibition Trails, Rails and Highways: How Trade Transformed the Art of Spanish New Mexico (through August), where López's bulto Holy Restraint / Santa Restricción (2004) is on display among works by other artists in the contemporary section of the exhibition. It's an early piece by the self-taught artist, whose career as a santero spans 22 years.
Chávez, by contrast, is just now hoping to get back to exhibiting his work at Spanish Market, aware that the annual event involves a stringent jurying process. But both artists are positioned between the historic styles of the art of regional santeros and using their respective works as vehicles for contemporary expression.
Pasatiempo: This is a question for both of you. Are you using traditional materials to create your works, like gathering natural materials to create the pigments?
Noé Garcia Chávez: I like using piñon wood. That's just what I was taught to use. I also enjoy the way it smells. When I was younger, my mentor made paints and stuff, but I used watercolors that came in tubes. I learned a lot about the traditional styles of things, but I made mine more contemporary by just blending colors that you wouldn't normally see. That's something I started to do more of as I got older.
Arthur López: Especially for retablos, I use pine. I use a combination of both traditional pigments, like black walnuts and cochineal, and commercial watercolors. I enjoy the beauty of the tradition, but I like adding my own touch to it, or my own twist, and bringing it into the modern world. So I use traditional themes but in a contemporary way. Almost all of my pieces are based on religious iconography or ideas.
Garcia Chávez: I try to do that as well. I'll do a sketch that's super traditional, but the more I work on a piece, I just let myself go. I think what makes us artists is just letting the creativity flow. I don't really like to limit myself when I do art.
Pasa: You mentioned a mentor. Who was that?
Garcia Chávez: Monica Sosaya Halford. She's very well known in the market and gave me a lot of opportunities. I even lived with her when I first moved to Santa Fe from Albuquerque. I was living in her house, surrounded by all of her art. It fueled the flame of curiosity and interest.
Pasa: And, Arthur, you're mostly self-taught. How did you begin working in the santero tradition?
López: Right after my dad died, I had a re-found passion to paint and draw again. I went down to Spanish Market specifically to try to learn retablo painting. But I fell upon the three-dimensional carvings and bultos. It led me down that road instead, and I ended up doing more carving. As a kid, I always liked drawing, painting, and sketching. I went into college and wanted to study fine art. I went to Eastern New Mexico University and entered the fine arts program there. While I was college, I thought, "There's no way I can make a living in art," so I ended up changing careers. I went to a design school in Arizona and ended up with an associate arts degree in graphic design. I did that for nine years, until the passing of my father.
Garcia Chávez: That's pretty interesting, because I'm currently studying at the community college for my fine arts degree, and my father passed away when I was 10 years old. I moved up to Santa Fe and lived with Monica right after that. That's when I started getting introduced to retablos and santeros.
López: My dad, early on, used to always encourage me to draw and paint. He would show off my works to his friends and family and tell me that graphic design wasn't worth crap. "Do this other stuff."
Pasa: That's almost the reverse of what you'd expect a parent to say.
López: Exactly. It was almost the reverse thing. But everything happens for a reason, good or bad. Without my dad dying, I probably wouldn't be doing what I'm doing now.
Garcia Chávez: When I was younger, it was my dad who really got me started. We used to draw together, and he would get me books on how to draw certain things. He was an artist. After he passed, my life totally changed. My mom worked up here, but we lived in Albuquerque. We moved up here, and I had cousins who had been doing Spanish Market. Seeing my family involved like that, I wanted to partake, you know? Honestly, my dad is a big part of why I still do a lot of art today.
Pasa: Since you both depict Catholic saints in your work, are there any figures you make that particularly resonate?
López: Our Lady of Guadalupe seems to be a recurring theme with me. I do love creating her in all different ways, with her aura. But on the business side, she also just sells well. It's one of the go-to images that I create. She's really popular, but I just enjoy making her.
Garcia Chávez: Like you said, Guadalupe is very popular. I recently took a liking to La Conquistadora. I like doing her big white dress and everything. But it takes a lot more detail.
López: Yeah, the lace and everything.
Garcia Chávez: I also really enjoy making San Pasqual because I love cooking. I have so many San Pasquals in my kitchen.
Pasa: Did you make them all yourself?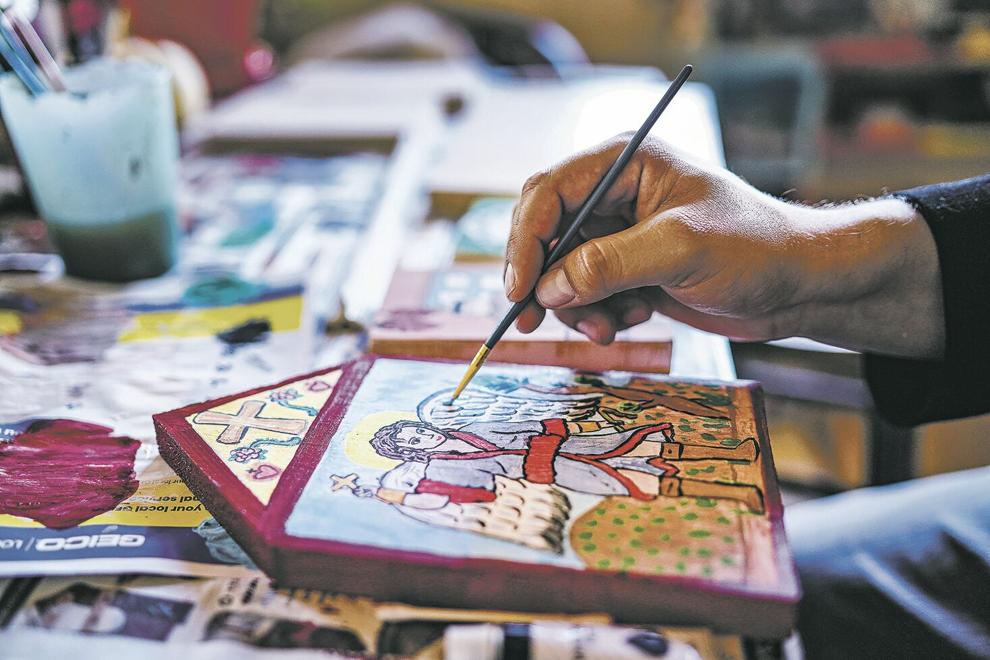 Garcia Chávez: I've done a couple myself, but I collect them.
López: I collect the crucifix. Being an artist, it's because of the figure and not so much the gory, gruesome thing. It's the beauty of the figure. When I was younger, I was an altar boy, and I used to be completely terrified of looking at a crucifix because of all the blood. Now, I can look at it as an artist — who created it and how was it created — and I look at the blood as more of a design element on the piece.
Pasa: You've both spent a lot of time in museums, looking at the work of other santeros. Were you influenced by any particular artists, past or present?
López: I love a lot of the historic santeros. A lot of people look at my work and say that it looks too baroque and that it doesn't look New Mexican. But what they don't understand is that the very first considered santero of New Mexico, Bernardo Miera y Pacheco, was baroque in his style. It wasn't until later that the tradition started to transform into the more folky look.
Pasa: Robin Gavin, who curated Trails, Rails and Highways, suggested to me that the later style was possibly influenced by Pueblo aesthetics.
López: And because the Spanish couldn't bring those big plaster saints and images over. So a lot of them were designing from memory.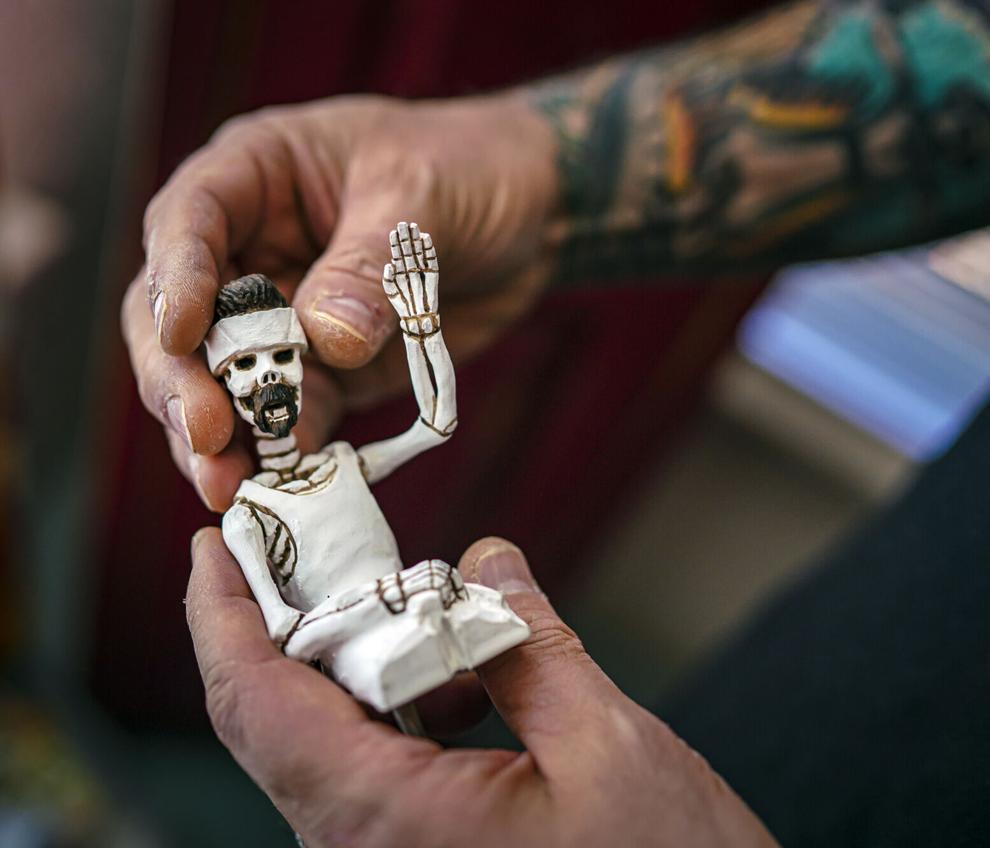 Garcia Chávez: They didn't have Google.
López: (Laughing) Exactly. They didn't have their cheat sheet. But I think Bernardo Miera y Pacheco is really an influence. I also like José Rafael Aragón and his style.
Garcia Chávez: My biggest influence is Monica. Learning from her was really fun, but it was also really hard. With me and my cousins, she was really rigid and made sure that we were disciplined in what we did. If we did something wrong, we'd have to wash off the whole board and start over. Being a little kid, it doesn't feel good. But, looking back on it, it did teach me a level of discipline I can really appreciate now. A lot of my inspiration also came from looking at everyone's art at Spanish Market. I'm a visual learner and pick things up — just from watching really — easily. Seeing the way other people do things, I can adapt that to the way I do things. I'll go to local museums, and I'll often try to find the oldest things I can see, like the very first of the first, and see how it's changed compared to modern-day art. I try to find my own place in between both.
Pasa: What motivated you to keep working in this vein?
Garcia Chávez: I was so bored sitting at the [youth market] booth. It was more fun just to be there every day with Monica and my family, painting together. We'd lay our paintings out in the sun to dry, and we'd varnish them. It brings back so many memories. That's what I really liked. My family got excited because almost every year I would sell out like on the first day. I guess that's why I was bored, because I'd sell out so fast. But, from a young age, I've had a few pieces in museums, and that's not something a lot of people can say. I feel blessed for that now, but it didn't resonate with me until I got older. I have a lot of friends who are artists themselves. None of them are santeros or make religious art or anything. But they motivate me to continue to make art.
Very recently, at the beginning of October, I started pumping out sketch after sketch from memory of all the retablos I used to have. I was telling my mom that I wanted to go back into Spanish Market. Once I started talking to her about it, it seemed like everything started clicking into place. You've got to listen to the opportunities that come up. You've got to listen to what you feel inside and also to what's happening around you. It just seems like everything's falling into place for me.
López: For me, it was being in the archives at the folk art museum, and the curator of the Hispano collection at that time asked me what I was working on. I had created a Santiago. She asked if she could see it because they were getting ready to do a Santiago show. I showed it to her. She loved it and purchased it for the collection and put it in that show. It was only the third piece I had ever created, and I'd only been carving for maybe four months. I was just blown away.
Later on, the following year, I juried into Spanish Market. There was a lot of people I've met who tried for 10 years in a row before they even got in. All of those things were just reassurances that I was doing the right thing. I was still working as a graphic designer and commuting back and forth between Albuquerque and Santa Fe. I didn't even consider myself a professional artist. While I was at work, all I could think about was getting home and doing my art. I was carving into a trash bag on my lap so I wouldn't make a mess in the house, because I didn't have anywhere else to carve. I went from a full-time job to a part-time job to quitting my job and doing my art full time. A gallery up in Taos started representing me. That all happened within a couple of years. ◀
Note: This conversation was edited for clarity and space.