You have no excuse to be bored when Currents, the city's homegrown festival of new media, launches at El Museo Cultural de Santa Fe. The international show has been electrifying visitors for the better part of two decades. The brainchild of video artists Frank Ragano and Mariannah Amster, Currents is and always has been a labor of love. It began in 2002, when Parallel Studios, Ragano and Amster's festival production company, opened the first Currents exhibition at the Center for Contemporary Arts. Three more shows were produced at various venues, including Salon Mar Graff and Zane Bennett Contemporary Art, between 2003 and 2009. Since then, it's been an annual event. This year marks the 13th time the festival has been mounted locally. And it has grown considerably.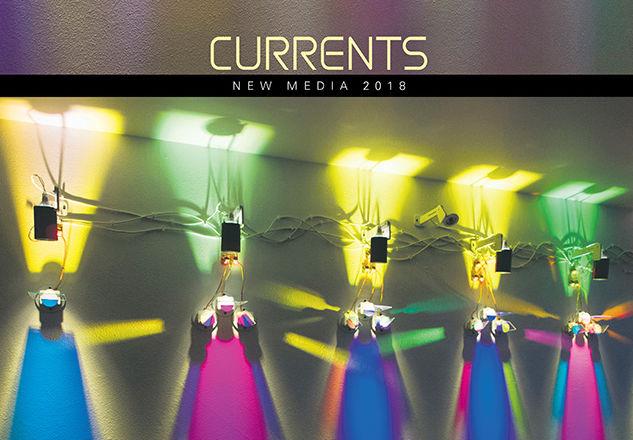 Currents is an innovative, eclectic mix of new media art installations that include virtual reality environments, interactive projects, experimental documentaries, single-channel videos, outdoor projections, holographic art, digital prints, multimedia performances, digitally created objects, robotics, and works in what's known as augmented reality, the superimposition of computer-generated imagery on one's view of the real world. Works falling into the latter category include Tucson-based artist Joseph Farbrook's Amorphous Ball, which deals with the homogenization of technology in the digital age, when products originally designed for a specific use such as a camera, a phone, a flashlight, or a radio, get lumped together into a single device. As for robotics, Currents wouldn't be Currents without Stanley, the roving red-and-black robot toolbox created by Michael Schippling, a former robotics researcher at Santa Fe Institute. Stanley has been the festival's official mascot since 2013. "Everybody loves Stanley," Ragano said.
The exhibition takes a lot of planning, because it involves components from projectors to computers to headsets, monitors, and audio equipment. Some of the projects require extensive programming, and, of course, a lot of power. Currents staff, as well as the exhibitors, only have one week to get El Museo ready for the public. "We're going to have a lot of interns this year from around the country, and locally, too," Amster said. "College students from around the country apply, and some of them get credit for it. Everybody gets a stipend and housing that we provide. We had 70 applications and accepted six. Then we have two interns coming from the community college through the PRO-TEC program, which is funded by the city. We have eight local high school students — and that, too, is an application process. We used to do it just for students at risk in past years, but now we've opened it up to St. Michael's High School, Santa Fe High, and Española."
Currents always has a number of partner venues mounting new media exhibitions of their own. With this year's addition of the Santa Fe Institute's first annual InterPlanetary Festival, which overlaps with Currents' opening day on Friday, June 8, Currents has an even bigger footprint than usual. The festivals were timed to coincide, as they each involve a fair amount of art, science, and technology-related programs, and the audience for one will likely take an interest in the other. Some additional partner venues include Art House (231 Delgado St.), the gallery space of the Thoma Foundation, which is showing TRANSFER Download, a survey of contemporary digital art ( June 15-May 2019); Form & Concept (435 S. Guadalupe St.), whose exhibition Inner Orbit is a show of works by national artists who explore personal and cultural views of outer space (through July 21); the Violet Crown Cinema (1606 Alcaldesa St.), which screens experimental documentary shorts (Wednesday, June 13-June 20); and the mobile gallery Axle Contemporary, which hosts artist and scientist Stephen Auger's IRIS project, a techno-trigger for your senses that is a bit like a VR experience, only without the heavy headset (through June 24).
Ragano and Amster take the two-week-plus festival run as an opportunity to do more than simply dazzle visitors with eye-popping, thought-provoking projects. Through workshops, artist talks, and panel discussions, they foster a broader view of new media as a major trend in 21st-century art, promoting innovative uses for technology. Workshops this year include "Weaving and Coding," a two-day workshop ($75) led by designers Renata Gaul and Francesca Rodriguez Sawaya, which illustrates how binary systems work and how coding relates to weaving. It is held at 10 a.m. Saturday and Sunday, June 9 and 10, at Canyon Road Creatives (826 Canyon Road). Purin Phanichphant, a San Francisco-based artist and designer gives a talk on artificial intelligence, "The Art in Artificial Intelligence," at 2:30 p.m. Saturday, June 9, at El Museo. Phanichphant has two interactive installations in Currents: A Machine That Listens and Lost in Google Translation, which examines the pitfalls of the Google Translate algorithm by translating English into Thai and then back into English.
Among the interactive projects at El Museo that attendees can engage with is something called The Miniature Opera Project, which was designed by a team of artists using game-board and light-sensitive technology to provide you with a fun means of creating your own musical piece in real time. "You have all these little boxes set in this grid and you have bean bags, and you throw the bean bags and they land on the boxes, or slide across the top and trigger the sound," Ragano said. "Basically, what you're doing is composing this spontaneous opera that plays as you do it." Also on view are two guest-curated exhibitions: Your Chance Encounter and Ecotomes. The first, curated by Berlin-based Taiwanese artist Chun-Chi Wang, director of Idolon Studio, showcases works in new media by contemporary Taiwanese artists. Ecotomes, curated by local artist Jonathan Morse, is a show of digital prints by artists Anastasia Samoylova, Danielle Ezzo, Gregory Eddi Jones, as well as Morse's own work. Currents offers a festival app, available on the App Store and Google Play, to enhance your visitor experience. Some apps are necessary to engage with the installations: Thinly Worn by Valery Estabrook and The Dream House Project by Jean-René Leblanc.
The dozens of projects on view showcase the visions of close to 90 individual new media artists and artist collaborators, approximately 40 of whom are in attendance. The artworks were selected by Ragano and Amster from a list of nearly 600 applicants. The following pages highlight a selection of that work. The artists hail from the United States, Hong Kong, Israel, Taiwan, Canada, and many other regions, representing a cross-section of Currents' multifaceted and expansive nature, and proving that new media is truly a global art phenomenon. ◀