The work of German-born painter Hans Paap is in galleries in Santa Fe, Arizona, and Los Angeles, as well as in the collection of the Tucson Museum of Art, the Colorado Springs Fine Arts Center, and the Panhandle-Plains Historical Museum in Canyon, Texas, not to mention private collections around the world. But Paap, a prolific landscape painter and portraitist, is an enigma to this day.
Only the briefest of biographical sketches accompany his online profiles. Letters offering insight into his personal and professional life are sparse. And only one published monograph of his work exists: Hans Paap: Portraits & Landscapes (Invisible City Designs, 2018). It was written by his daughter Nancy Waight, a weaver who uses the surname Paap professionally, and Bess Murphy, curator at the Ralph T. Coe Center for the Arts.
It's a place to begin — more of a biography than a critical appraisal, and incomplete as both. That's because Hans Paap's story is still unfolding and only slowly yielding its secrets. What is known hints at a storied existence: surviving Adolf Hitler's Germany during World War II; being sequestered for two years on Ellis Island; traveling in Brazil, Mexico, Argentina, Hawaii, and the Dominican Republic; and having three marriages and four children.
"It was very hard to put it together because nothing is consistent with him," she says. "To try to put together a timeline and sleuth where he was and what he did was a monumental effort. We probably didn't get everything totally correct because we didn't find any journals or anything."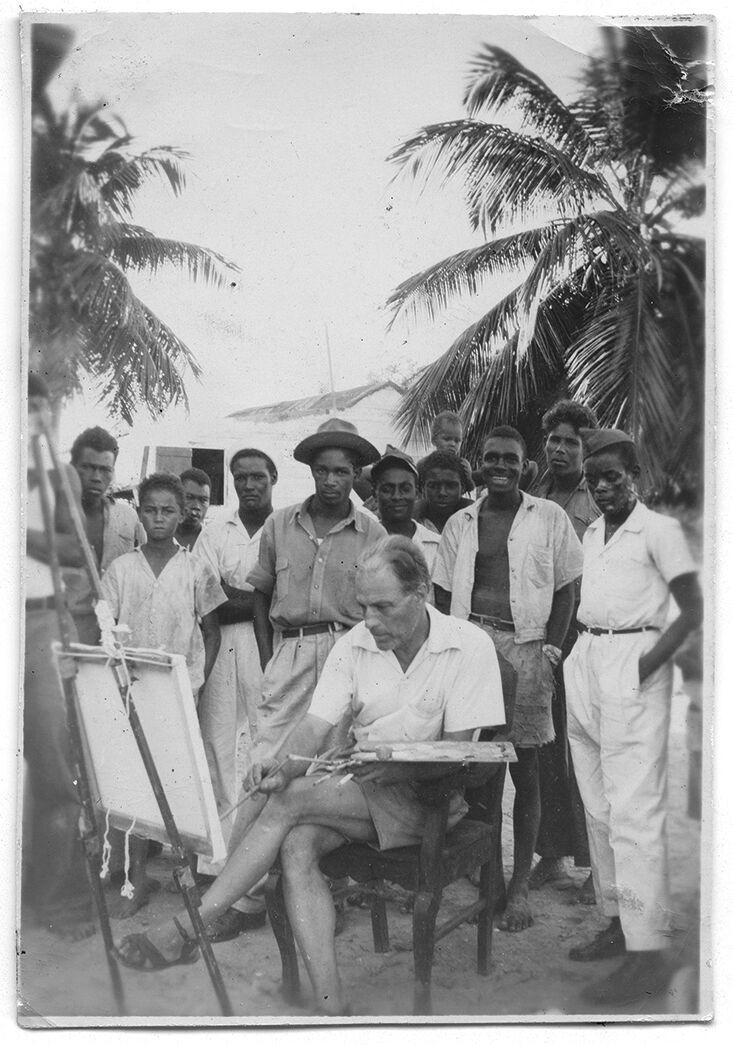 A primary source was her mother, Ilse Paap Waight, and her mother's memoir, My First 70 Years. But Ilse was 97 when Waight started on the book in 2016, and her memories often failed her. Also, she left Paap in 1953, when the family was living in Taos, New Mexico. She cut off all communication. Waight was 4 years old.
"His drinking became a problem, and that's one of the reasons why she left him," says Waight, who has few memories of him. "She tried to reason with him, but he was getting physically abusive with the kids and a little bit with her."
When Ilse left, she somehow managed to smuggle out several of her husband's paintings, a fact that's always confounded Waight. "What I really wanted to know was how my mother kept these paintings in her possession because she left my father in the middle of the night, or early the next morning. She took off with the three kids and some of our belongings in a little camper van. She did not want to have any connection with him. She did not want him to know where she was because she knew he would follow her. I tried to get as much information from her as I could, but she'd say, 'Nancy, that was so long ago I can't remember.' "
It was only years later, in piecing together an account of his activities, that Waight began to see the patterns mirrored in her own life and those of her brothers — patterns that brought them closer to their father in spirit. All three had a creative drive. Her younger brother, Hans, who died in 2014, had a lifelong passion for fine woodworking, and her older brother, Roy, worked on Hollywood movie sets. When Paap was in Munich during the silent film era, he also worked on movie sets as an artistic director. Waight discovered that, like herself, her paternal grandmother, Nancy Paap, was also a weaver (Waight's work available at handwovenoriginals.com and artemisiataos.com). She believes her innate sense for combining colors comes from her father. Paap's use of color was striking. He could render a face, an article of clothing, or a background with a variegated palette and still convey their sense of cohesiveness.
Waight, 72, began collecting more of her father's paintings in the mid-1970s. She was struck by how well they hold up when compared to other artists active in Taos at the time he was there, and who were much better known: Bert Geer Phillips, W. Herbert Dunton, and Ernest Blumenschein, among them. Although the Taos Society of Artists, to which these painters belonged, disbanded in 1927, two years before Paap's arrival, they were his contemporaries. "A June 1929 Los Angeles Times article situates Paap firmly within the Taos art world alongside luminaries such as Joseph Henry Sharp, E. Irving Couse, Oscar E. Berninghaus, and Walter Ufer," writes Murphy in her essay "The World through the Eyes of Hans Paap," which is included in the book.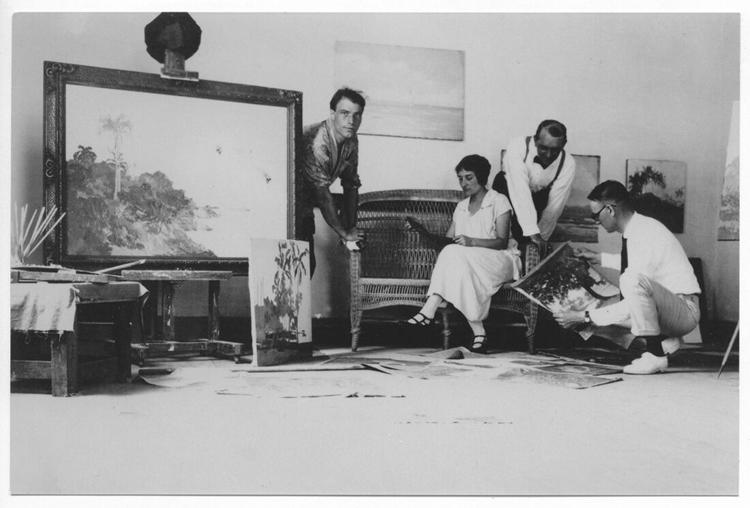 Amid all that's been written about the artists active in Taos in the early 20th century and at midcentury, when Paap returned there with Ilse and the children, he garners few mentions. By rights, it seems, he should be better known. As Murphy writes, "his personal life and career was defined by his experience in Taos," and the L.A. Times article she references places him firmly in this well-known group of regional painters.
As an artist, Paap's portraits show a reverence and tenderness for his subjects. He had a way of painting the eyes. They could gleam with vitality, convey inquisitiveness, or melancholy. "According to my mother, he always started with the eyes on a portrait, and you could see who it was even before he did the rest of the face," Waight says.
He also had a way of capturing a sense of character, whether it was a person or a place, in which the viewer can almost grasp their backstory just by looking. He could hone in on a subject's idiosyncratic details. "But his technique reduces those details to loose passages of paint and brushwork that is confident and select in color," says Ann B. Brown, owner of Ann B. Brown Art & Advisory and former director of the Fenn Galleries in Santa Fe. "I think he also imparts a sense of the dramatic — bold expressions of the people and places where he traveled and worked."
And that journeying was extensive. Born in Hamburg in 1890, he studied painting at the Royal Academy of Fine Arts in Munich. Then he moved to Veracruz, Mexico, in his early 20s to study lithography, textiles, and leatherwork. In 1918, he moved to Argentina and met his first wife, whose name is not known. She died while giving birth to a son, who was raised by her family. In Brazil, he painted austere landscapes and seascapes in earthy, subdued tones. His work won accolades, and in 1927, he received a gold medal for his art from Brazil's Imperial Academy of Fine Arts. In Taos, he married his second wife, painter Mildred Rackley, and together they traveled through Europe in the early 1930s. After their divorce, he lived in Madeira and the Canary Islands.
But on a visit to family in Germany in the late 1930s, his globetrotting came to an abrupt end for a while. The Nazis closed the country's borders, and he was unable to leave. That's where he met his third wife, Ilse.
"My mother had fallen in love with a Jewish man," Waight says. "They were very much in love and decided to commit suicide together, but they didn't succeed and he was taken to a camp." Waight's mother somehow avoided her lover's fate and met Paap over a roulette table in Baden-Baden in 1943. "When he proposed, she had to ask her parents. They were very concerned because my father was 30 years older than her, and he was an artist. But they realized that, after what she had been through, she was happy now. So they said OK. After the war, they decided to come to America."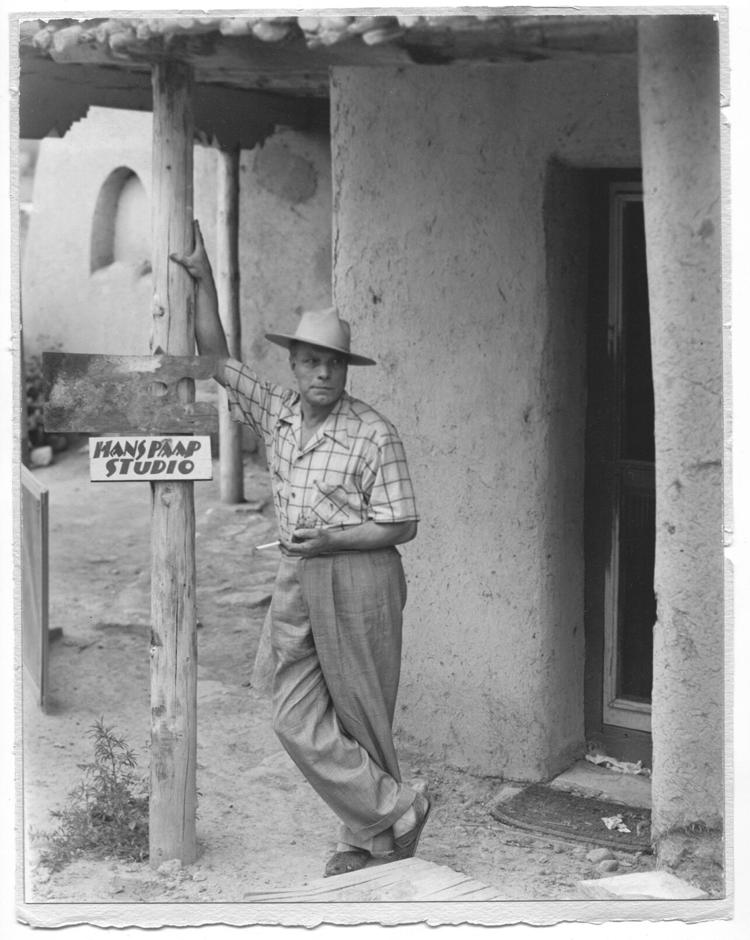 For the next two years, Paap, Ilse, and their son Roy remained at Ellis Island, stuck at the immigration inspection station without papers and unable to prove who they were. However, they were permitted to live in the Dominican Republic and moved there. Paap found work as an art instructor and continued painting while establishing residency. His re-entry to the United States came only after Taos Society of Artists member E. Martin Hennings agreed to sign an affidavit on his behalf.
Waight believes that her father's extensive travels are among the reasons his work is not better known.
"I agree with Nancy that her father's near-nomadic lifestyle was of significant consequence, as it would be for most any artist to establish a career and wider recognition, especially during the first half of the 20th century," Brown says. "In addition to his constantly moving, the disruption of wars, divorce, and the limitations of communication made it difficult, even in recent years as Nancy found, to trace the footsteps of Hans Paap and gather them along with his widely dispersed art, into the rich and wonderful chronicle of his life."
Brown spent more than 30 years in acquisitions and sales at Nedra Matteucci Galleries (1075 Paseo de Peralta, 505-982-4631, matteucci.com) in Santa Fe, which held the first retrospective of Paap's work in November. Most of the paintings were selected from Waight's own collection. Paap remains well-represented at the gallery, which maintains more than 30 works that span his career.
Collectors were drawn to his depictions of unfamiliar regions and peoples of the world. But, until the retrospective, it was difficult to get a sense of the trajectory of his career.
Growing up in England in the home of their stepfather, Ivan Waight, the children never spoke of Paap. If their stepfather hadn't forbidden them to talk about him outright, it was at least discouraged. "There was one portrait painting of my mother on their honeymoon where he even tried to erase the signature," Waight says.
In researching her father's life for the book, Waight hit a dead end with the year 1966. "He just disappeared," she says. "Nobody saw him anymore after that. Nobody knew where he had died. But we found out from his death certificate that he died in Hamburg in 1967." Waight was actually in Germany that same year, living and working in Munich, unaware that her father was so close.
Paap's personal history is still coming to light. But the story of his travels can be read in his prodigious output, providing its own kind of narrative through pictures. "They often reveal a sense of place and time that feels very authentic and are often captured with unusual sensitivity that I find surprising in an itinerant artist," Brown says. "I doubt he was ever truly a stranger, and instead, through his art Paap shows an ease in connecting and finding common ground across continents." ◀