Yara Said, The Refugee Nation Flag (2015)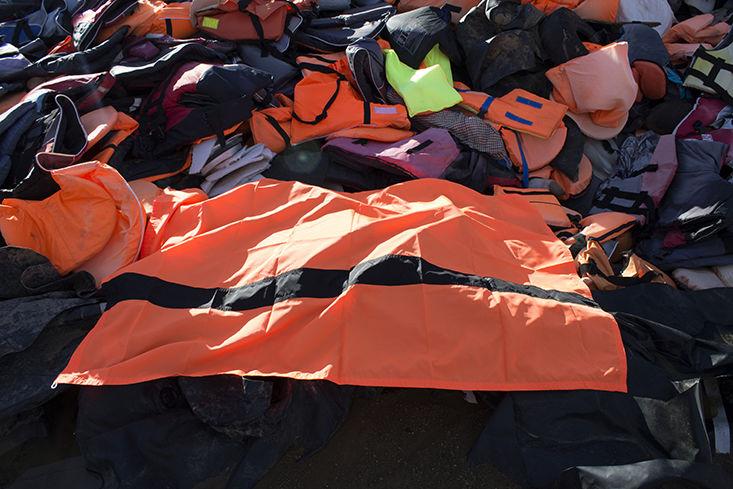 The Refugee Nation exists everywhere and nowhere. Comprising populations of the displaced from more than 90 countries, it has no country to call its own. In 2015, after escaping from the Syrian civil war, Amsterdam-based artist Yara Said (pronounced Sai-EED) was contacted by the Refugee Nation, which maintains offices in New York City, to design an official flag to represent the refugee athletes who would be competing at the 2016 Summer Olympics in Rio de Janeiro, Brazil: an orange flag with a single black bar running horizontally across it. "Said was inspired by the very life vest that she had to wear as she fled Syria for Europe," says Irene Hofmann, SITE Santa Fe's Phillips director and chief curator. "They marched in the opening ceremony with this flag and with an anthem that was written by Syrian composer Moutaz Arian, who made his way from Syria to Turkey and is now living in Germany." The flag, on loan to SITE by the Refugee Nation, hangs at the entrance to Displaced, a reminder of the worldwide refugee crisis and a symbol of solidarity among refugees everywhere. 
Reena Saini Kallat, Woven Chronicle (2016)

At more than 10 feet high and 47 feet wide, Indian artist Reena Saini Kallat's wall-mounted world map, which is made of circuit boards and electrical wires, traces migration routes over history. The electrical cables delineate the outlines of the continents, also woven from wire. These cables also run between the continents, connecting one to the next over the vast negative spaces representing the oceans. The lines of migration represent planned journeys, as well as migrations that were the result of wars, persecution, and the deleterious effects of climate change. As the first installation that visitors come across in Displaced, it serves, in a way, as an introductory remark. Migrations have been occurring for millennia. The history of the world is a history of movement. The circuit boards and electrical wires are a reminder that now, more than ever before, the world is getting smaller, driven by the technological advancements that enable us to connect with one another over vast distances. It's a colorful, engaging display with a 10-minute audio component of ambient sounds inspired by travel over land and sea. 
Undocumented Migration Project, Hostile Terrain 94 (2020)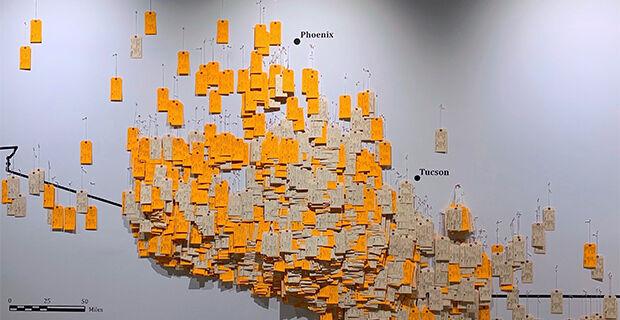 SITE Santa Fe joins forces with the School of Advanced Research and the Center for Contemporary Arts for the global art project Hostile Terrain 94. The project was originally slated for May through October at up to 150 locations around the world, including Santa Fe. The SITE component is on view for the full run of Displaced. The global event was organized by the Undocumented Migration Project, a long-term anthropological study of clandestine movement between Latin America and the United States. The project is under the directorship of Jason De León, an anthropology professor at the University of California, Los Angeles, and highlights the realities of global migration and the life-and-death situations occurring along the U.S./Mexico border. The exhibition at SITE includes photographs by project photographer Michael Wells, as well as an installation of toe-tag cards, filled out by CCA and SITE staff, that commemorate the people who died crossing the border through the Sonoran Desert from the mid-1990s to the present day. Each card lists the victim's name, age, sex, cause of death, condition of body, and the location where the body was found. 
Hew Locke, The Wine Dark Sea (2016)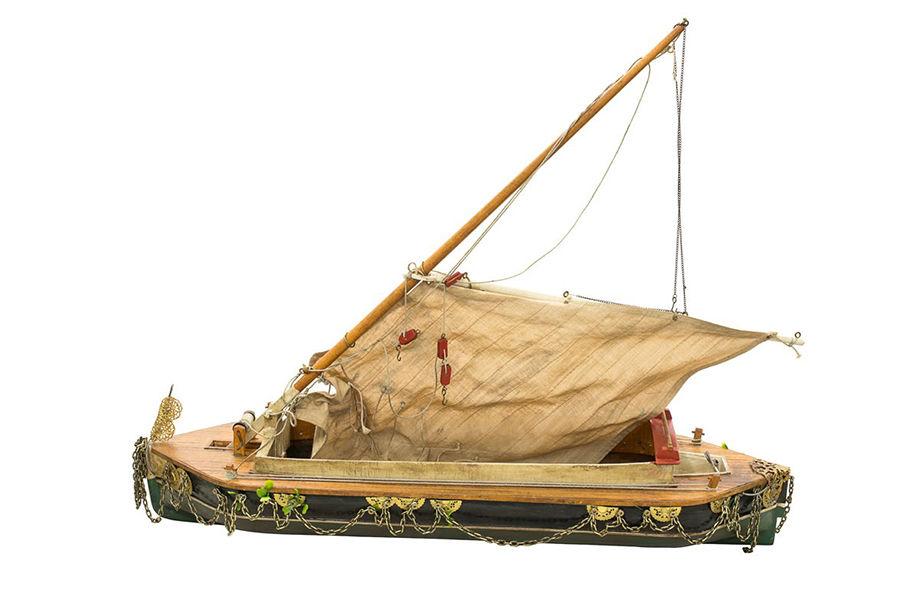 With a title gleaned from Homer's description of the Mediterranean Sea in The Odyssey, British sculptor Hew Locke makes a subtle allusion to the blood of slaves and refugees and to the deaths of migrants during ocean crossings over the course of centuries. The Wine Dark Sea is a sculptural installation of 34 boats that range from 9 to 72 inches long, a dozen of which were selected for installation at SITE Santa Fe. These custom-made models include contemporary and historic clippers, cargo ships, battleships, and lifeboats, and they evoke the symbolic power of the boat as a vessel for human transport, as well as for the human soul. Locke's mixed media sculptures are made using a range of commonplace items, meticulously rendered as intricate, finely detailed works. "There's a playfulness to his work but there's a very powerful push and pull," Hofmann says. "You're drawn in by these works and you just want to get close and look at them. You get a little close to one and realize that it's actually modeled after a slave ship and you see how it's set up for cargo. His perspective and way to talk about refugees is rooted in history and reminds us of a dark past of forced migration on the ocean." The backdrop for the boats, some of which are mounted on pedestals and some of which are suspended at about eye level, are two vinyl murals: Banco Central Mexico (2020) and Greek Government Refugee Loan 1924 1 (2016), which depict obsolete, altered share certificates that reflect the troubled history of colonial-era trade and the uneasy relationship between refugees and host nations. 
Ai Weiwei, Human Flow (2017)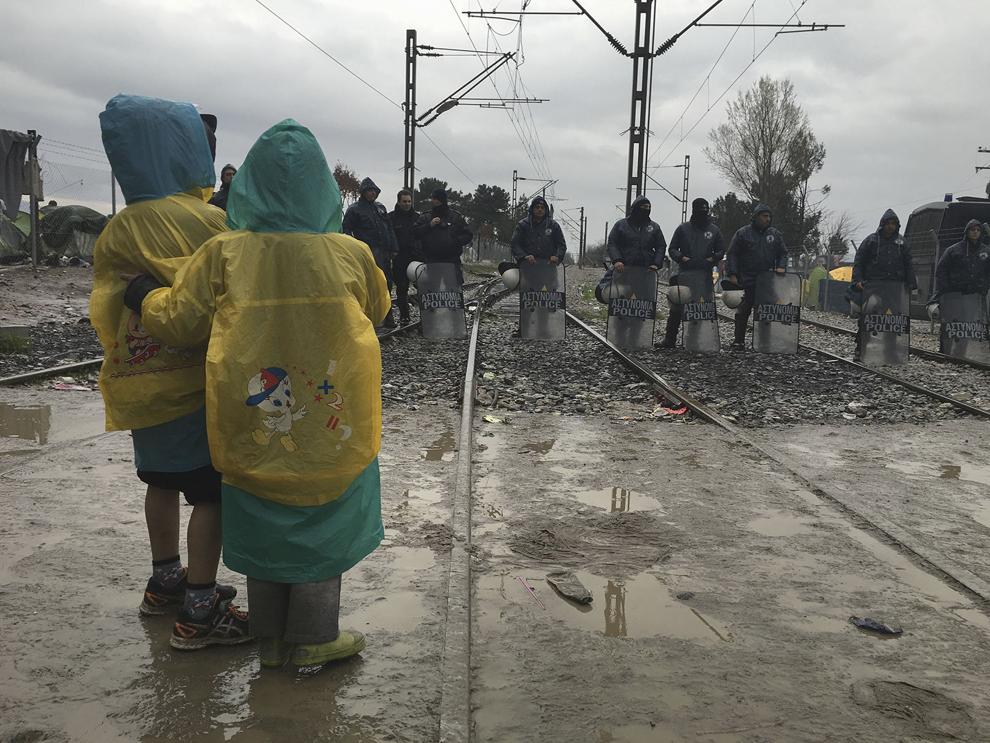 Chinese dissident artist Ai Weiwei's powerful PG-13-rated documentary about the global refugee crisis is a timely, urgent look at a situation that's reached epidemic proportions. More than 70 million people are currently displaced throughout the world. Human Flow, which runs for about 140 minutes and plays in a continuous loop, sometimes uses drone photography that looks down on vast swaths of migrating populations and narrow at other times, focusing on individuals who've been forced to leave their homelands behind. It includes personal accounts from Afghanistan, France, Greece, Germany, and Iraq, that examine the points of view of refugees and the host nations that shelter them, where refugees often face anti-immigrant sentiments. It's an ambitious film made with a crew of hundreds working in 23 countries, including Afghanistan, France, Israel, Kenya, and Mexico. The sheer magnitude of the crisis is covered through hypnotic visual impressions, rather than through a straightforward, linear narrative. 
Richard Mosse, Incoming (2017)

The panoramic photographs and stills from Irish artist Richard Mosse's 3-channel video installation, Incoming, were shot with a military-grade thermal camera designed for the battlefield and long-range border surveillance. It can detect movement up to 18 miles away. But Mosse pressed it into service for another purpose: charting the mass migrations and displacement across Europe, North Africa, and the Middle East. He focuses on two of the most dangerous routes to Europe: one from the east, where Syrian, Afghani, and Iraqi migrants cross from Turkey to reach the Aegean islands; and one from the south, where Senegalese, Sudanese, Ethiopian, Nigerian, and other refugee populations from Africa cross the Mediterranean Sea in an effort to reach the shores of Italy. The large-scale photographs, measuring as much as 4 feet high by 9 feet long, depict the same subjects that governments would track using the state-of-the-art surveillance technology, but in a manner consistent with a documentary photographer's immersive, humane perspective. The images are stark renditions in which people appear almost as they would in an X-ray. Incoming simultaneously highlights refugee populations as vulnerable and erases certain features that would make it easier to identify them as individuals, thereby suggesting the ways that the technology can be used to dehumanize them. — Michael Abatemarco
Cannupa Hanska Luger, Future Ancestral Technologies: We Survive You (2020)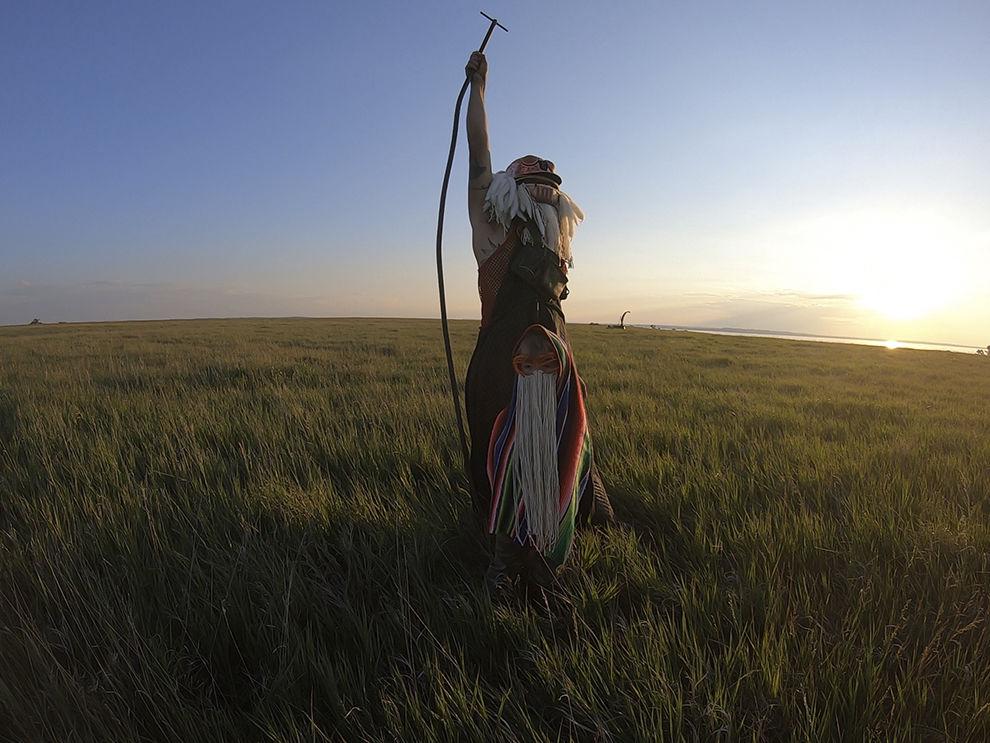 The SITE-commissioned installation is a rendition of Native artist Cannupa Hanska Luger's ongoing science-fiction-based project, Future Ancestral Technologies. The installation includes a 3-channel video, a full-sized modified Volkswagen van, and a disassembled teepee. These are the modes of transport and of nomadic existence belonging to an imagined future family. They inhabit a world where the concept of the refugee has long disappeared from the human lexicon. There are no refugees in this future, because the colonizing forces that contributed to the global crisis, with the Byzantine formation of the world's political and geographic boundaries, no longer exist. The installation posits an embrace of an Indigenous way of life in the wake of a global catastrophe and represents a merging of ancestral and future technologies: telescoping and packable teepee poles, for instance. Embedded in the genetic coding of future populations is a memory of how to live in balance with the land. "This piece proposes that displacement, with climate change and all the rest of it, is everyone's future," Hofmann says. "And perhaps the way to move forward is with an indigenous worldview."