Sitting in the snow at the top of Sandia Peak in 2010, Mario Chavez gazed out over the expanse and began to cry as he realized it would be the last time he would take in this view.
His first attempt to ski in more than a year had devastated his spirit. Chavez said his legs were fatigued just from the weight of his boots on the lift ride up, and he immediately fell at the top of the run when his skis touched the snow. He struggled to stand up, skied 15 feet, then his legs failed him again.
Resigned to the reality of losing another passion to muscular dystrophy, Chavez said he became overwhelmed by a sense of hopelessness.
"I sat there for a while before the ski patrol came and took me down in a sled, and it really felt like I was dying," said Chavez, now 45.
Born with muscular dystrophy but not diagnosed until he was 21, Chavez said he used alcohol to try to fill the holes in his life that accompanied a decline in mobility. As he felt the strength gradually fade from his body, the Albuquerque native and adrenaline junkie struggled to cope with the growing list of activities he could no longer do.
These days, Chavez tries to avoid looking back on what he's lost. He'd rather spend time immersed in and appreciating the community he's found.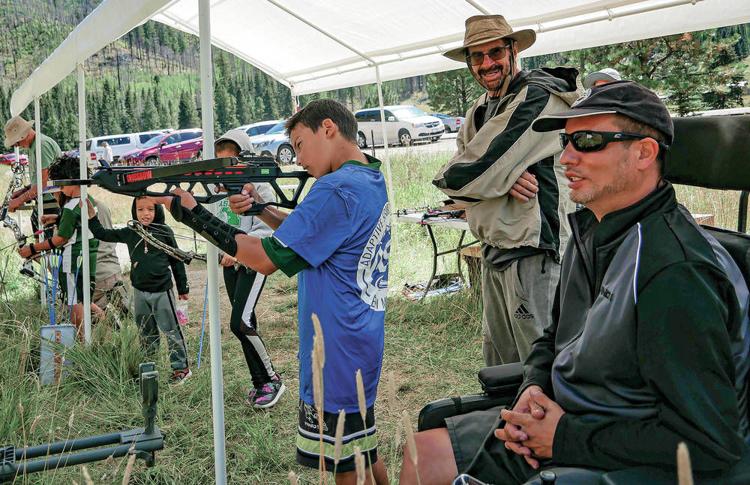 On a sunny Saturday morning in September, Chavez sat in his motorized wheelchair waiting under a tent with bows and arrows at the ready — eager to meet and teach anyone who wandered over to the makeshift archery range set up near Cattle Call Wall in the Jemez Mountains.
Brooklyn Hersom, a bubbly 11-year-old from Rio Rancho, was the first to step up. The two compared leg braces and Hersom played with a Lego figure before she sat down and got her first crossbow lesson. She beamed when two of her first three arrows struck the target and reached out for high-fives from Chavez and everyone else around her.
In his third year as a volunteer with Adaptive Sports Program New Mexico, Chavez relishes witnessing in others a thrill he's been able to rediscover in his life, thanks to the Santa Fe-based nonprofit that helps children and adults with disabilities take part in outdoor activities.
"This program, to me, it means me breathing life, me enjoying life and me living life," Chavez said. "I'm still here, and I'm still doing the things that I'm passionate about."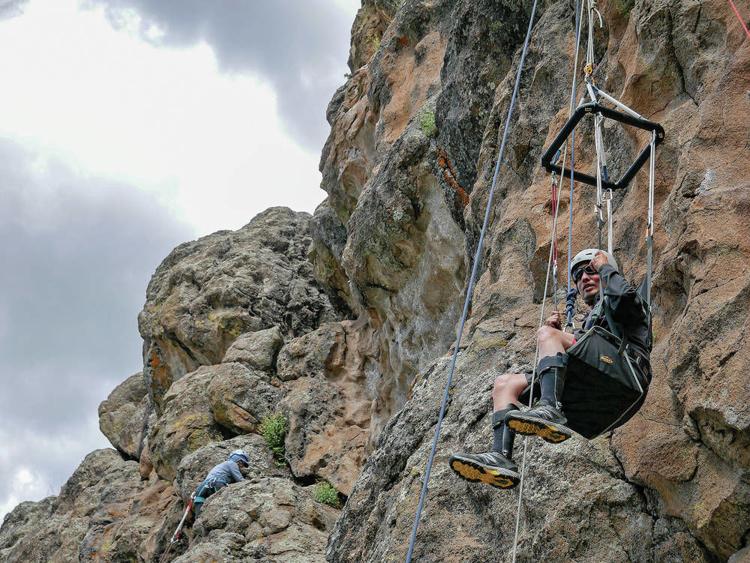 Upon the recommendation of a physical therapist about eight years ago, Chavez first became involved with Adaptive Sports Program New Mexico through its adaptive ski program at Ski Santa Fe. He's since taken up every activity the organization offers, from adaptive rock climbing to river rafting to archery and more.
Three years ago, Chavez started serving as an advocate for the organization at outreach events and was unanimously voted onto ASPNM's board of directors this past spring.
Chavez said the organization has given him a positive way to manage his depression by providing an environment of support and a way to keep his mind and body active.
Jason Cline was in his second year as a volunteer ski instructor with ASPNM when Chavez came for his first session. Chavez hadn't skied in two years, and Cline said he could immediately sense Chavez's intense desire to reconnect with the sport he loved.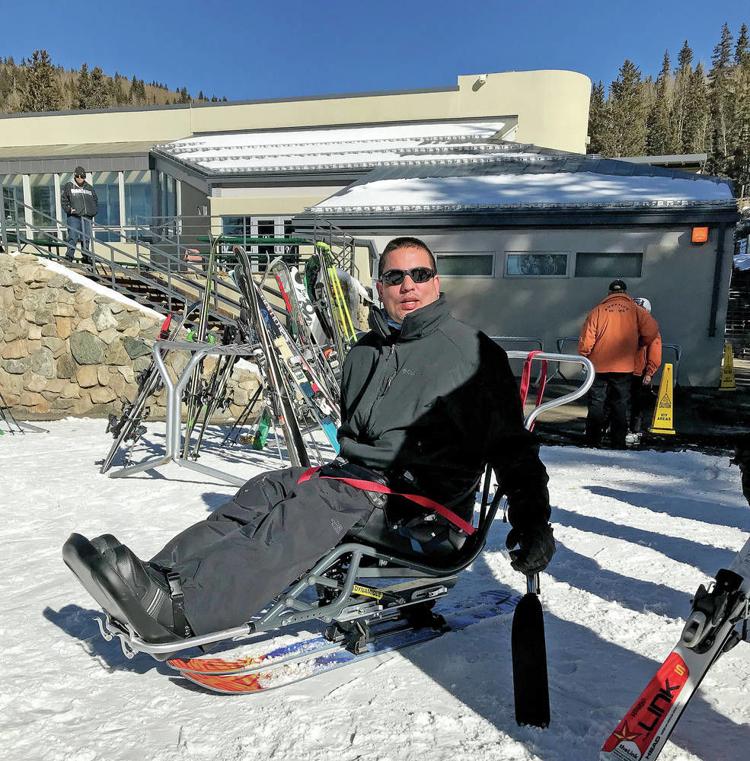 "My first impression of Mario was that he was fearless," said Cline, now ASPNM's director of operations. "He truly wanted to be able to ski again. He wasn't going to let anything stop him.
"Mario just jumped into it, more so than anyone else I've ever seen."
Cline said he and Chavez essentially learned how to use a bi-ski together, with Chavez seated in the chair mounted above two skis and Cline tethered behind.
An instructor can have as much or as little command over a bi-skier as required, with the ability to control turns and regulate speed. Cline said Chavez can now make his own turns and be largely independent while ripping down the slopes.
"A good description of it is he's the boat and you're the water skier behind the boat just holding on for dear life," Cline said.
Part of a racing family, Chavez said he's been obsessed with speed since he was a child. His mother, Margaret, raced stock cars at Duke City Speedway and his father, Henry, was a mechanic who owned an automotive recycling and car sales business.
One night when was 15, Chavez said his parents promoted him from the pit crew to the driver's seat to race for the first time at the speedway. With only his experience racing go-karts to rely on, he still took first place.
"It's just the way I'm wired," Chavez says. "My blood flows and it flows fast. That's the way I like to roll."
Chavez eventually took over his family's business but had to step away in his late 20s when he lost the strength to lift the heavier tools and parts the job required. His work today consists of occupational and physical therapy sessions throughout the week as he fights to hold onto the strength he has left. But he's never stopped tinkering, and he continues using his mechanical skills to modify his adaptive equipment to fit his needs.
Longtime ASPNM volunteer John King was also among Chavez's first adaptive ski instructors. While King has always been impressed with how Chavez manages speed on the slopes, he has a greater appreciation for how Chavez takes his time interacting with disabled athletes at ASPNM events.
"Many of us volunteers, those that are able-bodied, are moving fast," King said. "In Mario's case, he's sitting down and he's observing, and he really does observe. That is an ability that comes out of his disability. When we're on to the next thing, he's watching. He's very aware. There's a certain amount of compassion that comes out of that."
In his role as director of ASPNM, Cline said having Chavez as a volunteer is "priceless," particularly at outreach events where he's able to share the significant impact the program has had on his life.
"He's just blossomed into this amazing advocate for the program," Cline said. "He's the most friendly and social guy at all the events and everyone just loves him."
Chavez has developed close relationships with many of the volunteers and athletes over the years. He considers ASPNM an extended family he can turn to to share both the struggles and the joys in life.
Four years ago, Chavez returned to Sandia Peak for the first time since he had to be helped down the mountain. Accompanied by then-ASPNM director Brett Maul and volunteer Christina Decker, Chavez felt the freedom of carving the slopes on his bi-ski on what he calls his "day of redemption."
"We were able to ski right back to the spot where I fell and I was able to look out at that view once again," Chavez said, "and I was able to continue appreciating that view all day long on every run."