TAOS — Not unlike most folks who were born and raised during the Depression era, William Kemsley said a lot has changed since he was a boy. In addition to smartphones, high-speed internet and self-driving cars, one of the most notable changes, he said, is the outdoors.
Kemsley — better known as "Backpacker Bill," the influential founder of Backpacker magazine — said he started hiking as soon as he learned to walk. As a kid, he said, he'd go for family treks on the outskirts of Detroit, scouting grassy picnic locales and lakes for swimming.
At the time, he remembers, "There was no one else out there."
Now, however, 91-year-old Kemsley almost always bumps into a handful of friends while hiking in Taos. Parking lots at trailheads often overflow with cars on weekends, and campsites can be full by midafternoon. Yet, while some folks complain of overcrowding issues and the impact trail use can have on an environment, Kemsley argues the opposite: Popularity is for the best.
"As trails get more heavily used, they get more intensive care," he said. "There's a lot more concern [today] about the outdoors."
Kemsley recalls when there were no designated trail systems, and the term "backcountry" essentially was synonymous with a field of grass just beyond city limits.
Because there were "no telephones, no radio, hardly any electricity," he said he and his family spent most of their free time wandering in the woods. They may have been an anomaly.
"This country had no interest in the outdoors. It was all about the career," Kemsley said.
Things changed in the ensuing years, altered by the Depression and World War II, according to a 1989 report by the U.S. Forest Service. As soldiers began coming home from overseas, the demand for outside activity — and an economy to support it — grew. Kemsley said by the 1960s and '70s, trails, lakes and climbing crags were packed with people — not just dedicated fishermen and solo backpackers, but families and amateurs.
The increased use of outdoor spaces resulted in trail abuse, trash and land rights issues. It was not uncommon to see hikers meander off trail, destroying tundra; off-road vehicles caused an entirely separate hazard for wildlife, Kemsley said.
"People didn't really know how to enjoy the outside sustainably and respectfully, in a lot of ways," agreed Craig Saum, a trail and wilderness specialist with the Carson National Forest.
One day in the late 1960s, after taking a dip in a creek along New Hampshire's Tuckerman Ravine Trail, Kemsley was laying nude on a rock smoking a cigarette when an idea struck him: Why not start an outdoors magazine? A publication, he thought, could help bind the growing outdoors community, while raising awareness on ethics and trail advocacy.
Five years later, Kemsley quit his job of writing shareholder letters and annual reports for corporate businesses, and founded Backpacker in 1973.
Since then, much has changed — almost entirely for the better, he said.
Between 1965 and 2015, America's trail systems more than doubled, from 88,000 miles of trails on federal land to 193,000, according to the American Hiking Society. And today, studies predict more than 35 million Americans hike on a regular basis.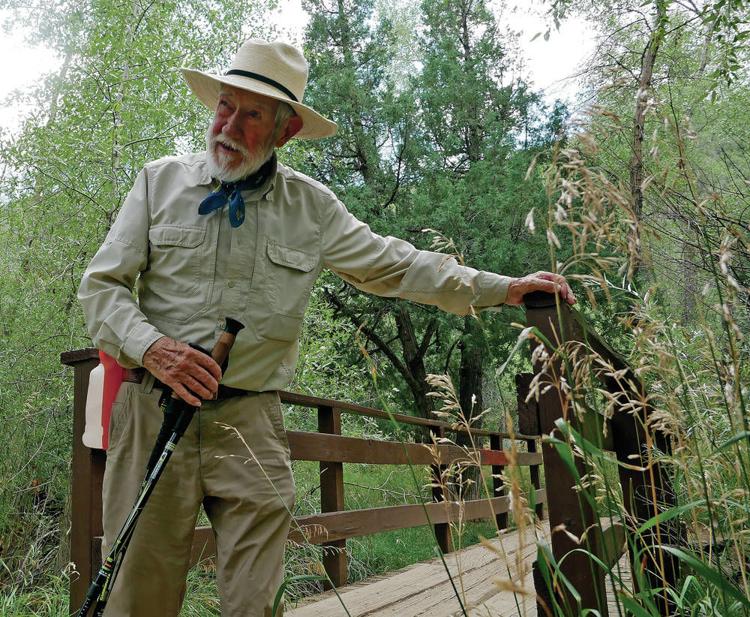 And in 2018, the Outdoor Industry Association reported 49 percent of Americans participated in at least one form of outdoor recreation in 2017.
The demand, Kemsley said, has resulted in federal and state efforts to expand trails, as well as a boost in volunteerism committed to maintaining the pathways.
"It's all positive. … The trails are cleaner, and hikers are more sensitive to the environment," he said.
Kemsley largely credits the evolution to the success of Backpacker — it had more than 80,000 subscribers within its first year — as well the success of the American Hiking Society, which he helped found in 1976 and has been dubbed one of the most influential forums for trail advocacy. He also points to the 1990s' Leave No Trace movement, an initiative to minimize impacts, dispose of waste and respect wildlife.
While Saum, who called Kemsley a "pioneer," agreed that much of the shift has been positive — last month, volunteers helped close gaps along a 100-mile stretch of the Continental Divide Trail that meanders through the Carson National Forest — he remains worried about the future.
"Popularity is soaring, however capacity to maintain the trail system is declining," he said. "We all hear about how our national parks are being loved to death. I'm not going to subscribe to the idea that everyone using these parks are necessarily going to have a positive impact."
But Kemsley remains optimistic.
"You can't hike regularly in the backcountry and not feel a kinship to it," he said. "If you show people what [nature] is like, they wanna protect it."