A month after a 7.8 magnitude earthquake rocked Mount Everest in April 2015 and triggered an avalanche that tore through base camp, killing at least 18 climbers, National Geographic published a piece titled "Will Everest's Climbing Circus Slow Down After Disasters?"
The answer, ultimately, has been a definitive "no."
In a scene more outrageous than several clowns packing into a miniature car, the defining image of Everest has become a horde of a hundred or so guides, clients and Sherpas crammed single file onto a narrow, snow-covered ridge approaching the 29,035-foot summit of the world's highest mountain.
Nepali mountaineer Nirmal Purja snapped the photo from the queue during what he said was a four-hour wait to reach the summit on May 22, 2019. The image gained global attention once posted on social media, shocking many but showing the reality of what happens when a large crowd of climbers tries to summit during Everest's brief weather window. An estimated 891 climbers reached the peak in 2019, breaking the record for summits that was set the previous year.
Dave Hahn, a world-renowned mountain guide who lives in Arroyo Seco, was on Everest during the 2015 quake and had to be helicoptered off the mountain with his clients and climbing crew. It was the second consecutive year a natural disaster claimed double-digit lives on the mountain. In 2014, an avalanche just below Camp 2 killed 16 Sherpas.
Hahn had summited Everest in 12 straight attempts prior to the disasters, but he hasn't been on an expedition to the Himalaya since the 2015 earthquake. With the ever-increasing number of climbers on the mountain creating chaotic scenarios, Hahn is unsure if he'll make another ascent of the world's most infamous mountain.
"I'm not certain I'm done with climbing in the Himalaya or guiding Everest, but I've been saying no to the opportunities that have been given to me lately," said Hahn, 58, who guides for Rainier Mountaineering Inc.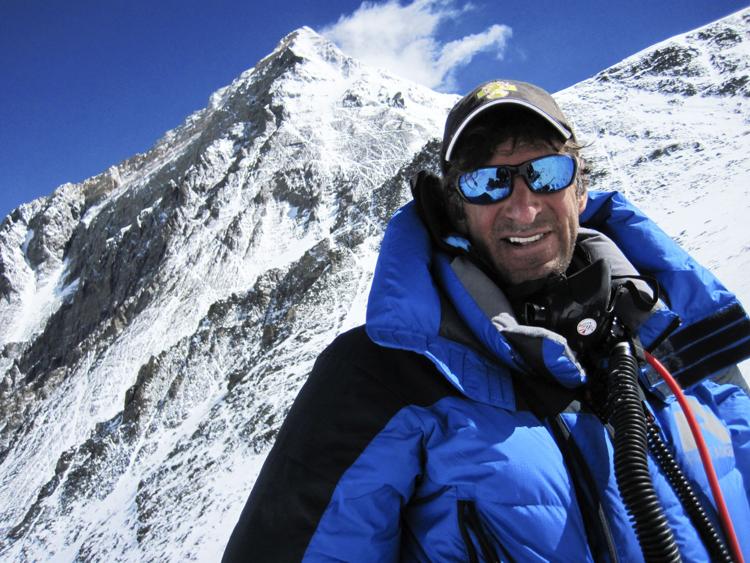 Hahn has reached Everest's peak 15 times, more than any non-Sherpa. He's one of the most experienced, accomplished guides in history.
But he says the growing number of people on the mountain gives him unease in what is already one of the most unforgiving environments on Earth.
"That's kind of the trouble for me with saying I'm going to be a guide there right now," Hahn said. "When you say that, you say, well I'm going to exert some control and, yeah, I kind of felt like with that number of people on the mountain, I didn't feel like I had that control anymore."
The prices required for clients to be guided up Everest vary widely. Some bare-bones packages are around $35,000, while higher-end expeditions can exceed $100,000 per person. Along with an $11,000 climbing permit fee, costs include medical services, food, Sherpa support and bottled oxygen. Trips typically take about two months as climbers acclimate to the elevation and wait for the right weather conditions to ascend the mountain.
Hahn knows many people paint Everest expeditions in a negative light because of the high financial barrier. While he admits he doesn't guide for altruistic reasons, he thinks there are benefits that come with leading his clientele up big mountains.
"Some people would say that you're taking these elites into the mountains where they don't necessarily deserve to be," Hahn said. "I've never agreed with that. I've always thought, no, these people, as much as anybody, they need to understand the value of these places. They're possibly the ones who have more ability to preserve them."
Hahn made his first attempt on Everest in 1991, coming up 1,000 feet short of the summit while trying the climb without oxygen. Even though the mountain turned him away, he loved the extreme challenge it presented.
The early 1990s were an opportune time for Hahn to get into guiding Everest, he said, as the commercial guiding industry in the Himalaya was in its early stages. At the same time, Hahn feels some sense of responsibility for the numbers on the mountain seen today.
"That's partly my fault. I went over there and I promoted it and I told stories and shared pictures and got people excited about Everest," said Hahn, who first reached the summit in 1994. "So it's not like I have the luxury of pointing at this crowd on Everest and saying, 'What are all you people doing there?' But that's also what keeps me from doing what I want there."
Hahn is still guiding on major mountains like Denali, Kilimanjaro and Antarctica's Vinson Massif. He has no need to pad his résumé with another Everest summit.
While the mountain remains a tantalizing figure in his mind, he acknowledges he may have made his final climb.
"As I say, never say never. I might get the urge. Somebody might wave enough money at me," Hahn said. "But I'm trying to be satisfied with what I did over there. I'm not completely satisfied with what I did over there, but I'm trying to be satisfied with it."