I heard that U.S. Sen. Tom Udall was going to retire ("The big goodbye," March 2019). He is one politician who has used his power and position to help people. He is kind, thoughtful, considerate and understanding of issues affecting New Mexicans, and he does whatever is in his power to help. He is a humble person with a great personality and has never allowed his position to go to his head. He has been a pillar and a guardian angel. Udall will be missed, but he needs time to rest and enjoy his retirement. His dad, Stewart Udall, passed away at age 90. But he left us a priceless treasure in his son.
former county commissioner
The recent article in The New Mexican about the proposed hotel on the corner of West San Francisco and Sandoval streets unfortunately created more confusion than clarity concerning the relationship between the entity proposing the hotel and the Lensic Performing Arts Center ("Lensic hotel design ready for H-board," Oct. 27).
The Lensic Performing Arts Center, while it inhabits the same block of downtown Santa Fe, is neither the developer nor owner of the proposed hotel. The center is a nonprofit, stand-alone entity. While the Lensic views the proposed hotel as a good project for the vacant parking lot, which is located directly across from the Eldorado Hotel & Spa, the center wishes to emphasize that it has no ownership interest in this project. Likewise, Greer Enterprises, or its subsidiary, G.E. Senlic, LLC, has no ownership in the Lensic . The Lensic wishes our good neighbor success in the proposed venture, as the hotel project will only add to the hospitality sector, which already serves the vibrant tourism industry here in Santa Fe.
founding director and vice chairman
Lensic Performing Arts Center board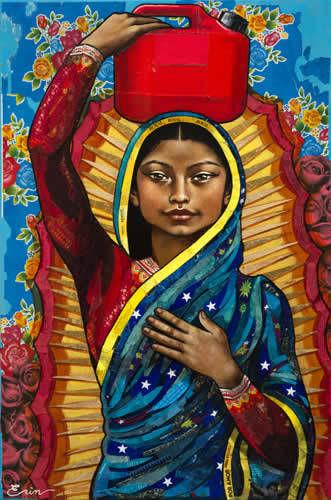 I feel compelled to defend Ranger Lujan and Joe Martinez, who are in jeopardy of losing their mechanic shop due to a sudden and drastic rent raise by the property owner, William Parker ("Supporters rally for garage operators," Oct. 11). Rising rents are the plague on our nation — destroying communities, bankrupting businesses, even creating a growing homeless population.
Ranger's and Joe's mechanic shop is a cornerstone in our South Capitol community — where small businesses like Kaune's Neighborhood Market and Ohori's Coffee continue to thrive because they are driven by heart, not profit. We know each other on a first-name basis and help one another out. And nowhere is this more true than at the New Old Trail Garage on Old Santa Fe Trail.
These guys are pure heart. I have seen firsthand the dignity with which they treat the elderly, the poor, the undocumented, the youth, the homeless, women — everybody. They embody the sense of community everyone speaks of and yearns for: It is alive and well at New Old Santa Fe Trail Garage, and I am committed and dedicated to helping in any way I can to save it.
The goats working to control weeds and improve the health of native plants in the Santa Fe Railyard Park ("Graze and amuse," Oct. 30), are true pioneers, a product of new thinking about how to manage vegetation. In fact, goats have been used for weed control by the city of Santa Fe at a solar array, by the Middle Rio Grande Conservancy District to control salt cedar in the Rio Grande bosque and by land managers throughout the West.
Using a carefully managed herd of goats instead of poisonous chemicals makes environmental and economic sense. Scientists monitored the goats that worked in the Rio Grande bosque, and found that they reduced the salt cedar and left behind a healthy stand of native grass.
Santa Fe is a pioneer in many ways, from collaborative forest management to water conservation. If our abuelos and abuelas could see the goats at work, they would surely say, "It's about time!"