April 6: The U.S. Forest Service conducts a controlled burn in the Pecos/Las Vegas Ranger District near Hermit Peak. Winds kick up in the afternoon, pushing it out of control, to roughly 150 acres.
April 10: The Hermits Peak wildfire grows to 540 acres as wind gusts reach up to 60 mph. The San Miguel County communities of San Ignacio, Las Dispensas and Pendaries Village west of Las Vegas, N.M., are put under voluntary evacuation orders. 
April 11: The fire grows to 1,280 acres, and mandatory evacuations begin for Las Dispensas, San Ignacio, Pendaries Village; Las Tusas and Cañoncito are on high alert. About 100 evacuees take shelter at the old Memorial Middle School in Las Vegas. With most of New Mexico in extreme drought conditions, blazes are burning throughout the state, including one in Roswell that began as a controlled burn.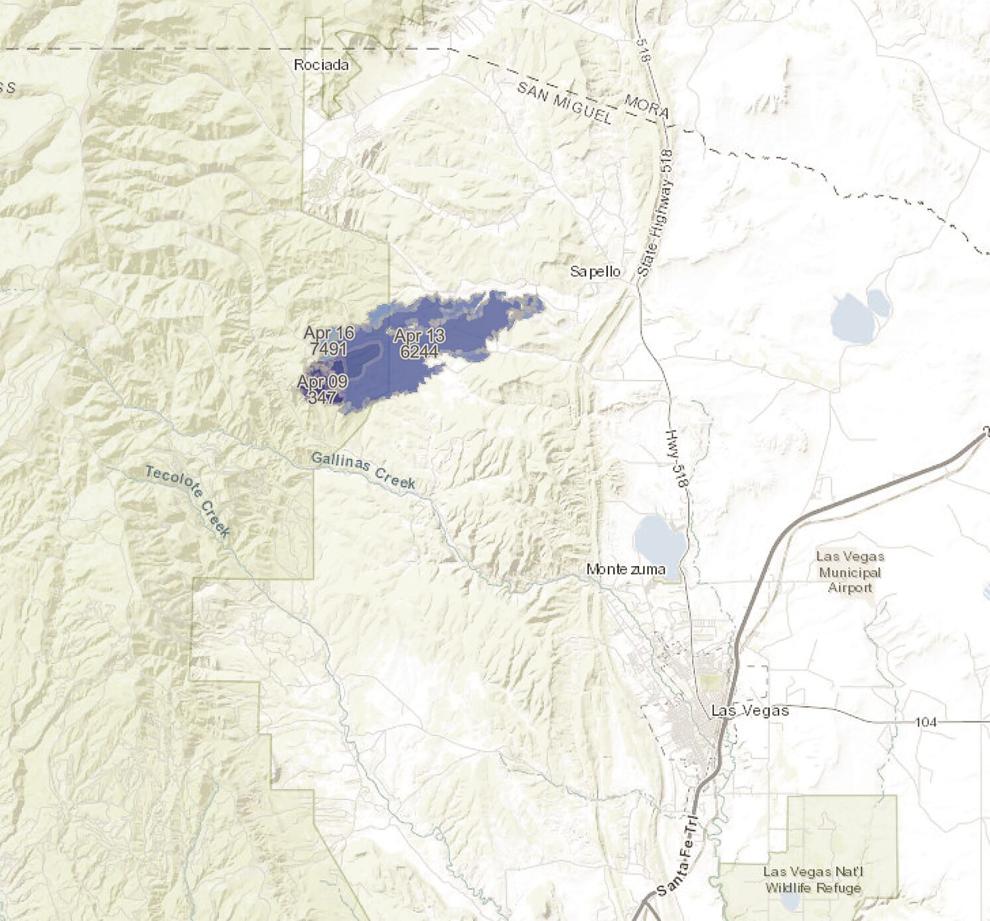 April 13: The blaze spreads to 6,276 acres, amid winds of up to 70 mph. There are more evacuations, and 350 personnel are actively fighting the fire, challenged by not just wind but also warm temperatures, low humidity, abundant dry fuel and steep, rugged terrain. The strong gusts keep aircraft grounded, a problem that will plague firefighting efforts for many days over the next month. La Cañada, Manuelitas, Sapello, Cañoncito and Tierra Monte are evacuated. Meanwhile, the newly ignited McBride Fire has torched more than 4,000 acres on Ruidoso's eastern side. It eventually will destroy 207 homes and lead to the death of an elderly couple.
April 16: Activity increases along the northern edge of the now 7,371-acre Hermits Peak Fire.
April 17: The Cooks Peak Fire sparks in Mora County near Ocate. Its "human" cause is under investigation.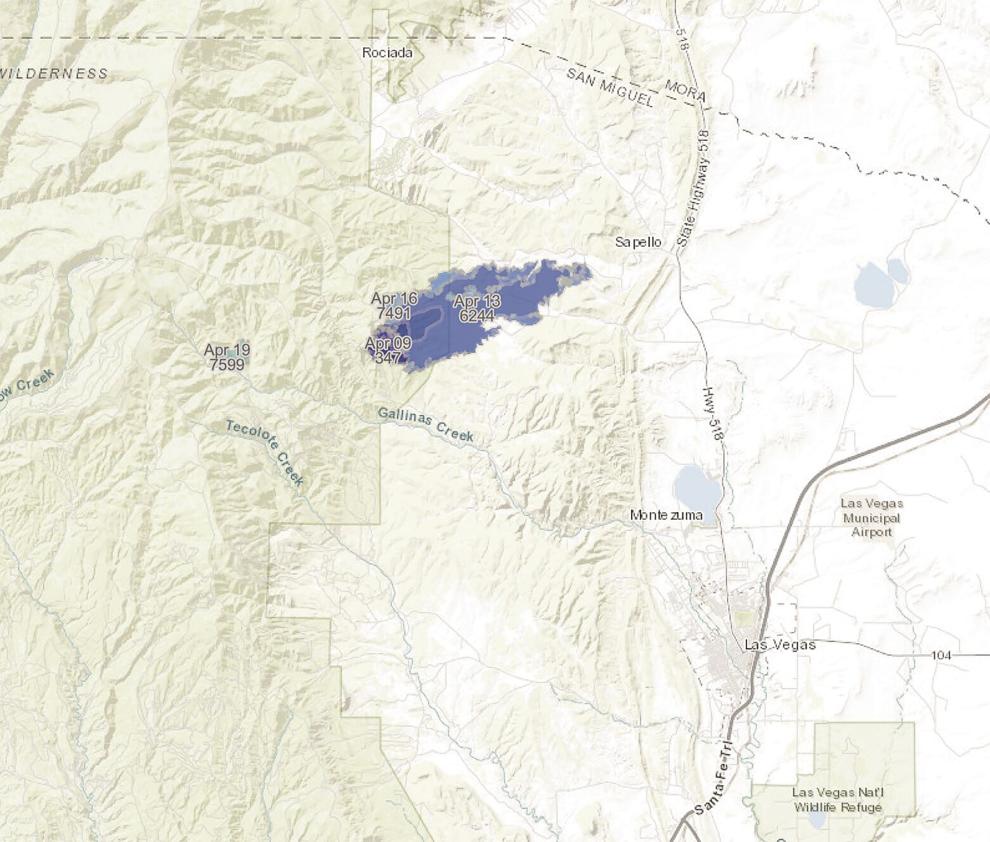 April 19: Authorities confirm the Calf Canyon Fire has ignited west of the Hermits Peak Fire, burning about 120 acres. Its cause is unknown.
April 20: The Cooks Peak Fire grows to roughly 8,000 acres, prompting evacuations of Ocate and other communities.
April 21: Cooks Peak balloons to 21,200 acres.
April 22: On a full day of red-flag wind conditions, the Calf Canyon Fire grows to 3,000 acres; Hermits Peak is at 7,573 and Cooks Peak at 28,200. More evacuations are ordered amid the fierce winds. The Cerro Pelado Fire is reported in the Jemez Mountains, at about 150 acres, about seven miles from Jemez Springs. Sierra Los Pinos and Los Griegos are evacuated.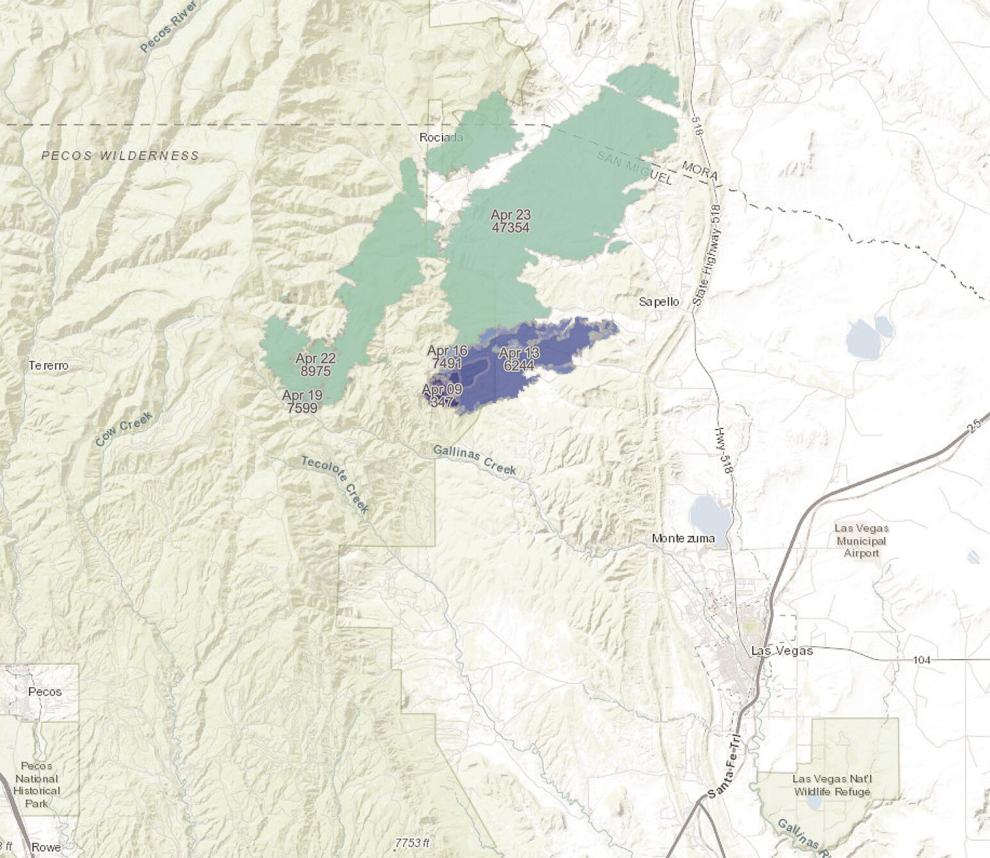 April 23: The Hermits Peak and Calf Canyon fires combine, burning a total of 42,341 acres. There are 419 personnel deployed to fight them. The Cooks Peak Fire has grown to 48,672 acres and is still uncontained. The Cerro Pelado, also uncontained, is 4,688 acres. Gov. Michelle Lujan Grisham issues a declaration of emergency.
April 25: The Hermits Peak/Calf Canyon Fire grows to 56,478 acres; on its northern side, evacuations are ordered in Mora and other Mora County communities such as La Cueva, El Alto, Rainsville and Guadalupita. The Cooks Peak Fire reaches 52,000 acres. 
April 28: Officials announce at least 277 structures, including 166 homes, have been destroyed in San Miguel County by the Hermits Peak/Calf Canyon Fire, which is now at 64,395 acres. The Cooks Peak Fire is at 55,886.
April 29: In another day of unprecedented winds, the Hermits Peak/Calf Canyon Fire marches a mile a minute southeast through Gallinas and edges toward Hot Springs. Students from the United World College USA in nearby Montezuma are evacuated, along with other communities. The fire is at more than 75,000 acres.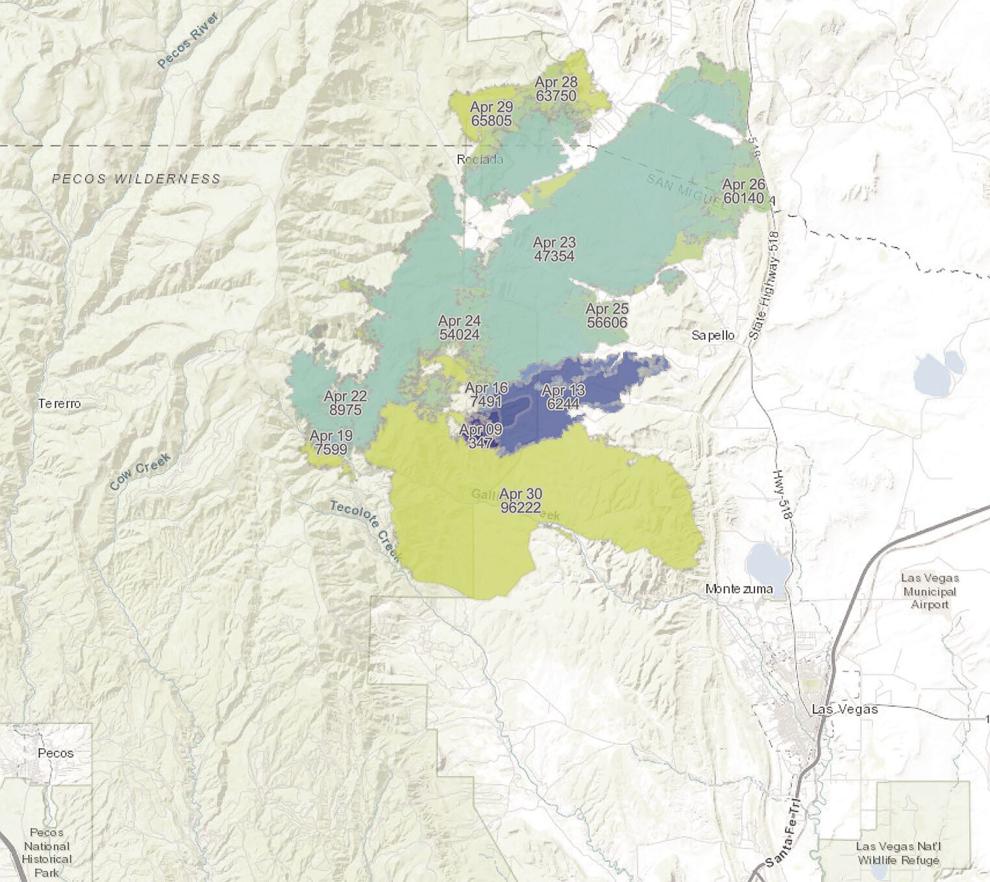 April 30: At over 97,000 acres, the Hermits Peak/Calf Canyon Fire challenges the 965 personnel working to corral it. The Cooks Peak Fire slows, at 56,276 acres, and is 56 percent contained. United World College students are moved to Glorieta Adventure Camps, which eventually will serve hundreds of evacuees.
May 1: The Hermits Peak/Calf Canyon Fire grows to 103,908 acres and is 30 percent contained. Winds push it southeast, toward Las Vegas. The city prepares for evacuations.
May 2: Las Vegas businesses and government offices shut down, and neighborhoods in West Las Vegas are evacuated. Patients from the New Mexico Behavioral Health Institute and inmates in the San Miguel County jail are transferred to facilities in other areas of the state. The blaze is now 138,912 acres and just 20 percent contained. More than 1,000 personnel are fighting it.
May 3: Lujan Grisham calls for President Joe Biden to declare a national emergency, with 15,500 households in Northern New Mexico evacuated. The Hermits Peak/Calf Canyon Fire is at 147,000 acres. It now stretches between Cleveland and Mora to the northwest and Las Vegas to the southeast. Cooks Peak is at 59,359 and Cerro Pelado, 25,000.
May 4: Biden declares a major disaster in New Mexico, prompting the start of federal aid. The Hermits Peak/Calf Canyon Fire is at 160,104 acres. There are 1,208 firefighters.
Tuesday: Several days of red-flag winds — gusts of 50 mph and higher — have pushed the Hermits Peak/Calf Canyon Fire north toward Taos and Colfax counties. Residents in communities in those counties are ordered to evacuate. Officials warn the blaze could reach as far as Black Lake and Angel Fire before it is contained. It grows to 203,920 acres, with 1,759 personnel fighting it, mostly on the ground. Gusts are too strong for firefighting aircraft. But communities northeast of Las Vegas are deemed safe to reopen, and property owners begin returning. FEMA teams arrive to provide aid.
Wednesday: The wildfire balloons to 237,000 acres. There are 1,863 personnel deployed to fight it. One arm of the blaze edges around the community of Chacon and another reaches up to Guadalupita North, just south of Black Lake.
Friday: It's the calmest day crews have seen in a while. Aircraft are able to drop retardant, aiding crews on the ground. The Hermits Peak/Calf Canyon Fire is at 270,447 acres and 29 percent containment, with 1,832 personnel. It's perimeter stretches for about 500 miles. There are concerns the lower wind speeds will allow the blaze to grow west, toward Pecos. The Cooks Peak Fire, at over 59,000 acres, is 100 percent contained. Cerro Pelado is more than 45,000 acres and 19 percent contained.
Saturday: The Hermits Peak/Calf Canyon Fire grows to 279,868 acres and is 27 percent contained, with 1,924 personnel deployed. In another couple of days, it is likely to be the largest wildfire in the state's history, surpassing the nearly 298,000-acre Whitewater-Baldy Complex Fire in 2012. The governor urges the federal government to cover 100 percent of the costs of wildfire response and recovery, noting the Forest Service's culpability.