MANUELITAS — Standing on the scorched piece of land where his barn once existed, John Martinez could only shake his head.
He watched the Hermits Peak/Calf Canyon Fire roll over the nearby hills and onto his property in San Miguel County. With his power already out and no way to pump water from his well, Martinez knew he couldn't stand and fight to save the place. He, his wife and their dog evacuated just hours before the blaze swept through April 22.
It took his barn and turned it into a small pile of twisted tin, burned and blackened tools, plus ash.
The fire also flirted with a nearby shed; a corner was singed. But Martinez's house — maybe 100 paces away from the barn — was left standing. Incredibly, a pickup full of hay, just steps away from the barn, remained unscathed.
A neighbor wasn't so lucky. The fire got his house but spared a chicken coop. A little farther a way, one trailer home was gone; another was left unscathed.
Such is the random quiltwork of the Hermits Peak/Calf Canyon Fire in Manuelitas and other tiny New Mexico towns from Las Vegas to beyond Mora: On one property, near-total destruction. A few yards away, near-miraculous salvation.
"Hit and miss," Martinez said as he stood in the charred remains of his barn, its tin remains still flapping in the wind and banging together as if issuing its own fire warning.
Navigated by the unpredictable winds, the fire has moved east, south, north and west since early April. Its only consistency has been inconsistency — burning one side of a road, leaving the other side alone. Like some horror-film monster, it seems to stomp out one house, step over the next and then stomp again on another, as was the case in the area around Martinez's house and further up the road in Manuelitas.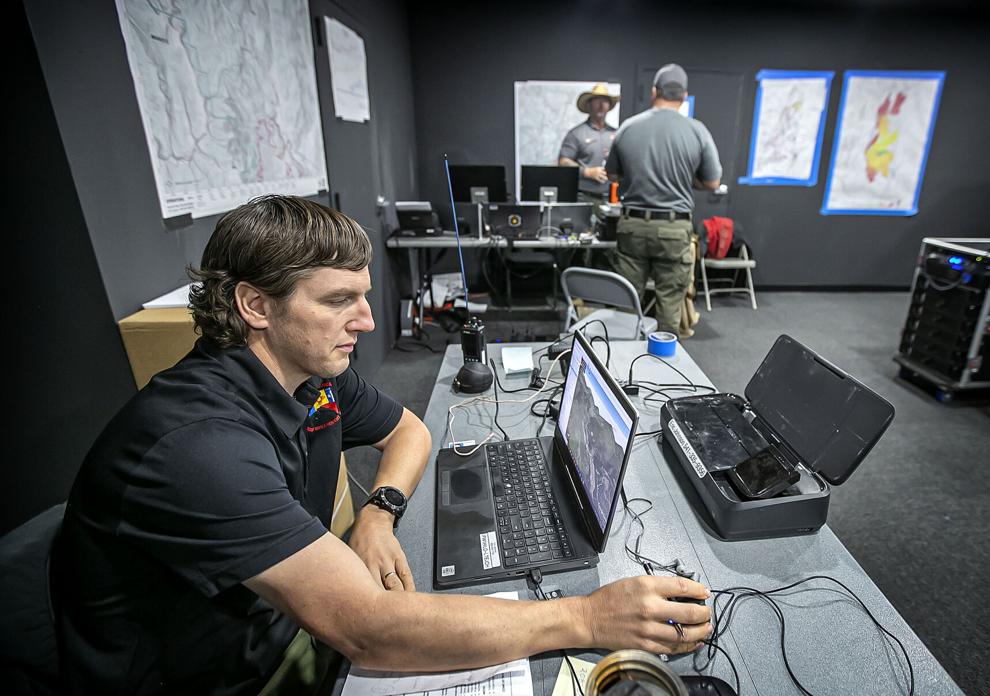 Efforts by both firefighters and homeowners likely played a role in the saving of some structures during the Hermits Peak/Calf Canyon fight. Nevertheless, understanding the whims of the fire has been a challenge, said Eric Johnson, a fire behavior analyst with the U.S. Forest Service.
Standing outside an operations center set up on the campus of Luna Community College in Las Vegas, Johnson, a former firefighter, said "predicting fire is complicated."
Johnson can give the Reader's Digest version of fire behavior: Valleys full of short grass and rocky terrain can slow a blaze down. Tree-lined slopes can feed it, transforming it into an indescribable being with an insatiable appetite.
Robyn Wood Millard and Steven Millard get that. Despite felling about 30 trees and clearing dry brush around their home high in a wooded area between Mora and Cleveland, they decided to evacuate on May 1 after seeing embers fall in the trees surrounding their home.
"We're outta here," Steven Millard recalled thinking.
They got their cat in their truck and took off toward Cleveland.
Steven Millard said the fire consumed much of the area around the couple's house — but not the structure — about 45 minutes later.
"Erratic," he said of the fire, which he had been watching in the distance for days as it moved toward his soon-to-burn neck of the woods. "You had to watch it every second."
It rolled toward their house, he said "like a freight train."
Thankfully, because of the couple's determination to create a fire-free zone around their dwelling and with the help of a crew of Capstone Fire and Safety Management firefighters who foamed down their premises, the Millard home survived.
Two weeks after the fire moved in, ash and blackened earth and trees were still obvious.
Johnson said meteorologists can predict the weather, but how those patterns, including wind gusts, affect the top and bottom of a canyon consumed with flames can make all the difference.
"The fire is moving in multiple directions," he said. "Our predominant wind here — and wind is really important for fire spread — is out of the southwest. Almost every day you have a variation of that — maybe south, maybe west, maybe somewhere in between."
Otherwise, he noted, the ability to predict a fire's behavior, he said, is "pretty good."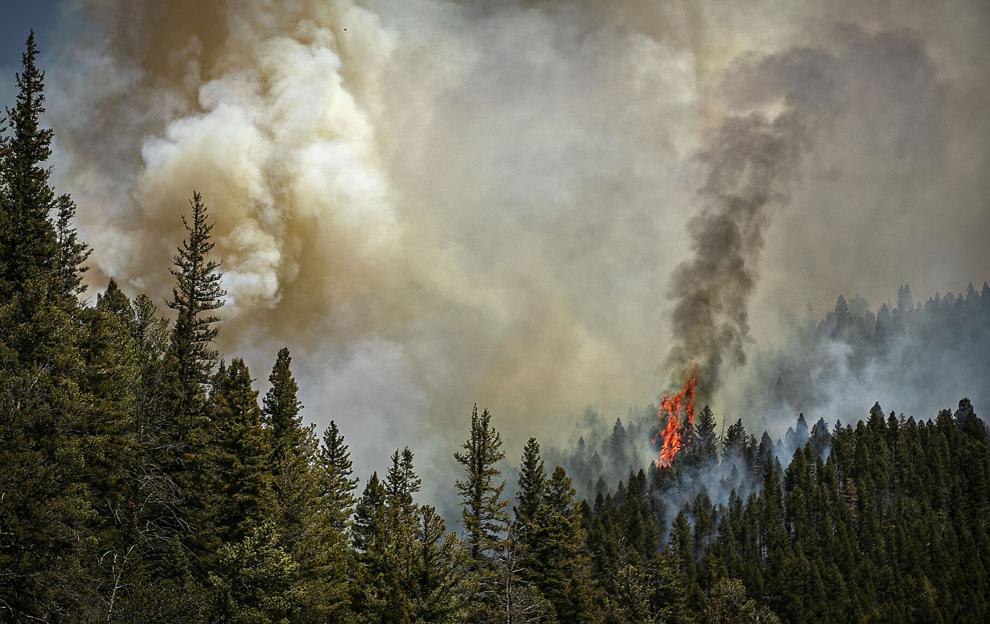 With this fire, the combination of drought conditions, single-digit humidity levels and constant, fast-moving winds has worked as a barrier for those devising a strategy to extinguish the blaze.
Other elements, some involving what you might think as more friendly weather, also can play a hand. Thunderstorms may be seen by many as a source of possible relief when it comes to drenching fires. But some fires can get so hot they create their own thunderstorms, which draw in heat and water vapor from down below.
They can whip up winds that blow back down on the fire, Johnson said, sending it "everywhere."
In such cases, he said "thunderstorms are not worth the rain that comes with it."
With the Hermits Peak/Calf Canyon Fire — partially ignited by a prescribed burn that got out of control because of the wind — everyone agrees the main element keeping it alive and out of control is that wind.
As a result, the fire, almost certain to become the worst in New Mexico history, is "pretty hard to predict," said Dave Bales, an incident commander for the forest service.
Asked if there was anything firefighters could have done to offset the fast spread of the fire sooner, he replied, "If we could go back in time and turn the wind off, the fire could have been caught."
Since no such switch exists, the fire continues to prowl for fuel. On Sunday, it was at nearly 290,000 acres, shooting plumes thousands of feet into the air at times. But it's at ground level where the pain exists: Hermits Peak/Calf Canyon Fire is leaving a legacy of scorched earth, destroyed homes and loss for those who have seen their dreams go up in smoke.
Amazingly, perhaps, there has not yet been a fire-caused fatality.
Though solace is sometimes hard to find, Martinez said he thanks God no one has been hurt or killed in the fire's 40 days. He said he cannot feel sorry for himself when so many around him have lost so much more.
He is not optimistic about the eventual outcome between the blaze and those determined to defeat it.
"The way the wind is blowing, there's no way to stop it," he said. "The wind we've been seeing with this fire has lasted for about a month. There is no end in sight with this weather."
Steven Millard, one of the lucky ones, is more optimistic about the future — at least for his neighborhood. The fire won't come back, he said, because there's nothing much left to ignite.
"Everything around us," he said, "is burned."