COWLES — Josh Collins is driving a 3,600-gallon tender near the Pecos Wilderness Area. It's early afternoon when he parks and helps engine crews pump water from a stretch of the Pecos River at a staging area south of Jack's Creek Campground.
The humidity is low, temperatures are high, and a cloud of smoke from the Hermits Peak/Calf Canyon Fire hangs heavy over the rugged mountain terrain.
More than 1,500 miles away, Collins' 3-year-old daughter, Beth, is dipping her toes into the world of gymnastics. It would be a sight to see — if only he could be there.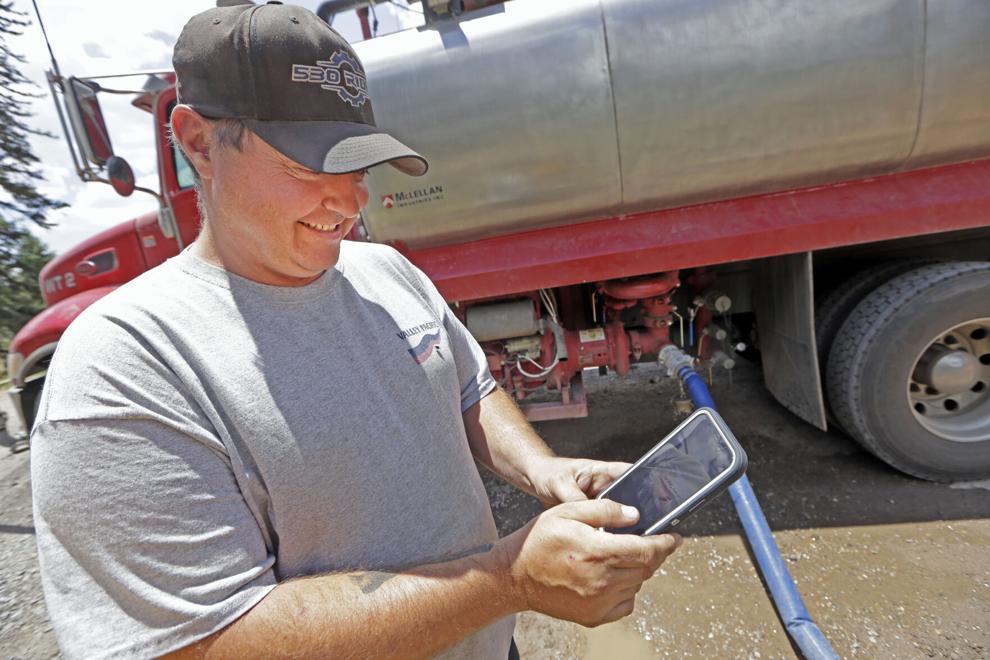 The separation, for Collins and thousands like him who are fighting New Mexico's wildfires, is particularly poignant this Father's Day. Though they've been long accustomed to time away from home during the summer, the increasing frequency and strength of blazes throughout the West make it difficult for firefighters to maintain a sense of normalcy and home life.
A 2015 analysis from NASA showed that in the past 35 years, fire season on parts of the planet, including the western U.S., had grown by a month due to changing factors, including the timing of snowmelt and spring rains associated with climate change.
For firefighters who travel from fire to fire, often doing backbreaking work in tough conditions, that means even less time at home with family and more time outside eating prepackaged meals, hiking long distances and sleeping in tents.
Division group supervisor Brendon McNeil of Austin, Texas, who became a wildland firefighter in 1998, remembered when there was more of a break between summer fires and the prescribed burns he helps conduct during the winter.
He said it used to feel like there was more time to watch his kids grow. But now, there's hardly a reprieve.
McNeil and his wife Meredith, also a firefighter, often rotate child care duties during different parts of the year for their two daughters, Avery and Lauren. He'll get to head home on a short break at the end of the month to "spoil them."
"You notice growth spurts pretty quick, and maturity," he said of his time at home.
McNeil said his kids, ages 10 and 11, have had to become quick self-learners — practically growing up in a single-parent household because he's gone so often.
"They learn stuff on their own a lot of time," he said.
As for Father's Day, McNeil knows it means a lot to his family. But he's missed many.
"When you've done this for so long, it's just another day," he said.
Jhovany Valdez, a wildland firefighter with North Pacific Forestry Inc. in Oregon, has three years of experience in the field. He also has three daughters. While taking a break Thursday in the back of a pickup parked along the Pecos River, he recalled without a moment's hesitation how many days he's been away from them and when he'll get to see them again.
His youngest, 1-year-old Gianni, had taken her first steps just days ago in Medford, Ore., where his family lives.
"I missed it," he said in Spanish.
Valdez, who is from Querétaro, Mexico, usually spends Father's Day making dinner with his family. Missing it, he said, doesn't feel great, though he will get to make a quick trip home this week.
It's Valdez's first time in New Mexico: his company, which contracts with the U.S. Forest Service, usually spends the summer fighting fires in California and Oregon.
"It's very difficult because we have to leave them for a very long time," he said. "We always leave for fire season in July. But this year, we left in April."
At just 23, Jacob Giffin is in the middle of his sixth season fighting wildland fires for private Colorado-based company Stone Mountain Fire Protection.
He said the week after he graduated high school, he was out on the line. He started for the money and stayed for the experience.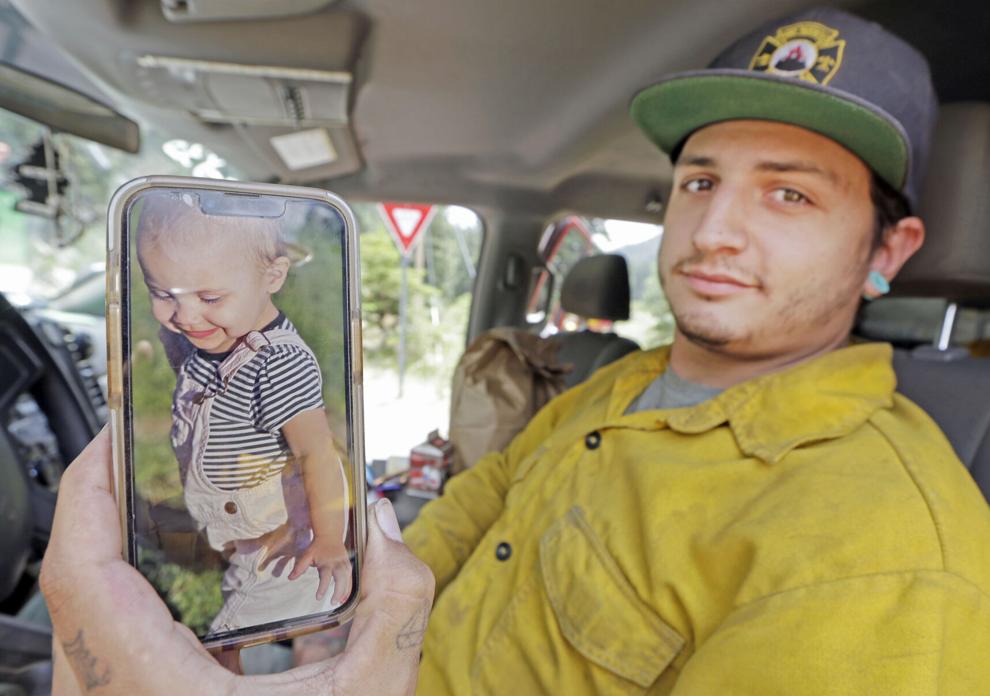 Giffin said the fire season, his first in New Mexico, so far this year has been crazy: high winds, raging temperatures, a very active fire. He hasn't seen his fianceé, Abbi, who is 22 weeks pregnant, or his 2-year-old daughter, Ember, since the day before Mother's Day. He'll be back for a visit at the end of the month.
Giffin chose the name Ember himself. "It's because of fire, honestly," he said.
"When my daughter was born, I was on a fire a week later," added Giffin, who spent 35 straight days on the August Complex Fire that raged through California in August 2020.
The first month of his daughter's life isn't the only marker Giffin has missed. He's been absent from ultrasounds at the doctor's office and Mother's Day. And now, he's missing Father's Day.
"It sucks," he said. "I just — I really enjoy what I do. And I have a very good support system behind me."
Firefighter Adrian Perez, also with North Pacific Forestry Inc. recalls growing up in Salem, Ore., with his dad — also a firefighter — gone for long stretches during the summer. For Father's Day, Perez bought his father new firefighting pants and some seat covers so he doesn't get the tan leather interior of his new truck dirty.
He's trying to create a different experience for his three kids — 12-year-old Dayanni, 6-year-old Damian and 5-year-old Adrian. After 15 years in the business, he's considering leaving to work construction full-time in Oregon, which he usually does in the winter.
Still, Perez thinks the firefighting tradition will carry on in his family. The money is good, spending time outside is enjoyable, and the work is important.
"They know I'm out here," he said of his kids. "[Whenever] they ask for a halloween costume, it's firefighter."
For Josh Collins, the last big family event was little Beth's birthday party on Memorial Day. Before he left Florida for New Mexico, Collins snapped a picture on his phone as she swiped sprinkles from her birthday cake when she thought no one was looking.
He showed it off with a chuckle. By the time he sees her again, his daughter will probably will have picked up a few more words, and maybe grown a couple of centimeters. It could be three or four more months by the time they're reunited.
Though it's hard to be away, Collins said, the money he's earning for his family is too important to pass up.
"It helps my family for me to be here," he said.
When he's back home and resumes parenting duties, he'll be sure to pick up a Slurpee from 7-Eleven for Beth on their way home from preschool. It's something mom doesn't usually allow.
"I get to play good guy for a while," he said.
In some ways, it's a perfect day for a dad. Just not on Father's Day.