It blends into rooms and spaces in a way we, as New Mexicans, may often take for granted. The regionally ubiquitous nicho. The typically dome-shaped hollowed out space in interior and exterior stucco walls where objects are placed. Often associated with the display of religious items and motif, the connection to religion can be traced to Colonial Spain and is on par with the retablo, a painted frame or shelf placed near an altar.
However, former Director Emeritus of Northern New Mexico College's Adobe Construction Program Quentin Wilson explained that the nicho, as pronounced in Spanish, or niche in English and French, is also used for practical daily use in earthen homes and not necessarily associated with any specific culture or group. He says that ever since people have lived in earthen homes, there has been the nicho.
Wilson recalls one home in Peñasco, New Mexico where all the kitchen cabinets were simply large nichos with wooden frames, and another in Mendanales where the owner carved out a big space in the adobe to expose the kitchen plumbing so it could be easily reached.
It's always been one of my favorite applications of a nicho," he says.
Though, he notes that in the moradas (holy gathering place) and many homes throughout Northern New Mexico, the nicho is used primarily for placing a favored santo (saint) or crucifix.
"Sometimes they will arrange it to have ornate doors to hide a santo and open it only for a specific occasion or time of year," Wilson says.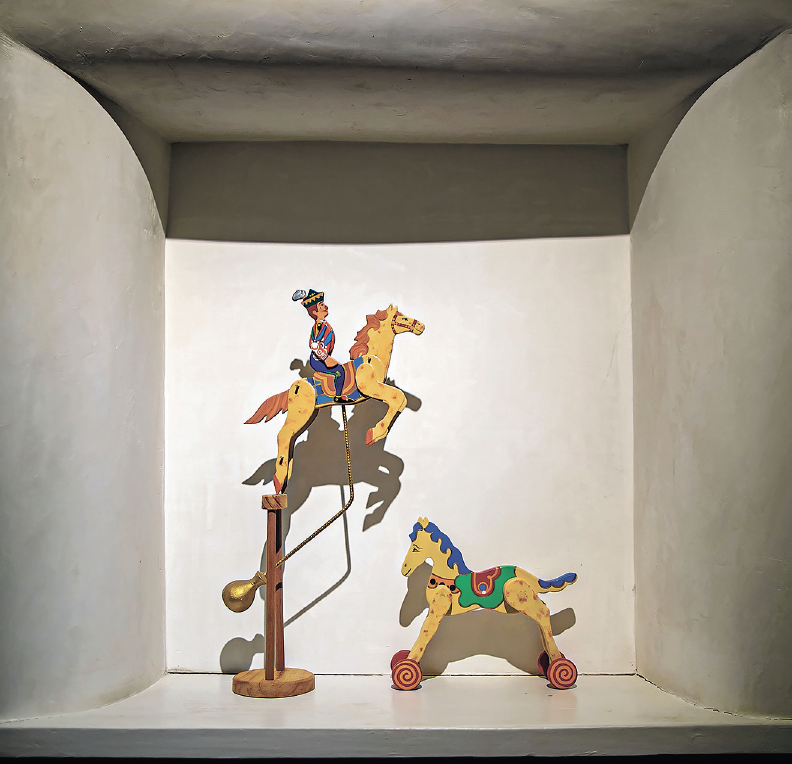 The concept of containing something held dear or spiritually meaningful still holds true in Santa Fe, but many homeowners now use their own vision. The Hillside Avenue home of art collector John Vazquez contains four interior nichos within the more than 100-year-old double-adobe walls, where he displays a mixture of traditional and modern art.
"I like to juxtapose old and contemporary," he says.
Evidence of this union is throughout the home. Vazquez converted an existing nicho into a doorway, which he felt created better feng shui — though he left a part of the original space and displays a bronze sculpture by Mexican-artist Javier Marin. In the main sitting area, two sculptures by Venezuelan artist Mario Calderon are on view in the square-shaped nicho. They bestow a whimsical essence to the room.
"He's actually a toy maker," Vazquez says, which is evident by the rocking horse forms present in the work. "They have motion and rock."
Vazquez chose to place more traditional items in the personal areas of his home. A hand-painted wood cross by Rachel Rivera purchased at the Spanish Market receives him on the way to the bedroom.
"I wanted it to be a calm, serene blessing in the private space of the house," he says.
Architect Robert Zachry often gets requests to create a modern version of the nicho for clients who want to display their art or other valued pieces. He was once asked to create one for a client's African spear collection and another who wanted to set off a work by Alexander Calder.
For a client's home in the Sierra del Norte area, Zachry designed a rectangular-shaped nicho above the bed in the master room so his client could display their small-scale objects d'art.
"I do it all the time with different parts of the house," he says. "It's what differentiates Southwest contemporary from regular contemporary."
He notes that he designs the nicho in a way that references the traditional, but distill it into something a little simpler. The architect likes to create a modern version of something traditional and specific to the Southwest. Though, he admits that while a corner fireplace is fine, he will not do a kiva.
"That's where I draw the line."