Santa Feans might be surprised to learn that for the past two years, the Grand Hacienda Award at the Parade of Homes was given to a remodeled home. How is that?, you ask. A remodel instead of a new home?

It comes down to a question of supply and demand. Santa Fe has always been constrained on the north, east and west sides by the National Forest, Native American Tribal lands and BLM lands. Yet, twenty years ago, there seemed to be so much land still to be developed in areas that have become well known, such as Las Campanas, Monte Sereno, The Summit and the Hills at Bishop's Lodge. Now, in 2022, most of these areas have been built out.
There are still choice lots to be found, of course — in-town and out — but one must look hard and keep an open mind. Some creative buyers are now beginning to look at older homes in desirable locations to remodel.

There always comes the moment, while looking at older homes, when the buyer thinks: "I love the location, but I would really like a modern kitchen, bigger windows, and/or updated bathrooms." There is a decision to be made: the views and the proximity to amenities may be great, but can I live with the home the way it is, or do I need to undertake a wholehouse remodel? Usually a consultation with an architect or designer/builder follows. The question of greater energy efficiency usually comes into play as well.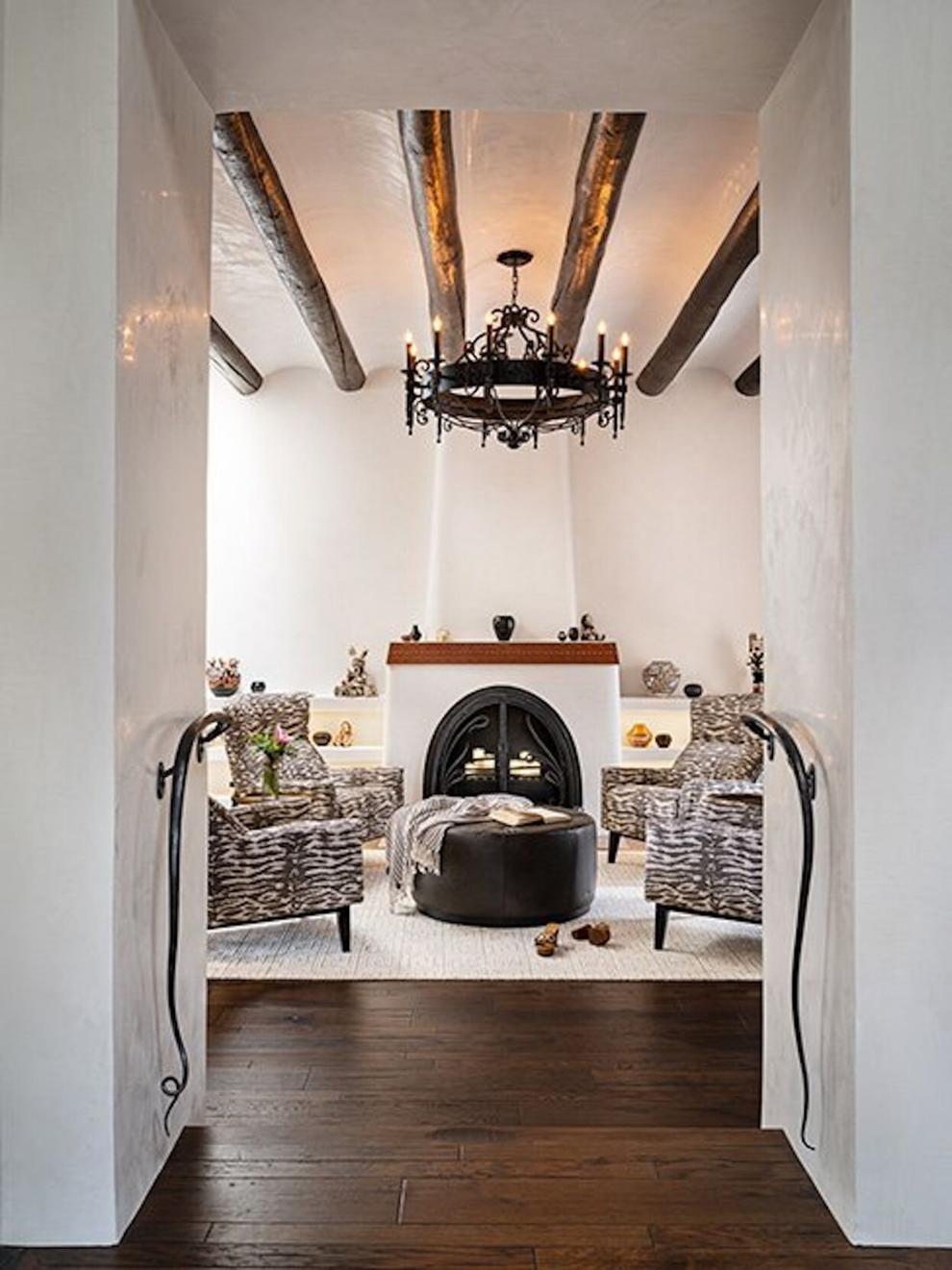 Let's look to the two Parade of Homes winners as examples of what can be done to re-imagine an older home. In August of 2021, Tierra Concepts was awarded the Grand Hacienda for a beautiful wholehouse remodel north of the Plaza. This home had a great location and fabulous views, but the floor plan was typical of large older homes — rooms had been added on for years without much thought to overall flow. Stephen Beili, of Studio Beili, was brought in to bring a contemporary feel to this classic home. What Stephen designed for the home was a better floor plan, beginning with moving the kitchen to a more prominent space in the Great Room.
He also created a cozy media area where the old kitchen had been. In another area of the house, a tacked-on extra bedroom was transformed into a light, airy and spalike master bath. The home now has all of its original "Santa Fe style" brought to the fore, without sacrificing any of the modern features that homebuyers want.
In the 2020 Grand Hacienda home, Lightfoot Builders transformed a historic adobe into the 21st century beauty. They kept many elements of the Donaciano Vigil House, while adding important upgrades such as solar PV, new plumbing and electrical systems, and a new master bath.
Not all remodeling projects need to be at the level of the Parade of Homes winners; you can join the remodeling path at any price point. Just recently, "fixer-uppers" ripe for remodeling were listed in the established, close-in neighborhoods of Casa Solana, Casa Alegre and Bellamah.
These neighborhoods have homes with big backyards, and all are close to schools and shopping. My very own first wholehouse remodel was in the Bellamah neighborhood south of Siringo Road. I took a run-down home from the 1960's, with nothing but weeds in the back yard, and created an oasis, inside and out. It was completed on a pretty tight budget, too. It can be done.
Now is the right time to look around for a home that could use your vision, your creativity and your love.
Saguna Severson graduated with a BA in Architecture from the University of California, Berkeley, College of Environmental Design. After going off to study architecture in Japan, she moved to Santa Fe and has never looked back. Working first for Santa Fe architects, she then went for an MA in Counseling Psychology, and is now an assistant to the partners at Tierra Concepts.