Driving almost daily down Rodeo Road, I had no idea that a home in the Sol y Lomas neighborhood would become so important to me. My 95-year-old mom also lived on Rodeo Road, and in February she fell, then developed pneumonia and ended up in the hospital. I was literally worried sick about what would happen to her when she was released. She did not want to go into a nursing home, and, as far as I knew, there were no hospice facilities in New Mexico. We had gone through this when my dad had been released from the hospital seven years ago: he came home under the care of a hospice agency, but after arranging a bed and oxygen, they only visited once a week. We were left to care for my dad on our own.
While my mom was in the hospital, I thought that I would have to hire round-the-clock help so that I could continue to work and to sleep. I was extremely nervous about repeating my dad's home care situation. Then one of the nurses at the hospital told me about Scott's House, a free residential hospice house, providing free care and run by volunteers, right here in Santa Fe. I had no idea it existed. By a miracle, my mom got one of the four bedrooms. The almost all-volunteer staff were so unbelievably kind. She was there for two weeks and then passed away peacefully after being amazingly well tended to.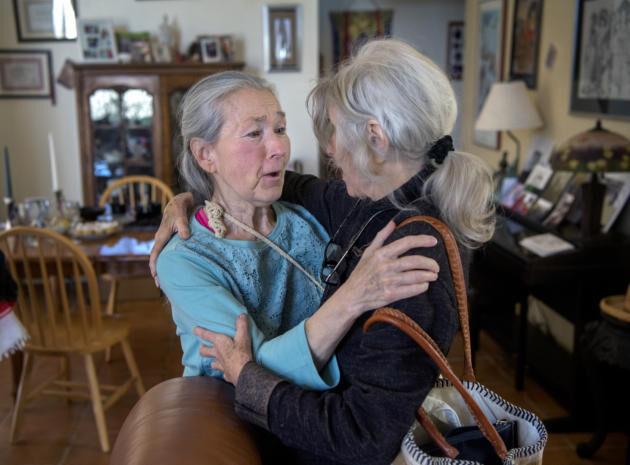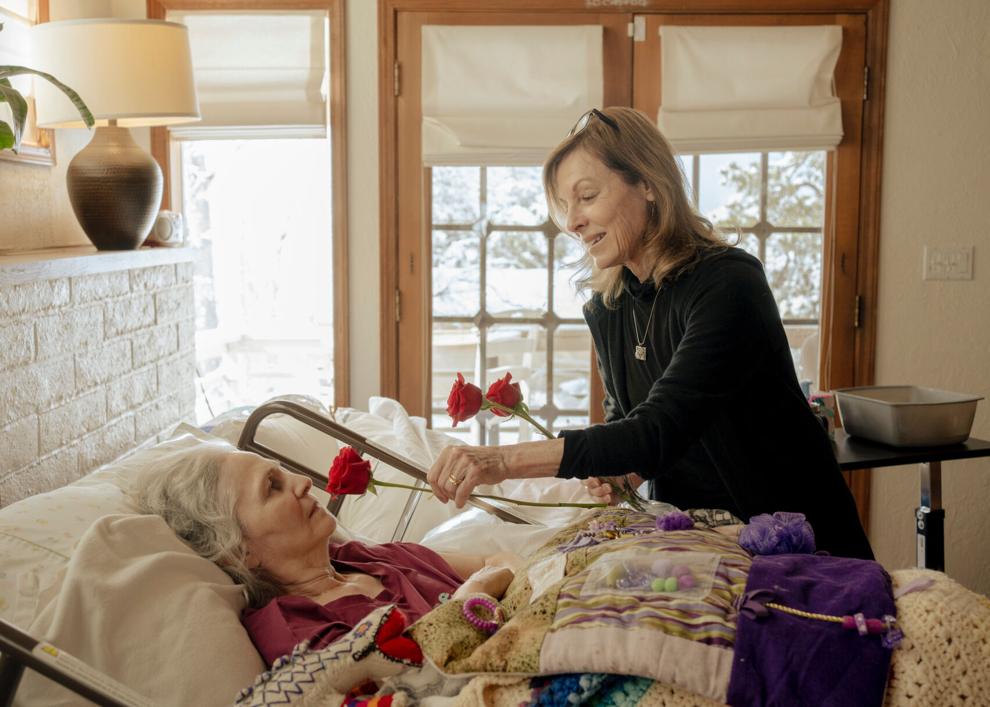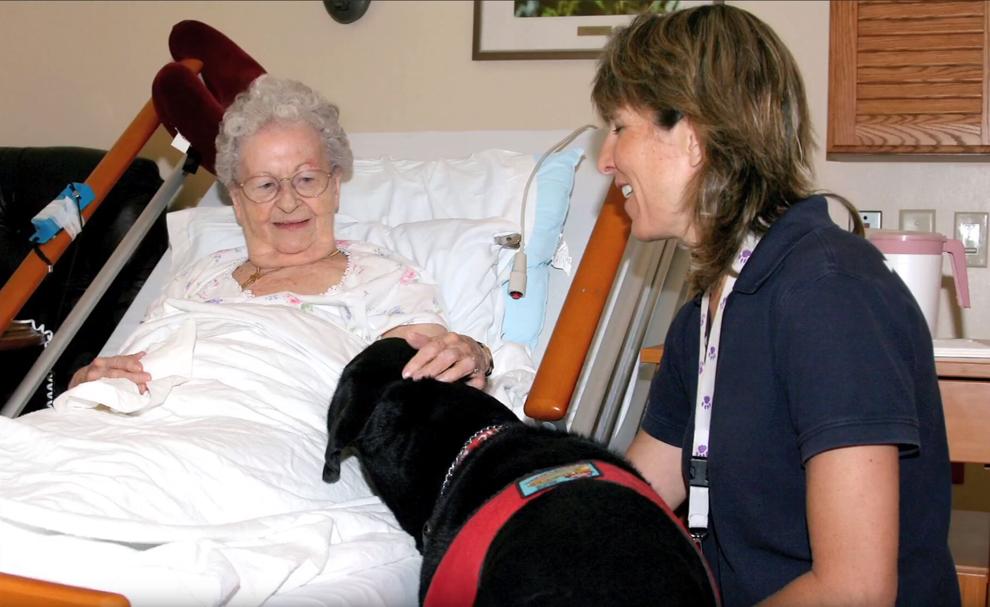 Here, I interview John Bishop, the executive director of Scott's House—named for the late founder Glenys Carl's son Scott, who died in 1991.
How did Scott's House come to be, and how did you become executive director?
Scott's House was founded by my life partner, Glenys Carl. We purchased the home for $500,000 in 2019 by raising $200,000 from the community for a down payment, with Enterprise Bank providing a mortgage for the balance. Glenys had a long history of providing care in the Santa Fe community, first during the AIDS epidemic in the early 1990s, and later, in 2005, starting Coming Home Connection to provide free and reduced-cost home care. I became executive director after Glenys died in June 2022.
How does it affect you emotionally to be around dying people all the time?
Glenys taught me just to love everybody and to serve them on their journey in this stage of life. We all go through it — at least once. Our residents are a microcosm of Santa Fe's diverse culture. I enjoy bedside conversations and sharing each other's poetry. Two lines of poetry come to mind by our residents. One was, "It was only when I knew my name was not my name / that I could whisper into the ears of tigers." The other was, "Stars, Stars, Stars. Distant Lighted Windows. / I Make My Way Home." Personally, I meditate nightly, dream a lot and try to stay in the spiritual mind. It's all about soul work.
Providing everything for free, how is Scott's House financed?
With our current $200,000 budget and volunteer-driven staffing, we are able to care for four residents at a time. Volunteers are the backbone of our organization. Last year we received approximately $120,000 from granting foundations, $20,000 from corporations and $60,000 from residents, family and friends. We are zoned for eight residents, but we need more volunteers and donations to be able to increase the number of residents.
How does the process work to get admitted to Scott's House?
Typically, a resident is referred to Scott's House by the palliative care or case management departments of a local hospital or by a hospice agency. The Scott's House admission application is filled out, the latest medical reports are provided and then Scott's House reviews every-thing to make sure that all criteria are met. All residents must be registered with a hospice agency.
Scott's House is the only free residential hospice home in New Mexico. Why is that, when there is such a need?
Not many have the interest or capacity to manage a free hospice home that's reliant on volunteers, and the process to get city and state authorizations was not easy. It took several years. I understand Presbyterian is opening a Medicare hospice house in Albuquerque, and I believe there is one in Las Cruces. We are a member of Omega Home Network — a network of approximately 50 hospice homes throughout the country.
Why did you choose to operate as a nonprofit?
Glenys always liked to provide services and everything for free. She felt at this stage of life, those in need should be provided a safe, secure, caring and loving environment, no matter their station in life.
Where do you find your wonderful volunteers?
We have a very skilled and dedicated staff composed primarily of retired RNs, MDs, NPs, doulas and hospice caregivers. I'm the volunteer executive director. Many had worked with Glenys for years. We seem to be a magnet for people skilled in this field and with a calling to serve others. In our mailings and on social media, we invite people interested in volunteering to contact us, but most of our volunteers come from word of mouth and from the nurses talking about us in the hospitals and by the hospice agencies.
Do you ever have to turn people away if their medical needs are too intense for your volunteers to deal with?
On our website, under Documents, we list a set of criteria. We are not a medical facility. We often have to turn people away, either from not having a bed available or [because] we do not take people that have infectious diseases, require intravenous tubes or injections or do not meet our weight requirements. We accept residents that are in the later stages of their hospice experience, with a prognosis of two months or less to live. Although we've had a few residents for much longer than two months, we are not an assisted-living center or skilled nursing facility.
You have a big piece of land around the house. Do you ever think about adding more bedrooms?
It is a possibility in the future, contingent on funding.
When you purchased the house, did the neighbors object to the home being used as a hospice?
The city required us to notify all adjacent landowners to give them an opportunity to object. There have been a few concerns raised and resolved, but now we are all good neighbors.
To volunteer and/or donate visit the Scott's House web site at www.scottshouse.org.