Regal is the word that comes to mind as the gates of 450 Circle Drive open and you drive toward two towering entryway columns topped with stone lions. A spacious car-park and ornate water fountain leading to a massive, yet hidden, carved-wood front door welcome you home.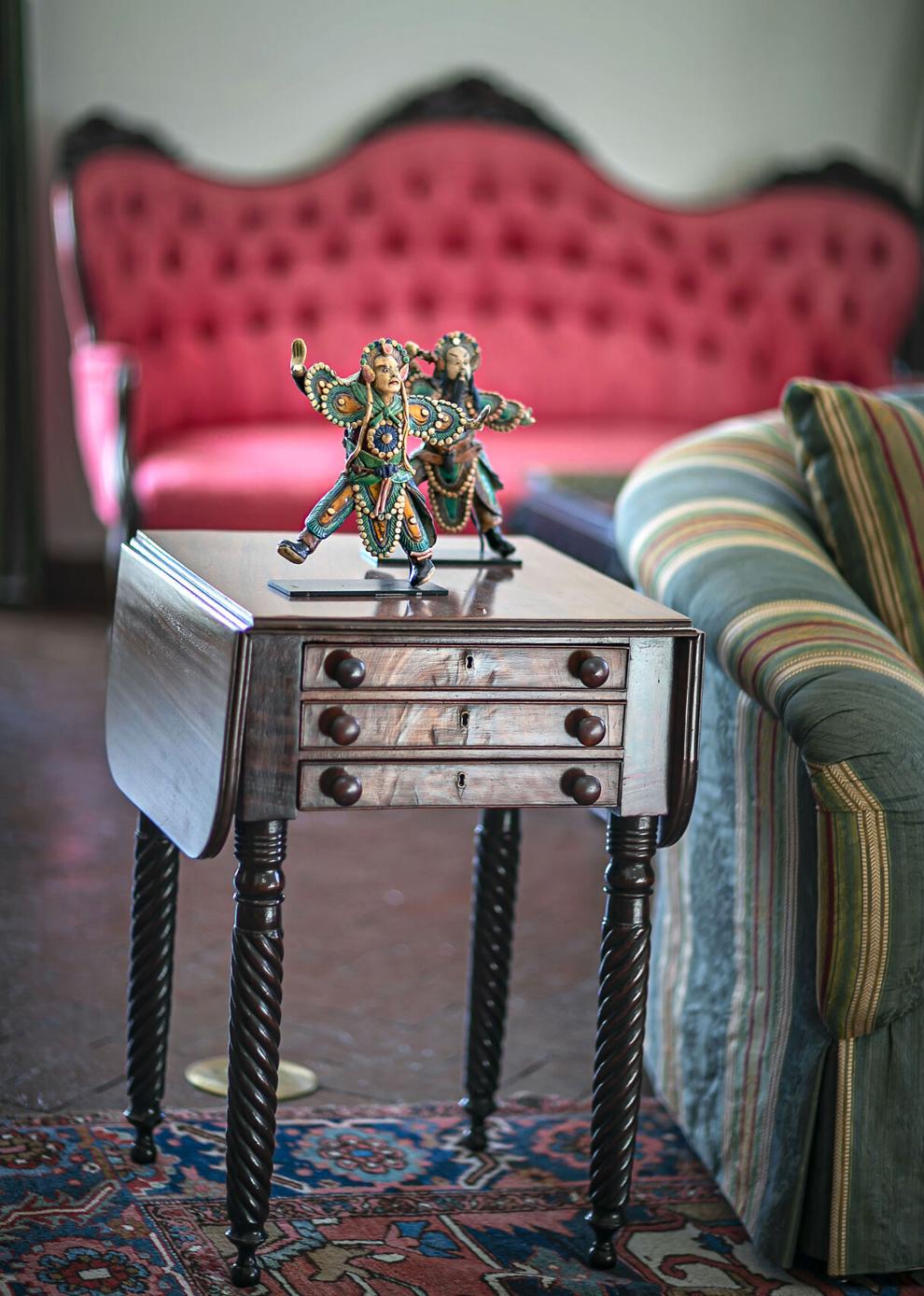 The recent residence of the late Edgar Daniels, a Santa Fe Opera Honorary Board member and "... [a] true renaissance man...admired philanthropist and passionate supporter of the arts, especially opera," this property is nothing short of marvelous for displaying art and hosting memorable events. Plácido Domingo, among other luminaries, were entertained at 450 Circle Drive, making it is easy to see how descriptors such as music room and salon might be fitting for the features of this sprawling 8,308 square-foot private Northside estate.
Your journey into elegance begins in a stunning rotunda foyer leading to the formal living room with a massive stone fireplace, high ceilings, herringbone brick floors and a gorgeous sunroom. The room's chandelier and enormous windows, which open up to an intimate garden view, hint of the Gilded Age.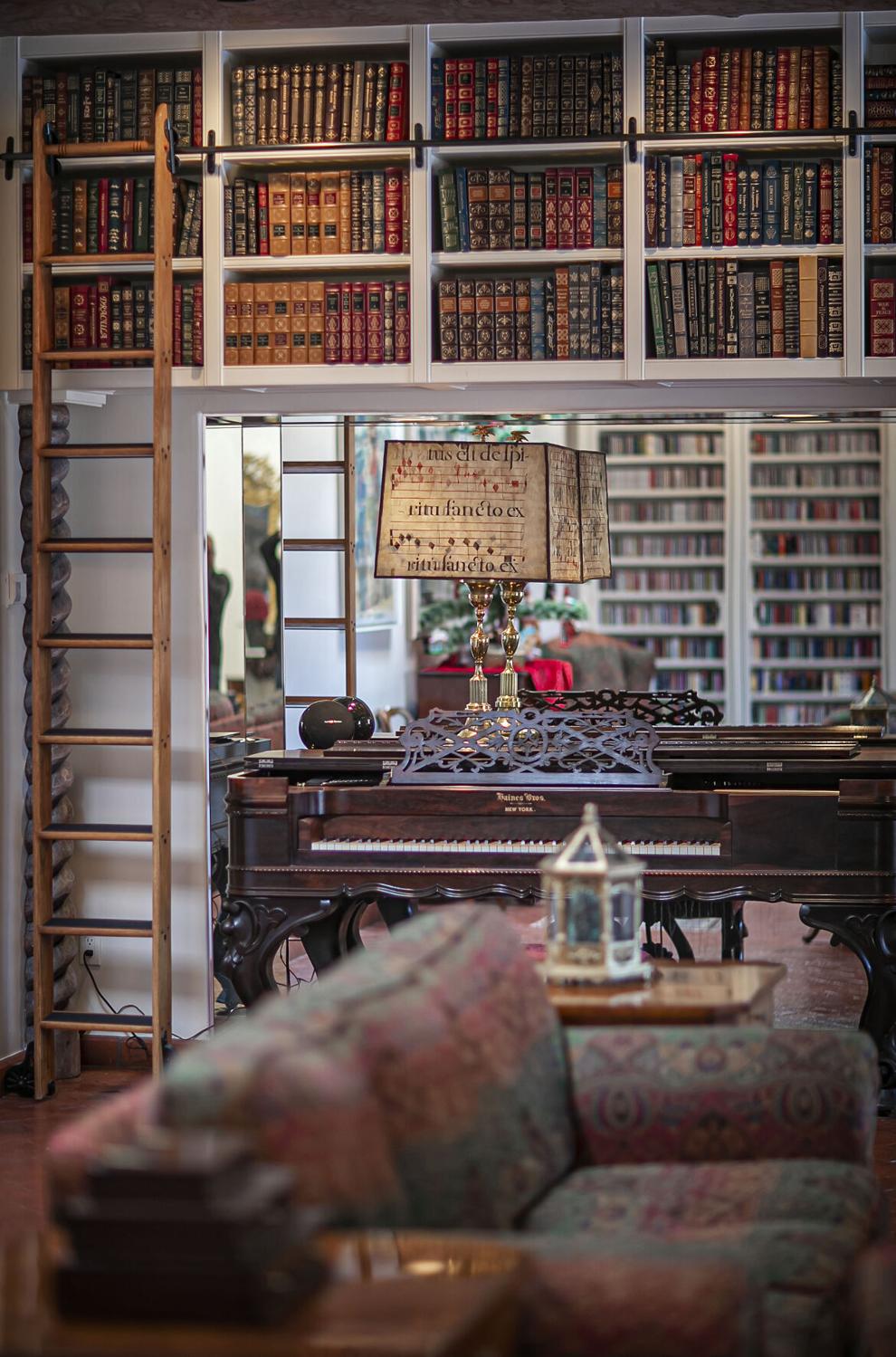 Situated on 2.5 acres with luxurious gardens (roses, roses, roses), water pools and fonts, terraces and meandering trails, one feels they could almost be in Europe, except for the stunning Sangre de Cristos backdrop view that demands dramatic pause and beautifully reminds us that this is wild and wonderful Northern New Mexico.
Perhaps one of the most alluring rooms in the house, because of its size and grandeur for a private space, is the master suite. A vaulted bedroom, nicely separated from the rest of the house, the master bedroom features a welcoming fireplace, tall windows and a private sunroom that runs along one wall, bathing the entire room in light. Antique Oriental rugs and vases work well in this room. It feels fit for a king or queen.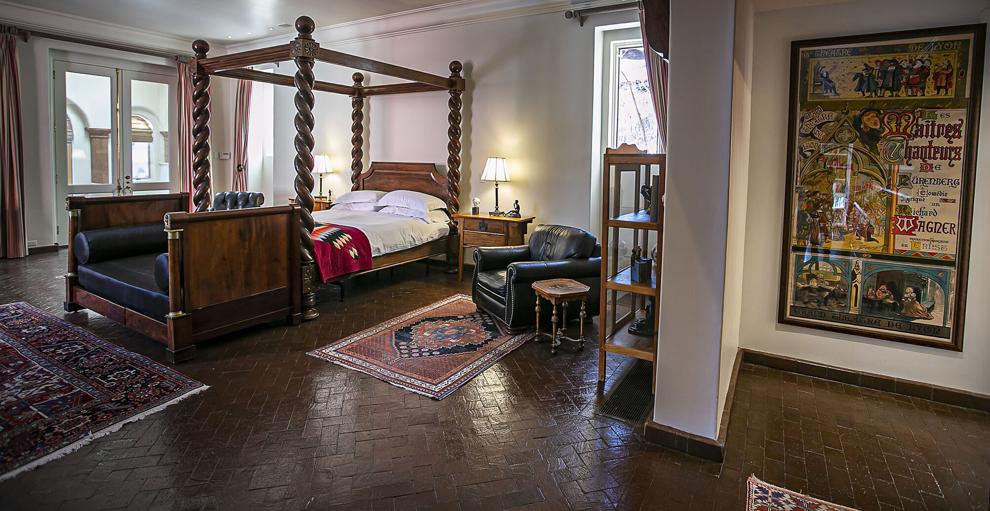 In the rooms fanning out from the master bedroom, marble busts and multiple galleries — plus floor-to-ceiling bookcases throughout — lend an air of formality, which is soften by long bancos and large windows looking out onto several portals and discreet lawn areas.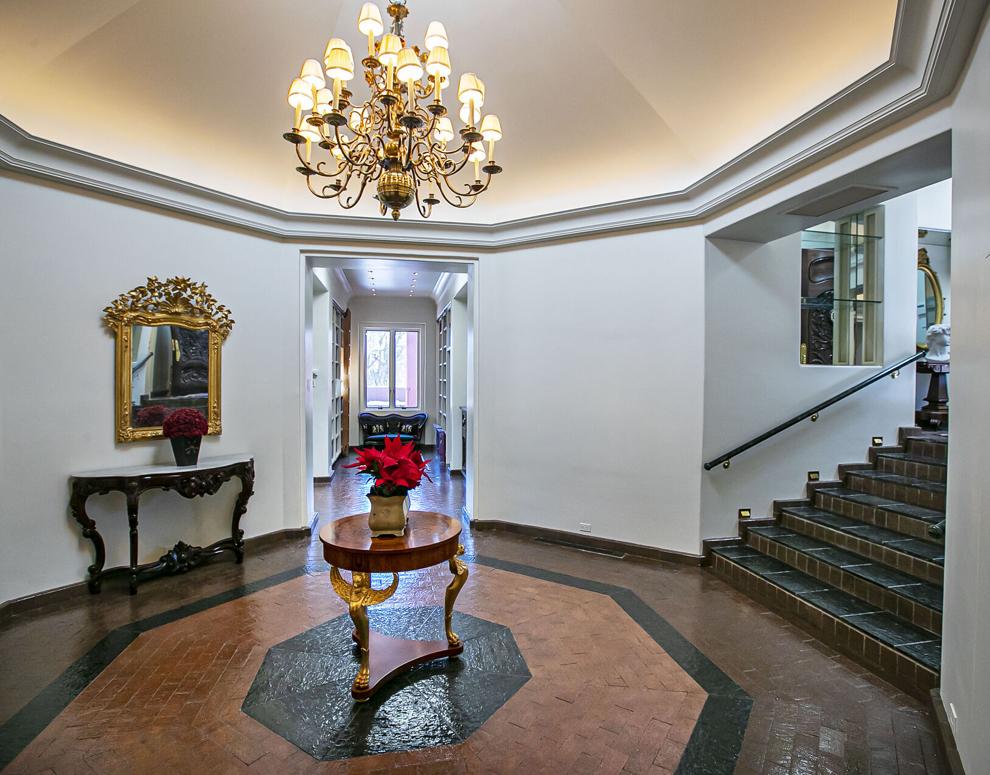 As one would be expect of a home of this size and stature, there is a separate dining wing with chef's kitchen outfitted with copious cabinet storage and a bright breakfast area, along with a china and linen room, wine room and walk-in pantry. Two ensuite bedrooms, each with a sitting area and kiva fireplace, also connect from this side of the house.
Last, but not least, an 1,880-square-foot split-level guest house with full kitchen, living-dining room, three bedrooms, three baths, two levels of outdoor seating with mountain views and two one-car garages makes this majestic compound magnificently complete.
If privacy and a true sense of place are important to you, 450 Circle Drive offers an indoor and outdoor canvas on which to create an elegant and expansive living and entertaining adventure.