Nature definitely called to the DiBettas when they found their home in Glorieta. Situated on 2.5 acres abutting pristine National Park Service forest, this contemporary country gem says "spacious," inside and out.
"We instantly fell in love with the house from the driveway. Being surrounded by trees everywhere we looked and the inspiring mountain views from the back yard wowed us," said Nadine DiBetta.
Originally focused on looking at homes in Santa Fe proper, the DiBettas were drawn to the sleek feel that the home's open floor plan and concrete flooring offer.
"Finding this property was a very happy accident, indeed," commented Nadine. "I had always dreamed of owning a home that had in-floor radiant heat throughout."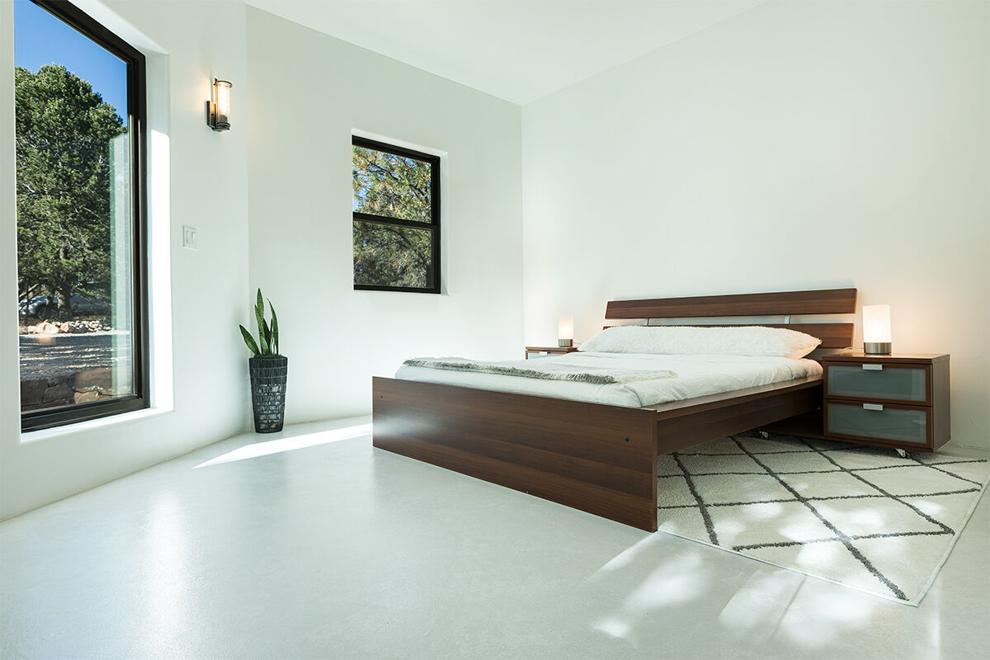 This is a house for lovers of light, with its many multi-sized windows placed at differing levels. While lying in bed, soaking in the bathtub, cooking, or even doing laundry, there is a window to look through and a view to enjoy.
White dominates the spaces, giving a sense of continuous flow from one room to the next. Custom touches such as mini-blinds embedded between two panels of weather-resistant glass in the sliding door to the back patio add thoughtful sophistication to everyday living in this home.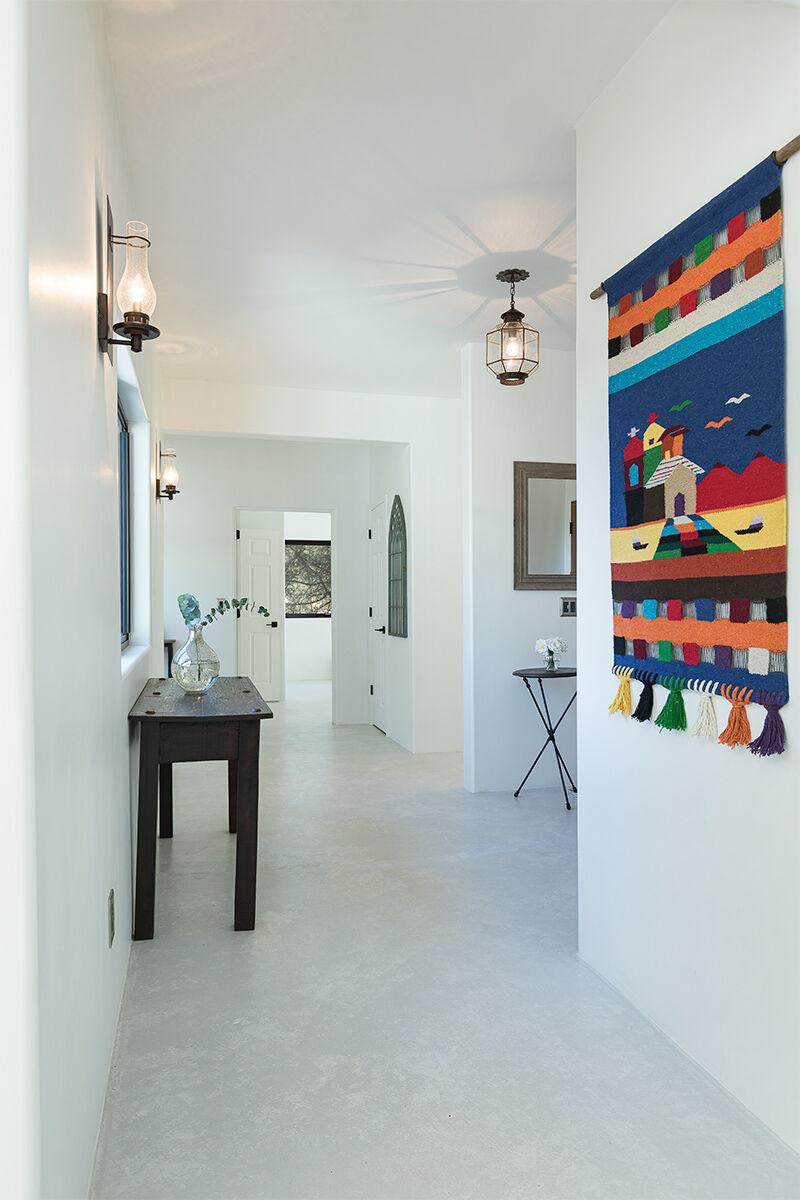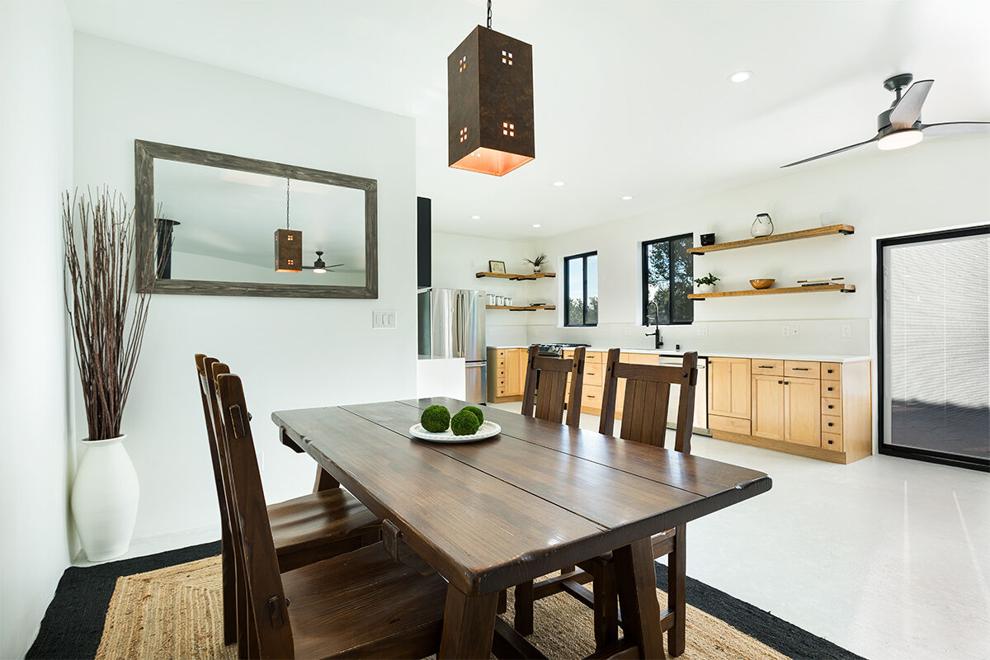 A double-doored Jøtul cast iron wood stove in the living area and electric fireplace with soothing LED display in the master bedroom lend coziness and convenient comfort from one room to the next in winter.Updating and enhancing the house and choosing finishing touches were acts of design passion for the DiBettas. Countless hours of research (and back and forth conversation) went into deciding on materials, lighting and textures. The result is a home that is as easy on the eye as it is to live in.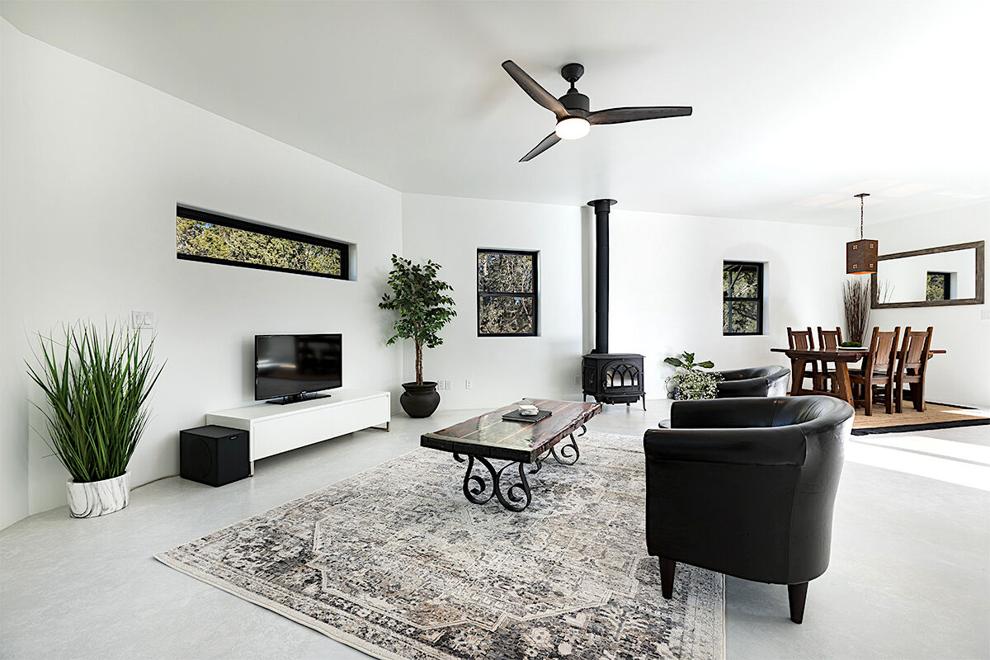 "The word and feeling that always come to mind when I'm home is peaceful — especially when enjoying my morning cup of tea outside and watching the streams of hummingbirds that come back year after year... and let's not forget all the deer and elk we see casually walking along in the forest; we never get tired of seeing that!"
For an exclusive showing of 765 Old Denver Highway in Glorieta, contact James Delgado at Coldwell Banker Mountain Properties, 505- 988-7285, or jamesdelgadosantafe@gmail.com.