Stone and wood do a seamless yet sensational dance through every spacious room of this 9,000 square-foot home on Paseo Aragon Drive in Las Campanas.
Everywhere you look, inside and out, there is stone and wood, wood and stone, hand-crafted and designed to create a sense of being held, of being welcomed.
"I had never seen anything this size with this much custom handwork," said Wayne Badovinus, who, with his wife Nancy, have artfully owned and enjoyed the home for the last 12 years. Nature is truly inside here. More than 120 hand-hewn beams and portillos are incorported in the home's unique construction. The earthy confluence of tile and stone, on floors and walls — including a curved, dry-stacked Anasazi-style stone shower wall — grounds you in solid design.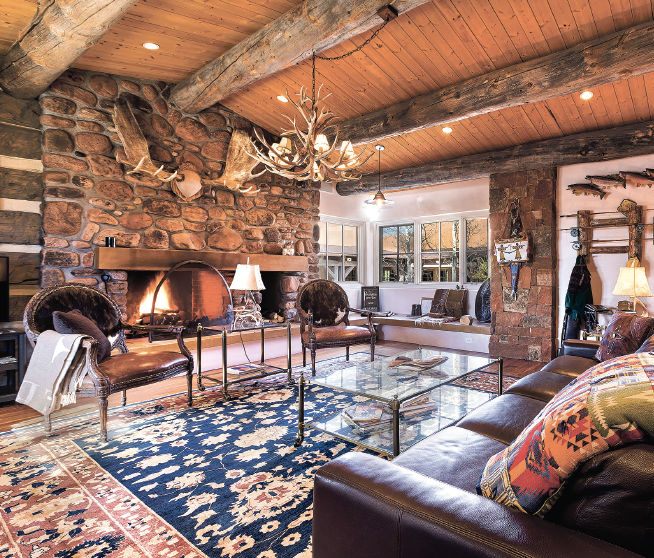 "This house exudes warmth," shared Wayne.
Fate smiled warmly on the Badovinuses when they found 145 Paseo Aragon. "We knew, parked in the driveway, that this was to be our new home," recalled Nancy. Before even entering the hacienda, one is presented with a creative and definitively custom-designed array of materials — from the log cabin-style contruction on the guest house (also heavily featuring stonework) to a peaked roof in steel over what is the "kiva" media room.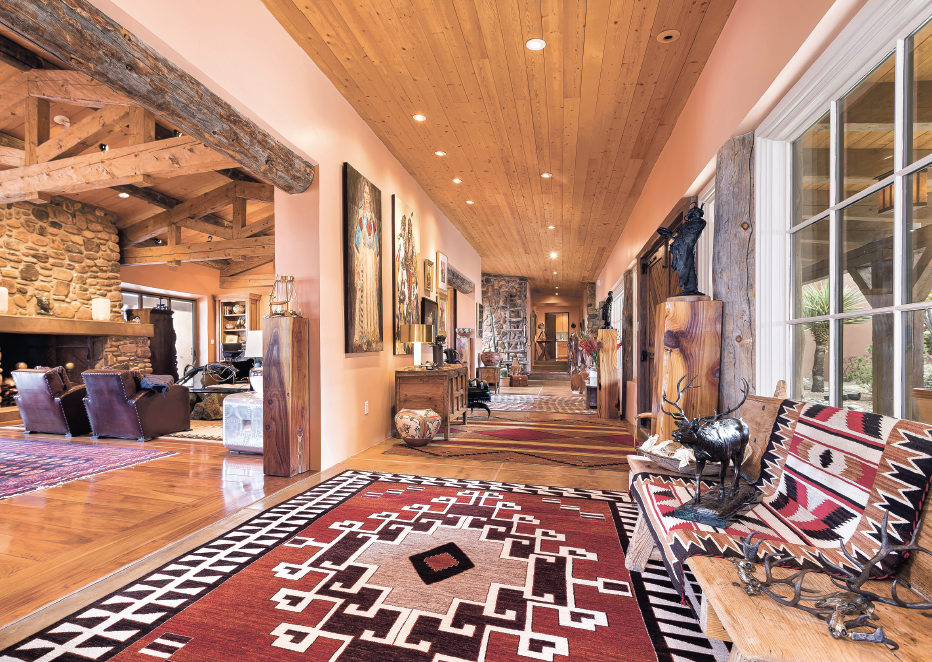 Stylish but not showy, the home's expansive rooms are like gigantic open arms that welcome you to come sit and relax. Large glass windows and doors leading outside from each main room bring pure light and peaceful views comfortably in. Patios with ample seating, fireplaces and soft mountain views surround three sides of the home, which includes a arge inner landscaped courtyard featuring a meandering stream.
"Each space has character," commented Nancy, who, as an active cook and hostess, admits her favorite room of all is the superbly outfitted kitchen.
Two salas — one grand and the other adjoining a spacious openconcept kitchen-dining area — feature large fireplaces as focal points, of course made of river stones. The floor-to-ceiling hearths serve as a hefty reminder that this is a home to get comfortable in.
"These rooms have absorbed so much joy and laughter," offered Wayne.
It's true. It's difficult not to smile sitting surrounded by the ingenious medley of glass, light, wood and stone that beautifully blend in each and every room in this Paseo Aragon home. This is a place to hang up your hat, boots and serapé and breathe deeply the sense of space, place and belonging to the earth.