As Old Man Gloom goes up in flames Friday night, he might look a little like Mr. Wilson from the original Dennis the Menace — grumpy and wearing a cardigan.
For the fourth year in a row, the Kiwanis Club of Santa Fe is centering the Zozobra production on a decade-based theme — part of a 10-year tribute to the giant marionette's history that will culminate in a 100th-anniversary celebration in 2024. This year, the 93rd Burning of Will Shuster's Zozobra, he is dressed for the 1950s.
Some of the brainstormers behind the project wanted to put the old guy in a leather jacket for the night. But others rejected the plan, saying the bogeyman wasn't young enough to be a greaser.
"I had to remind them he wasn't a whippersnapper in the 1950s," event organizer Ray Sandoval said.
Volunteers have been preparing for the spectacle this week, hoping to manage the technical challenges of the night, such as road closures and possible parking shortages, as tens of thousands of people make their way to Fort Marcy Ballpark and Magers Field. Last year's burning drew a record-breaking crowd of more than 55,000 people, up from a previous record of 48,500 in 2015.
"We continue to try to up our game and try to be true to our tradition, but make it bigger and better every year," Sandoval told The New Mexican after last year's show.
Gates to the party open at 3 p.m. Friday, with attendees entering through the parking lot of the Scottish Rite Center on Paseo de Peralta and Bishops Lodge Road. Streets surrounding the Fort Marcy fields will close in the early afternoon: Bishops Lodge Road at 3 p.m.and Old Taos Highway at 4 p.m.; Paseo de Peralta, between Marcy and Guadalupe streets, will shut down at 5 p.m., Sandoval said.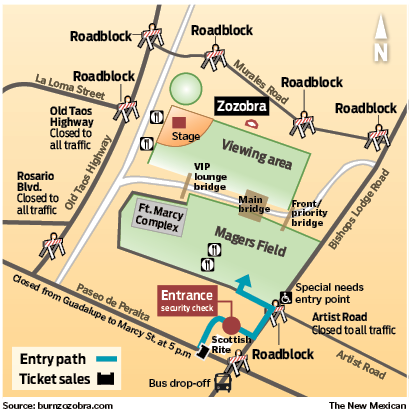 Parking won't be available near the Fort Marcy complex Friday, so Sandoval suggests that people park at one of three lots near the Roundhouse and take a free shuttle to the field, starting at 5 p.m. Shuttles also will run between the South Capitol Rail Runner station for commuters. The train schedule will be adjusted to accommodate Zozobra attendees. Fares will be free after 5 p.m. for Santa Fe Trails buses, according to the Zozobra website, and city parking facilities downtown will charge a flat fee of $5 from 6 p.m. to midnight.
Tickets at the gate will cost $10, and admission will be free for children under 10.
Live entertainment is scheduled throughout the afternoon, starting with a 4:20 p.m. performance from the winners of the Boys & Girls Clubs of Santa Fe/Del Norte Battle of the Bands, a young metal group called Illegal Aliens. Blues band Fritz & The Blue Jays and rock 'n' roll band the Fun Adixx will play until 7 p.m., when opening remarks will start the show, followed by a performance from the New Mexico-based Latin band Simpatico and an appearance by the 2017 Fiesta Council.
Around 8 p.m., the musical headliner, Los 5, will take the stage. The Los Angeles-based boy band, whose members hail from Mexico, Argentina and Brazil, will play a bilingual, Latin-flavored fusion of pop, dance music and hip-hop.
Just ahead of the scheduled 9:30 p.m. burning of Zozobra — weather permitting — organizers will release 1,000 beach balls into the crowd and play a mashup of the biggest songs of the past year. Then they'll crank up the 1950s tunes, in keeping with the theme of the event, as the burn time approaches.
"We're really excited about this. This is the rock 'n' roll era," Sandoval said. "We'll get a big sock hop going."
An added touch of nostalgia: Santa Feans bearing the torches to ignite Old Man Gloom will be wearing letterman jackets decorated with letters from Santa Fe High School, St. Michael's High and Santa Fe Indian School, the city's three high schools during that decade, Sandoval said.
He expects the overall cost of this year's event to be about $300,000. Last year, The New Mexican reported, it cost around $295,000.
To offset rising production costs, the Kiwanis Club sold higher-priced premium tickets this year, which will allow access to new seating areas in prime range to watch Old Man Gloom burn. Sandoval said the group sold all of those tickets — numbering more than 1,200.
"We're really proud of the fact that we sold out of those premium seats," Sandoval said. "The public just responded overwhelmingly."
Improvements made to the celebration include women-only port-a-potties — a request from past attendees surveyed by the Kiwanis Club — as well as 40 new staff members, more than double the number of check-in stations to make entry go more quickly, and paid ushers to guide people and give them information about the event.
This year, Sandoval said, attendees will not be able to bring coolers into the event because they take too much time for security staff to check.
As in years past, backpacks, plastic bottles, glass bottles and alcohol will not be permitted. People can bring in food for themselves, aluminum cans of nonalcoholic beverages and empty, reusable water bottles that can be filled inside the park.