The sun set, the Gloomies danced and Zozobra, packed full of Santa Fe's glooms, burned to a crisp in the middle of an empty field at Fort Marcy park.
Although the 96th annual burning of Zozobra on Friday night was different from any other event in its long history, those watching the 50-foot-tall marionette burst into flames on television said its symbolism remained the same as always — and perhaps was more needed than ever.
"If there's any time to burn gloom, it's this year, for so many reasons," said Helene Luna, Zozobra's Fire Dancer since 2007.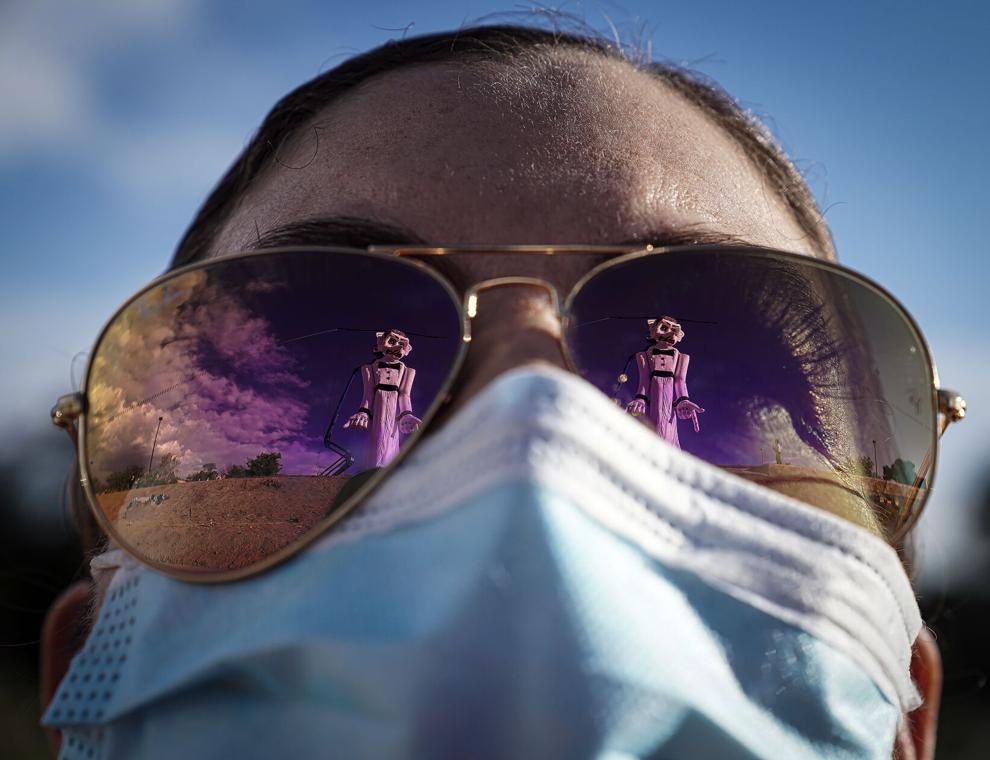 For Luna, who stuffed a stack of submitted glooms — written blurbs of regrets, worries or heartache — into the marionette's heart leading up to the event, she wanted to eradicate 2020's "self-doubt, anxiety and the feeling of hopelessness."
"Without hope, it's fear," she said, "and I don't want to live in fear."
It's a fair sentiment, as Zozobra himself was constructed around the famously fear-inducing coronavirus and a newly discovered deadly insect: His hair was strung with bright orange table tennis balls and maroon hair scrunchies meant to resemble the notorious coronavirus strand; so-called murder hornets, which were discovered in the U.S. this year, decorated his cuff links.
As the night grew dark, torchbearers dressed in hospital scrubs taunted Old Man Gloom with flames. Lisa Jaramillo, a Zozobra spokeswoman, said the crew represented health care workers on the front lines "and their fight against the virus."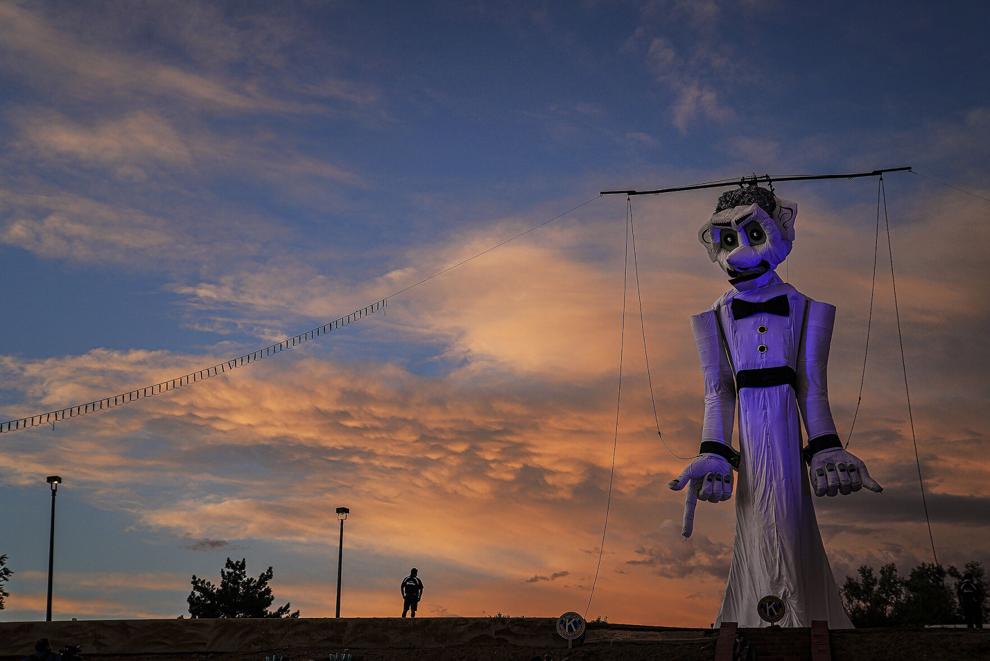 While Zozobra burned without its usual crowd — only about 60 members of the Kiwanis Club of Santa Fe, which organizes the event, and members of the press and volunteers were present — families and friends watched the livestreamed event on KOAT-TV. The Kiwanis Club also partnered with a local drone company to show aerial footage of the burn and fireworks show.
Meanwhile, about 500 people gathered at HIPICO Santa Fe for AMP Concerts' watch party, which featured local bands Cuarenta y Cinco and Severo y Grupo Fuego for a drive-in concert.
Though watching the event from a screen while social distancing in the grass was a different experience, the COVID-safe gathering was exactly what the community needed, said Jamie Lenfestey, director of operations at AMP Santa Fe.
"What's not special about it? We've been so isolated, I think that's why we are so gloomy and the country is so angry," Lenfestey said. "The opportunity we've lost to be together as a community is heartbreaking."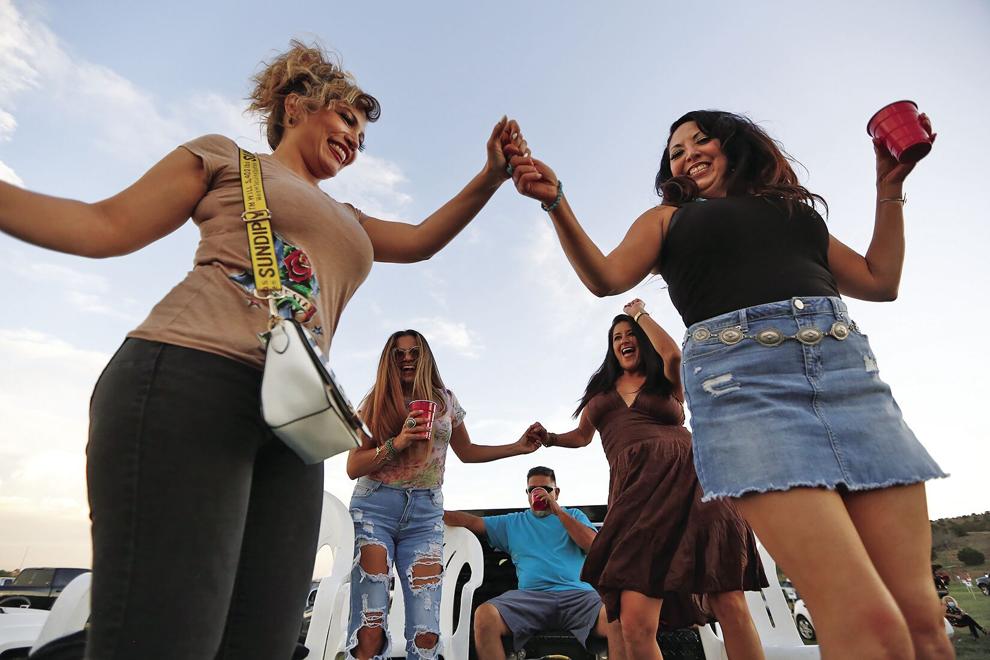 For this reason, he said, Zozobra remained the glimmer of light it has always been.
Among those watching from camping chairs and pickups at HIPICO was Santa Fe native Andre Lewis. Even from the back row of the drive-in, about 200 yards from the nearest screen, he said he felt connected to a tradition he's participated in since he was a child.
"I've been to Zozobra for at least 30 years. If you were born and raised here, there are traditional events that are part of your life," Lewis said. "This year's event isn't what we're used to, but it's something."
"We've got family together, friends together. It may not be the same as past years, but we're still gonna burn him," said Boni Armijo, 64, who can't remember missing a single Zozobra.
With barricades set around the perimeter at Fort Marcy park and roads blocked in nearby neighborhoods, law enforcement was on hand in case there were any attempts at trespassing the live event. Santa Fe police Capt. Matthew Champlin said the night had "been pretty quiet out here," noting the department had only dealt with two teens trying to get inside.
As colorful fireworks blasted into the night sky and Zozobra wailed his final moans, the last of the 100,000 glooms inside him turned to ash, and a feeling of rebirth reverberated across Santa Fe.
"These have been horrible times, and coming together to watch this with people who care and seeing him burn for a reason, it was a great feeling," said David Valencia, who watched the inferno from HIPICO.
"There's something about Zozobra in flames. You can't take your eyes off it," said Luna, noting the moment she touches her torch to Old Man Gloom — "that's when the hope comes."
"For me, this is a new year," she said. "It's cathartic when he burns."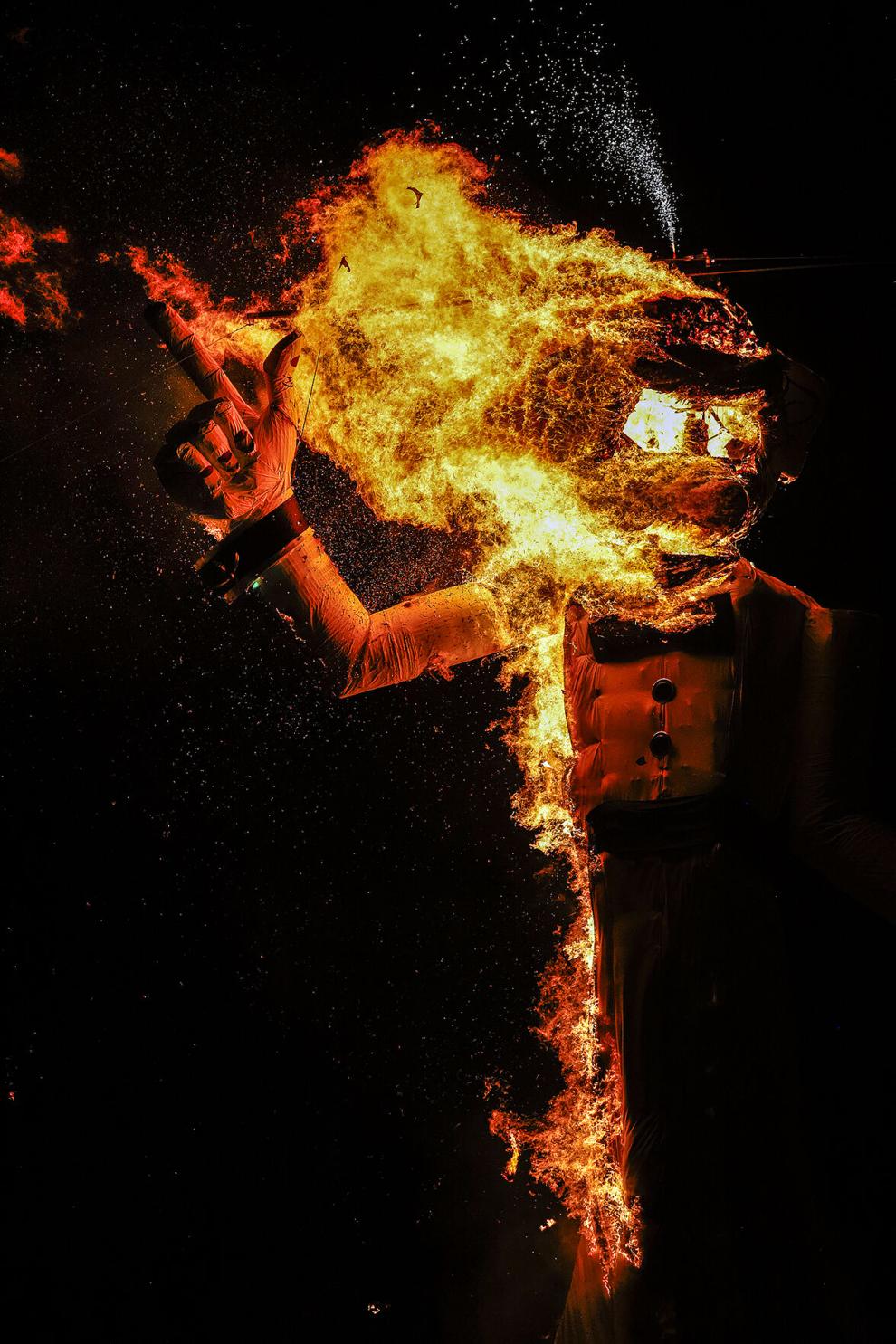 Staff writer Matt Dahlseid contributed to this report.