A shooting late Saturday night left a teen dead, and police arrested a Santa Fe woman on second-degree murder charges, accusing her of firing a gun at a neighboring house where a party was being held.
Beverley Melendez, 64, was booked into the Santa Fe County jail Sunday, charged in the death of Rodrigo Enriquez-Garay, 19.
Deputy Chief Ben Valdez said investigators determined Melendez was outdoors in her backyard when she fired the shot at the house on the 1800 block of Hopewell Street where a "large gathering" of people, including Enriquez-Garay, were partying.
After Enriquez-Garay was hit by gunfire, police said family members at the party transported him to Christus St. Vincent Regional Medical Center, where he later died.
Police arrived on the scene about 11:56 p.m., according to a news release the department issued Sunday morning.
Valdez said the department is still investigating the case and cannot reveal details of what, if anything, Melendez told them.
He said Enriquez-Garay was the only person hurt in the shooting.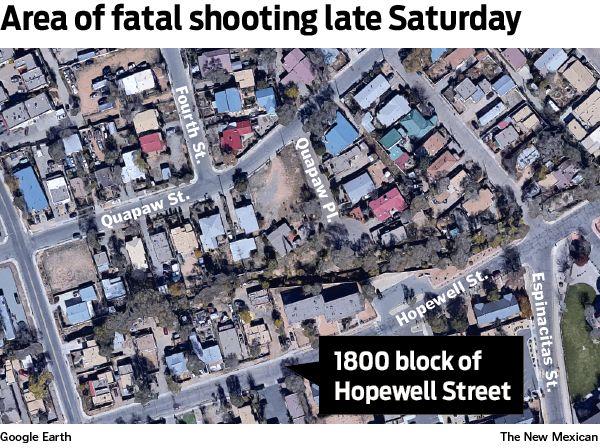 "It's very tragic," Valdez said. "A lot of lives have been affected by this.
"We almost had an uneventful Fiestas weekend. Tragedies like, this, especially when our city is celebrating its history and heritage, are unfortunate," he said.
Valdez said two other people lived with Melendez in a house on the 1800 block of Quapaw Street, but neither was arrested. Several neighbors in the area said three women live in the house, which is surrounded by a fence, large green bushes and trees to shield its view from the street.
A man who did not want to be identified said he walked out on the street close to 12:30 a.m. Sunday. There, he saw police officers and SWAT officers surrounding the house off the intersection of Quapaw and Fourth Street.
He said he could hear officers negotiating with a woman inside the house, who kept telling them she would not come out and asked them to go away.
He said he heard one officer say to the woman, "We'd like to do this peacefully. Please come out."
Several neighbors, who asked that their names not be published, said they heard SWAT team members, crisis negotiators and other police officers talking with a woman inside the home, asking her to come out with her hands up.
Finally, around 1:30 a.m., police said they took Melendez into custody without further incident.
The man said he did not hear any gunfire. But Herbert Romero, who lives on Quapaw Street, said he heard what he thought were screams and five gunshots sometime before midnight.
He's lived in the neighborhood for 35 years, he said, and it's "mostly quiet." But, he added, "We've been hearing the police a lot more lately in the early morning."
He did not venture onto the street to see what was going on after police arrived, Romero said.
Another neighbor, Henry Valdez, who said he has lived there for 60 years, called it a "very quiet neighborhood. We rarely have problems here."
The noises of the previous night didn't rouse him from his sleep, he said.
It is a neighborhood of old-style adobe, stucco and brick homes, many with fences and walls around them. For every "Keep Out" and "Private Property" sign, there are just as many "Welcome" signs.
Valdez said police are still trying to determine how many rounds were fired. He declined to say what type of firearm was used.