Hazel knows the drill when the curtain rises.
The not-quite 2-year-old whippet already is an accomplished performer, and she tends to jump up and down just seconds before entering the competition ring.
"She's a show dog," said Tracy Hite, Hazel's owner, handler and breeder, just minutes after Hazel took top honors in the Futurity conformation competition during the American Whippet Cub's 34th National Speciality Show in a ballroom at the Hilton Santa Fe Buffalo Thunder Tuesday.
The event was a prelude to the American Kennel Club whippet competition that will run through the rest of the week at the resort north of Santa Fe, where more than 110 whippets will take part in a number of competitive categories.
Whippets are small- to medium-sized dogs that resemble a cross between a greyhound and a spaniel. They were bred to run, chase and hunt, which makes them perfect pets for those wishing to rid themselves of pesky mice, squirrels and other small four-legged intruders.
"They're the quarter horses of the dog world," said Russell McFadden, a whippet owner, trainer and judge who was in charge of Tuesday's event.
Hite and her husband John Hite brought six of their whippets to Santa Fe from Strasburg, Colo., for the weeklong event. She said she loves showing the dogs in competition because "it's kind of like having children you love who you watch grow up and be successful."
Hite wasn't alone in displaying whippet pride at Buffalo Thunder. Charlotte Hull-Walton, a 12-year-old from the Seattle area, came to the show with two relatives and five whippets, including Rebecca, who is nearly a year old.
Hull-Walton said one of many things she loves about whippets is watching people try to figure out just what kind of dog they are.
She said Rebecca and the other whippets know they are on display and in some sort of contest when they take to the ring.
Such dog shows, she said, may not appeal to those seeking high-energy thrills, but "if you don't mind sitting down and chilling, dog shows are fun to watch."
Tuesday's whippet show was one defined by a stoic dignity on the part of the dogs and an acute attention to detail on the part of the judges. Those judges rated the dogs on a number of poise-related measures: how they stand, their gait when they trot, the position of their ears (if the dog suddenly pops its ears up, as if at attention, it's a guaranteed loss, McFadden said) and the shape and size of their bodies.
While Tuesday's competition did include cash prizes, as well as the expected ribbons for the winners, most whippet owners do not get into the show world for the money, said McFadden, a native New Mexican who said he has been loving, owning and showing whippets for decades.
The business of show can cost those owners thousands in training, handling, traveling and showing, he said.
A 2017 New York Times article said that cost can hit the $100,000 mark to get a dog ready for the Westminster Kennel Club Show, the canine equivalent of the Academy Awards.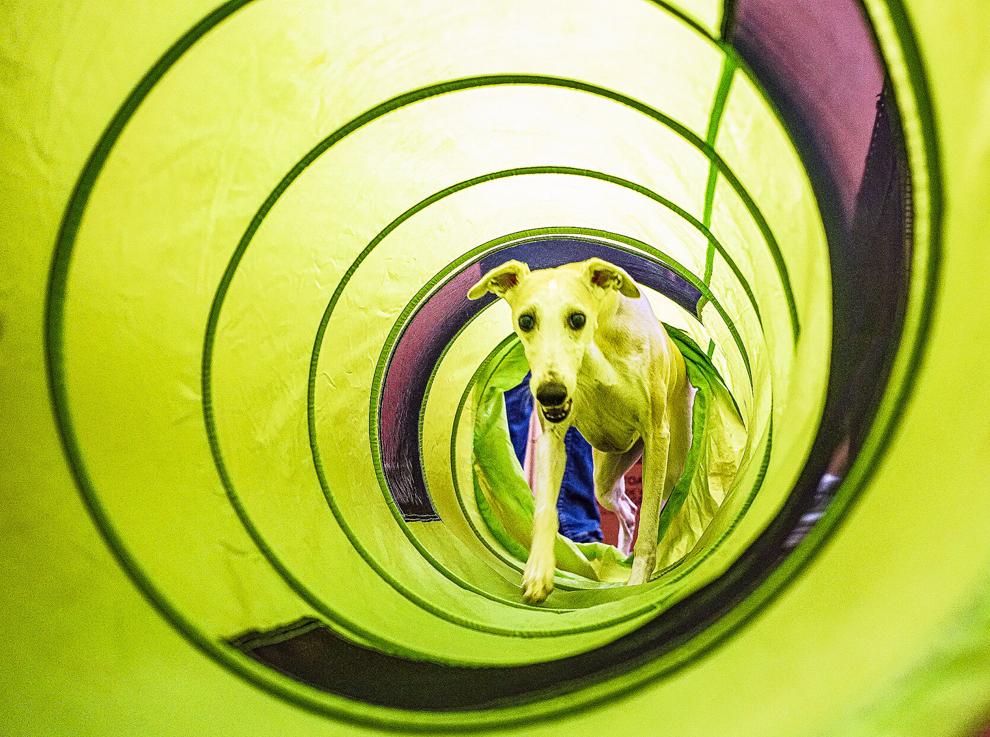 "I could have three Mercedes and a mansion if I didn't show dogs for the past 40 years," said McFadden.
There are other ways to make money off the events, as the array of sales booths outside the ballroom at Buffalo Thunder demonstrated. There, vendors sold dog beds, dog collars, dog jackets, dog towels, dog figurines, dog play toys and all things whippet.
Hull-Walton had just purchased a regal-looking collar for Rebecca to wear as the morning competition gave way to a lunch break. In fact, all her family's dogs wore similar collars, giving a sense of canine royalty — which seems appropriate, since whippets were first bred by English lords and ladies in the 1800s to take part in races and rabbit hunts.
"That way they can walk around the show in style," Hull-Walton said of her canine brood.