Santa Fe Mayor Alan Webber is headed for another term — and it was easier than many had anticipated.
He held a significant lead late Tuesday over his two challengers — City Councilor JoAnne Vigil Coppler and environmental engineer Alexis Martinez Johnson — in the first round of the ranked-choice election. He was almost certain to maintain 55 percent of the first-choice votes, avoiding the need for a second-round count.
Over 18,000 city voters cast ballots in the race, a turnout of around 30 percent.
A jovial Webber, surrounded by more than 50 of his supporters, thanked voters for the win at his campaign party Tuesday at Hotel Santa Fe.
"I'm going to give this speech as if my campaign manager's words are prophetic," Webber said with a smile, "but they are looking awfully good for our team."
While Webber and attendees at his election watch party seemed confident of his win, Vigil Coppler — his closest contender, who was down by 20 percentage points — declined to concede until her campaign manager, Sisto Abeyta, said it was "time to call it a day."
Vigil Coppler told a crowd of supporters at the Santa Fe Country Club, "This is not a concession speech. There's a heck of a lot more votes to count."
Martinez Johnson, who drew the fewest votes and campaign funds, offered her support to the winner in a phone interview earlier Tuesday evening.
"I definitely wish whoever does become mayor success," she said. "I pray that unification is the result and we can progress to a better quality of life here in Santa Fe."
Now that the hard part — holding onto his seat — is over, Webber said he's ready to focus on tackling the priorities he set for his second term.
During his campaign, Webber stressed his ability to lead the city through the COVID-19 pandemic, his approach to addressing homelessness and the growth of the city's affordable housing stock, an issue he has cited as a primary focus of his second term in office.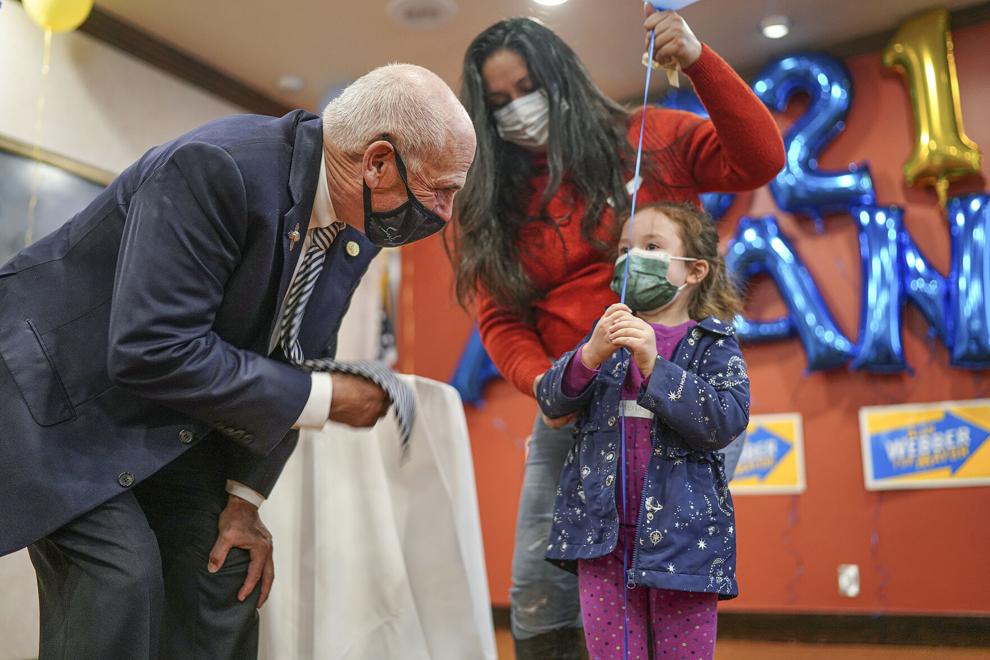 Leaning on his background in the business realm — he co-founded the business magazine Fast Company, which was sold for $300 million, and was a longtime business adviser — he's also touted his ability to expand the city's economy.
"I think we need to work with the reelected governing body and the new governing body members to develop an agenda the reflects both the fundamentals of daily life that we have to attend to and really pressing issues that are crying out for attention," he said Tuesday night.
"I think the experience of coming into a second job will help me do a better job," he added.
Questions about quality-of-life issues, such as a rise in violent crime, and two tardy state-mandated audits threatened to doom Webber's candidacy, as did his response to the destruction of the obelisk on the Plaza in 2020.
The local chapter of the American Federation of State, County and Municipal Employees, which represents most city employees, has been at odds with Webber's administration, filing multiple complaints with the state Public Employees Labor Relations Board. The union endorsed Vigil Coppler.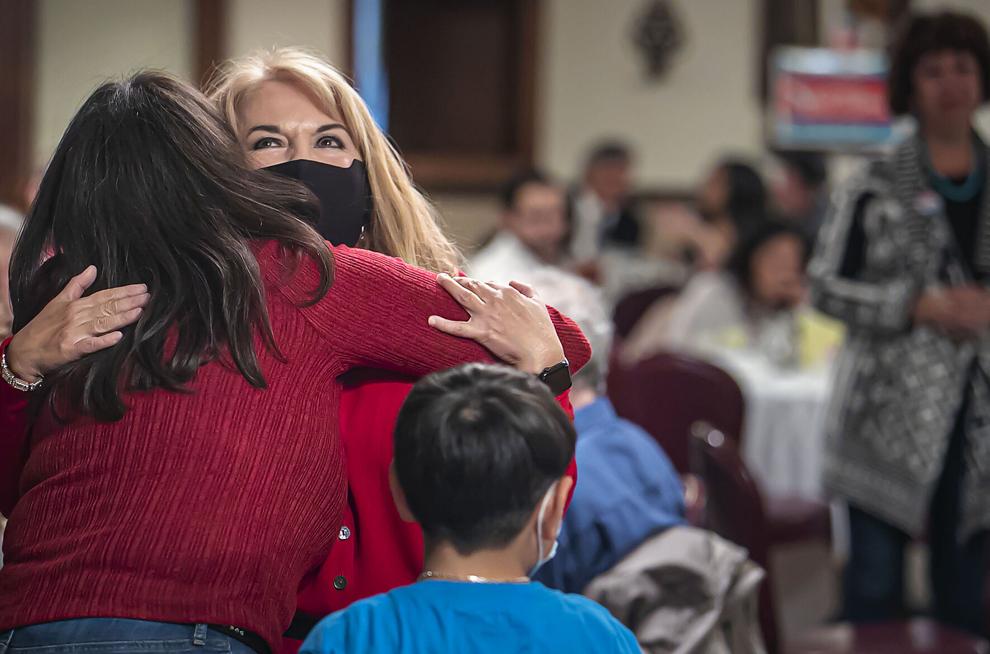 Still, Webber had a huge lead in fundraising, according to the most recent campaign finance reports released Monday.
In 2018, Webber beat out four other candidates to win his first term.
In that election, Webber raised more than $315,000. He shattered that number this year, bringing in nearly $500,000.
He also received endorsements from three Santa Fe city councilors: Jamie Cassutt, Carol Romero-Wirth and Roman "Tiger" Abeyta.
Abeyta was poised to lose his seat Tuesday night to challenger Lee Garcia.
Cassutt, who attended the mayor's campaign event, said she was excited to continue the work that she and Webber have embarked on during her first two years on the City Council.
"I endorsed Webber really because of the platform he put out," Cassutt said. "He has really supported me in pushing child care accessibility, which, me being a single mom, is very important to me. I'm excited to continue that."
Romero-Wirth, who also attended the event with her husband, state Senate Majority Leader Peter Wirth, also said she was eager to continue working with Webber.
"We have some important community conversations to have, and we need to bring the community together and work for the better of all of us," Romero-Wirth said.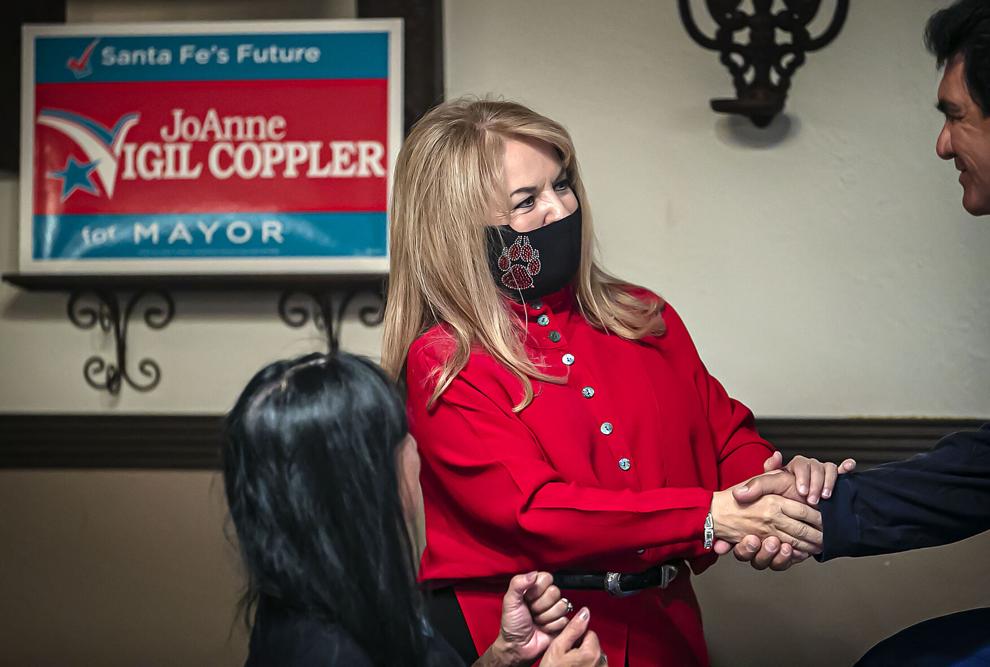 Originally from St. Louis, Webber moved to Santa Fe in the early 2000s. He shares a home with his wife of more than 40 years, Frances Diemoz. The pair have two adult children.
Webber graduated from Amherst College in Massachusetts and then served as an adviser and speechwriter for officials in Florida, Massachusetts, Michigan and Oregon.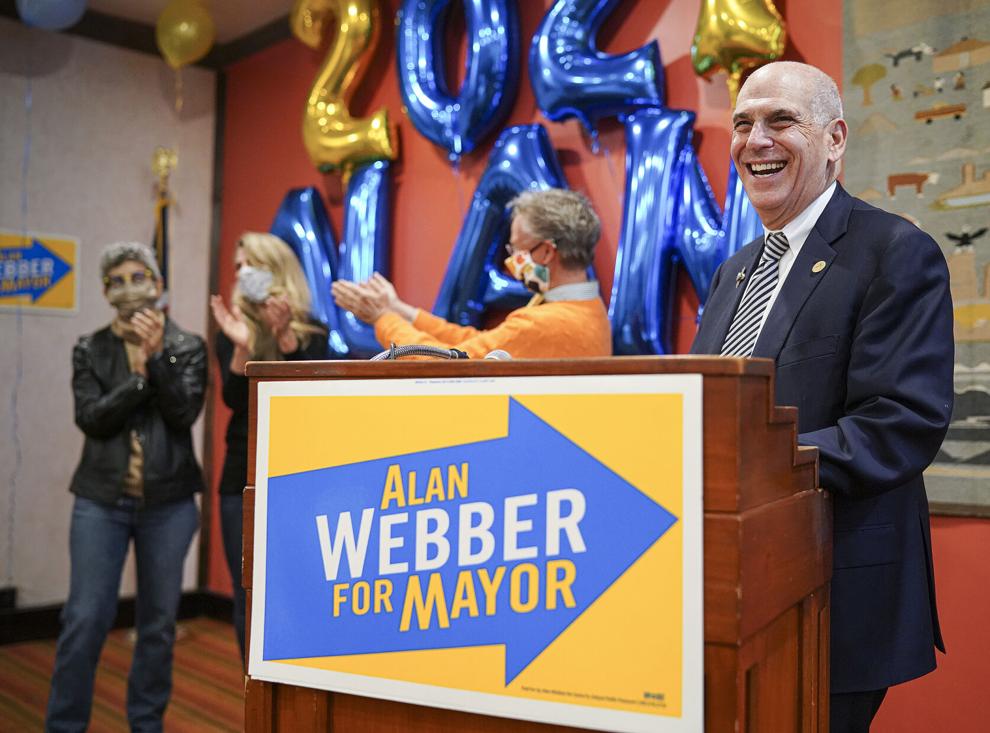 Staff writer Robert Nott contributed to this report.