As pleas for people to get vaccinated continue to grow louder, a review of vaccination rates by ZIP code shows pockets of resistance in several of Santa Fe County's smaller, more rural communities.
Convincing residents in these communities to roll up their sleeves and get vaccinated has become increasingly difficult despite cash incentives, health officials said.
"[Outreach specialists] are going out and talking to individuals where some have their minds made up, and sometimes their reactions have been a little hostile if their minds have been made up," said Jasmin Milz Holmstrup, chief development officer with La Familia Medical Center, which has worked closely on vaccine outreach with the state Department of Health, as well as Santa Fe and Santa Fe County.
According to data provided by the New Mexico Department of Health, all but two ZIP codes in Santa Fe County had vaccination rates around 70 percent as of Aug. 25. The ZIP codes with lower inoculation rates were 87015 and 87056, which include the communities of Edgewood and Stanley, respectively.
In the 87015 ZIP code, 58 percent of people were vaccinated, while in 87056, 37 percent were fully vaccinated, the lowest vaccination rate in the county.
Edgewood has about 6,000 people, while Stanley has just under 1,000 residents.
The rates are outliers compared to the rest of Santa Fe County, where nearly 80 percent of residents over 12 are fully vaccinated. Statewide, 69.5 percent of residents were inoculated as of Friday.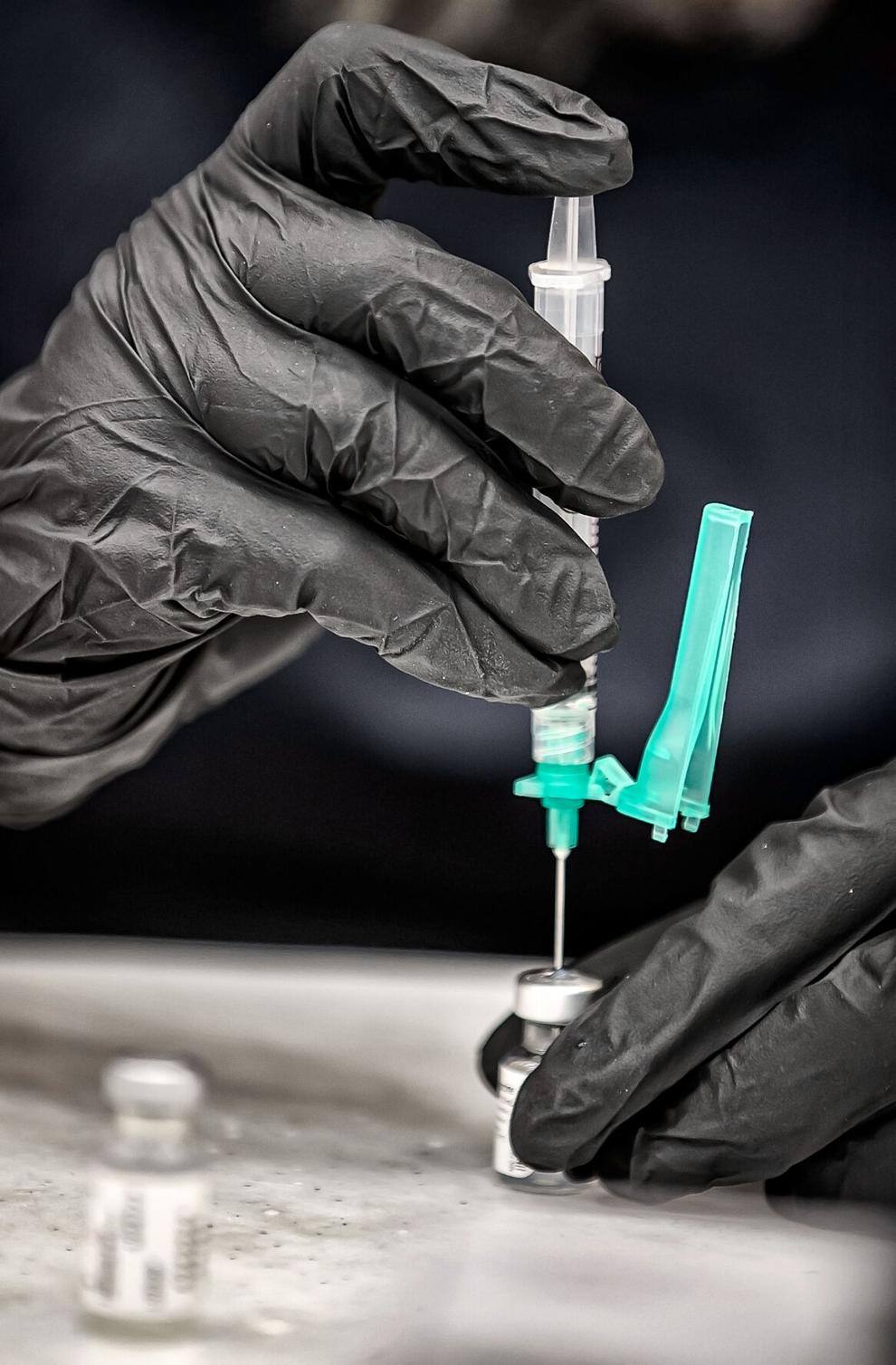 Martin Vigil, emergency preparedness coordinator for Santa Fe County, said the lower-than-hoped-for vaccination rates in Edgewood and Stanley have led to revamped vaccination efforts in those areas.
"The reason we have targeted Stanley and Edgewood are obviously because of the numbers down there," Vigil said. "Even one [vaccination] in our team's mind is very successful."
Vigil said the county has operated a mobile vaccination unit since vaccines became readily available for targeted clinics, first partnering with the grocery store chain Albertsons and then with the Federal Emergency Management Agency for the past three months.
Vaccinations at clinics are starting to ramp up again, and the county intends to return to Edgewood and Stanley sometime this month for more vaccination events, Vigil said.
Vigil said he doesn't believe the rates are tied to vaccination access issues. Since the start of the pandemic, the county has held 37 such clinics, including 27 since June when COVID-19 rates started to rebound.
By Aug. 25, ZIP codes encompassing Cerrillos in the southern area of the county and Santa Cruz to the north, which have comparable populations to Stanley, had 71 percent and nearly 100 percent vaccination rates, respectively.
"I think it's just a population that has chosen not to get vaccinated," Vigil said.
Milz Holmstrup mostly agreed with Vigil. She said access issues and language barriers could impact vaccination rates, as well as a general apprehension toward the shot.
"I will be very upfront and say right now I think, really, we are down to people for good or for bad who have their minds made up, and they are very difficult to get them to change their minds," Milz Holmstrup said. "I know our providers are still getting questions [from] patients. There are still a few holdouts; this is very divisive. This has divided the nation."
At a recent news conference featuring some of the state's largest hospitals, health care providers implored New Mexicans to get the vaccine. And President Joe Biden has announced a vaccine mandate for federal employees, health care workers and workers at companies with more than 100 employees.
Lealia Nelson, a spokeswoman for the state Department of Health, wrote in an email the department intends to work more closely with community-based organizations to conduct outreach in smaller, rural communities.
It's similar to an approach used by Rio Arriba County Emergency Management Coordinator Alfredo Montoya, whose county is also dealing with smaller, often rural, pockets of unvaccinated people.
Rio Arriba County has seen participation in its vaccination drives fall off in recent months, Montoya said.
While Rio Arriba County's vaccination rate of around 80 percent is nearly identical to Santa Fe County's, Montoya said health care professionals are hoping to target a few remaining problem areas. He said those efforts will likely progress at a steady pace.
In Española, Rio Arriba County's largest community, vaccination rates have increased from 41 percent to 59 percent from May 18 to Aug. 25, according to data highlighting the 87532 and 87533 ZIP codes. ZIP codes that hold some of the county's smaller, more rural communities have only seen vaccination rates increase from about 35 percent or 40 percent to about 55 percent over the same time.
Still, those rates are better than the 87537 ZIP code, where just 20 percent of almost 3,000 people are fully vaccinated, compared to just 13 percent as of May 18. The 87537 area includes the community of Hernández.
Montoya said if more booster shots become a necessity, it could put a strain on targeted vaccination efforts for those who want their initial shot.
"It's going to be [a] juggling act to make sure we still stay focused for people who are still getting their first shot," he said.
Montoya implored residents to get the vaccine.
"I think that the science supports people getting vaccinated," he said. "No, it does not prevent COVID 100 percent, but I think what we need to focus on is keeping things at a manageable level."
One local community that has certainly heeded the call in large numbers has been Santa Fe, where 75 percent of residents over 12 are vaccinated across the city's five ZIP codes.
The 87507 and 87508 ZIP codes, which primarily include residents on the south side of Santa Fe, have the two lowest vaccination rates in the city, 68.8 percent and 72 percent as of Aug. 25.
Kyra Ochoa, director of the city's Community Health and Safety Department, said she expects rates to increase as more employees comply with the city's mandate requiring regular proof of a negative COVID-19 test or proof of vaccination, as well as a push to get more school-aged children vaccinated.
Ochoa said Santa "should be proud" it hasn't experienced a large disparity in vaccination rates across the city.
City officials have focused on helping residents who might have access issues, especially on the south side, since vaccine rollouts began.
La Familia was an important partner in that strategy. About 55 percent of the center's patients, about 10,000 out of about 16,000 patients, reside in the 87507 ZIP code. Milz Holmstrup said 93 percent of those people have been fully vaccinated.
Like the county, the city has also held a series of vaccination events.
"Really, the key was understanding what barriers folks have and how to [get the] word out in the community," Ochoa said. "How do we get the vaccines out in a way that is easiest to access? How do we address their concerns? It's important."