GARFIELD — When Donald Trump won the presidency of the United States in a stunning upset over Hillary Clinton last week, farmer Adrian Ricardo Ogaz walked out of his house in this quiet agricultural community less than 100 miles from the Mexican border and greeted his employees with a big smile.
Ogaz, a Mexican-American and registered Democrat, had broken with his party and voted for Trump. He was so elated with the outcome of the election that he offered to pay his workers double that day.
But the seven men, all Mexican immigrants, didn't share their boss's enthusiasm.
"They all asked me if they still had a job because Trump was going to kick them all out," Ogaz, 77, said Thursday as he ate a plate of eggs and beans at B&E Burritos Mexican restaurant in Hatch.
"I told them, 'That's not going to happen, and as long as there's work here, there's still a job for you,' " he said.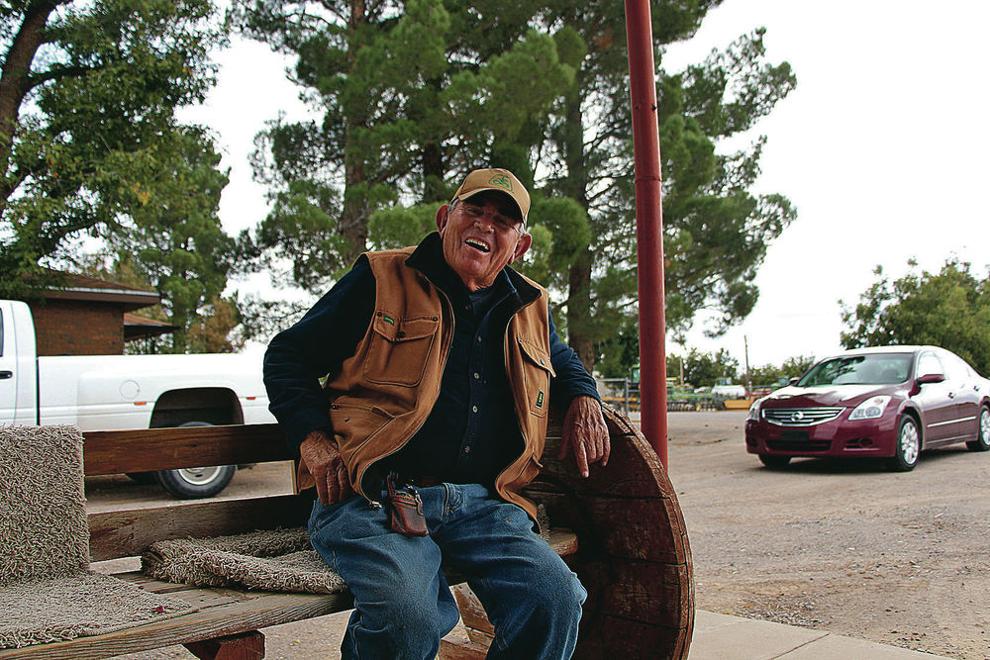 Trump labeled Mexican immigrants rapists and drug dealers at the start of his campaign and then vowed to deport millions of undocumented people and build a wall along the Mexican border. Now that he's been elected, many immigrants wonder whether the billionaire businessman's words were just rhetoric and if they will become reality.
In Santa Fe, 21-year-old Roxana Guillen also doesn't know whether Trump will follow through on his promises. But Guillen, whose mother brought her into this country illegally when she was just 1 year old, said she is now living in fear.
"We've gotten comfortable, and now it's kind of like I don't know if I feel safe saying that I'm an illegal immigrant in the United States," she said. "How do you say that you're here illegally without fearing that something might happen to you?"
Guillen works in the U.S. through the federal Deferred Action for Childhood Arrivals program, or DACA, which offers temporary protection from deportation to certain young undocumented immigrants. President Barack Obama initiated the program by executive order, prompting many immigrants to worry it will be among the first casualties of a Trump administration.
Daniel Chand, a former New Mexico State University political science professor who researches immigration policies, said Trump could undo Obama's immigration policies within the first 100 days of his presidency.
"Unfortunately, immigration is one of the issues that he would have unilateral control over," said Chand, an immigration expert who now teaches at Kent State University in Ohio.
But, like many, Chand described Trump and his immigration plans as unpredictable.
"I don't know how far he's going to take it," he said.
Johana Bencomo, an organizer with the Las Cruces-based nonprofit New Mexico Comunidades en Acción y de Fé, said the group had spearheaded a get-out-the vote campaign weeks before the election and planned to take the day off after Election Day.
Instead, members of the organization met Wednesday at a local park to express their fears, shock and disbelief, she said.
"The stakes are very high for our communities," Bencomo said. "We're taking his proposals very serious."
Guillen, whose mother lives in the United States illegally, said she doesn't know what she'll do if they have to go back to Mexico, a country she's visited only once, at the age of 8.
"Santa Fe, New Mexico, is my home," Guillen said. "It's where I know people. It's where I've lived. It's where I've gone to school. It's where I've grown up. It's my life. It's something that is mine but doesn't truly belong to me."
Guillen's fear is shared by many other immigrants in Santa Fe, said Allegra Love, a local immigration attorney and founder of the Santa Fe Dreamers Project.
"The immediate fallout that I'm experiencing and I'm hearing right now is that we have traumatized children and parents, but really so many traumatized children in our community," she said. "I'm having mental health professionals call me, counselors, teachers, just reporting that they have terrified kids. They spent 18 months hearing Trump talk about how he hates them and he's going to hurt them and separate them from their parents and all that stuff, and that has sunk in, so they woke up Wednesday to the nightmare being true."
Love's group launched an art project Saturday to show Santa Feans' support for immigrant children and families. A few hundred people lined up behind the Cheesemongers of Santa Fe store on Marcy Street to have their photographs taken for a collage that Love said will present the faces of the many people in the city who stand up for immigrant residents.
"Now is not the time to crawl back into your shell, but come out and support one another," said Devon Ludlow, a Santa Fe writer who was standing in line at Cheesemongers. Earlier in the morning, he participated in an anti-Trump rally that began at the Capitol. The protest drew a few hundred marchers.
In Albuquerque, public schools Superintendent Raquel Reedy sent families a letter of reassurance Thursday.
"The emotionally charged rhetoric we all heard over the last several months was unfortunate and likely won't be forgotten any time soon," Reedy wrote.
"We ask that principals, teachers and school-based staff be particularly mindful of students' feelings right now — especially in our most vulnerable communities — as a result of the tensions and deep divisions we continue to experience as a nation."
Albuquerque Public Schools spokeswoman Monica Armenta told KOB News that students fear they will be separated from their families or will have to move to a different country.
"We had a lot of kids at various schools around the district who were upset," she said. "Some went to counselors by themselves; some families came in all expressing concerns about the uncertainty of the next steps of the country."
Residents of Southern New Mexico are feeling uncertain, too.
It's been a few years since immigration officials swept the farming communities of Hatch and nearby Garfield, picking undocumented workers straight from chile fields to be deported, residents here say. But with Trump headed to the White House, some people here fear those types of raids will return.
Others say Trump's proposal to deport all undocumented immigrants was just rhetoric to help him win the race. But most people here agree that without the labor force that Mexican immigrants provide for farmers, many would be out of business. Many here doubt Americans would be willing to take on the back-breaking work that Mexicans do.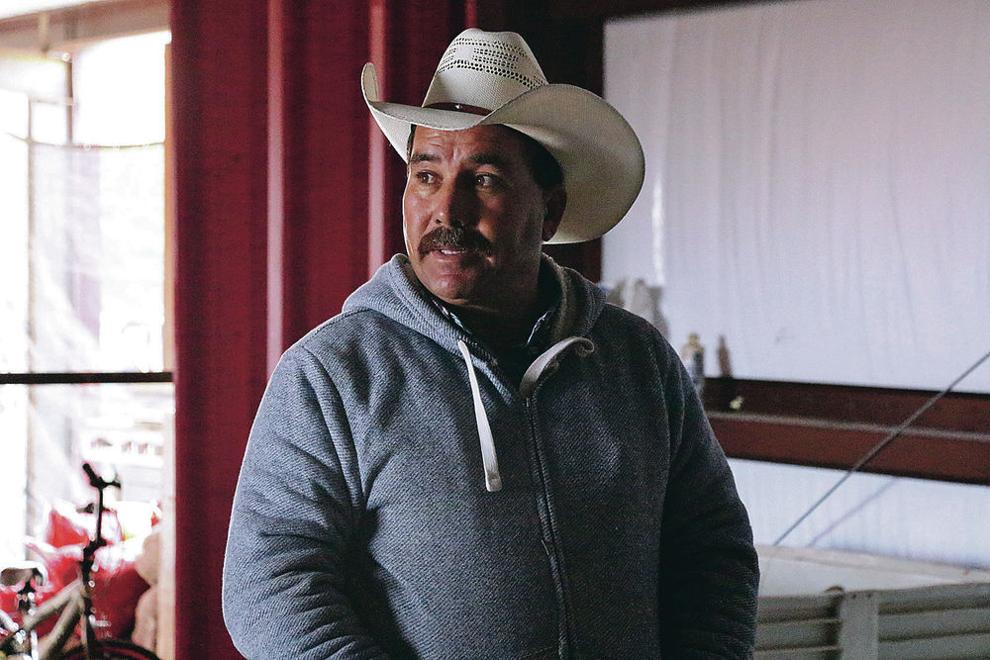 Sergio Grajeda, 44, said Hatch wouldn't exist without Mexican immigrants.
Grajeda, who moved to the U.S. with his father and his brother in 1986, said he was offended by Trump's comments on Mexican immigrants, but he's not worried about Trump's immigration policies.
"When he starts realizing how much farmers depend on Mexican immigrant labor, he will have to rethink his plan," Grajeda said. "As the saying goes, 'The dog that barks doesn't bite.' "
Jose Manuel Riveras, 41, who emigrated from Mexico to Garfield in 2013 and currently works for Ogaz, said a Trump presidency worries him. Even though Riveras immigrated legally after his father sponsored him to be a permanent legal resident, he said he's concerned with the racist tone Trump has set.
"I feel like anyone who voted for Trump in a way supports the idea of kicking us out," Riveras said.
Ezekiel Duron, 55, who has worked for Ogaz since 1981, said he's not as worried. He dismissed Trump's immigration proposal and comments on Mexican immigrants.
"I think maybe it's just rhetoric," he said as he packed boxes of red chile for a shipment to Los Angeles.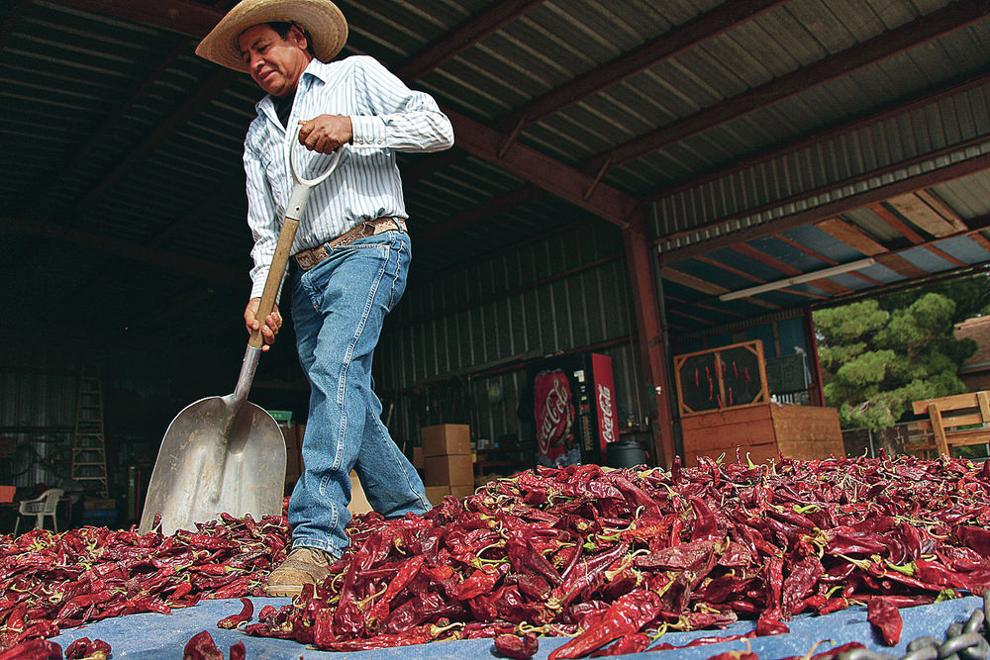 Others are less optimistic.
As she separated chile Thursday afternoon at Grajeda's Farms in Hatch, Alma Bencomo said her 12-year-old, U.S.-born son has been stressing out over a Trump presidency.
" 'Does that mean that he's going to build the wall? Will you have to go back to Mexico and leave me here alone?' That's what my son is asking me," Bencomo said.
Bencomo said she has a work permit and is in the process of getting her green card, along with her 20-year-old daughter. Still, she said she worries that Trump's immigration policies will affect her ability to get a green card.
"Anything can happen in that time," she said.
For many immigrants, the threat of deportation "is not a question of if but a question of when," Johana Bencomo said.
"I had [an undocumented] woman tell me, 'Should I even file my taxes next year? Is that how they're going to come after me?' " Johana Becomo said.
Life was not entirely certain for undocumented immigrants under Obama, either. Despite instituting DACA, the outgoing president became known for a time as the "deporter in chief" for a vast increase in deportations and immigration prosecutions that occurred under his watch, especially in New Mexico. Those have slowed down in the past two years.
The Obama administration has deported nearly 3 million immigrants from the country, nearly a million more than the Bush administration. Also, according to a recent report by the Transactional Records Access Clearinghouse at Syracuse University, the number of immigration prosecutions in New Mexico federal courts increased 80 percent from 2011 to 2015. There were 2,078 cases in 2011 compared to 3,749 cases in 2015, according to that analysis, many of which result in prison time for immigrants before they are deported.
Ogaz, who owns a 400-acre farm in Garfield, said he isn't worried that a Trump administration will deport his workforce because they're all allowed to legally work in the U.S. Even if they weren't, he said, he still wouldn't be worried because Trump's stance on immigration, including building a wall, was mostly just talk.
"That's a lot of B.S.," he said. "It'll never happen."
Ogaz said he voted for Trump because the country was in dire need of change.
"I'm not saying it's going to be for the better or for the worse. He has four years, and if he doesn't do anything, we can kick him out," Ogaz said.
"The imports are killing the farmer, and the Democratic Party hasn't done anything for the farmer," he added.
While Democrats lost the White House, in New Mexico they kept control of the Senate and took back the House of Representatives.
"Clearly, the national election was just a little bit overwhelming and surprising and shocking and terrible in many ways because of these messages of hate," said Marcela Diaz, executive director of the Santa Fe-based immigrant advocacy group Somos Un Pueblo Unido. "But there is a sense of vindication in the outcome of the local elections because the most flagrant anti-immigrant legislators lost."
Trump's candidacy and loss in New Mexico were, in part, attributable to his plan to build a wall on the 2,000-mile border with Mexico and crack down on people living in the U.S. illegally.
Voter registration surged in precincts around the chile fields of Hatch and New Mexico State University in Las Cruces. In turn, those voters helped oust three Republican state representatives from Doña Ana County. Their turnout played an important part in Democrats regaining control of the state House of Representatives.
Trump had predicted he would win New Mexico's five electoral votes after he said a poll showed him in a virtual tie with Clinton a week before the election. But the populist surge that boosted Trump to victory in Michigan, Pennsylvania and Florida didn't materialize in New Mexico. Clinton, whose message against a border wall resonated in the state, bested him by 8 percentage points.
New Mexico House Speaker Don Tripp, R-Socorro, said voters who mobilized behind Clinton returned his party to minority status. Republicans in swing districts were hurt by Clinton's ground game, which sent her supporters to the polls, Tripp said.
"We lost the House as a result of that," he said.
Outside the state Department of Workforce Solutions building across from De Vargas Park in downtown Santa Fe late last week, several day laborers were more focused on finding work than on politics. Several said they felt apprehensive after Trump was elected president but that his campaign promises were unrealistic, especially building a wall along the Mexican border.
"He'll have to hire us," said a man who declined to give his name. "Tell him he'll have to hire undocumented workers to build that [expletive] wall."
Another day laborer, Juan Marquez, 44, joked that Mexico could make the country's top drug lord, Joaquín "El Chapo" Guzmán, president if Trump builds the wall. Guzman famously escaped a maximum security prison through a mile-long underground tunnel that even had a motorcycle modified to run on rails, allowing him to make a speedy escape.
The New Mexican's Milan Simonich and Andrew Oxford contributed to this report.
Correction appended: The name of farm owner Adrian Ricardo Ogaz was misspelled in the original version of this story.