In his 90 years, Forrest Fenn was many things to many people. 
Art dealer. Author. Fighter pilot. Historian. 
Turns out, he also was in the business of dreams.
Nearly a year after Fenn's treasure was discovered, it's clear the fantasies of finding fortune and/or fame have not subsided for the thousands of people who remain fixated on the mystery and the man.
Despite the discovery of Fenn's cache in 2020 — and not long afterward, the death of the eccentric Santa Fe entrepreneur who stashed a chest of gold and other valuables somewhere in Wyoming — the frenzy he created is as alive as it has ever been.
"In some ways, the story is about Forrest Fenn, but it's also about this thing he created and what it made people do, what it drove people to do," said journalist Daniel Barbarisi. "He created this crazy phenomena that in some ways shouldn't have happened, but it did."
But there is no past tense for treasure hunting; the passion for Fenn's treasure remains omnipresent. Though a medical student named Jack Stuef discovered the trove last year, seekers still head to Wyoming to look for the undisclosed site where he found it. Among them is Cynthia Meachum, a longtime New Mexico treasure hunter; she left for Yellowstone Park on Monday. 
The Fenn legacy isn't just found in the wilderness; it's in books and films still being produced. This month, Alfred A. Knopf will publish Barbarisi's book, Chasing the Thrill: Obsession, Death, And Glory in America's Most Extraordinary Treasure Hunt. 
Meanwhile, University of California, Santa Barbara film student Sonya Sherman, who first began seeking the treasure in the mountains around her hometown of Boulder, Colo., is making a documentary called Fenn. She and her crew recently came to New Mexico to interview people and shoot footage.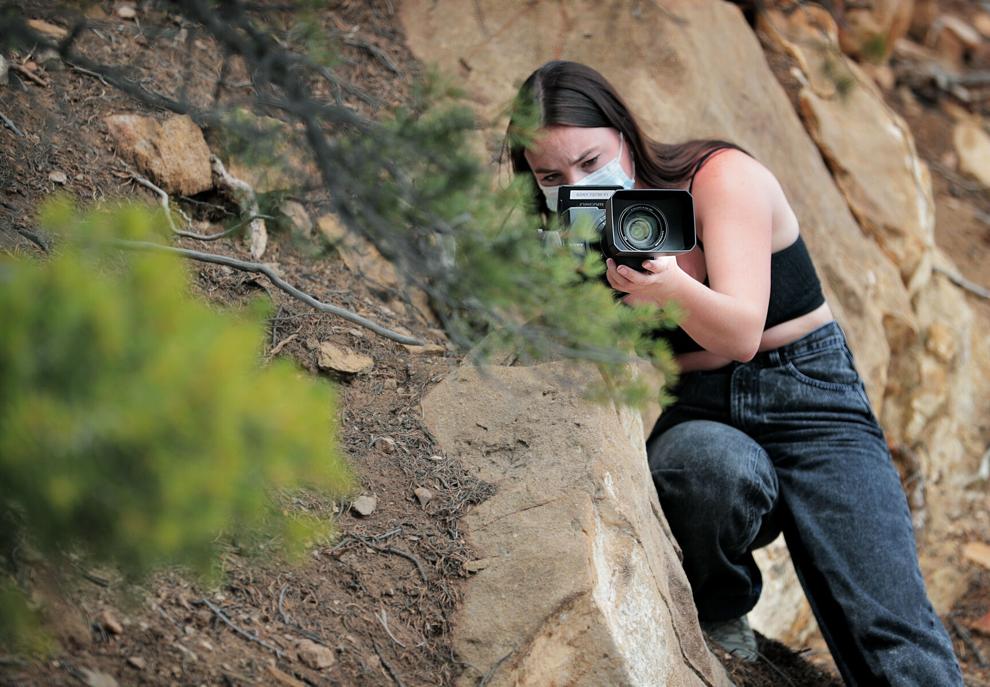 All of them, like so many others, are still passing through the intersection between Fenn and his treasure. It's unlikely traffic will slow down anytime soon.
"This is so crazy," Meachum said on the eve of her trip to Wyoming to find the site of the treasure. "For some of us, it's like a spiritual journey. It's a spiritual Forrest Fenn journey."
It's not just the avid searchers who are still obsessed with the thrill of the chase — the title of Fenn's autobiography, which contained a 24-line poem full of clues to the chest's whereabouts. 
Fenn-related blogs continue to offer up-to-date thoughts and news on both the treasure and the man behind it. At least one Hollywood studio has announced a feature film based on one man's search for the treasure. Barbarisi said he has heard of several potential documentaries in the making about the quest. 
It's no wonder, Barbarisi said, given Fenn's impact.
"How could he not forever be the guy who dropped the treasure hunt on the modern world?" he said. 
The hunt, he said, "captured a lot of people who were looking for something, and this gave them something to reach up for, to attain."
In that sense, he said, Fenn succeeded in doing something few people can do: He created a community of hundreds of thousands of people, all with one goal in mind. 
"There's something very American about it in that everyone believed they could win this thing," Barbarisi said. "But only one guy, in the end, ultimately gets the prize."
That quest fascinates Sherman. She has interviewed treasure hunters, friends of Fenn, search and rescue personnel, law enforcement officials and others for her documentary.
She nabbed the attention of her film class professor and other students to support her proposal for the movie with one line: "There's this story about a $2 million treasure hunt in the Rocky Mountains."
That did it. Of 16 film projects proposed for financing and support in her class, hers was one of four to win approval. 
Sherman thinks she knows why.
"It sparks the inner child in all of us, the idea of a treasure hunt," she said.
But in summing up the entire tale, she, like Meachum, uttered two words to describe it all.
Sometimes, nobody wins
The search for Fenn's treasure, which lasted a decade, spawned an annual gathering of campers at Hyde Memorial State Park known as Fennboree, as well as several documentary films and hundreds of newspaper and magazine articles. The state Department of Tourism even produced a video about the search and posted it on a state website. 
In 2015, the city of Santa Fe got into the act, proclaiming May 25 as Thrill of the Chase Day, in recognition of "visitors who have traveled from all over the world to Santa Fe and its surrounding areas for the purpose of searching for the treasure that Forrest Fenn has hidden … increasing the prosperity of its lodging and service-related businesses." 
While the chase generated excitement about wilderness areas and drew treasure hunters to the outdoors in the Rocky Mountains, the hunt also brought tragedy. At least five people died searching for the treasure. Many others became lost in the wild, prompting dangerous rescues.
An unknown number spent time and their savings on a search that, save for Stuef, proved fruitless. 
The hunt also posed dangers for Fenn and his family. One man broke into his home in 2018, convinced the treasure was hidden in a chest full of linens there. Another man was convicted of stalking Fenn's granddaughter.
Before Fenn's death and even after, lawsuits abounded, usually filed by treasure hunters who felt Fenn betrayed them or gave unfair clues to hunters he favored.
Some said it was all a hoax.
Some still don't believe Stuef found it. The New Mexican still receives emails from hunters who say they believe their solution to the poem is the accurate one. One man urged the newspaper to stop publishing "fake news" about the treasure's discovery, claiming it's still out there. 
That might be because those people have become emotionally invested in the journey and can't think of backtracking, said Kaelin Rooney, director of photography for Sherman's documentary.
"They still want to believe their solve is true because they want the story they tell themselves to still be true," he said while taking a break from shooting footage in Santa Fe. 
"People feel grief," he said. "Something died that they couldn't control, something that became a part of their lives. It's like a breakup in a relationship and you realize something within you has changed and you can't go back."
For Meachum, not knowing the location of the treasure is "driving a lot of us crazy. The only way you know you solved the poem is if you found the damned chest. Now the chest has been found and we still don't know the solution of the poem."
For better or worse, all of that might be because of Fenn's own dream — to hide an old chest laden with riches somewhere in the Rockies and send people out on an adventure, perhaps one much like his childhood escapades exploring the waterways and wilderness of the West. 
Santa Fe writer Doug Preston, who befriended the art dealer about 30 years ago, said he thinks Fenn believed the search would outlive his own life. Fenn told Preston the clues in his poem were so challenging that "it will take someone about 900 years to find the treasure."
Fenn, he said, seemed disappointed to learn Stuef had discovered the chest in June 2020.
Fenn in turn was immediately besieged by treasure hunters who were equally disappointed, Preston added.
Though Fenn will also be remembered for his military service, his art galleries and his vision, he wanted to leave a legacy beyond that. 
"Overall, you look at this hunt, and tens of thousands of people had fun looking for that treasure," Preston said. "For 99.9 percent of them, it was a positive experience. He wanted to get people out in the woods, out in the wilderness, away from their phones, to go search for beauty in nature, to enjoy the excitement of the thrill of the chase."
Barbarisi said there are many lessons to be learned from the story of Fenn and his treasure hunt.
"People are looking to believe in something," he said. "And once they fixate on what that is, it's hard to shake them from it."
The publicity has led Fenn's family to shy away from attention. His wife, Peggy, died shortly after her husband. Their daughters did not return a call seeking comment for this story. 
As for Stuef, the man who found the treasure, he has tried to sidestep the notoriety that comes with the discovery. He mostly avoids media interviews but knows he will always remain part of the Fenn folklore — and all that comes with it.
"I suppose it's not a bad thing to be remembered for, all things considered," he wrote in an email to The New Mexican. "But I see myself as just a small part of the overall story."
Of Fenn, Stuef wrote: "It's a very rare thing to peak in the public's imagination in one's eighties, and that's part of what made his life story so great. He retired multiple times, only to move onto a more interesting and daring endeavor each time. He was a compulsive memoirist in his later years, and those stories will always be there for those who wish to read and understand him.
"The story of his hunt became part of American treasure folklore, so it won't be soon forgotten."