Alicia Ayala, Deborah Magaña and Sharieffa Wade-Burton all teach at El Camino Real Academy and make up three of the six recipients of this year's Teachers Who Inspire awards.
But to hear Principal Jakob Lain tell it, they all have something else in common: a keen ability to transform a difficult year into an exciting opportunity.
At El Camino Real, a dual-language school on Santa Fe's southwest side with more than 800 students in kindergarten through eighth grade, the COVID-19 era of teaching has been marked with its own set of mind-bending and heart-rending challenges. And the three teachers are frank — there have been difficult times. But Ayala, Magaña and Wade-Burton found a way to persevere.
"I wish all parent and community members could see the remote setting like principals get to see," Lain said as the three teachers hurried back to their classrooms after the award ceremony, congratulatory bouquets in hand. "It's uplifting, it's uplifting to see [the] work they do to make as real a classroom that can be in the virtual setting. These three teachers certainly exemplify that during a tough time."
For 28 years, local nonprofit Partners in Education has selected Santa Fe Public Schools teachers who are nominated by colleagues based on their "inspirational qualities in the classroom, among their colleagues and in the community."
Each teacher receives a $1,500 award. Five of the six teachers selected were notified of their honors last week and presented with their awards at their respective schools. The final educator will be announced in the coming days.
The awardees come to education from different backgrounds and approach their classrooms — and the students in them — in different ways. But they also have a common passion for teaching, and in a year unlike any other, adapting.
This year's Partners in Education honorees include: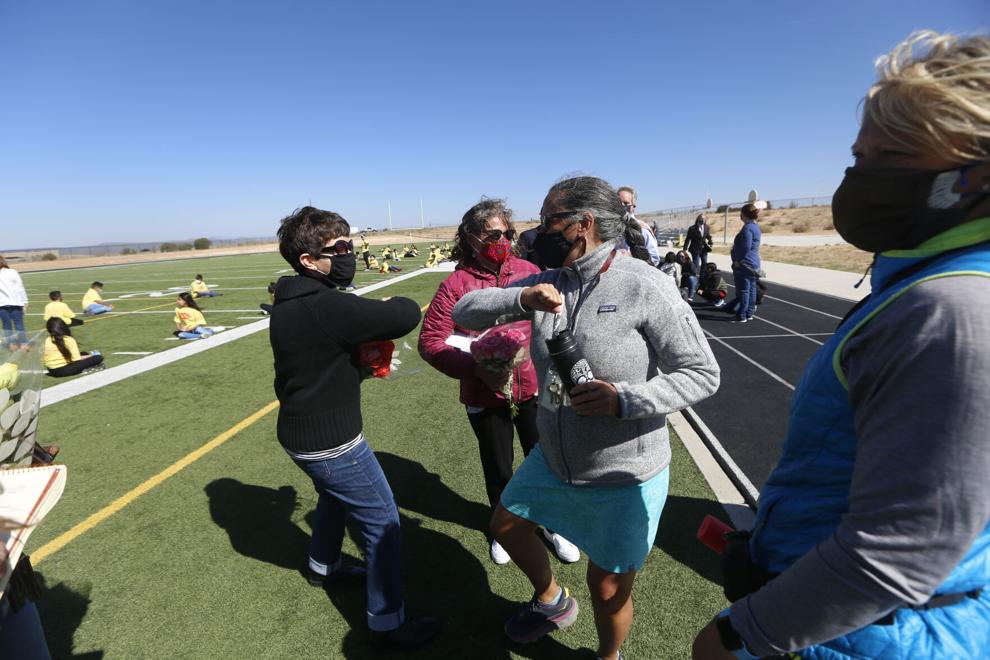 Alicia Ayala
Third grade teacher, El Camino Real Academy
With a 19-student class roster — 10 online and nine in the classroom — Ayala notes she has yet to meet some of her students in person, as some are still learning from home.
She said the key to running a hybrid learning operation smoothly means extensive, constant planning
It can be difficult to keep students engaged, Ayala said. But she's found methods that include "you choose" project assignments that focus on technology and family involvement. She has a special passion for science, allowing her students to explore many jobs within the field — geologist, astronomer, ecologist and more — in order to explore topics central to the third grade.
Ayala, who has taught in Santa Fe Public Schools for nine years and hails from El Paso, draws upon her previous experience as a research scientist focused on chemical and material science engineering at Los Alamos and Sandia laboratories to keep her students engaged.
"My favorite part that I cherished the most at both labs was mentoring students," Ayala recalled.
After a few years in science, she decided to make the leap to education and gained her alternative license to teach. Today, she's the science fair leader at El Camino Real and also organizes an annual STEAM (science, technology, engineering, arts and math) Night for students to introduce them to professionals in a variety of fields.
Her love of science is undeniable. Ayala says she tries to find a way to tie scientific exploration into every lesson — even for students who attend class online.
"The kids definitely love science," Ayala said. "A lot of times they think science is blowing up things and doing experiments and stuff. I try to get them to understand that science is everywhere. It's being curious, it's asking questions, it's testing out things. … It's not restricted to a lab."
Ayala, like the other Teachers Who Inspire recipients, was surprised by her selection. Back in the classroom, her students promptly asked for help spelling "congratulations" before presenting her with a multitude of celebratory cards.
"It's me and my students, primarily," Ayala said. "They are what's driving everything that's going on, when you see their eyes light up. And when they don't light up, it certainly makes you think."
Deborah Magaña
Second grade teacher, El Camino Real
Today, Magaña spends the school year teaching her 10 in-person students to grow bean seedlings in the class garden or helping her online students collect soil samples at home
Years ago, however, she never would have imagined she'd be balancing hybrid learning before a class of eager, dual-language second graders.
Magaña immigrated to the U.S. from El Salvador at 19. She did not speak English and signed up for adult English classes in Los Angeles, where she lived with her sister. But her initial experiences were discouraging
"One of the teachers was very racist toward us. He did say that we were not going to be anything, that we were not good enough to make it to college," she recalled. "He was very derogatory to mainly the Latino community that was in his class, trying to learn English. It really made me think, "If I'm going to become a teacher and start going into that path … that's not something I want to do.' "
A while later, Magaña found herself drawn to teaching after getting the chance to assist in adult English classes and later working with kids in Colorado schools. She's been with the Santa Fe district for about 15 years. She said the challenge is continually pushing herself, not just her students, to learn. When teaching third grade one year, Magaña faced her dislike of math by taking a college course to brush up on her skills.
"[It] was very complicated for me," she said. "When I started teaching students, I start finding out how abstract it was for them."
She was determined to find creative ways for her students to play with numbers and learn to enjoy the subject. Magaña uses "number talks" to encourage her students to work together to solve mental math problems. She's also a member of the Math Teacher Leader Network at Los Alamos National Laboratory, where she works with other educators to boost math education around the state.
Though she initially bristled at teaching science through textbooks, Magaña has instilled a love for experiments through the Los Alamos National Lab Foundation's Inquiry Science Education Consortium. She's part of a teacher leadership group and helps ensure El Camino's science kits are stocked.
"I love the hands-on [learning]. ... That's how I started this year with my students. I made them go outside and collect soils. I asked the parents to get plastic water bottles and mix water with soils. I'm pretty sure I created a mess," she said with a laugh.
Sharieffa Wade-Burton
Middle school resource teacher, El Camino Real
Before Wade-Burton started teaching El Camino middles schoolers during classroom hours, she was helping them after school as a social worker at the youth emergency shelter nearby.
"A lot of [student clients] didn't like school. I would help them with homework," she said. "I wanted to motivate them to like school and not drop out, and so I thought if I went into teaching I could help students like that."
Wade-Burton, who has taught at El Camino for about four years, found a silver lining with her students in the tumult while co-teaching in general education classrooms.
"I did notice that a lot of them did benefit from remote learning," she said. "You could see how that made them mature a little bit more. They had to take more responsibility with logging in. I saw that growth."
Wade-Burton, who is from Belize, said she loves the school's diverse culture, which she said sets El Camino Real apart. It also inspires her to emphasize real-life scenarios in her life skills teaching. Math time, for instance, is a perfect opportunity to learn about managing finances and opening bank accounts.
Some of her eighth grade students are trying to convince her to start teaching high school as they move into ninth grade. Wade-Burton knows the transition this year is bittersweet. Yes, she'd like to go with them. But the fact that they're moving on just means she's doing her job right.
"I hope to continue to push my students to love school and just to push themselves to want to continue to grow," she said. "That's my biggest thing, why I came into this. I want them to see that there are opportunities out there. You guys just need to take this one day at a time. I know there are struggles. It's hard to learn for my students. I just want them to keep having that faith and patience."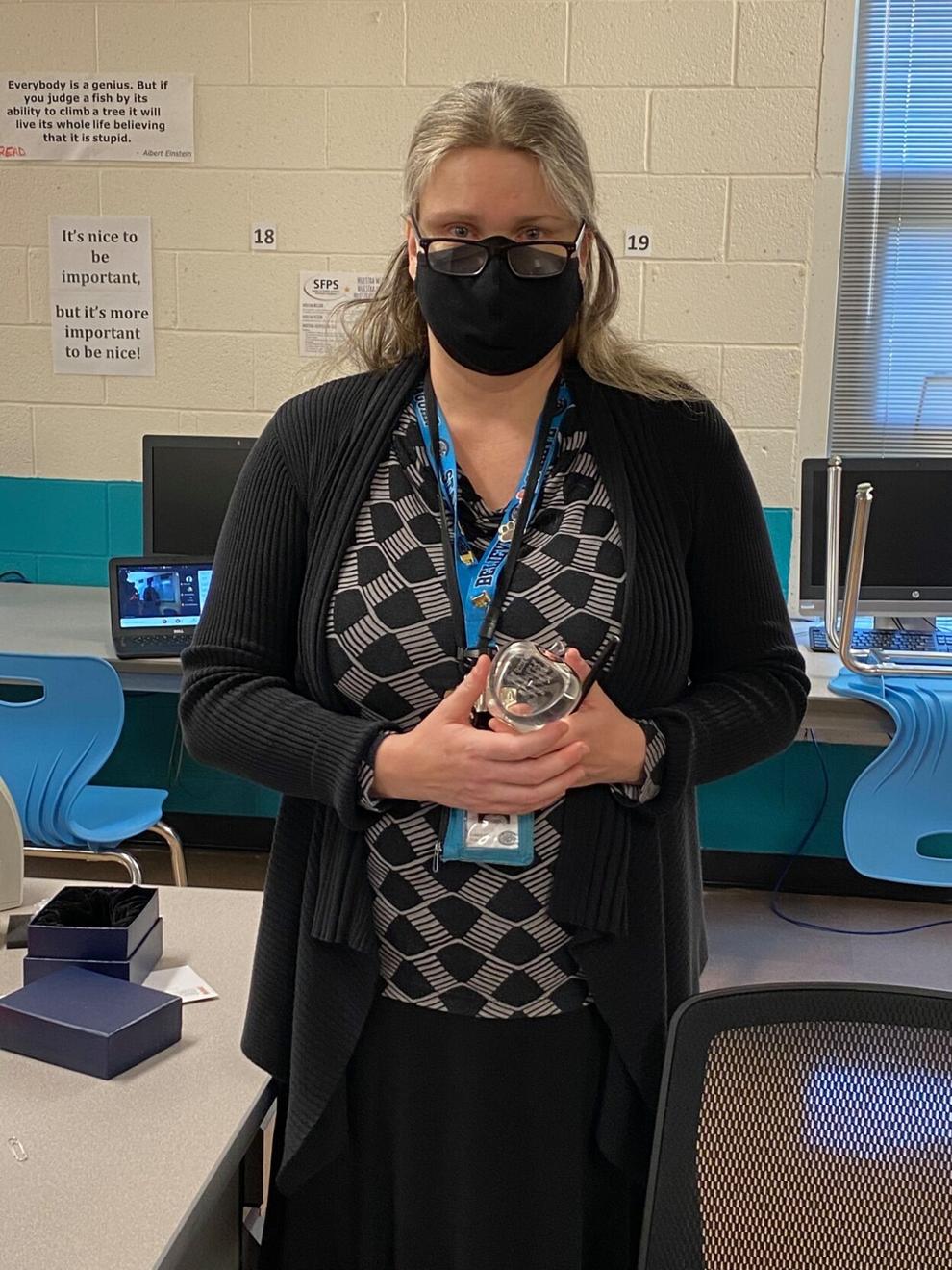 Barbara Teterycz
Technology and computer science teacher, Capital
Teterycz, who merrily describes herself as a "walking computer" and is endlessly passionate about the need for students to learn coding, is responsible for the implementation of computer science classes at Capital.
Through the difficulties of teaching high schoolers during the pandemic, she acknowledges she's had a surprisingly successful year.
She and her students have won accolades for their work in coding and computing this school year, including taking first place in the national Congressional App Challenge.
Teterycz, who grew up in Poland, is hopeful that next year, Capital will be on a more regular schedule. But she also wants the community to know about what she describes as a pressing need in her department.
"I [wish] to have fantastic support from community members — those professional mentors who wouldn't mind to help students in need. Those who are really in need," she said. "Because this is the population in my school that needs help and support from professionals. This is very important because students do not get the support anywhere else."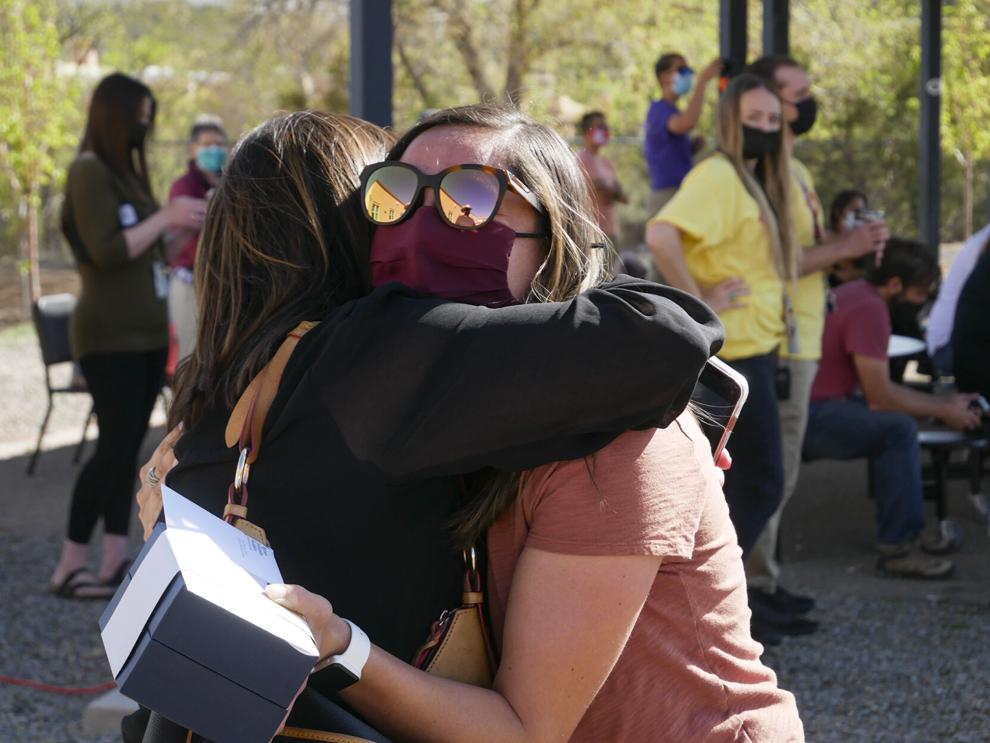 Roxanne Starr-Trujillo
Special-education teacher, Atalaya Elementary
Starr-Trujillo wasn't expecting to receive the Teachers Who Inspire award Friday morning. She thought she was going to be watching her son, who attends Atalaya, perform in an assembly.
"I was very surprised," she said.
Starr-Trujillo, who has taught in the district for about 10 years, said she looks forward to reentering classrooms in the fall. She's not going to lie: She's tired.
But this year has forced her to transform her practices and reprioritize amid the pandemic. She said she's learned new ways to get her students, who are at all grade levels throughout the school, motivated. She's been able to do that both online and in person.
"I've focused a lot more this year on really knowing my students' strengths," Starr-Trujillo said. "I'm just really proud of them. I feel like we've been through some very uncertain times together. I think they've helped me more than I've helped them."
Starr-Trujillo expressed gratitude for her mentors and teaching community. She said she wants everyone to know "it takes a village" to make teaching happen, particularly this year.
"Everybody that's teaching this year deserves an award," she said.