For once, the horses were louder than the humans.
There was only silence for some people amid the crunch of gravel and swish of tails.
Ashley Armijo faced the three horses as they shifted weight from one hoof to another. She waved her hands to draw the attention of the student riders. With slow movements, the director of the New Mexico Center for Therapeutic Riding used hands signals to ask the question: "Do you want to go fast?"
The 7- and 8-year-old students from the New Mexico School for the Deaf each nodded as giddy smiles spread across their faces.
Armijo approached student Demi Padilla's horse and led her forward.
"Ready?" Armijo asked in American Sign Language.
With a nod from Demi, Armijo took off at a jog. A cloud of dust followed the horse while it trotted a few yards. Feeling the heightened energy and slight bounce from her horse, Demi gave in to a smile that lit up her face.
For one hour, it did not matter how the students, each in a special-needs class at the school, struggled with daily interactions. On top of a horse, their issues seemed to melt away; it was the world that was different, not them.
Therapeutic riding has become a popular and vital option for people with disabilities, whether they are school-age children or the elderly. In Santa Fe, the New Mexico Center for Therapeutic Riding is one of three nonprofits offering riding lessons in hopes of providing the healing effects of horse therapy.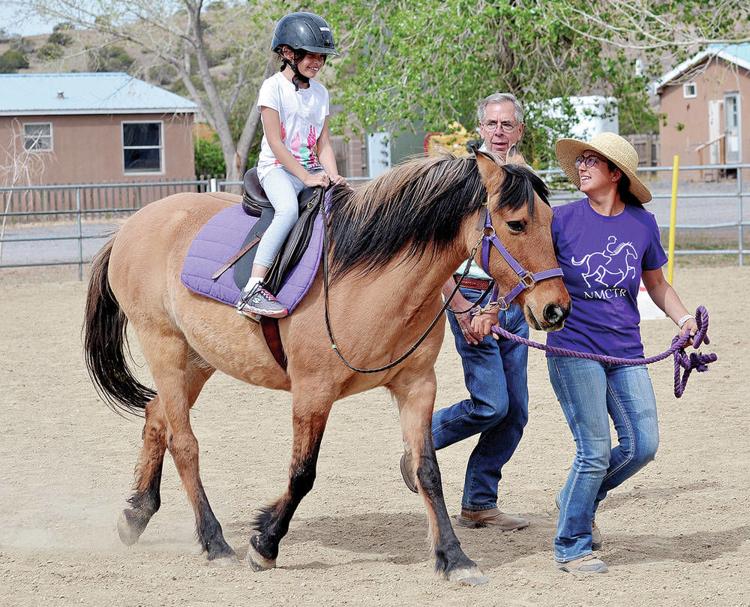 As part of the Professional Association of Therapeutic Horsemanship International, the center also is part of the global community of therapeutic riding, which aims to provide physical stimulation and an emotional connection through horses. New Mexico has a smaller number of centers than neighboring states, Armijo said. Still, the work they do changes lives.
"[Horses] are very sensitive and can feel things we may not," Armijo said. "Whether with at-risk teens or individual clients, people are more willing to love, interact, participate with horses before individuals."
Through grants from the Rotary Club of Santa Fe in 2017 and 2018, totaling $19,250, the riding program offers four eight-week sessions each semester to five local schools' special education classes. Due to limited space and horses, the center rotates through the schools on its list.
Riding a horse stimulates all of the nervous system, Armijo said, so for students with muscle problems, it can offer them physical therapy they couldn't do on their own.
For students with behavioral challenges, she said, horses foster a connection and love that may be easier than with humans.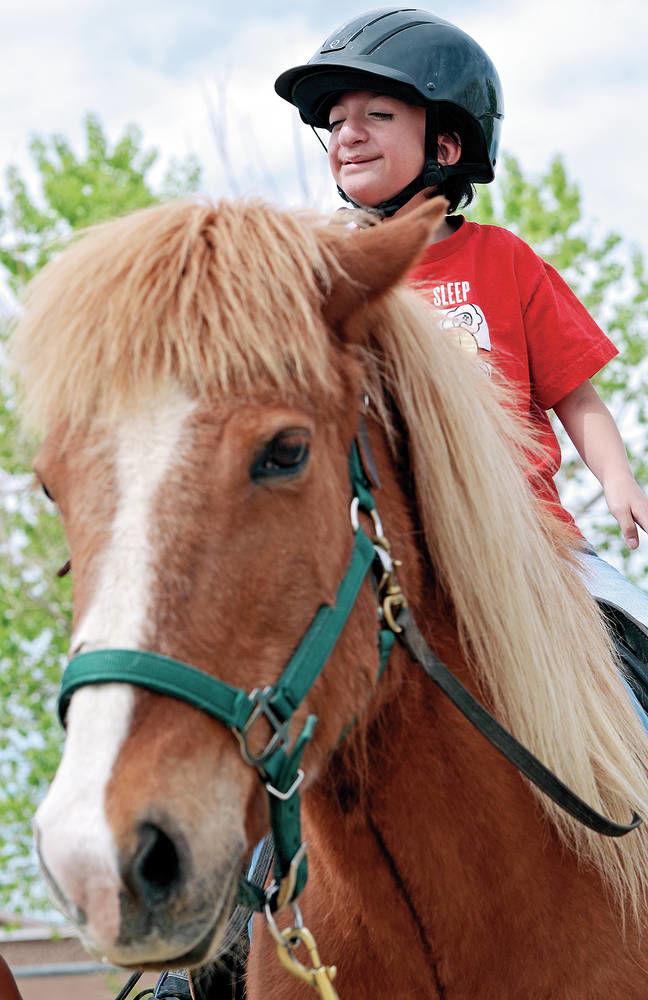 "When they are on the back of the horse, they can engage and participate," she said. "The feeling of being on a horse, it really allows [students] to get them to a place where their senses aren't overwhelmed."
As the class from the School for the Deaf held its last horse therapy lesson until the fall, teacher Jackie Martinez gave encouragement and helped sign instructions.
"It's beautiful and awesome to watch," Martinez said.
In her special education instruction, she started the weeks off with horse riding on Monday mornings. She said her students returned to class calmer and more focused.
"It just seems like the horse and student make that special connection," she said. "I think that gives them motivation."
The students then drew pictures of horses the rest of the week, learning more vocabulary relating to horses along the way. Martinez said she used the riding lesson to help continue their growth with teamwork and expression.
"I think you can do a lot of teaching with vocabulary out here in the environment than you can in the classroom," she said.
Armijo designs each lesson in tandem with what the teachers want their students to focus on. One week, they worked on spelling by guiding the horses around cones with letters; the next week, they worked on taking turns being the leader.
"I'm amazed at what I see and how it affects their behavior," said Tommy Tischler, a teacher's aide to Martinez. "It's an awesome program."
While all three horse therapy centers in Santa Fe cater both to youth and adults with special challenges, each differs slightly in focus. The New Mexico Center for Therapeutic Riding focuses on children with disabilities and its school program. Listening Horse, the other PATH International-accredited nonprofit in town, specializes in veterans and adults with PTSD. Challenge New Mexico, which is not affiliated with PATH, focuses on individual sessions with clients.
Each program's ultimate goal is to serve people who may not find healing anywhere else.
Armijo told stories of a child with autism who said his first word on horseback and a rider with multiple sclerosis experiencing sensations in her body she had not felt in years.
Armijo said the center also helps adults with health concerns and seniors who want to learn to ride for the first time.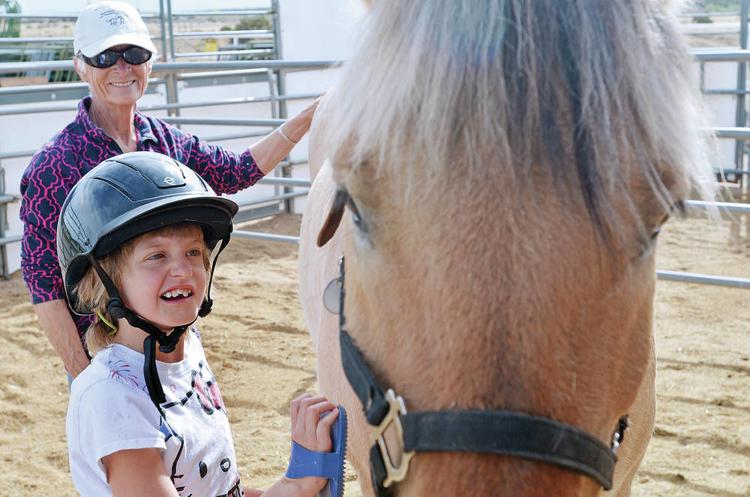 The program currently has seven horses and is renting space, but wants to find a permanent home. Shelley Phelan, president of the board for the New Mexico Center for Therapeutic Riding, said that since it started in 2006, the program has grown and officials want to see it continue to do so.
The center has planned a variety of fundraisers for upcoming weekends to help with operational costs and will be pushing in the fall to fund a permanent home, she said. In the meantime, she said, it will continue to offer PATH-accredited therapy.
"It's healing," she said. "[Students] can take their focus off whatever their issues are and be one with the horse."
Dana Killen has volunteered with the center for the past 2½ years and has another 10 years of experience working with a horse therapy center in Texas. While there are a variety of types of therapy available, she said, horses offer both physical stimulation and animal love.
"It does things for these kids that nothing else does," she said. "It's something for these kids to do and feel empowered."
As the New Mexico School for the Deaf students patted their horses goodbye and thanked Armijo for the lesson, small smiles still lingered on their faces. Martinez gathered them back onto the bus for their ride back to class. In the end, she said, horse therapy is something special.
"You can sit in with a therapist," she said. "Wouldn't you rather be with horses than sit one-on-one?"
Upcoming events at New Mexico Center for Therapeutic Riding:
May 19-20, 10 a.m.-4 p.m.: Natural Horsemanship with Tom Hayes, a clinic on communicating with horses
May 19, 6 p.m.: Horses to Heal, benefit dinner with book signing and live music
May 19-20: PATH International Region 10 conference
May 26: 7 a.m., Endurance Ride and Run, horse riders racing against runners