I: What killed Chad Walde?
Chad Walde still looked like himself, handsome in a new, dark blue suit. The tumors that overwhelmed his brain had not distorted his face. A long, winding scar stretching from his jaw to the back of his skull had begun to fade.
His wife, Angela Walde, reached down and placed her hands over her husband's. His skin felt oddly warm and seemed to shift at her touch. Maybe he could still wake up, she thought. She remembered the biblical story of Lazarus' resurrection. Gently, she shook her husband's corpse. Get up.
It was a hot Thursday in July 2017, and the crowded Albuquerque church had grown silent as the young widow with long, dark hair stood over the silk-lined casket.
Mourners watched Angela Walde take her seat as pallbearers closed the coffin and pulled an American flag over it.
The photographs and relics of Chad Walde's life had been laid out on display. A Navy cap. A New York Giants banner. A reflective work vest from Los Alamos National Laboratory. His baby-faced military portrait hung over the coffin.
"We don't know why Chad left this earth at such a young age," the pastor said in a slow Texas twang. "When I realized he is only 44, my heart broke. I thought: 'Oh no. He is so young.' "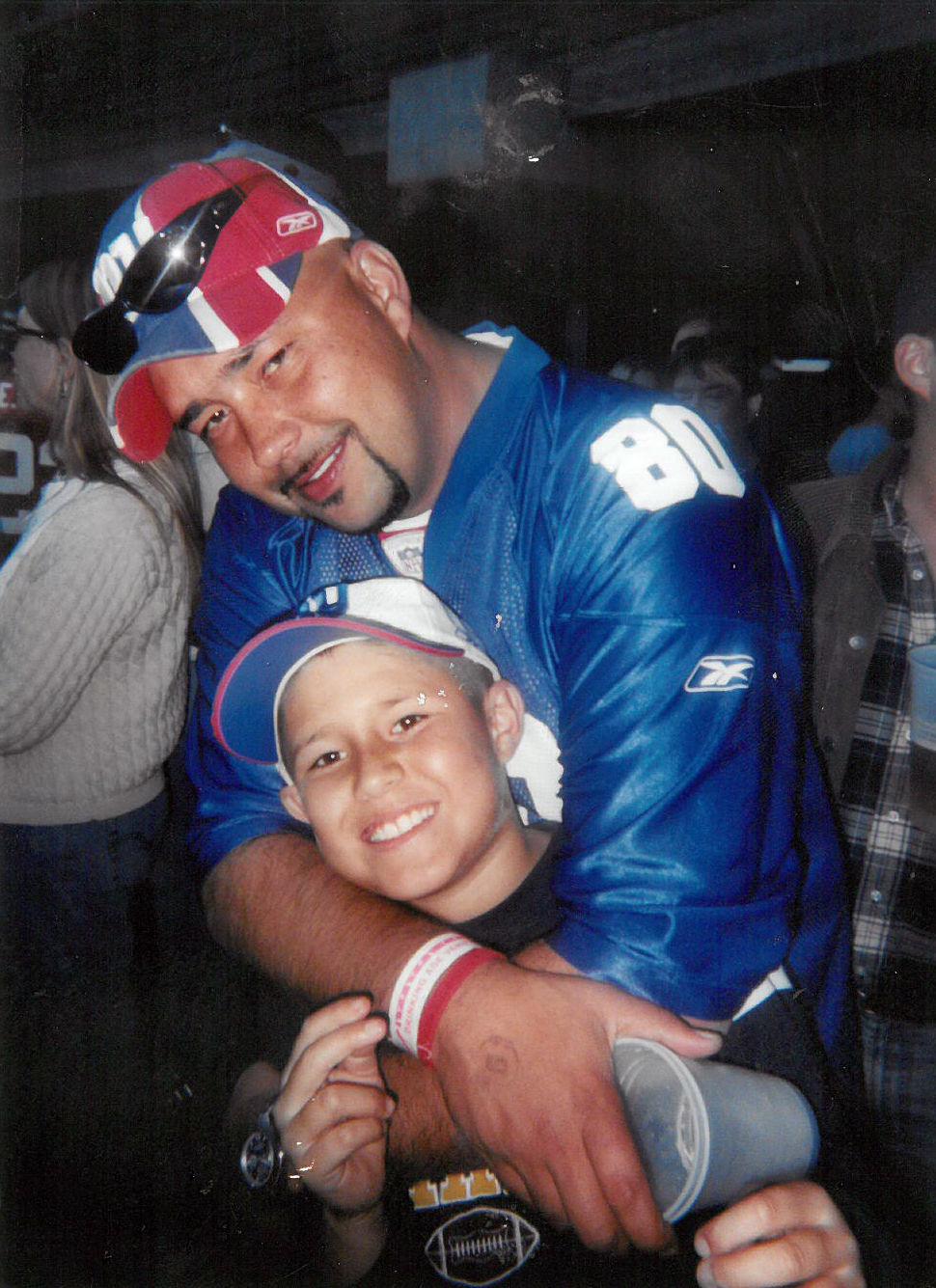 That unanswered question — what killed Chad Walde? — nagged at his widow.
There had been other funerals, even that month, for other people who had worked at Los Alamos, one of the nation's most important nuclear weapons laboratories. Several, like Walde, had died of cancer. Others had thyroid diseases and breathing problems, and they suspected some of the maladies might stem from contaminated work environments or from the large fire that burned through the vast lab property in 2000. Nobody knew for sure if the illnesses were connected to work at the lab, but they wondered.
For decades, Los Alamos had been criticized for sacrificing workers' health and safety in the name of atomic progress. In 1999, Bill Richardson, then the U.S. energy secretary, acknowledged that nuclear sites had concealed information and "sent many of our workers into harm's way." He said the government intended to "right the wrongs of the past." Then, in 2000, Congress passed a compensation act, offering medical benefits and payouts for workers with radiation-related cancers and other occupational ailments. But the government, and Los Alamos in particular, has said those lapses are in the past and they have put in place rules and practices to protect safety. The lab says radiation exposures have been "consistently recorded" over many decades.
Despite those pledges, Walde and his co-workers said safety problems continued. They witnessed accidents and heard the sudden, unexpected blare of radiation alarms. They watched crews come in to decontaminate buildings and run radiation detectors over their hands and feet. They had their limbs scrubbed and clothing replaced. Sometimes days would pass before anyone realized contamination had spread. Many workers said their memories of poor work conditions and high personal radiation readings don't match the government's scant records.
The New Mexican asked Los Alamos National Laboratory spokesman Kevin Roark questions about worker health and safety. Here are the lab's responses in full:
In addition to Walde, at least four others on his maintenance crew had been diagnosed with cancer in the past five years.
Before his death, Walde filed a claim for federal benefits, joining more than 1,400 people who said they became sick from radiation exposure for work done within the past 20 years at the lab, according to data obtained by the Santa Fe New Mexican under the Freedom of Information Act. An additional 335 dead workers also had claims filed on their behalf.
Angela Walde would later discover her husband's personnel file contained little mention of the radiation exposure and no record of the safety scares he had told her about over the years.
Now, in the church, she listened to the country music playing softly and to the minister in prayer. After his cancer treatments, Chad Walde would laugh and tell his friends, "I get more radiation sitting in my office at Los Alamos." Even when he was suffering and in pain, he would smile and say he was living the dream.
Looking at his closed coffin, Angela Walde wished she could go back 18 years and tell him to find a different job, far from laboratories and nuclear weapons.
II: A new career, and the danger of radiation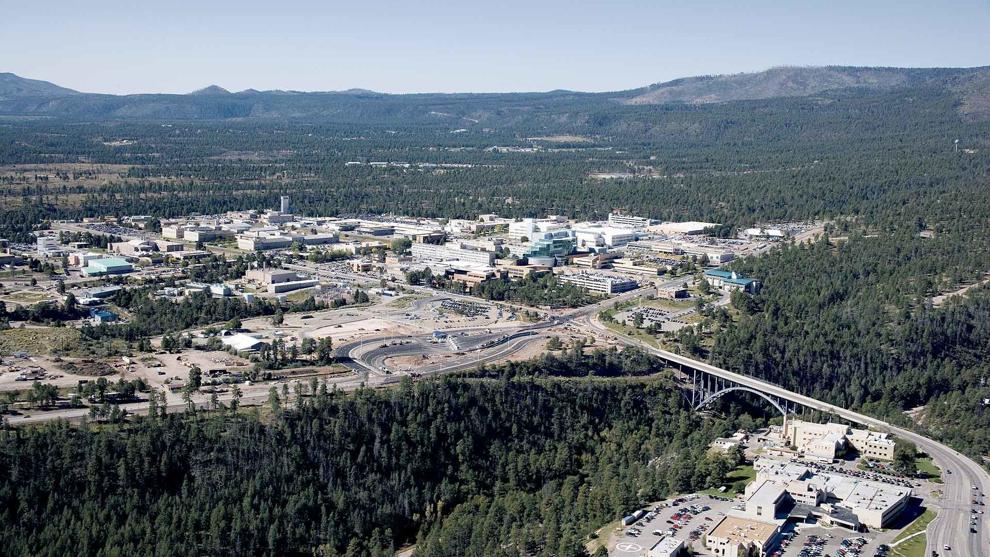 On his first day of work at Los Alamos, Chad Walde got dressed in the dark. It was the fall of 1999 and a week before his 27th birthday. The drive from Albuquerque to Los Alamos took nearly two hours, and as he got on the highway in his small, white Ford Escort, just after 5 a.m., the hulking peaks of the Sandia Mountains would have been cast in silhouette.
The town of Los Alamos was just beginning to stir around the time he arrived. Log cabins preserved from the government's military takeover during World War II mingled with modern buildings. The roads had been named after famous scientists and atomic testing grounds. Trinity Drive. Bikini Atoll Road. Oppenheimer Drive. Gamma Ray. When he reached the white laboratory gates, lines of cars already had begun to form, each stopping at booths to present armed guards with ID.
Inside, Walde was issued a special Z number, unique to each employee at Los Alamos, which would become a proxy for his identity there. In the days to come, he underwent several medical exams and was asked to detail any prior exposure to 81 hazardous radionuclides, explosives, chemicals, gases or lab animals. He circled no for each. He wasn't perfect: He smoked, drank intermittently and, for a man over 6 feet tall, was overweight. A doctor found no abnormalities with his head, eyes, heart, lungs, thyroid, limbs or spine. His bloodwork came back normal.
Walde was still adjusting to life as a civilian. He had left the Navy four months earlier and moved his family back to Albuquerque, where he'd been working odd jobs as an electrician. After four years on the USS Lake Champlain, sailing to ports in the Middle East and Asia, Walde still missed the sea, the way the sun turned red as it set in the middle of the ocean. Now, he'd be working at a hallowed place. And, making $22 per hour, he would earn more than he ever had in his life.
Walde knew about the lab's historic role in creating the first atomic bombs, but little else. He didn't know its nuclear mission had come with a human toll.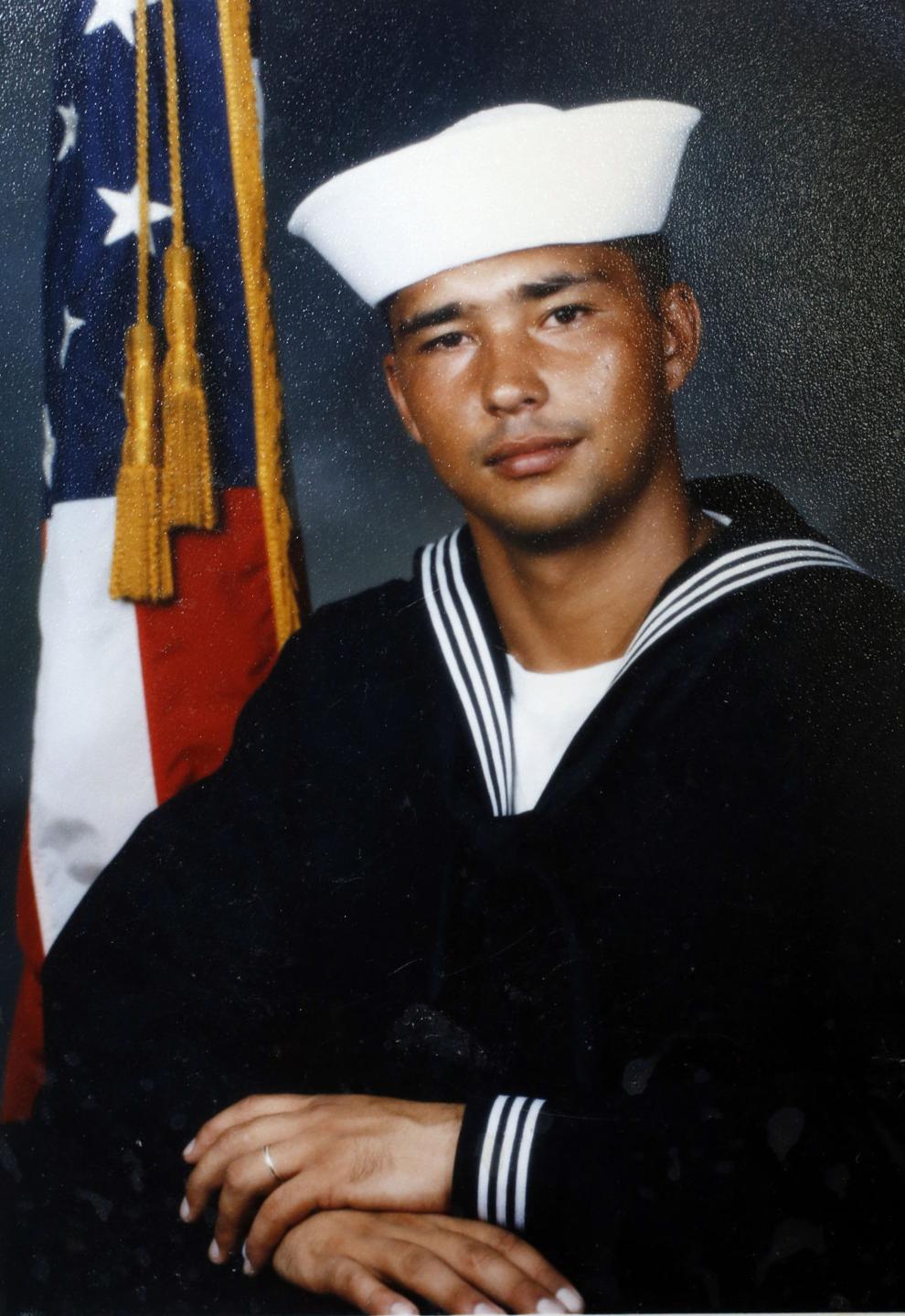 Employees of the complex had long complained of health problems, but quietly, often only to friends and families. Speaking ill of the lab was considered by some as anti-American, and some whistleblowers said they were often ostracized by colleagues and pushed out or fired for reporting problems. Most who've sought state workers' compensation over the years for illnesses they attributed to their work at the lab have had their claims aggressively challenged in court.
Out of a fear of liability, the famed nuclear scientist J. Robert Oppenheimer, who served as the lab's first director, mandated that workers' health records be labeled top secret, according to a memo written by his colleague in 1946 and declassified in the 1990s.
The Department of Energy and its predecessor agency, the Atomic Energy Commission, understood safety and health problems at the laboratory to be a liability — one that could cause a PR nightmare and shut down the project.
This began to change in the late 1980s and early 1990s. As the Cold War drew to a close, the Department of Energy said it was committed to transparency. Facing growing public and congressional pressure and legal action, it began looking into conditions throughout the nuclear weapons complex. A team of 150 inspectors was sent to Los Alamos after managers at a nuclear facility in Colorado were charged with environmental crimes — a type of plutonium used to make nuclear weapon triggers had wafted from the factory into the outside air and was found at homes near the plant.
At Los Alamos, investigators found widespread radioactive contamination. Nuclear waste had been dumped into open pits and canyons around the lab. Workers had not been properly monitored for radiation exposure or other health problems. Indeed, the University of California system — which had run the lab since the 1940s — kept poor track of health, safety and environmental problems, inspectors found.
By 1991, the lab's mandate for secrecy began to crack. More than 150 workers and members of the public called a hotline to recount accidents and concerns — about being exposed to chemicals, working in poorly ventilated areas with hazardous gases, and a lack of training and monitoring around radiation.
Many had concerns about cancer. One caller shared information about a public meeting in Los Alamos. "The caller expressed concern about the role occupational health provided the people who had cancer," the log said, "but the cancer was not discovered until the terminal stages."
Additional public fears prompted the Department of Energy to fund a study. Published two years later, it found a modest increase in brain and nervous system cancers in Los Alamos County, compared with the rest of the state. It recommended further study, but officials later decided it was unnecessary, and a follow-up study only examined thyroid cancer.
The '90s would see two major strides for workers' welfare within the nuclear weapons complex. In 1991, the Department of Energy began to draft new rules for how sites should protect workers, formalizing monitoring requirements for nuclear workers "likely" to be at risk and setting limits for the amount of radiation to which workers could be exposed.
Then, in the late '90s, the Clinton administration acknowledged for the first time that the Department of Energy had failed to protect workers from radiation and chemical exposure at the laboratories and factories used to build the U.S. nuclear arsenal. Records had been destroyed or falsified. A multiagency report on the prevalence of occupational diseases found current and former workers could be "at increased risk of illness" from these exposures and the "physical hazards associated with the production of nuclear weapons."
At Los Alamos, the report found a "statistically significant" increase in cancers of the esophagus, lungs, kidney and brain — as well as for lymphocytic leukemia and Hodgkin's lymphoma — among workers.
The problems made national news, but Walde, then working on a Navy ship in San Diego, didn't see the headlines.
The Clinton administration's reforms were meant to take effect in 1996, and violations of the rules would be punishable by civil and criminal penalties. Three years before Walde began his job, Los Alamos said it was complying.
III: In catastrophic fire, hidden dangers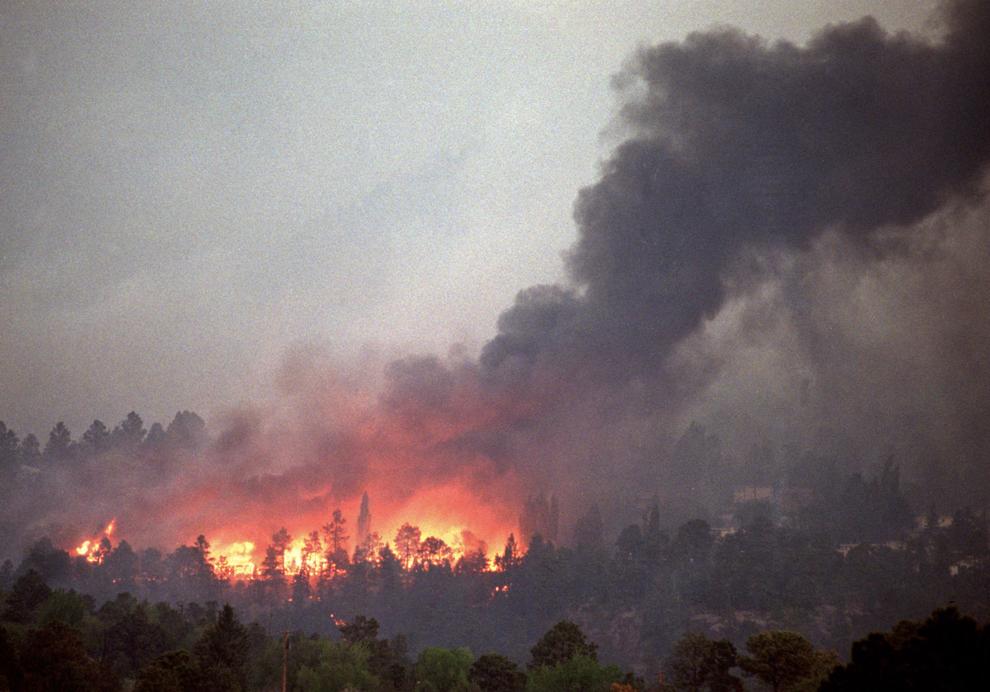 Six months after he began work, Walde was thrust into one of the most daunting scares in the lab's history.
On the first Thursday of May 2000, officials from the National Park Service started what was meant to be a small, 900-acre fire in a crescent-shaped part of Bandelier National Monument below the town of Los Alamos and its sister community of White Rock.
The fire was set to prevent more major fires. But the Park Service had forgotten to account for the wind, a report later found. Gusts picked up to more than 20 miles an hour, throwing embers more than a mile away into Los Alamos Canyon.
When Walde arrived at work the following Monday, the fire had spread to 3,000 acres, well beyond the Park Service's control. His supervisor sent him home, along with all nonessential personnel. Thousands of evacuees relocated to gymnasiums-turned-shelters in Santa Fe.
Residents and elected officials worried what would happen if the Cerro Grande Fire engulfed nuclear materials stored at the lab.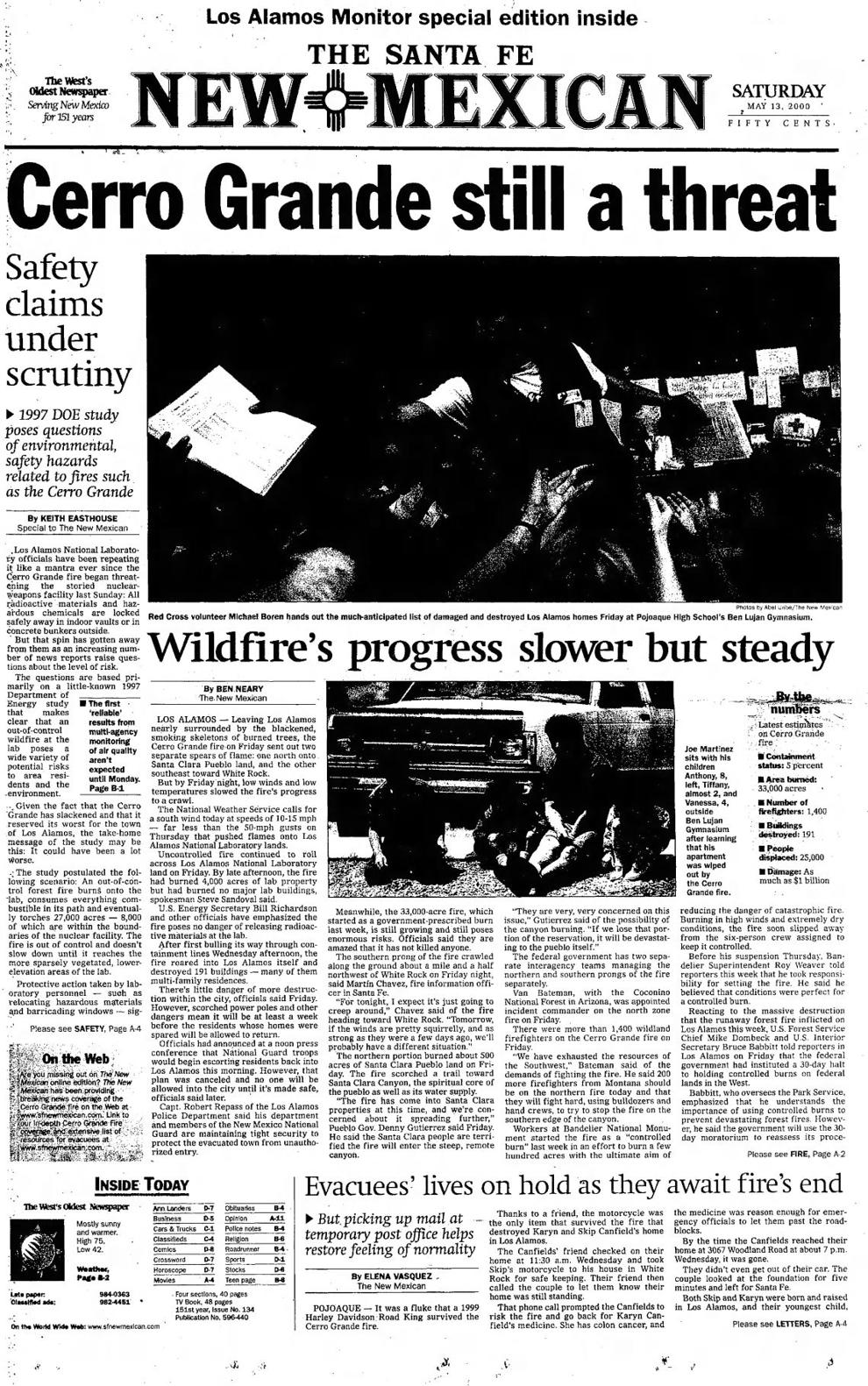 While the fire was still burning, The New Mexican reported on a study, quietly published by the Department of Energy in 1997, that found a wildfire on lab property could release radioactive smoke that would expose nuclear workers to a radiation dose 135 times the allowable annual limit and affect people within a 50-mile radius. The study also said a tritium facility on the lab's west side, where radioactive isotopes of hydrogen and other explosives were processed, was among the most vulnerable.
By 11 p.m. Wednesday, just hours after the last residents were evacuated from Los Alamos, a brush fire swept through the area surrounding the tritium facility, just as the study said it might. Firefighters would later recall being told to protect certain buildings "at all cost" and how flames transformed unnaturally into violent shades of colors as "different materials burned."
"We were not monitored during the fire," one worker later recalled at a public meeting held to help federal officials learn about the hazards and exposure risks that existed at Los Alamos over time, "even though those areas contained wastes from almost 60 years."
But lab spokesmen maintained everything was safe. All nuclear waste and bomb-making materials were buried or kept in concrete tankers, they said. The Environmental Protection Agency flew planes overhead to measure the air for radiation. Air-quality monitors were placed around the town. And more than 1,000 firefighters were on the ground, night and day.
Any radiation detected, officials would later say, was primarily from natural radon burning off plant life.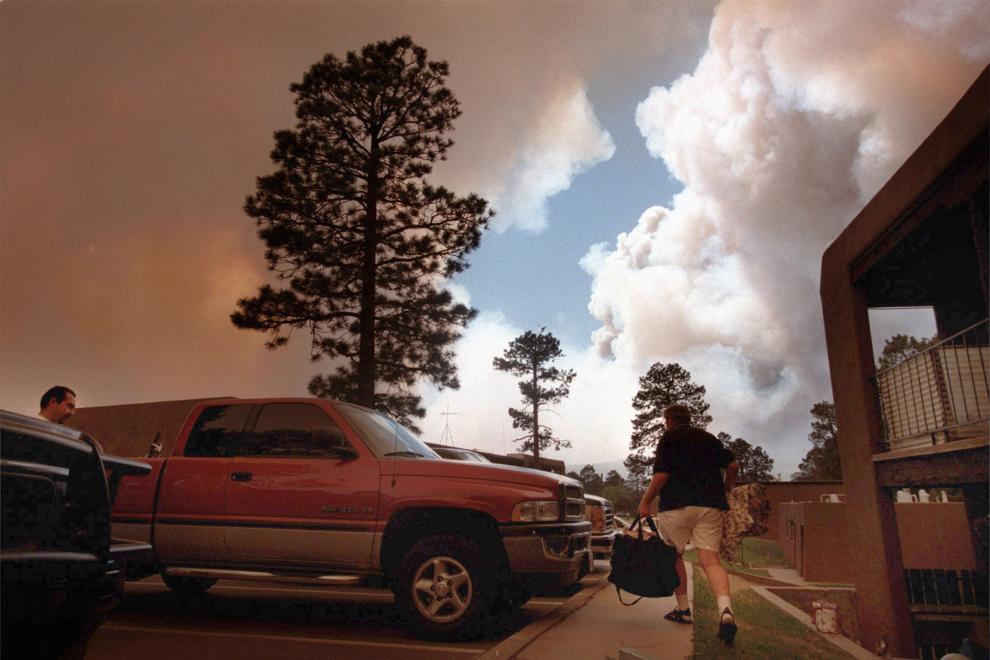 Two weeks later, Walde returned to work. He recently had been promoted, and his new role placed him in the field with a crew of maintenance workers. Nearly 40 percent of the lab property and a total of 48,000 acres in the area had burned, making Cerro Grande the largest fire in the state's history at the time.
The air was still hazy with smoke when the maintenance crews were brought in to check the safety of the buildings and unjam air monitors and fire alarms that were clogged with debris, Walde remembered. The electricity had been off for weeks, and inside, the walls were coated with ash, making the hallways look like tunnels.
As Walde moved through the scorched campus, he noticed some workers had small badges pinned to their chests that recorded their radiation exposure on thin chips, half the size of a pinkie nail.
But Walde said he and several other men on his crew had not been issued badges like this. Many of the firefighters later reported the same thing to federal officials at public meetings. Walde said he also had not gone through the radiation training course, federally required for lab workers who might be exposed to radiation.
"We didn't care who had what monitoring or training," Walde would later recall in an interview, about the crew he went out with during the fire. "Back then I didn't have a TLD," he said, referring to the tiny thermoluminescent dosimeter by an acronym.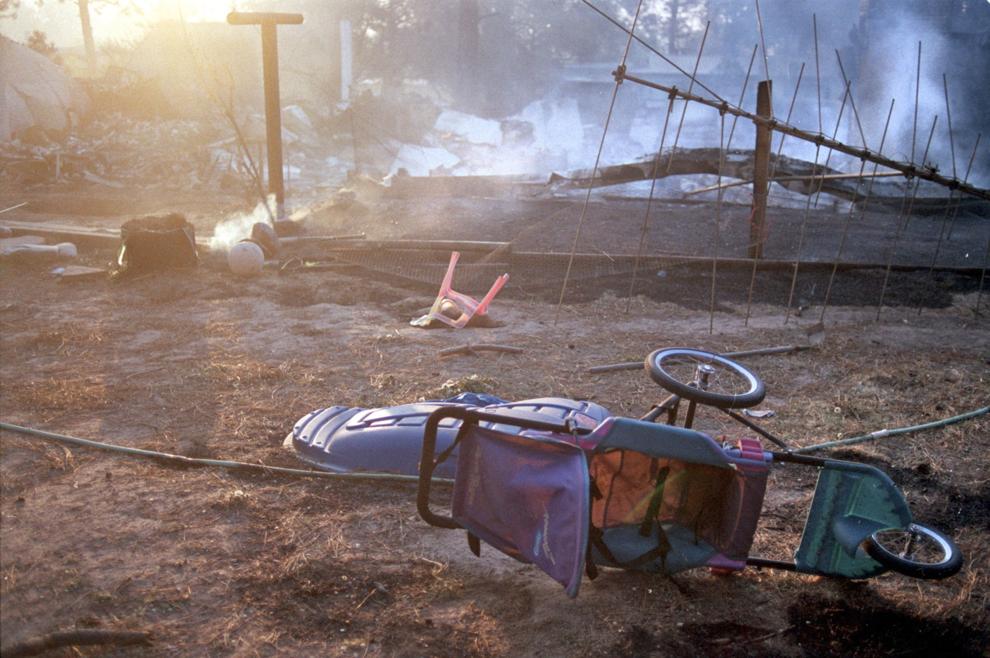 Independent scientists hired by the state of New Mexico, as well as experts hired by the federal government, would later question what had burned during the fire and if there were sufficient air, soil and other environmental samples taken to know for certain what workers had been exposed to. A toxicologist at the University of New Mexico said scientists also didn't have enough information on the impact of low doses of metals and radiation in the body to know what the health effects might be over time.
In 2001, Walde was issued a TLD badge and went through the first level of a radiation training course. Only then did he think back to the fire, to the thick smoke, and the memory stuck like a pin.
IV: More responsibility, more risk
Over the coming months and years, Walde was given increasing responsibility and, like other maintenance workers, was provided rare access to one of the most secretive sites on Earth. The crews worked in nearly every building on the lab's 35-square-mile campus. They waded through old nuclear sites where the muck of the Manhattan Project was buried underground and went into modern laboratories. Sometimes, they dressed in futuristic-looking safety suits.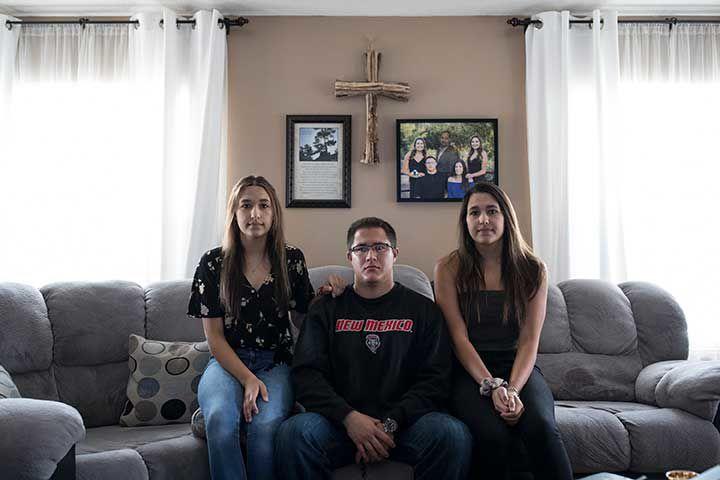 Most years brought a promotion and a pay increase. In 2001, Walde's twin daughters, Cassandra and Angelica, were born, joining Chad Jr., who was in kindergarten at the time.
Walde went through increasing levels of radiation training, including an eight-hour course that teaches lab employees what ionizing radiation is, how it penetrates bodies and how they can protect themselves. It is required for workers whose jobs routinely place them in areas with high radiation, contamination or airborne radioactivity. In June 2005, he earned a top-secret security clearance, or "Q Clearance," from the Department of Energy, following an extensive background check and interviews.
Walde also studied part time to earn an associate degree and was promoted to a manager position in 2006. By 2011, he was overseeing maintenance crews at the Radiological Laboratory Utility Office Building, a high-level facility that holds some nuclear material and where an accident or release would have serious consequences to workers. His salary also kept climbing, and he ultimately would earn more than $100,000 annually.
Supervisors repeatedly lauded his heightened focus on safety as a justification for promotions, calling it his "first concern" in an annual evaluation.
But his family saw this concern grow in tandem with an increasing knowledge about the risk of the laboratory.
One weekend, around 2008, as the Walde family was laying out food for a barbecue, Walde told his father-in-law, Billy Salas, about getting in trouble at work. He said he'd been called into a meeting and questioned after his radiation badge, checked on a monthly basis, came back with an abnormally high reading.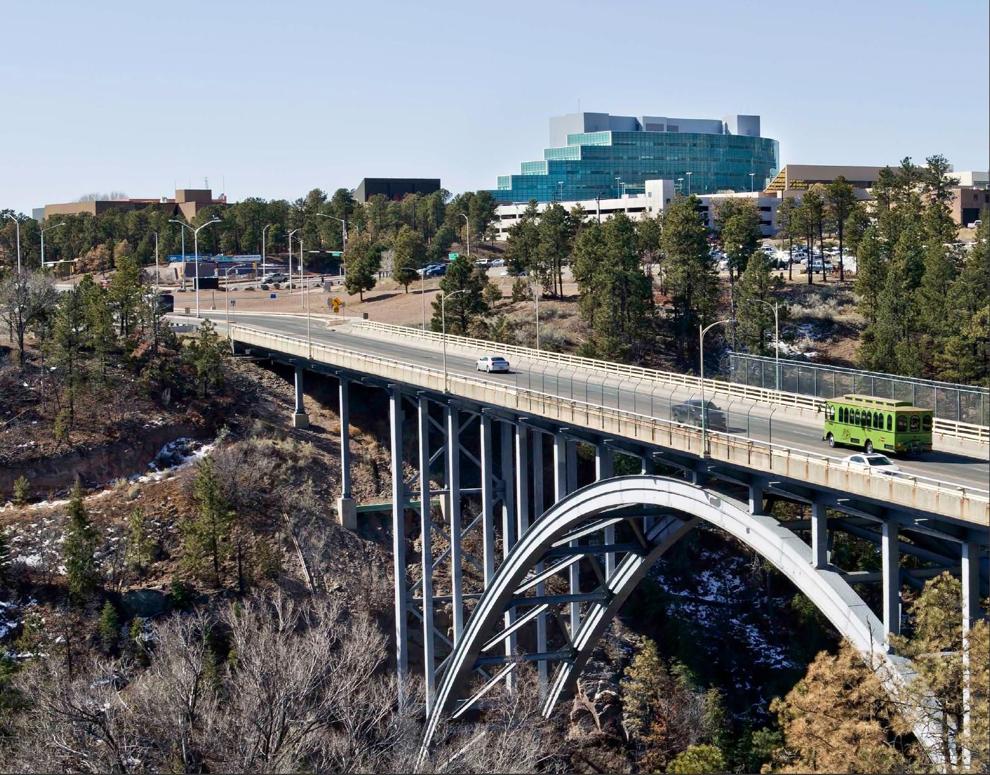 After an unexpected exposure, the lab typically is supposed to launch an investigation into the cause and attempt to determine the dose to the worker, as well as place the worker in a health-monitoring program. At the critique, Walde's supervisors suggested he must have run his badge through an X-ray machine at the airport, he told his father-in-law and his wife. He was surprised officials assumed the dose came from outside the lab.
"I have never done that," Walde said later in an interview with The New Mexican. "I had been down at [Technical Area] 53."
Technical Area 53, home to one of the world's largest research accelerators, is among the lab's most notoriously high-risk sites.
Chris Gallegos, a friend of Walde's who works at Sandia National Laboratories in Albuquerque as an engineer, also remembered the story.
"They asked him, 'Hey, did you go to the airport with this or to the dentist?' " Gallegos said.
The New Mexican asked Los Alamos spokesman Kevin Roark detailed questions about possible gaps in Walde's radiation monitoring, exposure incidents he had recounted, as well as his employment records and his health. Angela Walde gave the lab written permission to discuss her husband's work and medical history with the newspaper. The lab did not answer any questions about Chad Walde; instead, Roark provided generalized responses for this story. The lab, he wrote, "takes employee health and safety very seriously, which is why all employees who operate in areas with a potential exposure risk are required to wear dosimeters. The Laboratory and its Radiation Protection Program pay close attention to these results; when an employee reports a higher than expected dosimeter reading, an investigation is initiated, and the source of exposure is resolved and corrected as necessary."
Over the years, Gallegos said he and Walde jokingly competed over whose radiation badge came up with higher numbers, based on monthly radiation reports they received in the interoffice mail, but it began to alarm Gallegos.
"His was always higher than mine," he recalled.
Those reports were not in Walde's personnel records later given to him and to his wife. Other workers said they usually just threw the reports away.
Gallegos remembered Walde saying he had gone over his limit here and there, or he'd explain how he had to get a waiver to continue working because of a high reading.
If a worker exceeds the annual limit of radiation exposure, he or she has to get prior approval to work around more radiation or take time away from high-risk jobs, under the Clinton administration rule.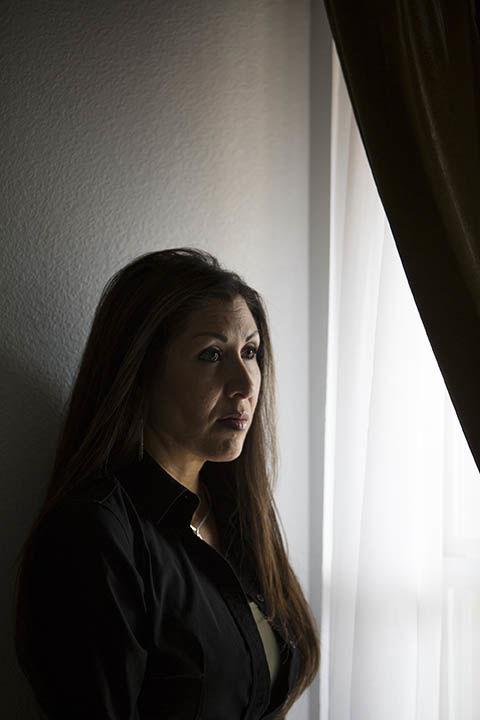 For her part, Angela Walde said she rarely thought about the risks of her husband's work. She remembered Chad buying gifts for his team members when they reached a certain number of days without accidents. Los Alamos also gave Walde an allowance to frequently replace the steel-toed boots he wore when he inspected certain parts of the lab, she said. And she remembered an evening about eight to 10 years ago when her husband came home wearing paper underwear and pants made of disposable, light-yellow plastic.
"I was just laughing at him because he had funny pants on," Angela Walde remembered. "We were laughing."
Chad Walde told her they'd sprayed him down with hard water to wash off potential radioactive particles — a decontamination process nicknamed a "Silkwood Shower" for its portrayal in a film about nuclear whistleblower Karen Silkwood — and sent him home.
If Walde explained to his wife what he might have been exposed to, she doesn't remember now, nor is there a record of such an incident in the personnel file his family received.
His medical records from the lab never indicated he underwent additional health monitoring related to a chemical or radiation-related exposure. But in 2007 and 2008, the Defense Nuclear Facilities Safety Board, an independent board that advises the U.S. energy secretary, noted 13 unexpected incidents in which one or more workers were contaminated with radiation or inhaled chemical vapors, half of which required decontamination to remove radioactive materials from workers or rooms. Many of the exposures were "workers performing maintenance at TA-53," where Walde sometimes worked.
It is not clear from the records if any involved him.
Over the past 20 years, there have been more than 170 such incidents published by the safety board, according to an analysis of records by The New Mexican and ProPublica. And the lab has been repeatedly fined by the Department of Energy for failing to implement its radiation protection program and for other instances of worker harm.
When asked about the lab's worker-protection issues and record keeping, Roark said in an email that the laboratory has "always maintained" radiation safety and health and safety programs for its workers that include job-specific training.
Angela Walde didn't pay much attention, and she assumed that because her husband wasn't a scientist, his work couldn't be very dangerous. "Chad was strong. I never worried about it," she said. "It was just something that happens to other people, not us."
V: A devastating diagnosis
Angela Walde, physician Akshay Sood and Gilbert Mondragon share their perspectives on nuclear-worker health and safety.
It was a warm Tuesday in September 2014, and Chad Walde was having trouble focusing on the meeting around him. The voices of his colleagues buzzed and blended together like AM radio static between stations.
Walde always started his day on an empty stomach, just coffee sweetened with vanilla cream, but now he thought he should have eaten something.
At the end of the meeting, he stood up and felt like the floor was shifting beneath him. For a moment, everything went black and he found himself steadied in the arms of the man behind him. He was fine, Walde said, standing himself upright. But by the time he returned to his office, he realized something must be wrong. There was a large black spot blotting out part of his computer screen.
Walde called his wife and, deciding to take a sick day, got in his truck. He didn't want to worry anybody or bother them for a ride back to Albuquerque.
About halfway home on Interstate 25, he reached the rapid descent of La Bajada. It was here Walde suddenly realized he needed to stop. Slowing on a thin strip of gravel, he opened the driver's door and vomited out the side. Then he drove the rest of the way home.
The next morning, after what had been a dull headache became startling, unabated pain, Angela and Chad sat together in the emergency room of Lovelace Westside Hospital.
He told Dr. Marci Gambarota that earlier in the week, "I felt like someone kicked my feet out from under me."
Angela Walde said her husband had been acting strangely the past few months: laughing inappropriately and having unprompted, uncharacteristic outbursts of anger. She remembered the crude jokes he'd made on a camping trip earlier that summer and telling him to stop, even as his friends laughed heartily.
Gambarota ordered a CT scan. A couple of hours later, she returned to the private room where the Waldes had been waiting and closed the door.
As several more doctors entered, Angela's heart began to race.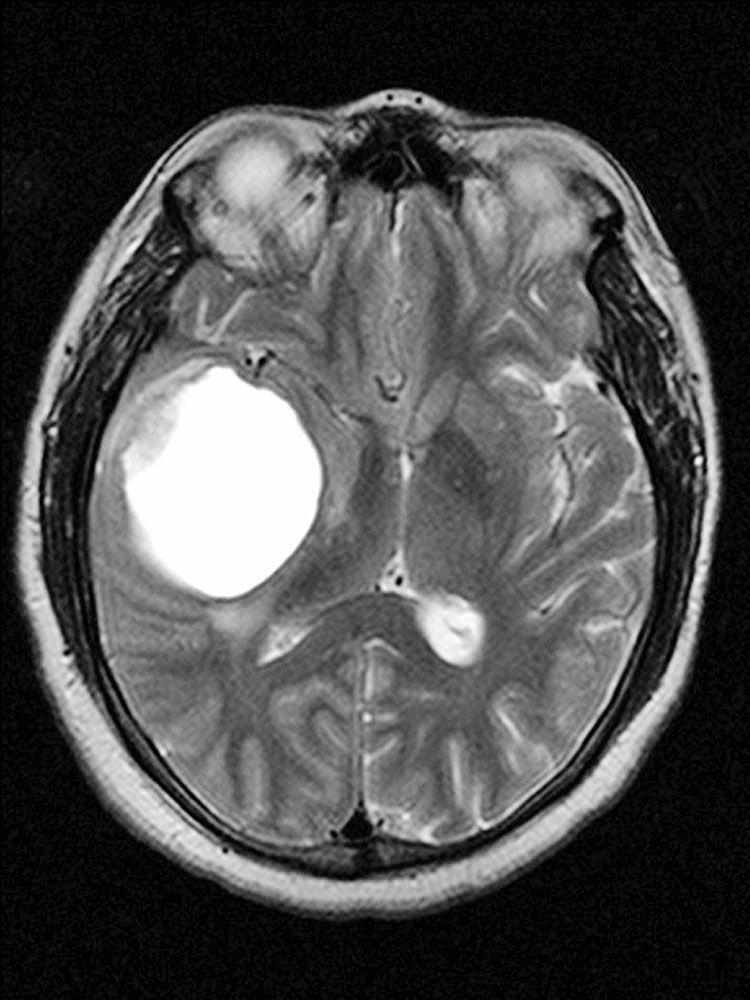 "There is something growing in your head — a mass in your brain," Gambarota explained. The healthy brain tissue was a gray oval dominating the X-ray, but there was also a large white blot on the film. This, she said, was pressing into the tissue behind Chad Walde's right eye and likely causing his symptoms. The mass measured slightly smaller than a lemon.
"I have something growing in my brain?" Walde repeated, looking at his wife. Angela watched her husband begin to cry.
"I'd never heard him do that," she said, "except when his mom passed away."
That afternoon, Chad Walde was taken by ambulance to the University of New Mexico Hospital for an MRI. Friends already were gathered in the waiting room. They had come to pray.
"They showed us a picture of the large mass and it has shifted his brain so this is the reason for the change in his personality, short term memory loss, and loss of left leg function," Angela Walde wrote on Facebook, as she did often in those weeks. "We love you, thank you for your prayers and blessing."
Days later, Dr. Howard Yonas, head of neurosurgery at UNM Hospital, cut into Chad Walde's head and pulled back his skull flap. He could see the tumor was aggressive. It had pushed through the right temporal lobe and left a trail of dead tissue behind. Under a microscope, the cells rapidly multiplied in a way that regular adult brain tissue doesn't. Yonas typically saw one of these tumors every week or two, but usually in people at least 20 years older than Walde, or in children.
Angela Walde was just outside the cafeteria when she got the call that he was out of surgery. "I took off running," she said.
Yonas said Chad Walde was recovering and suggested his wife follow him into a room nearby. A nurse went to find her parents and children.
"His eyes looked red," Angela Walde remembered.
She kept asking if her husband would be OK. Yonas said they should wait until her family could sit with her, but she insisted. Finally, Yonas sighed and said: "No. This is terminal."
Chad Walde had Stage 4 glioblastoma, a cancer of the complex, star-shaped cells in the brain. Glioblastoma tumors are hard to cut out because they spread rapidly, breaking through the barrier that is meant to protect the central nervous system from disease.
"He told us it was the worst kind of cancer you can get," remembered Billy Salas, Angela's dad, who was seated next to his daughter. "He told us Chad had six months, or 12 months, to live."
His wife posted the news on Facebook.
Then she drove home, for the first time since her husband was admitted to the hospital, to scream.
VI: The hope of a federal lifeline
Two weeks later, on the morning of Oct. 8, Chad Walde made a call to Ed Keith, his supervisor at Los Alamos, to tell him about the tumor. He took notes of the conversation in small, neat script on scraps of paper kept in a three-ring binder. Walde knew he would need costly medical treatments, likely beyond what his insurance policy would cover, and he wasn't sure how much longer he could work.
There was something else pressing on his conscience. He was concerned for his crew. Was his tumor the result of something at work? And if it was, who else might be at risk?
Walde kept notes, on the advice of a lawyer, describing his conversations with people at the lab, in case of future memory loss. He told Keith about the link between brain cancer and radiation, and he told him about "this concern & my elevated readings."
Glioblastoma is a relatively rare cancer compared to lung, skin or thyroid cancer. When it does occur, however, one of the only known environmental risk factors is radiation exposure, according to the National Cancer Institute. The research is largely based on the cancers found in the survivors of the atomic bombs and children who were exposed to radiation therapies. Studies also have found an elevated rate of brain cancer among workers sent in to clean up the radioactive fallout after Chernobyl and in some residents living there at the time of the accident.
Walde learned about the risk from a doctor at the University of Texas MD Anderson Cancer Center in Houston, where he had sought a second opinion and planned to travel that month. He had no family history of cancer.
"I expressed I am not pursuing a lawsuit but we need to get affected workers into programs for monitoring. He [Ed Keith] will investigate how to do that & get back to me," Walde wrote on one slip of paper.
The following afternoon, he called Keith again. Keith had met with human resources that morning. According to Walde's notes, Keith told him it was the "most depressing meeting he had."
Walde was not eligible to upgrade his benefits because he couldn't show he was healthy. But there was another option. A woman who did administrative work at the lab had breast cancer, and she had received federal compensation as a result. Keith would get Walde the paperwork so he could apply.
In the weeks to come, Walde would learn more about what he called the "LANL workers cancer fund." Formally, it is known as the Energy Employees Occupational Illness Compensation Program Act, or EEOICPA. Even his human resources representative's mother had received money from it, he wrote in his notes.
"Cancer funding is legit," Walde wrote.
The program was established by Congress in 2000 as part of the effort to make up for how the government had harmed its nuclear workers — and to prevent future lawsuits.
Based on more than two dozen studies and extensive worker testimony, lawmakers required the government to pay for medical care, plus a $150,000 lump sum, to workers who may have gotten cancer from radiation exposure at Department of Energy facilities, including Los Alamos. The law was later amended to include illnesses from chemicals such as asbestos, mercury, silica and chromium.
To win compensation, a worker had to prove he or she had been employed at the lab for more than a year, give a detailed exposure and accident history, and provide proof of illness. The government would then determine if the radiation or chemical exposure history correlated to the illness.
In 2012, federal health officials decided those who worked at the lab before 1996 would be presumed to have been exposed to radiation and automatically qualify for compensation if they had an eligible cancer.
In a recent interview with The New Mexican, former Energy Secretary Richardson said that after attending town hall meetings and reading letters from the widows of deceased nuclear workers, he believed the burden of proof should fall on the government, not workers.
"A lot of the records are all over the place," he said. "These DOE complexes should have kept better records, and they didn't."
Richardson said the long-standing philosophy was to "defend the country," even against its own workers, with the idea that workers "are well-paid, but why should we be responsible?" He called this a mentality of neglect, noting that workers' medical records had been considered garbage at many facilities.
The Energy Employees Occupational Illness Compensation Program Act, which Richardson helped create, laid out a list of nearly two dozen radiation-linked cancers it would compensate workers for — based on cancers that resulted from the bombs dropped on Hiroshima and Nagasaki, Japan. Among them is brain cancer.
Walde, it seemed, fit the bill. He applied for the program in December 2014.
VII: A gap between records and recollection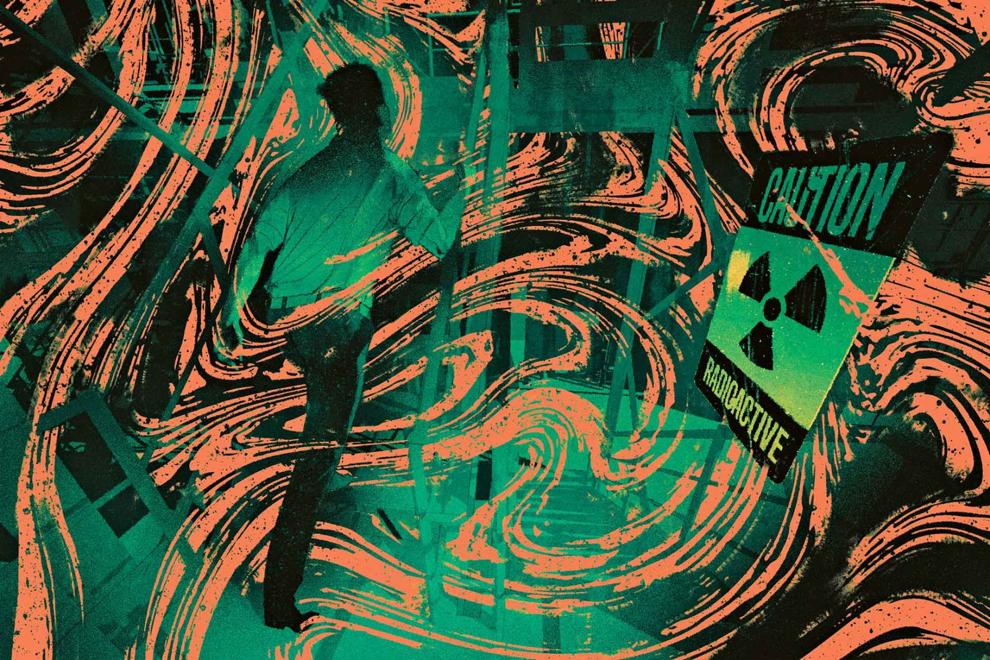 Walde was cleared to return to his job at the lab in late January 2015, four months after his diagnosis. He'd undergone radiation and two rounds of chemotherapy treatments, and Los Alamos' occupational medicine staff said he was fit to continue working with classified material, his medical records show. At risk for seizures, he couldn't drive or climb stairs or ladders. Walde carpooled and had his wife drive him to the laboratory several times a week. His supervisor offered him a desk job, a step down from his managerial role — but one that kept his health insurance running. He accepted. The only real alternative was termination.
Los Alamos spokesman Roark said the lab's goal is to treat all employees with debilitating conditions with "utmost respect" and said that when employees are unable to perform the functions of their jobs, Los Alamos "makes reasonable efforts to accommodate them," which can result in job reassignment.
Separately, to process his claim for cancer benefits, the Department of Labor told Walde it would need all of his medical and radiation exposure records from the lab. The department sends these to the National Institute for Occupational Safety and Health, a federal agency that uses a probability equation to determine if a worker was exposed to enough radiation to cause cancer. If the computer found a 50 percent or higher correlation, Walde would get benefits.
When the records arrived from Los Alamos, consisting of a single CD and a brief letter, it was the first time Walde realized that his own experience differed from what the lab had noted in its records.
The lab had found "no records" of him having been exposed to anything or other environmental occupational hazards, the letter said. And his dosimetry report, a spreadsheet that showed his total dose of radiation annually, was scant.
The lab had not tracked Walde's radiation exposure in 1999, his first year on the job, the report indicated, or in 2000, when the Cerro Grande Fire burned. External monitoring began in 2001 but showed a clean zero for 11 out of the next 14 years. (Only in 2008, 2013 and 2014 were there any hits on the report.)
The report said his total dose was 0.254 rems over his career, well below safety limits and slightly less than an average person gets from background radiation from the sun and environment in a single year. A rem is a unit used to measure the absorbed dose of radiation, with 1 rem equivalent to a CT scan, according to the Nuclear Regulatory Commission.
Walde marveled at the document. It didn't track with his memory — or hold any record of the time he'd been called in for going over his limit and accused of taking his badge to the airport, or when he was sent home wearing disposable clothes.
"They aren't on here," he said when he looked at the document.
It also seemed impossible there were so many years that were blank.
Asked about the discrepancy between Walde's memory and the reports, Los Alamos spokesman Roark said, in general, that the lab "maintains a comprehensive archive of worker radiation dosimetry data" and that it "provides any and all records in response to requests as quickly as possible."
When the National Institute for Occupational Safety and Health reviewed the records, it had a simple way to fill in the gaps. For the two years when Walde was not monitored, the agency assumed the maximum dose he could have been exposed to was the maximum background radiation at the lab (which was 0.4 rems), adding in the possibility of a couple missed readings.
NIOSH said Walde's records showed he had been exposed to "various sources of radiation during his employment," but the maximum dose he could have received at the lab, based on its calculations and assumptions, was a 3.744 rem dose to the brain. The agency modeled his probability for cancer based on how this amount of radiation would affect and mutate cells of the thyroid. It does not have a model for how external radiation might impact brain tissue.
On a phone call with a NIOSH claims representative in September 2015, Walde asked why the agency used general air-monitoring data to fill in his missed readings. He said this would fail to account for the radiation present at the more dangerous nuclear areas he had been assigned to.
He told the representative how his badge often took hits. As he'd told his father-in-law and his friends, Walde said his boss kept asking him why his readings were "above the reporting levels."
I "wonder if we are not missing something," Walde said on the recording of the call. "I also worry about the Los Alamos reporting," relaying instances in which the lab certified an area free of radiation only to discover contamination later while he was working on a maintenance job. Walde began to talk about something he witnessed at the liquid radioactive waste plant but trailed off, saying, "I don't know if I am allowed to say any of this stuff — never mind."
Stu Hinnefeld, director of the division of compensation analysis and support for NIOSH, said in an interview that those exposed to radiation have a "relatively low" likelihood of developing brain cancer compared with lung and thyroid cancers. He said the institute's risk models, as a result, require a worker to have a much higher documented exposure to radiation than many of the other cancers in order to get compensation.
The Department of Labor concluded there was just a 2.67 percent chance Walde's cancer was related to his radiation exposure history. His claim was denied on Jan. 14, 2016.
Walde's dates of employment made him more likely to be rejected than if he had worked at the lab in a previous era. Overall, the Department of Labor has approved nearly 60 percent of claims filed by Los Alamos workers for cancer and beryllium disease. But for workers who started working at the lab after 1996, that figure falls to 45 percent, according to data requested under the Freedom of Information Act.
A spokesman for the Department of Labor said, "While gaps in past records have existed at some sites, workers in the modern era have more extensive monitoring records. There are no unexplained gaps or readings in this employee's radiation dose records."
Still, Walde wanted to appeal. Over the next year, he would undergo another surgery and start experiencing frequent seizures, at one point spending two days in a coma in Texas, where the family had traveled for the twins' volleyball tournament, when the spasms refused to subside. The family held "Gray Be Gone" fundraisers, referring to the color of the tumor tissue, to raise money to send him to MD Anderson for treatment. He also started clinical trials with a doctor in New Mexico.
During that time, Walde learned he was not the only person at Los Alamos who thought missing records had led the Department of Labor to deny a claim.
For more than a decade, workers at Los Alamos have been telling federal officials that similar data and records problems have prevented them from receiving compensation. In June 2005, at a NIOSH forum for the lab's technical workers union, one worker said the lab "had lied and falsified documents right and left … the monitors were turned off, people weren't qualified to be doing the monitoring, the equipment was never calibrated," according to meeting minutes.
Another man, an X-ray technician, said his personal radiation badge always showed up with zero contamination. Falsified radiation data or medical records have been documented at other labs, including in 2003 at Savannah River Site in South Carolina and Hanford Site in Washington state. Radiation records also were falsified at an Ohio nuclear facility in 2013. The Department of Energy fined lab managers in South Carolina and Ohio more than $200,000 each for "willful falsification."
Los Alamos has not been fined for willful falsification of health records, but it has been cited within the past year for serious safety violations and for failing to check laboratory rooms for toxic chemicals before allowing workers to enter. Internal incident reports from the early 2000s, obtained by NIOSH, described how records had been removed from radiation log books, "deliberate tampering" with nasal swipe samples (used to test if a worker inhaled radioactive particles) and problems with workers not wearing their radiation badges.
Soon after Walde's diagnosis, another electrician on his crew, Cesario Lopez, told Walde he'd recently had part of his kidney taken out after being diagnosed with cancer. Both Lopez's mother and uncle, who worked at the lab before him, had been diagnosed with cancer, too. Lopez applied for and was denied compensation by the Department of Labor but has appealed.
Then Walde learned about his friend, Gilbert Mondragon. Mondragon started working as an electrician on the fire protection crew in August 1999, three months before Walde. Mondragon was just 19 and from the beginning saw Walde as a mentor. Walde, he said, taught him how to have a good attitude at work and find value in it. That became harder after Mondragon was diagnosed with kidney cancer in the spring of 2014 at the age of 34.
Like Walde, Mondragon's radiation report showed 14 straight years of zeroes, and only two years, 2006 and 2007, in which his badge took any hits, totaling 67 millirems of radiation over 16 years.
"It's not like people think it is," Mondragon said about lab safety. He, like Walde, recalled several times he'd been decontaminated and given new work clothes or boots.
Mondragon said he believes some of the zeroes are the result of being told, by his supervisors, to take his badge off when he was doing work in contaminated places. "Now I know better," he said, "but it's too late."
Roark, the lab spokesman, denies workers were ever told to remove their badges, saying the lab's "Radiation Protection Program would never allow, endorse or recommend removing dosimeters to avoid contamination."
Ken Silver, who sits on a Department of Labor advisory board and is a professor of environmental health at East Tennessee State University, testified before Congress in 2007 that instructing workers to remove their radiation badges was a common practice for "cleanup crews" at Los Alamos in the past. Silver said this practice was based on the belief that if a badge was contaminated, workers would go on to spread radiation throughout the laboratory, which he called a "flimsy assumption."
Los Alamos officials did not testify at the hearing. But the lab said its rate of injuries has dropped significantly since 2006 and is well below the industry average. The laboratory said it does not track the cause of death for its employees.
Hinnefeld said NIOSH has looked into allegations that workers were told to remove their badges adding, "We hear that on occasion." But he said officials have concluded in the past that this wouldn't affect how the agency reconstructs a worker's radiation exposure because a single missed reading is unlikely to hold much weight in the overall career of a worker.
Diagnosed with chronic obstructive pulmonary disease and asthma, which his physician has linked to chemical exposure, Mondragon resigned from the lab last winter. The doctors' visits have consumed his life. His cancer claim, like Walde's, also was rejected by the Department of Labor, but he was told he likely would be accepted if he were to develop another cancer.
For the past six months, Mondragon has relied on the help of an oxygen tank to breathe, trailing a long, green plastic tube wherever he goes.
VIII: A desperate search for proof
By January 2017, Walde was running out of time. He had gone through
19 rounds of chemotherapy, taking an oral chemotherapy treatment five days a week while wearing a portable device 18 hours each day — white electrodes attached to his skull with a mesh cap — to try to disrupt the mutation of his cancer cells.
But nothing eased the pain in his head.
He'd appealed to the NIOSH Advisory Board on Radiation and Worker Health at a meeting in Santa Fe, telling members to look deeper into the problems at Los Alamos when assessing claims like his.
"I am a common man," he told the board at a meeting two months earlier, in November 2016, explaining he had seen problems while working as the maintenance manager at the radiation laboratory in recent years.
"There were several times that the alarm would go off but nobody knew why or what have you. There were also times when employees' TLDs would start taking hits and nobody can explain why," Walde said. "There is a lot of work to still be done. There is people being denied. … There is periods of work there that we don't have any documentation on."
Walde was hitting a dead end with the Department of Labor. He wasn't sure where he'd find additional evidence. In his chart, his doctors noted that he worked in the Navy and at Los Alamos, "so probably does get exposed to certain things if there are any spills of any chemicals or radiation."
But no oncologist provided him with conclusive proof that his cancer was related to his exposure at the lab.
"It isn't as simple as A plus B plus C gives you something," UNM Hospital neurosurgeon Yonas later said. Some people are genetically more sensitive to radiation, but that is a science in its infancy, while others develop cancer without any radiation exposure history at all.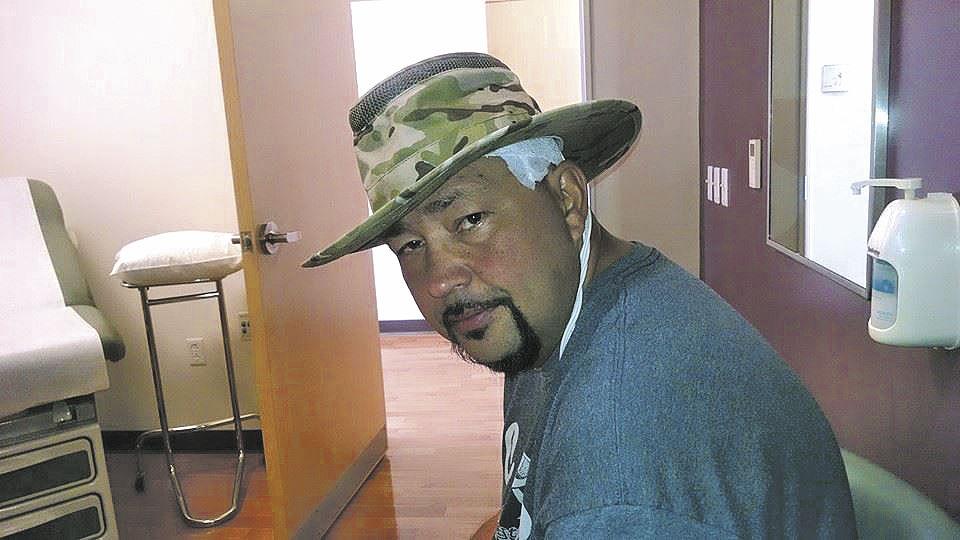 Dr. Akshay Sood, an occupational pulmonologist at UNM who diagnosed Mondragon with asthma, said one of the main hurdles that claims assessors and doctors face is overcoming the perception that Los Alamos is safe.
Workers "are told that everything they are doing is top secret, so they don't want to talk about the workplace," he said.
A group of Los Alamos workers, however, has spent the past decade petitioning NIOSH to approve a petition that would deem the workers eligible for compensation if they worked at Los Alamos for at least a year between 1996 and 2005 and have one of the 22 radiation-linked cancers found among atomic bomb survivors.
These workers say the lab did not keep accurate records of their exposure during this period and their claims are being denied as a result. All Los Alamos workers prior to 1996 already have been granted this exemption based on problematic record keeping. If NIOSH were to approve this request, Walde and hundreds of other workers who have been denied by the Department of Labor would become eligible for compensation.
Physicians and bureaucrats often assume that facilities follow the current federal safety rules and thus decide that illnesses can't possibly be caused by the work, Sood said.
But in the past decade, after treating more than 500 Department of Energy employees, he said he still sees a great deal of disease and questioned how well the lab's safety practices are protecting workers.
"I am preparing for a deluge from the national laboratories. Every year the number of people we see from the national labs is increasing," he said.
"Los Alamos National Laboratory is a very prestigious place to work … so a lot of these people don't think it is fair for them to ever blame their employer because that is the culture in New Mexico," Sood said. As a result, workers "underestimate their symptoms and disease, their employers underestimate their symptoms and disease, and the entire compensation program underestimates their symptoms and disease."
IX: 'God is here and he is real'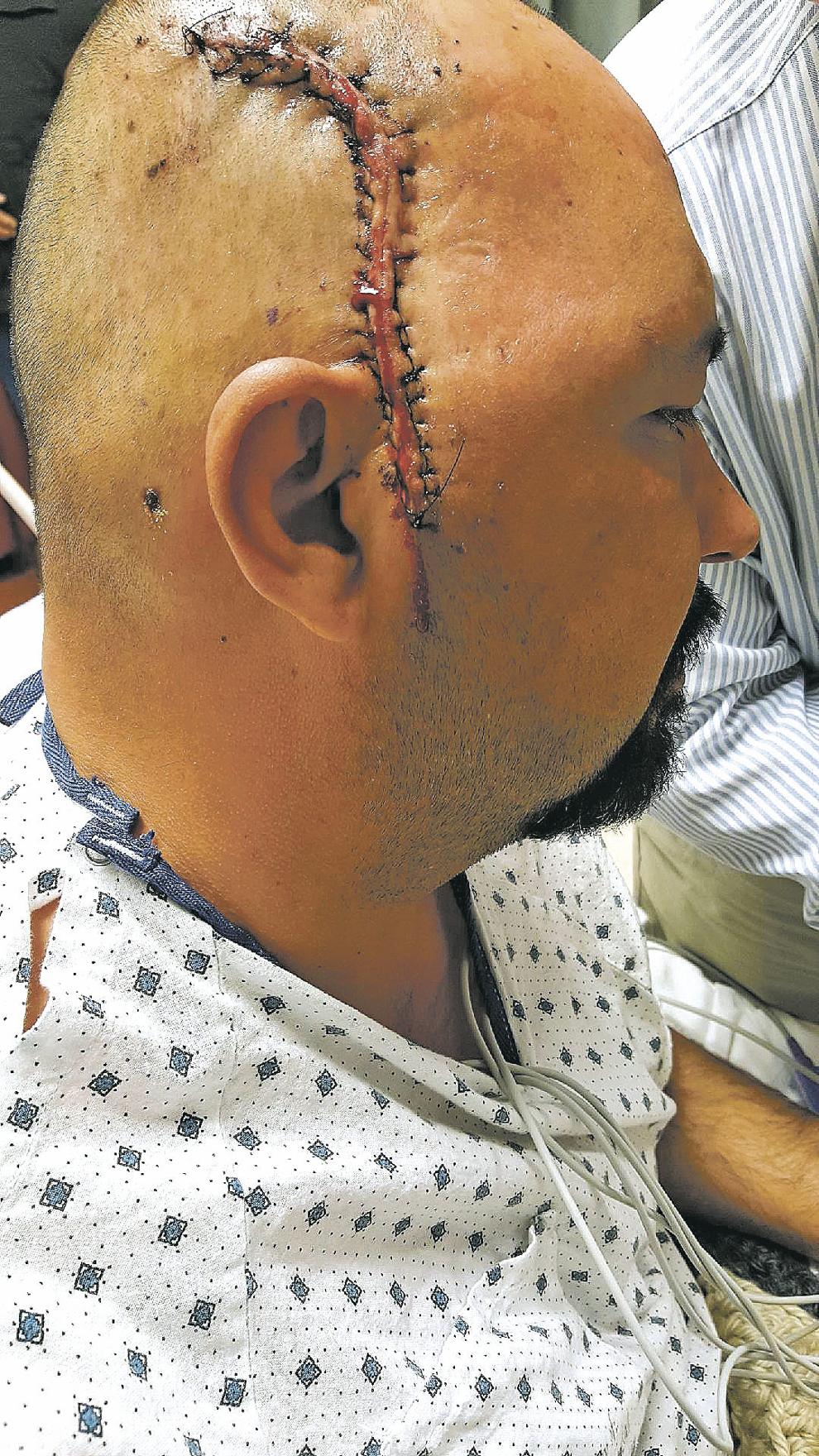 "Today is March 3, 2017, and we are still here," Walde said, looking into the camera. Angela Walde sat beside him with her hand on his shoulder. "We are still loving life. I am still blessed to have Angela in my life — and our children. And the friends come every day." Chad Walde had lived more than twice as long as his original prognosis, and with a third surgery on the horizon, he said he felt stronger every day.
"God is here and he is real," Walde said. "He brought us a new surgeon, he brought us a new doctor … and with them they bring new trials, new treatments, new ex — " He struggled to find the word and looked up to the ceiling. "New excitement."
Angela Walde thanked everyone for their support. And just as she seemed like she might cry, her husband looked at the camera with a sly look and said, "God bless the USA." His wife collapsed into him, laughing.
Ten days later, Dr. Muhammad Omar Chohan chose a thin, curved blade to cut through Chad Walde's shaved skull, drawing an "S" shape through skin, blood, muscle and bone. Inside his head was a new mass of dead tissue, soft and gray. It took more than an hour to sever the cancerous growth from the fragile, otherwise healthy brain matter. Thin slices of red, tan and brown tissue were sent to pathology.
Still, the cancer cells were continuing to spread.
"He never really recovered after that one," Angela Walde said. "Have you seen that movie, 50 First Dates? I had to remind him about everything, sometimes all day long. If I would go to the kitchen to get him coffee, he would say, 'Oh, you got back from work.' He would wake up and say, 'I gotta go to work,' and I would say, 'Chad, you have to rest.' "
A month after Chad Walde's last surgery, Dr. Olivier Rixe, his oncologist, wrote a letter to the Department of Labor, saying Walde's cancer "may be correlated to his chronic exposure to uranium."
A spokesman for the Department of Labor said the agency has no record of the letter in Walde's file. Rixe declined to comment for this story.
But by that time, Walde's heath was rapidly declining.
He began to lose his vision and struggled to walk, and in May, another MRI showed tumors everywhere in his brain. He and his wife decided to try a new clinical trial, hoping he could get a little better, live just a little longer. But it only made his symptoms worse. "He was just too sick," she said.
By June 2017, Walde had lost the ability to see, talk or move from the hospital bed set up in their home.
Angela Walde had stopped working, and friends and family constantly came by to visit.
Chad Walde's supervisor at the lab brought a box of his work belongings to their home: the American flag he'd hung in the office, the yellow fire protection vest and a Bible.
On the morning of June 28, as Angela Walde came out of the bathroom, a strange gurgling sound rattled from her husband's chest. She called in the children to sit by their father. Her parents and sister had spent the night and came into the bedroom, too. "We were all there," she said. Together, they cried softly, watching him make those strange sounds of death.
Angela Walde held her husband as he took his last breath.
X: 'The laboratory understands this is a difficult time'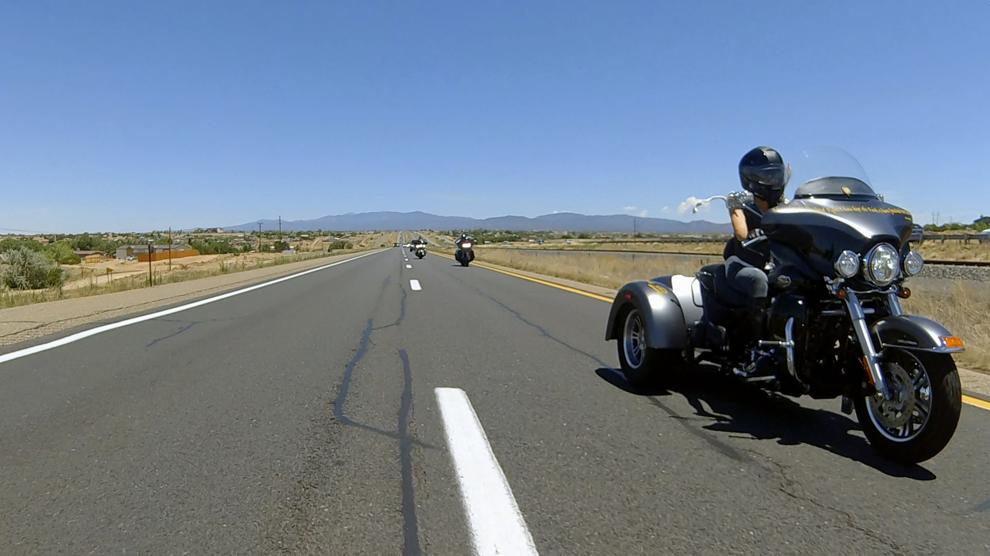 Two days after Chad Walde's death, a letter was mailed to Angela Walde with the subject line, "Deceased spouse." The human resources staffer had forgotten to replace his name with that of another deceased employee, who worked as a chemical engineer at the lab's plutonium facility and died in 2016.
"The laboratory understands this is a difficult time," the form letter said, and offered grief counseling services.
Instead, Angela Walde turned to her church, as she always had. For almost three years, she had prayed that Jesus would heal her husband. Now, she prayed that God would change her so she could handle living in the world without him.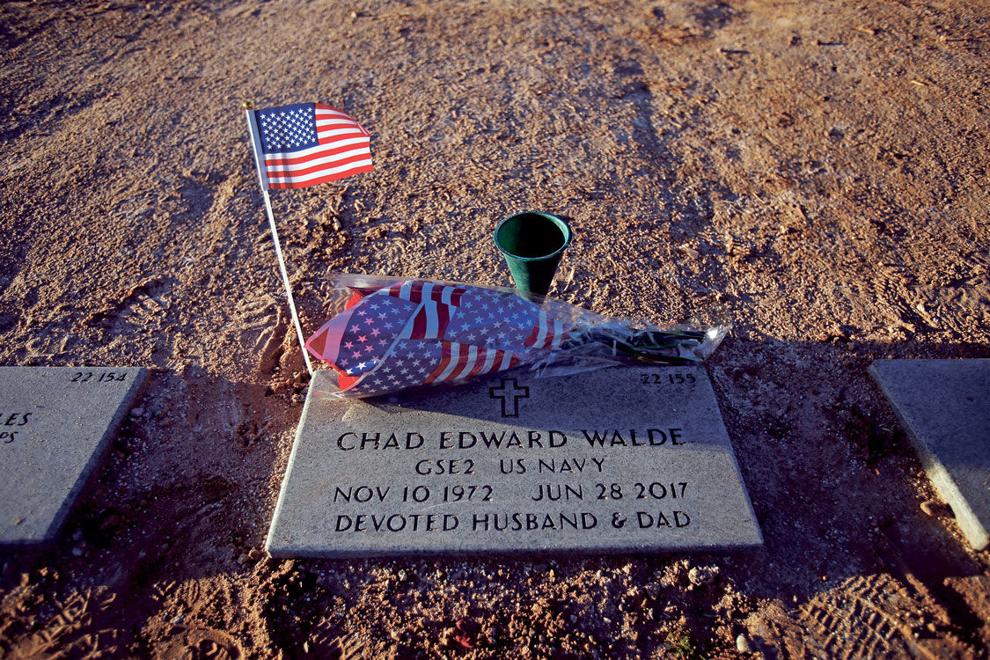 Around Veterans Day last year, just before sunset, Chad Walde's family drove to his gravesite. He would have turned 45 that day. The sun cast long shadows across the grass, and dirt still clung to the ground around the flat gravestone that bore his name. The twins stood close together. Angela Walde forgot her coat and wrapped her arms around herself. Two bundles of red, white and blue balloons bobbed in the November wind. She told her husband he would always be the love of her life.
Angela Walde went back to work as a paralegal in Albuquerque. There is still a daunting stack of medical bills left over from her husband's care. She says she was told her best chance of getting compensation will be if the government agrees there are gaps in the lab's record keeping after 1996 that prevent officials from knowing what Chad Walde was exposed to.
Until then, she said, "I probably am out of luck because they don't have a lot of information on brain cancer." She also could apply as a "survivor," the term for widows like Angela Walde, but such claims have to meet the same standard of proof.
The twins are getting ready to apply for college, and Chad Jr. will graduate with a degree in engineering from UNM in December. He said, standing near his father's grave, he might start a business with friends or consider a job at the lab, like his dad.
Angela Walde taught herself how to ride her husband's "trike," a large, three-wheeled motorcycle, and painted it gray to represent the color of the tumor inside his skull. On the hubcaps, she inscribed the words, "Living the dream."
"I do wonder," she said recently, "I wonder if he hadn't worked at Los Alamos, if he would still be here."
---