Dotted with humble homes and trailer houses, the village of Agua Fría hides a rich past.
A new feature along the community's main road honors the town's extensive history. The 12-foot-high stone structure on Agua Fría Street near its intersection with Skeeter Lane represents a torreón, a tower Spanish colonists and Native Americans used most likely for crop storage and as lookout posts throughout the Southwest.
Jake Barrow, program director for Cornerstones, the organization behind the tower, said the goal wasn't to create a precise replica of a torreón. The piece is more like "a stone artwork referencing a torreón," he said. "And I am so happy about the result."
Remnants of ancient civilizations, pit houses and the Pindi Pueblo people have been found in the Agua Fría area. The village's Agua Fría Street also traces part of the path of El Camino Real, the road over which traders long traveled between Mexico City, Santa Fe and beyond.
The village served for hundreds of years as an agricultural hub for the region and as a stopover for those using the trail.
Piety and grit also mark Agua Fría's past. Residents in 1835 erected a house of worship there that lives on as San Isidro Catholic Church. Two years later, a government official who had angered his constituents in the region was chased down and beheaded in the area.
Cornerstones, a local historic and cultural preservation group, completed the edifice this summer. While real torreóns had open interiors that people could occupy and where items could be stored, this one is filled with heavy sandstone blocks. The sturdy structure is adorned with a collection of living cactuses on a flat spot at the top of the structure.
Santa Fe County allocated $60,000 for the project, which includes 60 tons of sandstone harvested at Lee and Dave Romero's quarry in El Pueblo.
Santa Fe County Commissioner Anna Hansen, who represents the area, calls it "our beautiful torreón." Hansen said she advocated for the project as a way to commemorate Agua Fría's identity and history.
"I think it's something we can be really proud of," she said.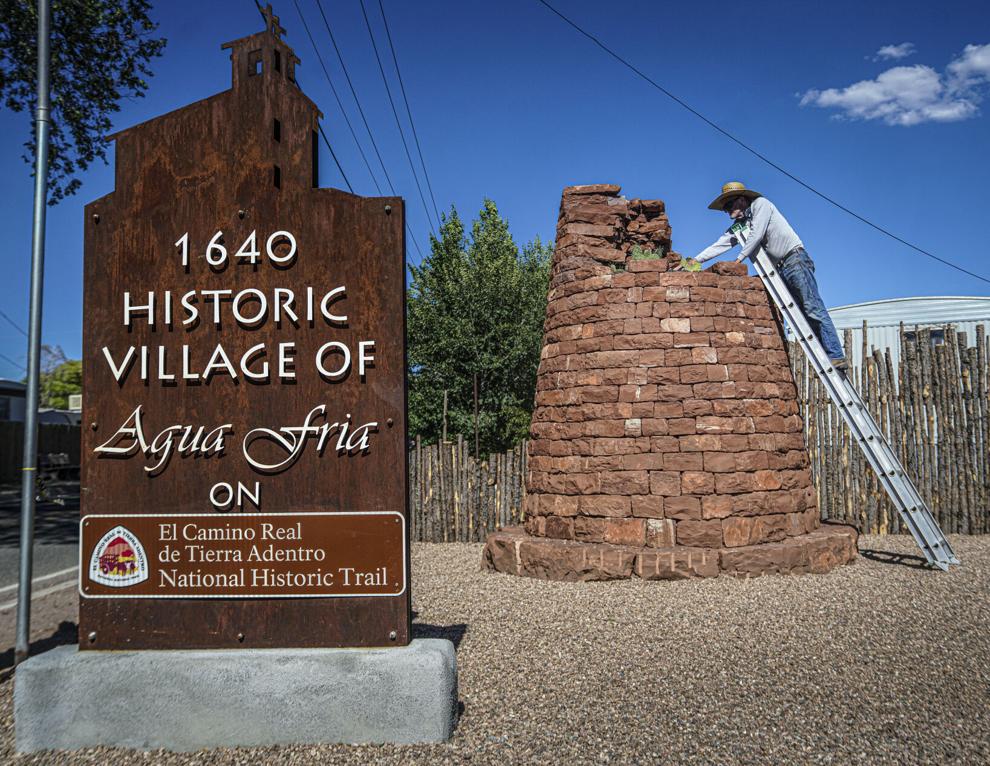 Barrow hired professional stonemason Alan Ash of Portland, Ore., to lead the project. Ash, 69, has four decades of experience in stonemasonry and loves historic restoration. Barrow also recruited 18 volunteers who donated more than 800 hours of work, he said.
Ash and the workers erected the structure without mortar, nails or any other glues or fasteners. The tower is held together, Ash said last week, by gravity, friction and workmanship.
They cut the stones, some of which weigh 100 pounds, to fit fairly squarely with those next to, above and below them. They filled in gaps with smaller sandstone pieces. The structure is 8 feet across at the base and tapers a bit as it rises.
"No two joints overlap," Barrow said of the craftsmanship. "I learned a ton about stonework just by helping a little bit."
The Agua Fría area, next to the southwest edge of Santa Fe, served as home to hunter-gatherers and other Indians thousands of years ago, according to amateur historian and Agua Fría resident William Henry Mee.
Mee, 63, is president of the Agua Fría Village Association and attended Agua Fría Elementary School as a boy. He developed an interest in the area's history then and would love to spark that curiosity in the area's kids today.
"It's really all around us," he said. "This is a very historic place."
El Camino Real started as a Native American trail that evolved into a key trading route. Signs in Agia Fría refer to the historic trail, but the new torreón has no plaque providing text about the area.
A large sign near the structure says: "1640 Historic Village of Agua Fría on El Camino Real de Tierra Adentro National Historic Trail."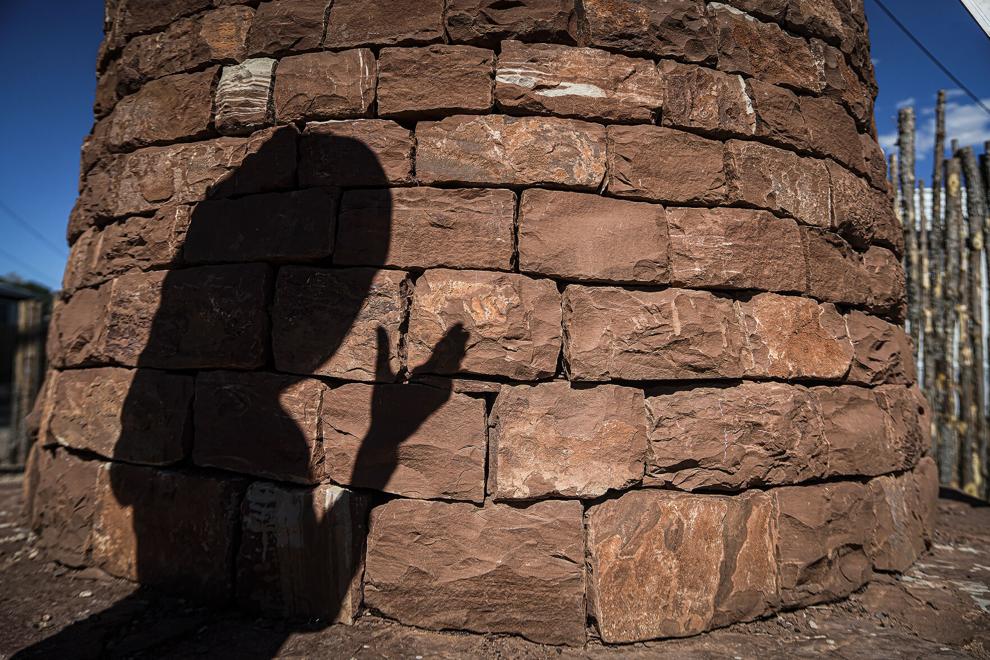 Barrow said there is no detailed text at the structure because there isn't a place to park in the vicinity of the small triangular property on which it sits. It's meant to be a drive-by monument only.
Roughly a mile east on Agua Fría Street is a facsimile of an adobe ruin, a project Cornerstones oversaw six years ago. The adobe element and the stone structure serve as bookends for the community of more than 3,000 people.
Ash said part of the project was designed to show volunteers what stonemasonry is all about. "A lot of people had never laid rock before," he said. "It sure is a nice welcoming feature to the village."
He said neighbors stopped by to watch the process. He invited them back, telling them, "Bring your work gloves."
Tracey Enright, executive director of Cornerstones, said the organization got its start in 1986 and became Cornerstones Community Partnerships in 1994. Founded as Churches: Symbols of Community, the group strives to restore elements of communities' cultural heritage.
Most of Cornerstones' work is in Northern New Mexico, but it has projects around the Southwest. This year Cornerstones has cleaned a 265-foot tapestry at Our Lady of Guadalupe Church in Villanueva, N.M., and started an effort to preserve part of Plaza del Cerro in Chimayó. The organization also encourages the use of traditional building practices. It has worked on more than 380 projects.
Ash said he has a full schedule. Coming up are projects in Mojave National Preserve and Joshua Tree National Park in California, and Saguaro National Park and Organ Pipe Cactus National Monument in Arizona. His work in Agua Fría is done.
Correction: This story was amended to reflect the following correction: An earlier version incorrectly reported the village of Agua Fría has 300 residents. It had nearly 3,000 in 2010 and has since grown beyond that mark.