WHITE ROCK — Gov. Susana Martinez visited this small bedroom community near Los Alamos on Monday to highlight more than $32 million that will be spent on improving aging water infrastructure, stormwater controls, monitoring of runoff in and around Los Alamos National Laboratory and upgrades of roads used to transport radioactive waste.
The money is part of a $74 million settlement between New Mexico and the Department of Energy stemming from the 2014 radiation leak that caused an indefinite shutdown of the Waste Isolation Pilot Plant near Carlsbad, the nation's only underground nuclear waste dump.
The visit was Martinez's first stop on a statewide tour of areas affected by the settlement, which was finalized in January. Much of the money will be used to make repairs on roads in the southeastern part of the state used to transport waste to WIPP, which DOE officials say could reopen by year's end.
"This is huge for New Mexico," Martinez said at a news conference along the shoulder of N.M. 4. The road overlooks a water diversion that was significantly damaged as a result of the Las Conchas Fire in 2011, the Thompson Ridge Fire in 2013 and a 2013 flood in Los Alamos that forced evacuations and knocked out most of the monitoring devices in the arroyo.
N.M. 4 also is one of several state roads around Los Alamos and Carlsbad that will benefit from a combined $12 million from the taxpayer-funded settlement. The projects are aimed at making the shipping of transuranic waste between the lab and WIPP safer. At least $20 million from the settlement will be distributed for "critical" water monitoring and improvement of aging water systems in Los Alamos.
In addition, $5 million will help fund a recently completed emergency response office, and mine rescue teams in Carlsbad near WIPP, where the governor will travel later this week.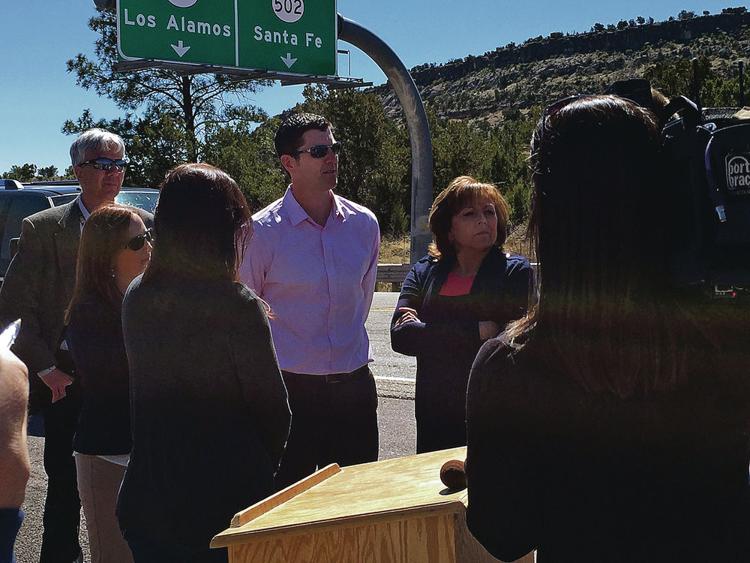 Under the settlement, the state fined the Department of Energy $54.3 million and required "corrective actions" to bring the department in compliance with state regulations following the 2014 incident.
On Monday, a representative from the Environment Department demonstrated how a rotund monitoring device hums to life when stormwater flows through the canyon. A translucent tube skims water and sediment into bottles within the monitor to identify potential contamination from toxins like chromium, uranium or heavy metals — elements that can be stirred up by a storm event.
"We are dedicated to making sure that safety to our workers, our communities and our environment always comes first," said Martinez, who said she was proud of the work done at the state's national laboratories. "We continue to embrace WIPP and LANL as our partners."
Lab Director Charles McMillan and Deputy Director Rich Kacich stood silently behind the governor as she made her comments. Why Martinez chose now to promote the details of the settlement was not exactly clear. She was not available for additional questions following the news briefing.
Safety at the lab and groundwater contamination have been issues in the region for decades, but they have come under increased scrutiny since a series of lapses at the lab led to the radiation leak at WIPP.
Kathy Sanchez, the environmental justice coordinator for Tewa Women United, was the only member of the public present among representatives of the lab, the New Mexico Environment Department, the Department of Energy and the news media at Monday's event.
Sanchez said monitoring isn't enough.
The announcement "doesn't say implemented safety measures [as a result] of the monitoring; it doesn't say building measures that would improve that accountability," she said. "With their money, they should have already been doing that."
Sanchez previously has raised concerns about air and water monitoring by the lab in comments to the state Environmental Improvement Board. On Monday, she said the money could have been better spent on addressing health impacts for residents living downstream of the lab. Sanchez lives on San Ildefonso Pueblo, five miles from the spot where the news conference was held.
However, Ryan Flynn, secretary of the state Environment Department, said these projects are "above and beyond" what is legally required by the department.
Without the settlement agreement, he said, this money would not have come into the state.
The Environment Department is required to set forth waste cleanup goals under a 2005 agreement with the lab and the Department of Energy. This document was revised and released for public comment just last week following a missed December deadline for the lab to remove all waste from Area G, a key holding site for Cold War-era waste.
Flynn did not directly answer whether repairing these water monitoring systems and replacing old pipes at Los Alamos should have been done sooner, saying instead: "We are better for having this than we would [be] otherwise."
He said "downstream communities," including Santa Fe, would be "much stronger in the long run" as a result of the new projects, adding that the work will improve water quality "significantly" by controlling sediment and erosion.
John Heaton, who chairs the Carlsbad Mayor's Nuclear Task Force, said the improvements as a result of the settlement are welcome. "We are in desperate need for highway improvement in this area," he said.
He said highways have been torn up by constant traffic from heavy oil and gas industry transport vehicles, "bumper to bumper, all day and all night long," but the state has failed to fund road repair efforts.
"The level of compliance had been terrible," he said of WIPP operations prior to the radiation leak. "All of that is being elevated. … It's a whole new environment."
"We like WIPP," he said. "We know what the risks are, and what aren't risks. … We are pleased there is a lot of discussion going on about how to make sure that [an accident] never happens again."
Correction: A previous version of this story misidentified the Las Conchas Fire in 2011.