The recorded flute melodies sounded lonely and melancholy late Thursday morning in the New Mexico State Fair's Indian Village.
The atmosphere felt relaxed on the 236-acre fairgrounds, which is to say, not swarming with people.
"It's slow," said Janie Aguilar of Santo Domingo, who sold jewelry made by herself and family members. "It was just like a ghost town the first weekend. … Hopefully this weekend, more people will come in because it's the last weekend."
In fairness, it was a hot Thursday, and mornings aren't the peak time of day for the fair anyway. General Manager Dan Mourning, a garrulous promoter of the event, conceded that compared to previous years, attendance would fall somewhat because of the coronavirus pandemic and the requirement that attendees be vaccinated against the disease.
"Revenue's going to be down," he said. "We just don't have the attendance we've had in other years." He declined to estimate the percentage attendance would be down. The first couple of days were especially slow, he said, but he conveyed confidence the fair would finish strong.
Mourning said his fair has fought its way back after a year in which it was canceled because of the pandemic. He said his staff and the fairgrounds assisted through the crisis, helping with necessary support services such as food drives, coronavirus testing and vaccination events when the venue couldn't host concerts and other activities in 2020-21.
He expressed pride in his workers and enthusiasm for the centerpiece of his year, the fair.
"I am just absolutely giddy," he said of resuming the 11-day fair, which ends Sunday. "This is truly a New Mexico event. … We prepared it for people to say, 'I'm so proud to be a New Mexican.' "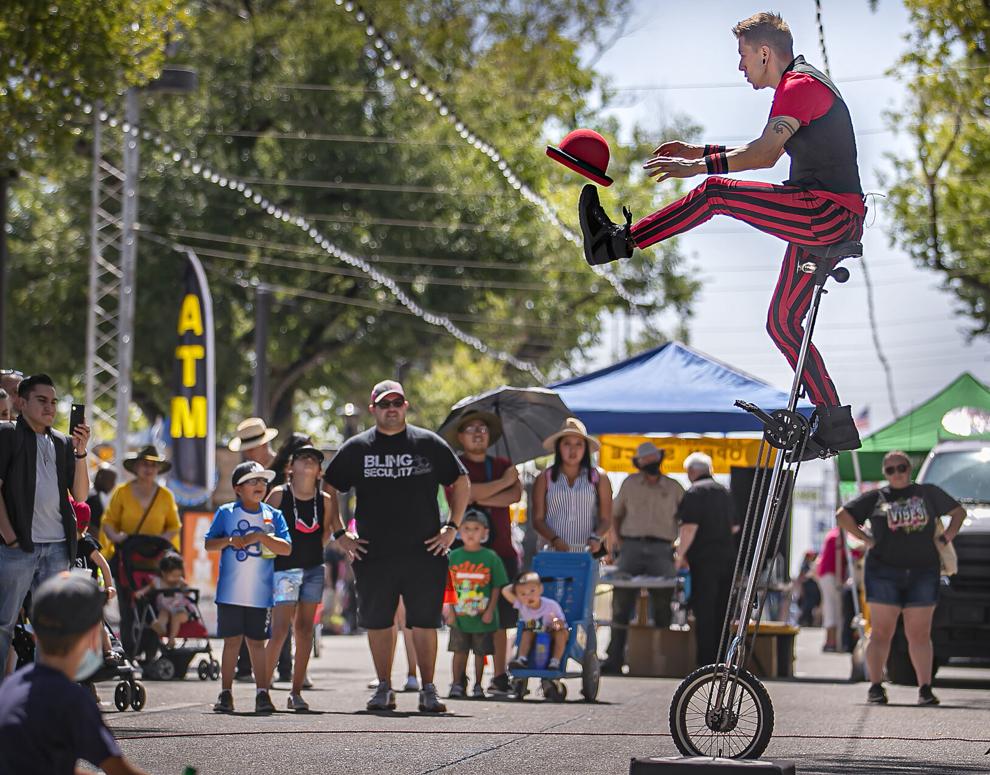 A privately supported youth livestock show is taking place through Friday in Roswell, in part because Mourning called the fair's junior livestock event off. An increase in coronavirus cases in the late summer coupled with a new public health order issued in New Mexico in August would have made it problematic for some families to attend, the fair's website says.
Some parents and children said they didn't have adequate time before the fair to get the two-dose regimen for children 12 and older. Not having the junior livestock show and its competitors affects the atmosphere, Mourning said, but not the bottom line.
"We will welcome them back with open arms in 2022," he said.
Action was limited Thursday in the towns called Villa Hispana and Indian Village, traditional fair attractions featuring tidy plazas honoring Hispanic and Indian cultures.
"Good food," said Dustin Parks of Virginia Beach, Va., who browsed through Villa Hispana with his wife, Alison, and mother-in-law, Emiko George of Albuquerque. "Good ponchos. She bought two of them," he said, referring to his mother-in-law.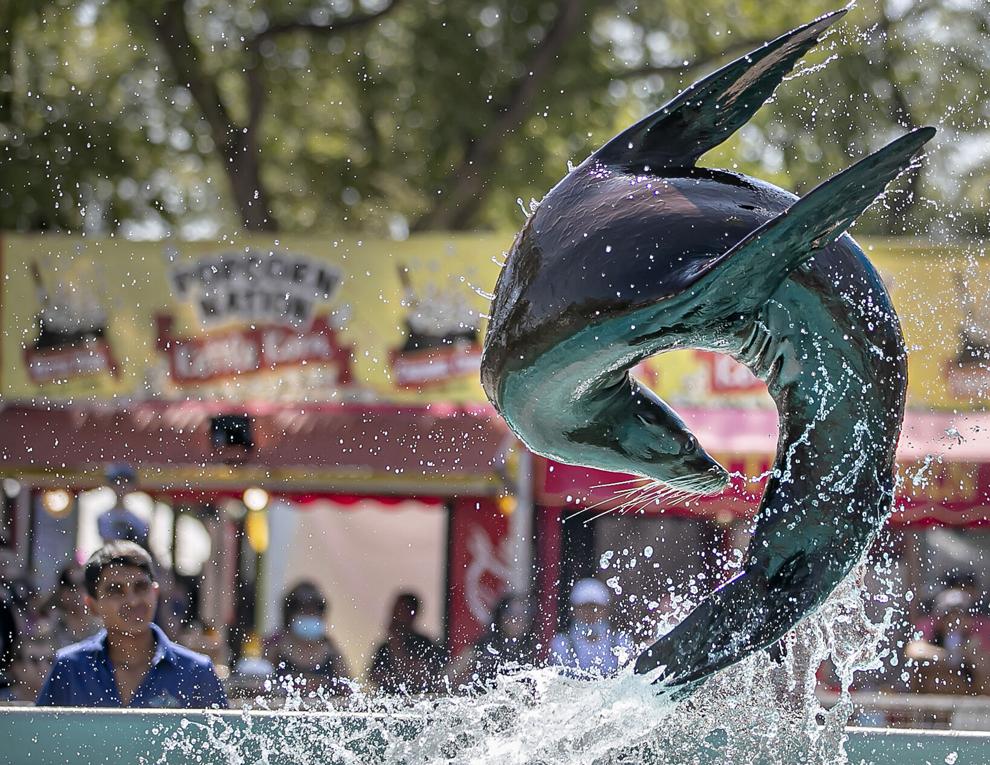 Alison Parks said she liked the small crowd and believed individuals would spend more because they don't have to wait in line.
"It's awesome, actually," she said. "I'm sure it sucks for the vendors."
The opening act Thursday on the stage of Villa Hispana, a four-man Latin band, drew 21 spectators just after noon. Orlando Marquez, chairman of the New Mexico Hispanic Heritage Committee, said he expected a strong turnout later in the afternoon for Grammy Award nominee George Rivas & the Donny Tesso All-Star Band.
Over in the carnival area, rides began to open as the heat rose. At 12:20 p.m., the round-and-round adventures drew a bit of attention. Two people rode Jumping Jumbo, four were on the Mini Wave Swinger, two were on Wiggle Wurm and three rode Himalaya.
Inside Manuel Lujan Jr. Exhibit Complex, Renee Feirtag brought her home-based tea business to the fair and sold tea and gifts.
There are fewer people, she said, but those who have come really want to be there. In some previous years, there were moments of "wall-to-wall people."
"I kind of like it this year because it's not so overwhelming," said Feirtag of Albuquerque.
The show went on, featuring performers such as the "Circus Man," "Science Girl" and the "Chef Landry Comedy Show." There was fair food and merchandise, and displays of everything from massage chairs to head lamps.
Despite the absence of the junior livestock show, city folk could still take a gander at various beasts, including sheep and longhorn steers.
Mourning said the fair organization continued through last year and this year despite the limitations caused by the coronavirus. The New Mexico Legislature allocated $4 million to the operation early this year. Typically the state fair, including its year-round programs and leases, is expected to break even.
Mourning said he also hopes the fair will receive some federal coronavirus recovery money. The fair has some sponsors, Mourning said, and this year received $250,000 from Pattern Energy as the "presenting," or lead, sponsor.
He said "Dollar Day" at the fair, Wednesday, was a success. "When you see a day like yesterday, I don't need sleep."
Attendance may be down "a little bit, but not as much as I thought it might be," he said. He said his job this week is to promote the show, not crunch numbers. That will come later.