SANTA CRUZ — Eloy Jacquez lives in the house his parents built on Los Lujans Road in 1948. There was no water in Santa Cruz then. The family waited several more years before the first well was drilled just up the street, next to land used as an informal waste dump. Old cars were left to rust. Large shards of plastic and clothing are still embedded in the uneven dirt road. The tiny community in northern Santa Fe County wouldn't learn until decades later that the water it had tapped 180 feet below ground was pulled from bedrock rich with uranium.
Jacquez, 67, said he grew up drinking from the tap and raised his eight children here, who did, too. They didn't know about the risks.
The state began sending letters to Santa Cruz in 2002, informing its 450 residents that there was a slew of dangerous contaminants in the drinking water at levels that exceeded state and federal limits. Among the pollutants was the naturally occurring uranium, a radioactive metal that can cause cancer and kidney failure.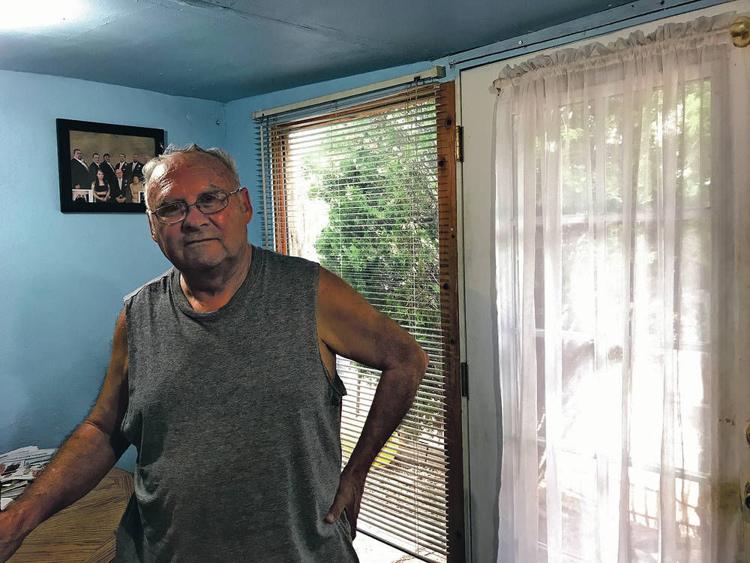 Since then, uranium has been reported consistently in Santa Cruz's water supply, sometimes at more than double the legal limit set by the U.S. Environmental Protection Agency and adopted by the state. Alpha emitters — measures of radioactive decay from uranium and radium — have been recorded at nearly three times the legal limit.
Santa Cruz has had more drinking-water violations than there are people in the community. Between 2004 and 2016, the New Mexico Environment Department issued notices of 548 violations, according to state records analyzed by The New Mexican. Most of the problems were documented after 2010.
"We've been struggling with water for a long, long time," Jacquez said. "Without water, you don't function around here."
Santa Cruz's drinking water has one of the highest concentrations of uranium in the nation, records show. But it's not the only water system in the state struggling with contamination. According to a new report by a nonprofit advocacy group, more than 80 percent of New Mexicans have radioactive metals and toxic chemicals in their water at levels that may pose health risks, and tens of thousands of state residents — including many in Santa Fe County — rely on water with contaminants at levels that exceed state and federal standards.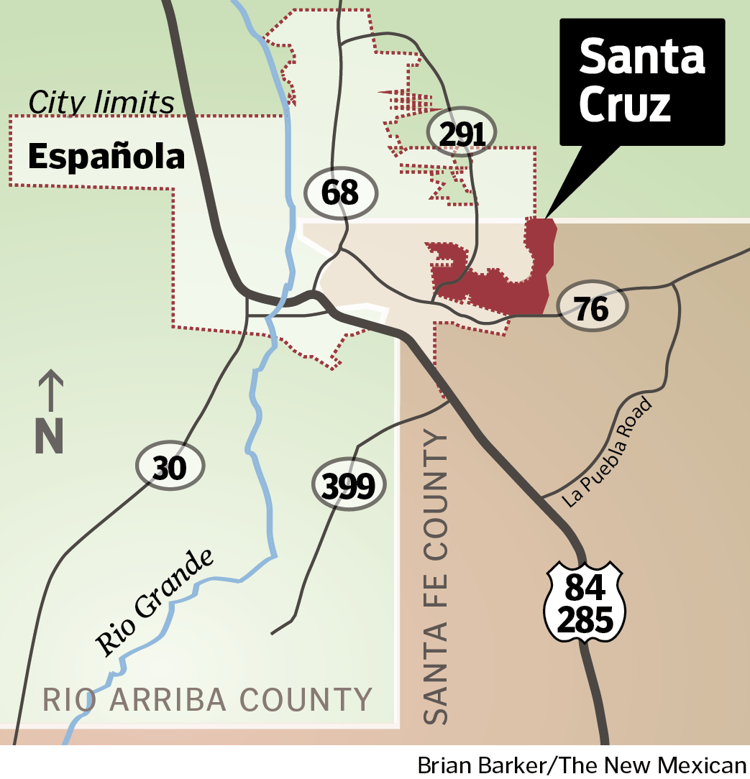 Hundreds of these water systems, like the one in Santa Cruz, are small, rural, poorly funded operations serving low-income people. Bill Conner, president of the New Mexico Rural Water Association, said the systems can't afford to upgrade aging infrastructure and improve water quality on their own, and it can take years for them to get grants, loans or capital outlay funding from the state Legislature.
Water infrastructure needs across the state are estimated to exceed $1 billion, he said.
Santa Cruz, where the average personal income is less than $9,500 annually and the poverty rate is 57 percent, was finally awarded state funding in 2014, after five years of requesting the aid. A new water system is well underway and expected to begin supplying about 30 households with clean water within a month, but $1 million is still needed to get the rest of the community connected.
Meanwhile, as the state Environment Department issues warnings to water systems in violation of water standards, many communities, like Santa Cruz, are left with unsafe drinking water for long periods of time.
State data show that more than 1,100 water systems in New Mexico, including those serving individual schools and businesses, were issued violation notices from the state between 2004 and 2016, averaging 50 per system — though many had more than 200 in that period.
Environment Department spokeswoman Allison Majure did not answer questions from The New Mexican about how the state enforces its drinking water regulations after systems have been notified about violations. Records show the department has never levied fines against the Santa Cruz Water Association.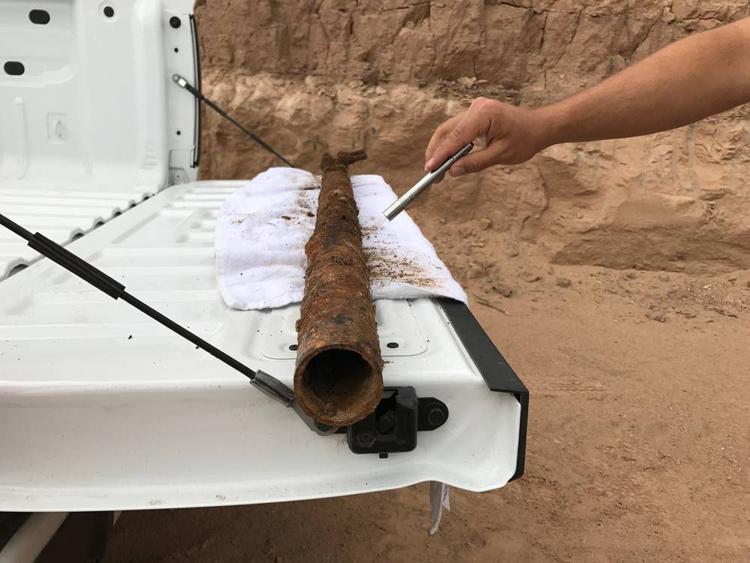 However, the department has issued fines and taken action against other water systems and companies in the state for drinking-water law violations. In 2016, it issued a $162,000 fine to the Morningstar Water Supply in the Animas Valley for 28 violations, including inaccurate reporting of water data. It also fined the Harvest Gold Water System in San Juan County for $676,000.
After well production problems left about 2,000 Questa residents without water for a month last year, the Environment Department worked closely with the community to ensure a new well was drilled to meet safety standards. Environment Secretary Butch Tongate said in a statement at the time, "This is an important reminder for all public water systems to monitor their drinking water supplies continuously and closely."
Decades behind the science?
Last week's report by the Environmental Working Group, a Washington, D.C.-based nonprofit, found millions of Americans are drinking water that might be unsafe for consumption. The group compiled data from each state and the Environmental Protection Agency to assess more than 250 contaminants in 50,000 public drinking-water systems across the nation. The nonprofit analyzed the data, largely using health guidelines set by the state of California — a more rigorous measure than standards set by the EPA, which regulates just over 90 contaminants.
The analysis showed that 1.7 million people in New Mexico, out of a population of nearly 2.1 million, have concentrations of uranium in their drinking water that exceed the guidelines, set at about 0.64 parts per billion, compared to the less stringent EPA and New Mexico standard of 30 parts per billion. Uranium increasingly has shown up in drinking water systems throughout the Southwest.
In a 2013 news release, the state Environment Department said at least 200 private and public wells contain uranium above legal levels, but said the state does not have the resources to tests wells for uranium by request. Under state and federal laws, water systems are required to monitor their own water quality.
According to the new report, more than 1 million New Mexico water users also have levels of radium-228, hexavalent chromium, chloroform and other disinfectant chemicals in their supply that are above California's safety measures. Many of these chemicals are linked to higher risks of cancer, organ failure, reproductive issues and delayed fetal development, according to the National Institutes of Health, the Centers for Disease Control and Prevention and the EPA.
The report says 43,000 New Mexico residents have levels of naturally occurring arsenic in their water supply that exceed state and EPA limits, including 10,400 residents who rely on the city of Española's water system. Arsenic, a carcinogenic metalloid, can harm brain function, damage skin and increase the risk of stroke. Some experts say it is not safe to consume at any level.
Thirty small water systems in New Mexico were out of compliance with federal and state drinking water standards between January and March, the report says, including in Tijeras, Taos and Ojo Caliente, and 17 large water utilities, including in Rio Rancho and Las Cruces, had at least one federal violation in the first quarter of the year.
In Santa Fe County, the Agua Fría Water Association, serving 650 people, has had federal lead and copper violations dating back to 2005. Cañada de Los Alamos, a mutual domestic water system serving 70 residents, has exceeded state and federal limits for uranium and coliform bacteria, requiring residents to boil their water. The Chupadero Mutual Domestic Water Consumers Association, supplying water to 160 people near Tesuque, has had illegal levels of nitrate and fluoride, while the Greater Glorieta Regional Mutual Domestic, with 120 customers, has had issues with E. coli and radium.
"We are extremely concerned that our drinking-water infrastructure, and the regulation of drinking-water contaminants, have been severely neglected," said David Andrews, a senior scientist with the Environmental Working Group.
The organization, which has faced scrutiny for using standards that some critics call too strict, compared contaminant levels to California's health guidelines because they are some of the strongest drinking-water measures in the nation, Andrews said. California developed the standards by only considering human health, he said. It didn't weigh the costs to clean drinking water or concerns raised by industry groups, as the EPA does.
The federal Safe Drinking Water Act, first approved in 1974 and amended in 1986 and 1996, regulates water systems that supply more than 25 people, as well as drinking-water sources. Many of its regulations must be reviewed every six years.
"We are currently in a situation where the EPA is decades behind the science in terms of setting protective drinking-water limits," Andrews said.
This is in part because chemicals used to disinfect water have been linked to health concerns but have not been regulated or even studied extensively by the EPA, he said.
Such chemicals can cause other problems, as well. For instance, New Mexico officials warned the city of Artesia last week that chlorine used to flush its water system, tainted with E. coli, could leach dangerous levels of lead and copper into the water, according to the Carlsbad Current-Argus.
Toxins that remain unregulated
Santa Fe's water system, which serves 78,000 residents, is in compliance with state and federal standards, but the Environmental Working Group found that city water contains eight cancer-causing contaminants at levels above California's health guidelines, including radiological pollutants and hexavalent chromium.
Chloroform in city water, at 25.2 parts per billion, is double the national average and more than four times higher than the state average. That chemical, a byproduct of chlorine used to disinfect water, can increase the risk of bladder and colon cancers, kidney and liver disease, and nervous system disorders, such as depression, according to the Centers for Disease Control and the EPA.
Alex Puglisi, an environmental compliance officer for the city, said the city has followed federal rules for chloroform and other chemicals by monitoring levels and reporting results. "Those reports were turned in. We did what we were supposed to do," he said.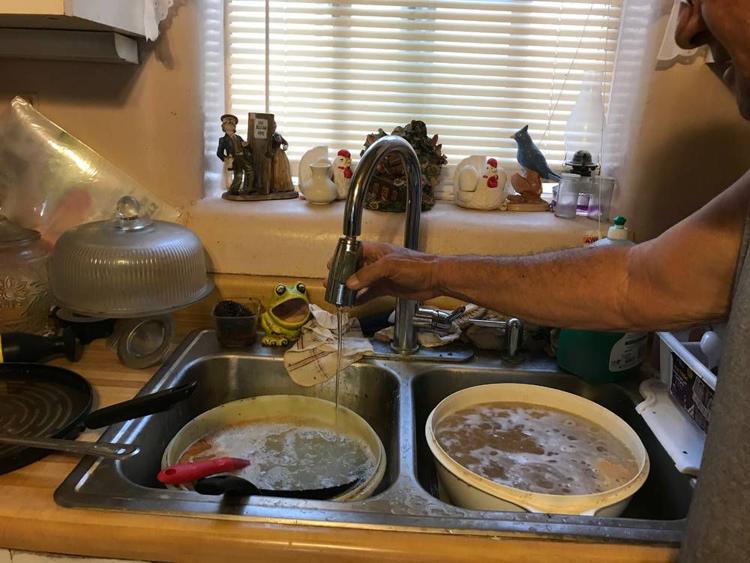 To analyze Santa Fe's water quality using California's standards "is a little bit out there," he said, referring to the Environmental Working Group's report, "because California does not set a standard for the nation."
Jeffrey Griffiths, a professor of public health and community medicine at Tufts University in Massachusetts, who was not involved in the Environmental Working Group study, said the EPA often doesn't have enough resources to study the effect of a chemical on human health, and the agency can be influenced by powerful chemical industry groups.
Griffiths spent four years as the chairman of the Drinking Water Committee for the EPA's Science Advisory Board and was a member of the National Drinking Water Advisory Council when the EPA reassessed its standards for how much arsenic should be considered safe in drinking water.
His committee told the EPA "there is no safe amount of arsenic" in water. The agency said it thought 5 parts per billion was an appropriate level, Griffiths said, but after industry groups weighed in, the level was set at 10 ppb in 2011. The limit previously had been set at 30 parts per billion.
"This is a sordid story," Griffiths said.
Española has had at least 13 ppb of arsenic in its water since 2011, according to data in the new report. "I would take those [levels] as pretty serious," he said. "If I was a person supplied by that water, I would not be drinking it."
The Española water system — which has the sixth-highest concentration of uranium and third-highest concentration of arsenic in the U.S. for utilities serving more than 10,000 people — was notified of 575 drinking-water violations by the New Mexico Environment Department between 2004 and 2016, records show.
Consumers aren't quick to hold water utilities accountable for a problem they can't see, Griffiths said. "What people complain about to water utilities isn't that there is some chemical that is 20 percent above the regulated number," he said. "They complain if it tastes bad or it looks funny."
This was the case in Santa Cruz.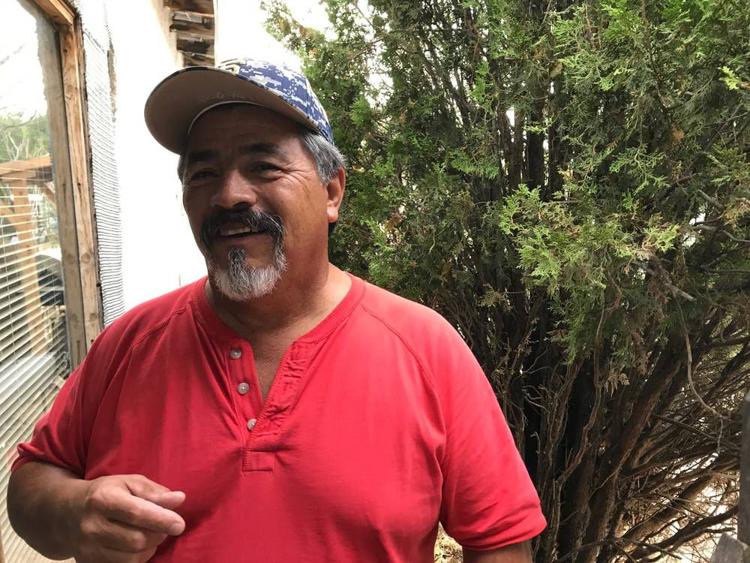 'Third World conditions in our own backyard'
Residents in Santa Cruz have been told on and off for several years now to boil their water to kill bacteria, and to drink bottled water — because boiling won't eliminate uranium and other chemicals.
Sometimes, Jacquez said, they run out of bottled water, so they drink from their faucets.
"The water tastes real good to me," he said.
A few streets away, lifelong Santa Cruz resident Flora Chavez, 68, said she began drinking and cooking only with bottled water when she learned about the water problems.
"It's been very hard," she said. "They didn't tell us nothing about what was wrong with the water," and now, she said, she worries "that the small children are going to get sick — or the elderly."
During a three-year period, between 2013 and 2016, the water association failed to remedy problems and didn't notify residents that their water was unsafe, according to a report the association released in June.
The Santa Cruz system has recorded between 55 and 63 ppb of uranium for the last two years, double the EPA standard of 30 ppb. The contamination is largely the result of natural deposits in the granite and sandstone beds of the Española basin.
A 2011 study by the New Mexico Bureau of Geology and Mineral Resources and Los Alamos National Laboratory, which assessed the area's mining potential for weapons-grade uranium, found some wells in the region had as much as 1,820 ppb of uranium.
John Marquez, president of the Santa Cruz Water Association for the past eight years, has been trying to fix the water problems for years. He said it's a job "nobody else wanted."
The volunteer-based association has followed the state's recommendations, he said. "So as long as we stay in compliance, we don't get fined."
That hasn't been as simple as filtering out contaminants. The pipes and water tanks have grown gnarled with rust, tangled with tree roots and caked with sediment from decades of highly metallic water running through them. Rust wore holes in the bottoms of the community's two water tanks, and they had to be removed. Then one of two wells collapsed.
Pointing to one of the corroded, half-century-old pipes that had been removed from the ground, Dennise Trujillo, with III-D General Contracting Inc., a family business that has been working with Santa Cruz since 2008, said, "That's what the majority of the United States' infrastructure actually is."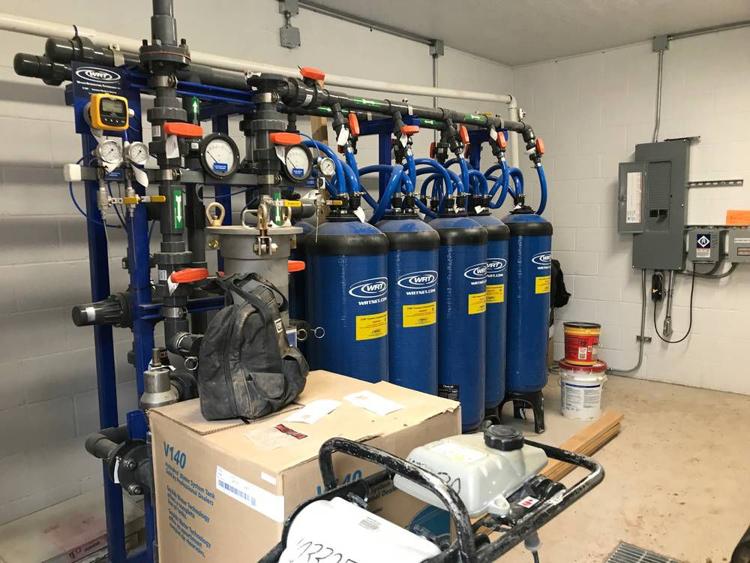 In 2014, the water association brought one of its rusted pipes to Gov. Susana Martinez's office, and the state Legislature later approved $1.6 million in capital outlay funds to build an expanded new water system that also would serve the nearby community of El Llano.
The project broke ground in November. So far, the association has drilled a new well and bought a modern water tank and a state-of-the-art uranium filtration system. But the community still doesn't have clean water, and its supplies are low, with only enough water to flush toilets and run air conditioners.
"Talk about Third World conditions in our own backyard," said Dennise Trujillo's father, Dennis Trujillo, president of III-D.
Marquez doesn't believe the uranium in the community's water is a major concern. "The long-term effects of any of this uranium would be in 70 or 80 years," he said. "It's not that high. If it was high, they would make us shut it down."
Jacquez, standing on his front porch, also said he hasn't been too bothered by the water problems and is happy with the new system that's in the works. "I think it will be really good for the community," he said.
A storm was coming in that night, but Jacquez was looking forward to going to a water meeting. For the past two weeks, he had been stuck at home, recovering from a bladder infection that had put him in the hospital for four days and left him on a long course of antibiotics.
"I don't think that has anything to do with the water," he said.