Here's what you can expect when the new Sky Railway trains begin running the tracks between Lamy and downtown Santa Fe:
A dragon-painted engine bellowing fire and smoke.
A death — prompting other passengers to solve the whodunit.
A visit from Santa Claus.
A group of local entrepreneurs who jointly purchased the old Santa Fe Southern Railway in 2020, with plans to revive its 18-mile excursions, have plotted a series of activities to engage passengers.
"Every train ride will be embedded in entertainment," said Sky Railway co-owner Bill Banowsky, whose Violet Crown cinema sits along the tracks in the Santa Fe Railyard.
Santa will be aboard the first Sky train as it pulls out of the Lamy depot Dec. 3 for a holiday-themed ride from Santa's workshop to somewhere in the Galisteo Basin and back. The holiday season offering will run through December before the new owners — including novelist and screenwriter George R.R. Martin — prepare to get the train rolling with an array of other themes.
Martin said in an interview this week some regional excursion trains, like the Cumbres & Toltec Scenic Railroad that runs between Chama and Antonito, Colo., have an advantage because passengers can revel in the scenic wonder of mountains, prairies and rivers along the way.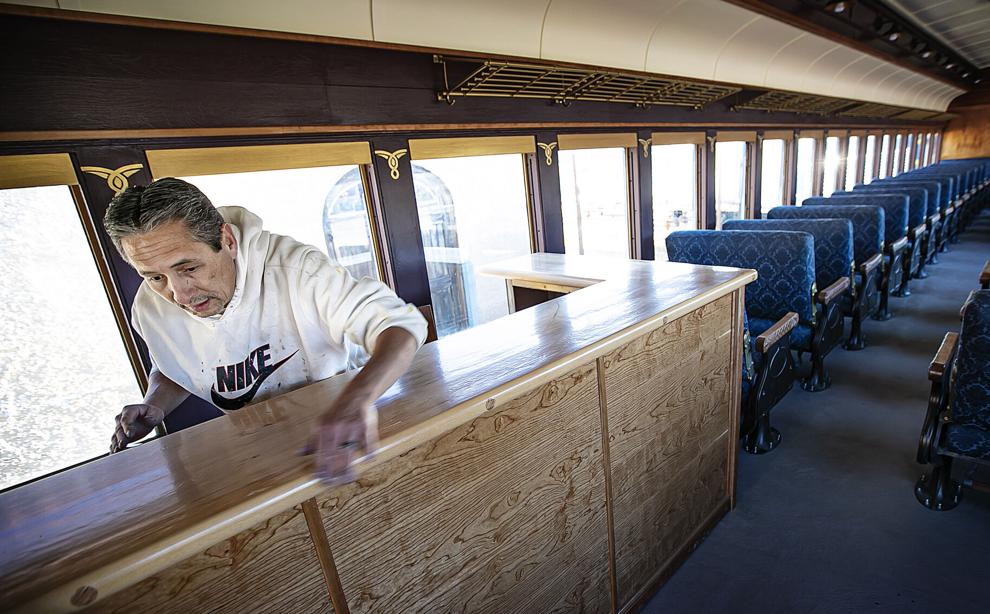 The ride between Santa Fe and Lamy is hardly scenic, he said. So, it made sense for the owners to transform the historic train into a moving stage for entertainment.
Sky Railway's first holiday ride will be the train's first passenger trip in eight years. Santa Fe Southern offered trips to Lamy for two decades — in train cars dating to the 1920s — before shutting down in 2012.
After New Year's, the rolling entertainment platform will offer music programs, a Wild West scene and, in October 2022, a Halloween-themed ride.
"You know me — I like severed heads, people dying horribly and the occasional zombie," said Martin, who is well known for his Song of Ice and Fire book series and the TV series Game of Thrones. "We'll see how it works."
Martin said he also wants to see culturally relevant programs on the train, such as Native American and Hispanic storytellers and local music groups.
For years, Martin has owned the Jean Cocteau Cinema in the Railyard, which sits next to the yard where the old Santa Fe Southern engines and cars long sat idle. He, Banowsky and other Santa Feans involved in the arts — including author Douglas Preston, National Dance Institute of New Mexico co-founder Catherine Oppenheimer and artist Gary Oakley — began talking about the possibility of purchasing the operation and reviving it as a tourist attraction in 2019.
Early in 2020, an ensemble of eight investors announced the purchase of the railway, with about 20 train cars and the spur line's 18 miles of track.
Banowsky declined to say how much they spent. "Probably too much," he joked.
After making the purchase, they turned their attention to repairing tracks and bridges — 19 by Banowsky's count — along the route.
They also cleared away what Martin called "monster weeds" from the track.
Banowsky said in some places it appeared as if there had been no upgrades to the track since 1879, when the Atchison, Topeka and Santa Fe Railway reached Lamy.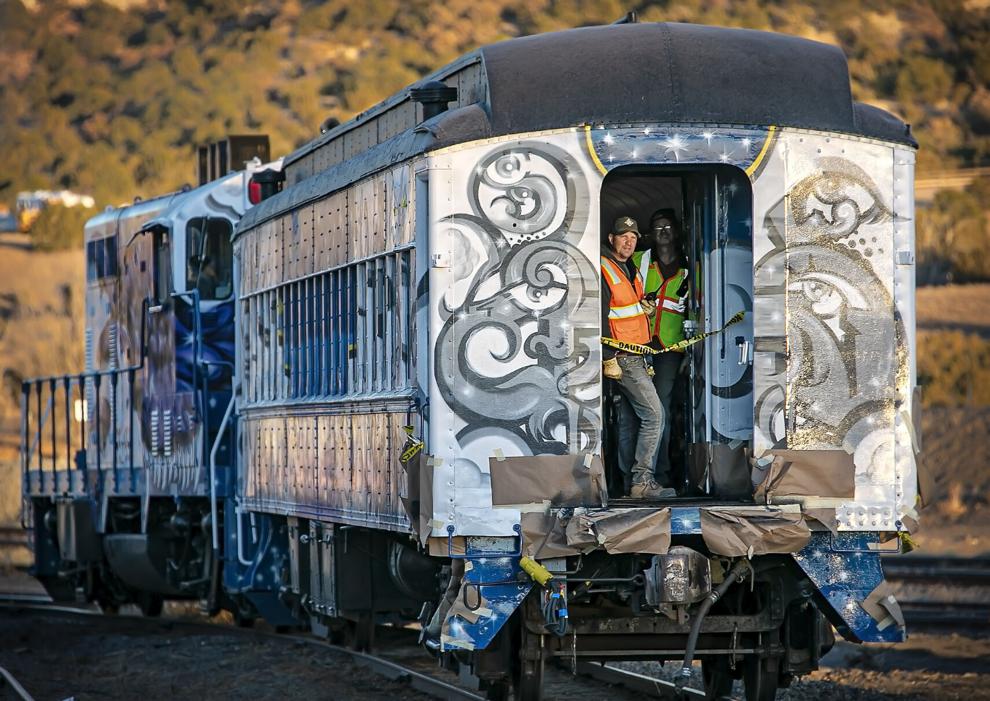 Initially, the railway had planned to roll its train directly into Santa Fe, but railroad executives and engineers determined it would be too difficult to build a main track to New Mexico's capital city because of steep grades; they settled for a spur line.
The first Atchison, Topeka and Santa Fe train to reach Santa Fe arrived in February 1880, and it served the city for well over a century. In 1991, the successor to the Atchison, Topeka and Santa Fe announced it was closing the spur. Santa Fe Southern formed to buy the right of way, buildings and equipment for the short-line operation. The next year, it began running passenger excursions to Lamy. Those trains ran regularly until the fall of 2012, when money for the enterprise ran out.
The Sky Railway owners began upgrading and renovating the passenger cars and hired local muralist Joerael Numina to paint the two engines: one as a dragon and one as a wolf.
The wolf engine will howl as it passes by, Martin said.
Preston, known for his popular thrillers, recently published a children's book called Santa's Dragon — fitting with the railway's theme. He said he hopes Sky Railway "becomes an important part of our times."
He added: "It's really great to own a living piece of history and be able to shape it into something wonderful for Santa Feans and visitors."