The Santa Fe Animal Shelter & Humane Society was flush with cash at the close of 2012, thanks in large part to millions of dollars received in a bequest from Bert Coughlin, a longtime Canyon Road resident.
The shelter's audited financial statement showed the nonprofit had $9.6 million in investments in publicly traded and other securities at the end of 2012. It also had nearly $1.5 million in cash.
But five years later, those investments had dwindled to $5.7 million. The shelter also owed $1.2 million on a line of credit at the close of 2017.
The shelter has been drawing down its investment accounts to help cover operating losses. From 2014 through 2017, those losses have totaled about $7.1 million.
Taken together, the numbers raise questions about the financial health of one of Santa Fe's most beloved and critical institutions.
Can this Cadillac of an animal shelter continue to spend more than other shelters on the animals it takes in? Can it afford to be a place where no animal is turned away and where only those animals with severe medical and behavioral issues are euthanized?
"Not only can our community support this level of care, it expects it," answered Jennifer Steketee, the shelter's executive director.
Steketee and other members of the shelter's board of directors said they are righting the nonprofit's finances by cutting employee and other expenses without eliminating services.
The shelter's operating loss for 2017 was $1.2 million, down from $2.3 million in 2016 and $2.5 million in 2015. And it is projected to nearly break even this year.
"It is not inexpensive to operate an open-admission, no-kill shelter," Steketee said. "We have been working feverishly to make this dream sustainable, and we are just about there."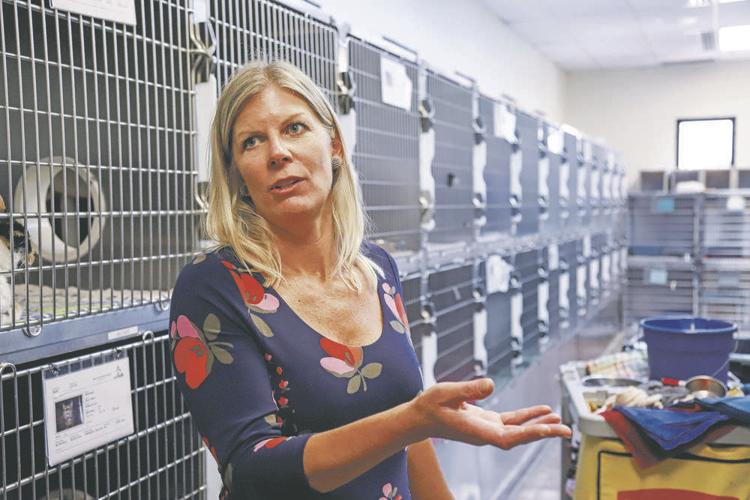 The shelter announced this year that its animal live-release rate of 94.2 percent in 2017 had qualified it as a so-called no-kill facility — one of only a few in New Mexico. The nonprofit placed nearly 2,900 animals in new homes last year alone.
While those numbers are impressive, they haven't come without significant questions. Former members of the shelter's board of directors have raised concerns in recent months about the nonprofit's finances and sustainability.
"Their budget was close to $8 million a year. And at the rate they were burning money, it looked to me like, without a fundraising strategy, they were going to be out of business and the animals were going to suffer," Glenn Levant, a former member of the shelter's board, said in a recent interview.
Levant and Michele Cook resigned from the board in June, citing the organization's money woes and what they characterized as questionable business deals between the shelter and some board members.
It was unusual turmoil for an operation that at times had enjoyed significant operational and fundraising success. Over the past 13 years, the shelter has grown from a bare-bones operation housed in an aged building on Cerrillos Road to a state-of-the-art enterprise on 100 acres off Caja del Rio Road.
In the process, it has become far more than an adoption center — boasting acres of fenced dog parks, a veterinary hospital open to the public and even an animal-behavior center. It has about 100 employees.
The nonprofit's long list of services includes providing housing for pets of battered women, pet food for needy families, low-cost veterinarian services for qualifying families and dog-training classes.
The shelter is credited with saving the lives of thousands of animals over the years and is popular among donors big and small.
The shelter's Barkin' Ball annual fundraiser and its Doggie Dip at the city's Bicentennial Pool are among the most popular events in a town where "Dog is My Co-Pilot" adorns many a rear bumper.
The shelter's audited financial figures paint a portrait of a nonprofit struggling to make ends meet.
The shelter's revenues declined for three consecutive years, reaching a low of $4.7 million in 2015 before bouncing back in 2016 and 2017. Revenues totaled nearly $6.1 million last year.
A decline in contributions and grants was part of the reason for the drop in revenues from 2013 through 2015.
Contributions and grants fell from $2.4 million in 2013 to $2 million in 2015. They fell further to $1.8 million in 2016 and remained virtually unchanged in 2017.
The shelter's revenue stream is varied. In addition to contributions and grants, the nonprofit's income includes adoption fees; sales at its Cat South and Cat North resale stores offering home furnishings, clothing and more; and about $400,000 a year from the city and county.
As for shelter expenses, they rose steadily from $5.2 million in 2012 to $8 million in 2016 before declining to $7.3 million in 2017. Depreciation of the shelter's facilities accounted for about $1 million of its expenses in 2016 and again in 2017.
Steketee, the shelter's executive director since late 2016, said the years of 2014 through 2016 were a time of expansion as the nonprofit added buildings and programs to reach its goal of being a shelter where only a small percentage of animals are euthanized.
"We had the money," Steketee said. "We had been given this large [Coughlin] estate."
The shelter opened its veterinary hospital in 2013 and its animal-rehab center in 2015, at a cost of more than $5 million.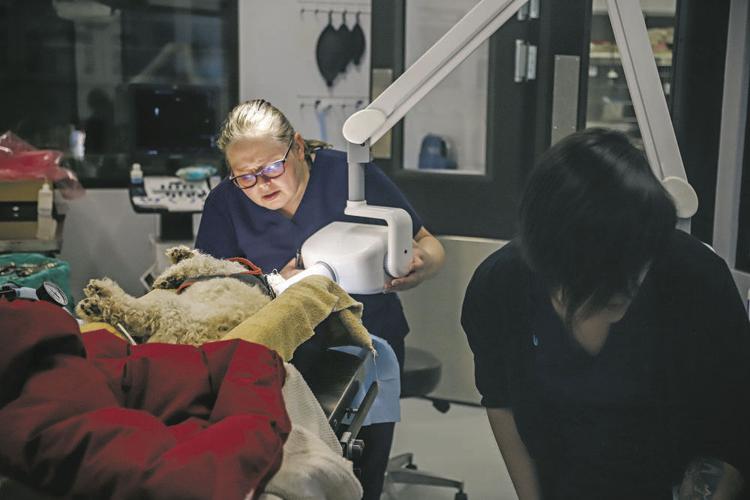 Still, Mary Martin, the shelter's previous executive director, said the shelter's financial struggles began before the hospital and rehab center were built.
Martin was hired in 2009, after the shelter moved from Cerrillos Road to its $10.2 million campus on Caja del Rio Road. At the time of the move, the shelter had only an adoption center and an animal admissions and care center. Martin said the cost to run the shelter exceeded expectations after the move to Caja del Rio, and she had to make budget cuts — including the elimination of middle-management positions.
"We were facing down an oncoming train," she said. The number of people employed by the shelter shot up from 69 in 2008 to 109 in 2012, according to its federal tax returns.
The millions of dollars donated to the shelter by Coughlin, a former fashion designer and commercial property owner who died in 2011, changed things, Martin said.
With that significant infusion of funds, the shelter's board of directors decided to start growing the facility again, she said. Medical, behavioral and other programs were added, significantly reducing the percentage of animals that were euthanized. By 2016, the shelter reported it had 135 employees.
But, Martin recalled, "We still weren't raising enough money to meet the demands of those programs."
She said the state of the shelter's finances "was starting to get scary for me" when she left the organization in 2016 to become director of animal care and control services for Maricopa County in Arizona, which encompasses the Phoenix metro area.
In 2012, after much of the money from the Coughlin estate had flowed in, the shelter purchased a home for $545,000 for Martin to live in rent-free. The shelter sold the home to Martin at a $45,000 loss after she left the nonprofit.
Steketee, a veterinarian who had been the shelter's medical director, said the shelter's finances were a focus when she was hired to succeed Martin as executive director and that she and other officials have been working hard to bring revenues in line with expenses.
The audited financial numbers for 2017 and the projections for 2018 show the shelter is on the right track, she said. The shelter cut its operating loss and expenses in 2017 while increasing revenues, the numbers show. More of the same is projected for 2018.
"We are now running a sustainable operation and organization without relying on previous large donations," Steketee said. "In short, we have stabilized our financial picture with the new facility and its extraordinary operations."
To cut expenses, Steketee said, every expenditure is being examined, and the nonprofit is assessing whether jobs that become vacant need to be filled. Some upper-level jobs have been combined, she said. The veterinary hospital also has become quite profitable.
The kind of services provided by the shelter don't come cheap.
The shelter says the current average cost for every animal life saved by the nonprofit is $650, including medical and boarding costs.
In Albuquerque, the city's Animal Welfare Department said its operating costs work out to about $434 per animal. Española Valley Humane said its medical and boarding costs are about $254 per animal, but it gets free housing and utilities from the city.
Neither is classified as a "no-kill" shelter based on its animal live-release rates.
Santa Fe animal shelter officials maintain the future of the shelter and the services it provides are not in doubt.
"Absolutely, we are sustainable," said Jan Ballew, president of the shelter's board of directors.