Through sharing stories of those who inspire her, Lorene Carpenter Mills has become a source of inspiration.
For the past 15 years, Mills has interviewed award-winning authors, philanthropists, political leaders and Nobel Prize winners, broadcasting the conversations on the air. Working well over 40 hours a week as a one-woman staff to produce New Mexico PBS Network's Report from Santa Fe television show, Mills says she hopes her efforts will change lives.
"You take ideas from the most brilliant, inspiring people," she says of her broadcast career, "and then you get to spread them out."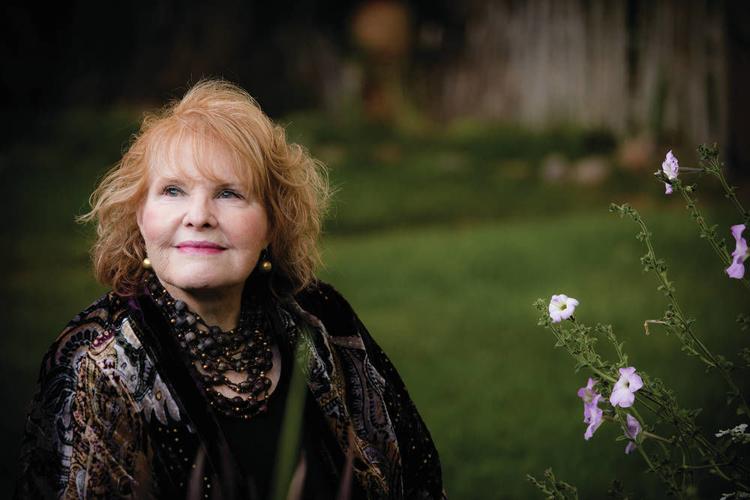 On Oct. 20, Mills and two other local residents will be honored as the newest Santa Fe Living Treasures — elders in the community recognized for making an impact through their careers and volunteerism.
Mills says she was shocked to learn of her award. "It's a great, great honor to be part of this incredibly esteemed group of Santa Feans. It just means so much to me," she says.
Born and raised in Hollywood, Calif., Mills got her start in broadcasting though her late husband, Ernie Mills, who ran three daily radio shows that were broadcast all over New Mexico, wrote a daily newsletter called Mills Capitol Observer and hosted Report from Santa Fe before Lorene took over.
Lorene Mills, 74, moved to Santa Fe in the early 1980s to be with Ernie and soon played a role in his show.
"He got tired of the hot shots not showing up," she says of producers and camera operators who missed tapings. She took over and worked as the show's camerawoman for the next 20 years, she says.
When Ernie Mills died in 2003, Lorene not only chose to continue her husband's legacy, she created her own.
Since hosting her first guest, former New Mexico Gov. Bill Richardson, she has played host to hundreds of influencers from around the world, including anthropologist Jane Goodall — "She is really my hero" — political activist Ralph Nader and autistic expert on animal science Temple Grandin.
Leading up to every interview, Mills says she pretty much "stalks" her guests: Before interviewing Margaret Atwood, she read 14 of the author's books; she knew Jane Goodall's dog was the anthropologist's initial source of inspiration for her research. Before meeting author Craig Childs, she read a hidden gem blog post he'd written about foxes a day prior to their meeting.
Once her sources "realize I've done my homework," Mills says, "we develop a really intimate, warm environment. They relax, they let their hair down."
Friends say this same warmth and authenticity permeates into her personal life as well.
"I just think she's probably one of the most loving human beings I could imagine," says Elisabeth Porter, Mills' friend for more than 20 years.
Mills volunteers at her residential community, Agua Fria Village. She says she advocates to "protect the rural values of our village" and help address sustainability as Santa Fe continues to grow.
She says she'll continue working as a journalist until the day she dies.
"Why would I want to retire? It keeps my brain going, I get to learn something new every day, and I get to be excited by what people are doing. I love what I do," she says.
Shuffling through the maze-like office space of the New Mexico Environmental Law Center, Douglas Meiklejohn, dressed in a suit and tie, points to images of iconic New Mexican landscapes: Layers of rock in varied hues contrasted against a bright blue sky and dusty green sage, sometimes set along the rushing Rio Grande.
Preserving this natural beauty in the Land of Enchantment has been Meiklejohn's mission since founding the law center in 1987.
"We're looking to be an ally, and hopefully, a helpful ally," he says.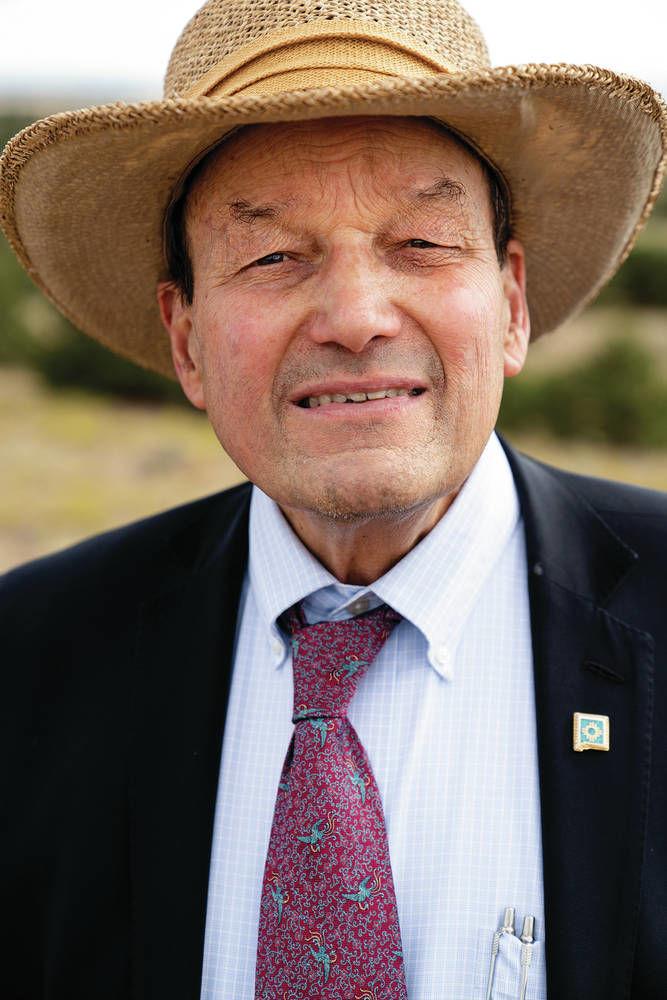 Meiklejohn, who grew up in Chicago and graduated Cornell University's law school in 1971, moved to Santa Fe in 1977 to work for the Attorney General's Office after a stint in federal legal aid offices in Arizona.
After 10 years at the Attorney General's Office — the last four were specifically related to environmental cases — Meiklejohn decided to found the New Mexico Environmental Law Center with the goal of continuing to protect public lands.
After helping shut down an incinerator at Sunland Park in Southern New Mexico, which polluted two elementary schools in Doña Ana County, Meiklejohn says the center's focus shifted to protecting communities that advocate for environmental justice.
Since then, the center has helped communities protect groundwater from industrial dairy pollution, pushed for protections against uranium mining and oil and gas drilling, and has saved millions of feet of timber from being clear-cut on public lands.
In every case, Meiklejohn serves as a law representative for those whose reside in areas most affected by potential environmental destruction — "mostly Native American and Hispanic communities that have been ravaged" by a multitude of industries, says Stuart Bluestone, a friend of Meiklejohn's for 35 years and a board member of the law center.
The Environmental Law Center's efforts to raise awareness have received all kinds of recognition, including a National Award for Sustainability from Renew America and the President's Council on Sustainable Development, a Piñon Award for quiet inspiration and a Con Alma Health Foundation 'Hero of Health' award, to name a few.
Still, Meiklejohn, 73, remains humble, crediting his clients for the center's success.
"I'm the one getting this award but the real heroes, or treasures if you will, are the clients — the people who take time out of their schedules to address these issues," he says. "The reason these people are inspiring is because they see something either happening or being proposed to happen in their communities and they do something about it."
When Suzanne "Sue" Breslauer moved to Santa Fe nearly 20 years ago, her plan was to retire.
Instead, she found herself working as much as ever, focusing her energy toward activism on behalf of social justice.
Breslauer, 80, has served on numerous boards and volunteered countless hours to address inequality in Santa Fe and beyond. These efforts, she says, are to ultimately help leave the world a better place for younger generations.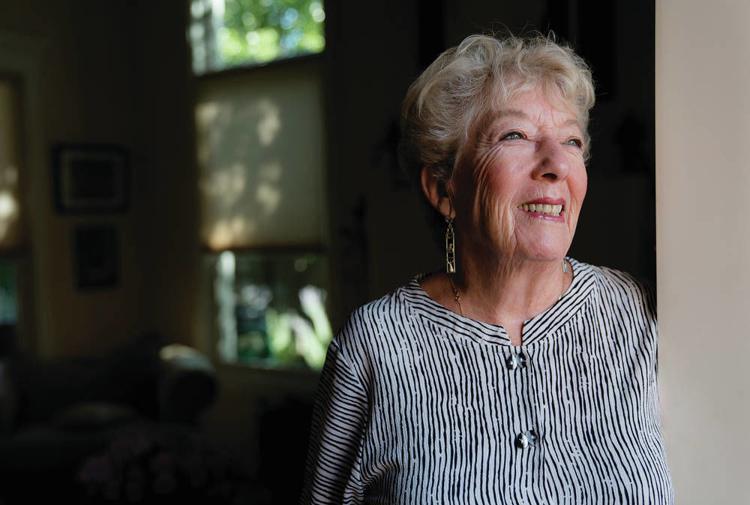 "If we can get the young people to be leaders of the future of tomorrow, maybe there's hope," she says. "I want them to take up the reins and do a better job than apparently we've [older generations] done."
Most of Breslauer's time goes to serving as the board chair of Creativity for Peace, a local nonprofit that trains young women from Israel and Palestine to facilitate peace. She also tutors immigrants at Santa Fe Community College who are studying to obtain U.S. citizenship and works with the Santa Fe Interfaith Leadership Alliance to create a multifaith network committed to giving back to the community.
She was Temple Beth Shalom's social justice director for about eight years, where most efforts were focused on inclusion, community service and addressing homelessness. This helped emphasize "what the Jewish faith stands for," she says, noting the synagogue is now part of the Interfaith Leadership Alliance, of which she's a founding member.
Today, the alliance focuses largely on advocating for the environment. Each month its members hold a silent vigil called Thirty-Three Minutes of Memory to honor those killed by gun violence.
Prior to retirement, Breslauer was a counselor. In 1997, she said she co-founded a nonprofit in St. Louis called Fathers Support Center, which strives to break the cycle of poverty and child neglect by educating and assisting fathers. The organization started with a $25,000 budget, she says, and has grown to a $3 million-plus operation.
"I like to think I've been on the right side of issues," she says.
And at 80, she has no intention of stopping her fight.
"Fortunately my genes are better than I though they were, and I have a lot of energy and certainly a lot of commitment," she says with a laugh.