She remembers hiding in her home, shaking to the thunder as bombs and missiles exploded just outside. Speaking broken Arabic into loudspeakers, Israeli soldiers warned residents of her village not to dare go outside.
For 40 days, Ameera said, she didn't feel sunlight, didn't stretch her legs. Her body ached, she said, and nightmares woke her. All she felt was fear. And hate — a lot of hate.
Ameera, now a teacher from the West Bank town of Ramallah who asked that only her first name be published because she fears retribution back home, is the Palestinian coordinator for Creativity for Peace, a Santa Fe-based nonprofit that has offered a summer camp for Middle Eastern teenage girls for the past 20 years.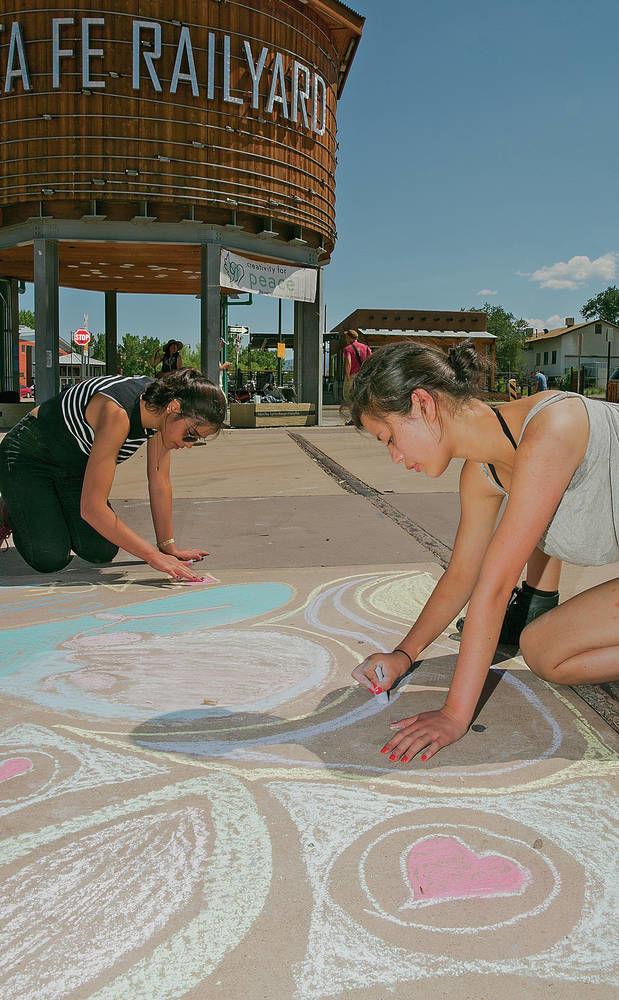 In 2005, Ameera was one of those girls. She has been actively involved with Creativity for Peace ever since, though it hasn't been easy. Many fellow Palestinians don't agree with the efforts of such groups, she said. "They think I'm betraying my country."
Creativity for Peace has served nearly 300 girls, engaging them in talks, challenging them to look beyond their historical and cultural differences, helping them transform from enemies to friends and, ultimately, inspiring them to be peace leaders when they return home.
On Tuesday evening, Ameera and three other young women working as camp leaders will speak about how the campers' time in New Mexico is contributing to the start of a movement. The talks are part of a fundraiser at the Santa Fe Farmers Market Pavilion.
The event is both a celebration of Middle Eastern culture, with music and cuisine, and an opportunity for local residents to learn firsthand how the program is breaking down barriers in a divisive conflict with effects felt globally.
The camp's 20th anniversary comes amid months of mass protests in Gaza. Scores of Palestinians, including teens, have been killed in clashes with Israeli forces since the protests began in late March.
The milestone also comes as a West Bank social media icon, 17-year-old activist Ahed Tamimi, was released from prison Sunday. Tamimi was sentenced to eight months in December after posting videos showing her slapping Israeli soldiers.
After decades of strife that have drawn young people into the fight, the outlook for a peaceful solution to the Israeli-Palestinian conflict appears grim to many.
But some, like those involved with Creativity for Peace, have hope and see young people as the catalysts for positive change.
"The idea of the camp is to give both sides the opportunity … to sit in the same room and talk, share their stories, and listen to each other," Ameera said.
Santa Fe is "neutral ground" for the teens, allowing them to feel a sense of acceptance for one another, free of judgment.
Camp leader Saja Abu Hakmeh, a Palestinian-American who attends the University of Wisconsin, said, "Camp is a step in the right direction to changing what people think."
She called the experience "life-changing."
"Every movement in history when something massive changed was started by only a few people," she said, pointing to the young campers' ability to make a difference.
Other women speaking at the Tuesday fundraiser are Dana Mansour, a Palestinian living in Northern Israel, and Gaya Garmi, an Israeli Jew.
Some feel torn between two identities.
When Mansour first arrived at camp a few years ago, she said, she feared no one would accept her. She worried that Jewish girls would belittle her and those from Palestinian territories would think she "wasn't Palestinian enough."
But in the end, she said, "camp gave me hope."
"Palestinians in Israel, we fight for our existence and our rights in a country we're citizens in," Mansour said, adding that just last week, a law was passed axing Arabic as an official language in Israel — one of many examples of what she sees as the Israeli government's efforts to "delete our culture, our history."
Garmi, who lived inside Israel — not close to its borders — said she didn't experience the violence of the conflict as much as she felt "day-to-day tensions."
All she knew, she said, was that she wanted to help.
"I felt a deep need to do something, because horrible things are happening," she said. "I'm not a politician, but I am trying to do things on a social level — talking, hearing, creating with people … coming together."
Hakmeh agrees. Raised in the U.S., Hakmeh has a different perspective than Palestinians who grew up in the middle of the conflict. Still, she said, before participating in camp, she had countless misconceptions and assumptions about Israelis.
"I kind of saw Israeli people as very inhumane and selfish," she said. "I thought they wanted to make Palestinian lives hard."
"For many of the girls," said Kirsten Szykitka, director of operations at Creativity for Peace, camp is "the first time they feel like they can be safe."
"Once they hear the other side, they understand that both sides have pain and suffering," she said. "Typically, by the end of camp, they have friendships with girls from the other side, and they can imagine working together on peacemaking."
The experience, Szykitka said, is profound.
"It's not just about the camp," Ameera added. "It starts with camp, but it doesn't end there. … We want our vision to be spread on our society."
Information from the Associated Press was used in this report.
What: Salaam — Shalom: A Celebration of Peace; Creativity for Peace marks its 20th anniversary with a fundraiser celebration of Middle Eastern culture, music and cuisine, featuring talks by Palestinian and Jewish Israeli young women about their experiences in life and at the nonprofit's summer camp, a program that aims to build the foundation of peace between the two cultures.
Where: Santa Fe Farmers Market Pavilion, 1607 Paseo de Peralta
When: 5:30 to 7:30 p.m. Tuesday