In a secluded and empty lot with hypodermic needles lurking in the weeds, city worker Steven Almanzar faced off against a giant green alien from outer space that appeared to mockingly point a long finger at him.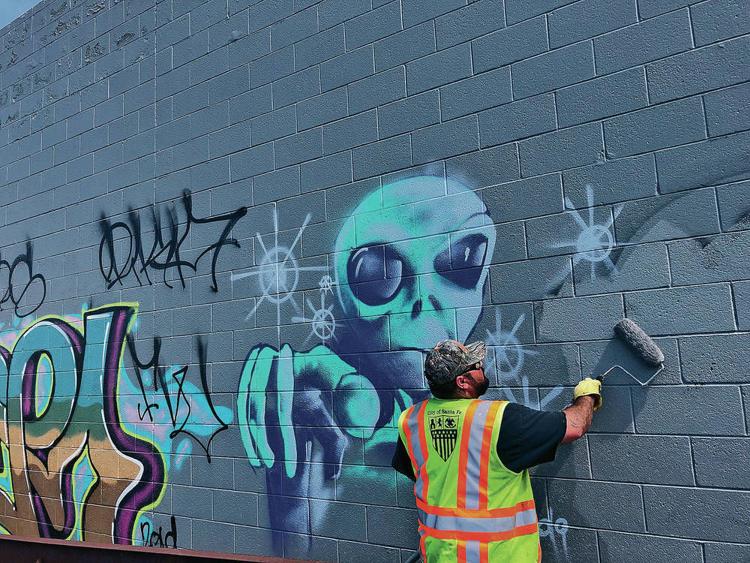 The alien, which had been spray-painted on the long expanse of a back wall of a massive storage unit business off Pacheco Street, was no match for Almanzar and his graffiti-busting crew, which erased the beautifully crafted vandalism from existence with a few strokes of their paint brushes last week.
But Almanzar, an environmental services employee who has been doing graffiti-removal work for the city for a decade, predicts the alien — or some other vandalism — will reappear on the same wall within a month.
"We're swimming the best we can swim," he said. "But this hole is the deepest I've seen it."
Almanzar speaks from experience, and the numbers support his observations.
Santa Fe is experiencing an explosion of graffiti, and Almanzar said it's happening in every corner of the city.
City crews removed more than twice the amount of graffiti in 2018 as they did in 2017, and they've cleaned up nearly the same number of graffiti markings in the first five months of 2019 as they did in all of last year.
"They'll get a pen — a big marker — and just walk down the street and tag everything down the street," Almanzar said, referring to graffiti vandals. "That's where we get a lot of these numbers because we're cleaning 25 light poles. We're cleaning little mailboxes. We're cleaning a sign. They're so quick, they can write their name down in a matter of three seconds, four seconds."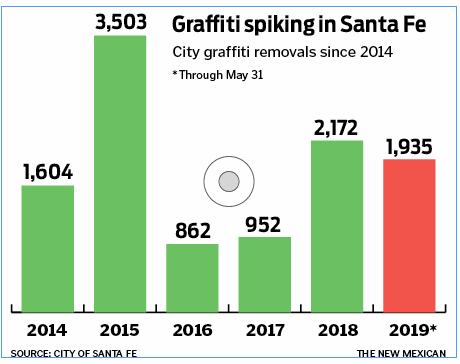 Graffiti vandalism isn't just a problem for City Hall.
"District 5 has seen an increase in graffiti tagging throughout the district," Rosanne Rodriguez, a spokeswoman for the New Mexico Department of Transportation's District 5, which includes Santa Fe, said in an email.
Rodriguez said the increase happens in the spring and summer months when the weather warms up.
"The Rail Runner is constantly being tagged," she wrote, referring to the state's commuter train line. "Our maintenance workers will remove the graffiti and then, within a few weeks, it is tagged again."
The vandalism isn't as bad in the unincorporated areas of Santa Fe County.
"From what we've seen compared to last year, there has been a decrease this year," county spokeswoman Carmelina Hart said. "Of course, we take graffiti very seriously and respond with removal crews within 24 hours from the time of recording the report."
The city of Santa Fe also is cracking down on graffiti.
"The mayor talks about little things that have a big impact. This is one of them," city spokeswoman Lilia Chacon said while a city crew painted over the graffiti on the storage unit business off Pacheco Street.
"We really want to put the best face possible on our beautiful city," Chacon said. "Every one of these ugly acts of vandalism is just disturbing, and that's why we commit people, time and budget to it. We really feel for the businesses and especially the homeowners who have to come out and find something like this on their property."
Chacon didn't know whether Mayor Alan Webber and other city officials would commit more funding to graffiti removal in the future.
"I know that it's something they'd be willing to evaluate because of the priority the mayor places on these kinds of issues, whether it's weeds or graffiti," she said. "He wants it done."
Almanzar said Santa Fe, like other cities and towns nationwide, will always deal with graffiti.
"Albuquerque, all these big cities, have graffiti all over the place," he said. "You look at every big city — Chicago, New York — down to the littlest city where I live in Pecos, it's a town, we have graffiti there," he said.
While "there's no way to solve it," Almanzar said sanctioned mural projects are an effective way to combat graffiti. He said a breast cancer awareness mural painted on a wall along an arroyo off Rodeo Road near Zafarano Drive has been vandalized only once.
"These kids, this day and age, they respect the murals," he said. "That mural has been up there already four years, and we've only had one person go in there and disrespect it."
In addition to doing mural projects on sites that often get hit with graffiti, the city has hosted graffiti wipe-out events and partnered with youth sports leagues and private schools to clean up the vandalism.
The city said in a statement that Keep Santa Fe Beautiful is in the planning stages of "some projects to raise awareness regarding graffiti abatement by participating in a graffiti wipe-out, beautification and/or mural projects."
"The goal is to promote a legal avenue for youth and artists to express themselves and lead our next generation to take greater responsibility for improving our environment," the city said.
If graffiti vandals are arrested or cited, the City Attorney's Office can request they perform 100 hours of mandatory community service covering graffiti alongside city crews.
"This has happened in the past and has seemed to make a positive impact on the mindset of the offender regarding graffiti vandalism," the city said.
Restitution based on the cost of the cleanup is required under the criminal code, the city said.
But catching a graffiti vandal rarely happens, Almanzar said.
"I've been on the graffiti crew 10 years, and I've seen them catch two people, three people, something like that," he said.
The city strives to remove graffiti within 72 hours of it being reported, weather and workload permitting, and after obtaining written consent from private property owners.
Almanzar said the vandalism ranges from small markings on street signs to elaborate artwork on walls, including the estimated 100-foot long, 10-foot high wall at the storage unit business off Pacheco Street.
"These kids are very, very talented," he said. "Look at that alien. That's artwork."
But it's artwork on someone else's property who didn't give permission, making it vandalism.
"We're out here day in, day out trying to get ahead of the game, but we never can," Almanzar said. "When you have a team of really two people out there doing what they can do, but you have 20, 30 kids out there doing the graffiti, can you keep up?"
Follow Daniel J. Chacón on Twitter @danieljchacon.