To celebrate the modern homeland's 200th birthday, the Rev. Dimitrios Alex Pappas is showing off his great-grandmother's amalia and great-grandfather's foustanella. He estimates his heirloom Greek holiday attire is a century old.
The priest at St. Elias the Prophet Church has carved a bit of Greece into a hillside in Eldorado as a center for many second- and third-generation diaspora in Northern New Mexico who rely on the Greek Orthodox community as a cultural connection.
The white church, with its blue doors that match the New Mexico sky, is shaped like a Byzantine cross. Pomegranates hang on the door for the new year in January, and Pappas offers Mass in Greek, Spanish and English to a congregation that commutes from all over New Mexico.
"We drive up from Albuquerque because it's about as close to church in a village in Greece as you can get," said Vasilios Ninopoulos, whose parents emigrated from Larissa in central Greece to Toronto. "You go there and you feel like you're in Greece."
For many in the Greek communities of New Mexico, this is not just another March day.
On March 25, 1821, Bishop Germanos of Patras raised the flag of Greek resistance over the Monastery of Agia Lavra on the Peloponnese Peninsula. Thursday marks 200 years of freedom from the Ottoman Empire. According to tradition, the nine stripes on the blue-and-white Greek flag represent the nine syllables of a Greek phrase that means "freedom or death."
Pappas, whose roots are in an area near Tripoli, Greece, a city in the central part of the Peloponnese, said St. Elias' congregation consists of between 50 or 60 families, while St. George Greek Orthodox Church in Albuquerque serves around 500.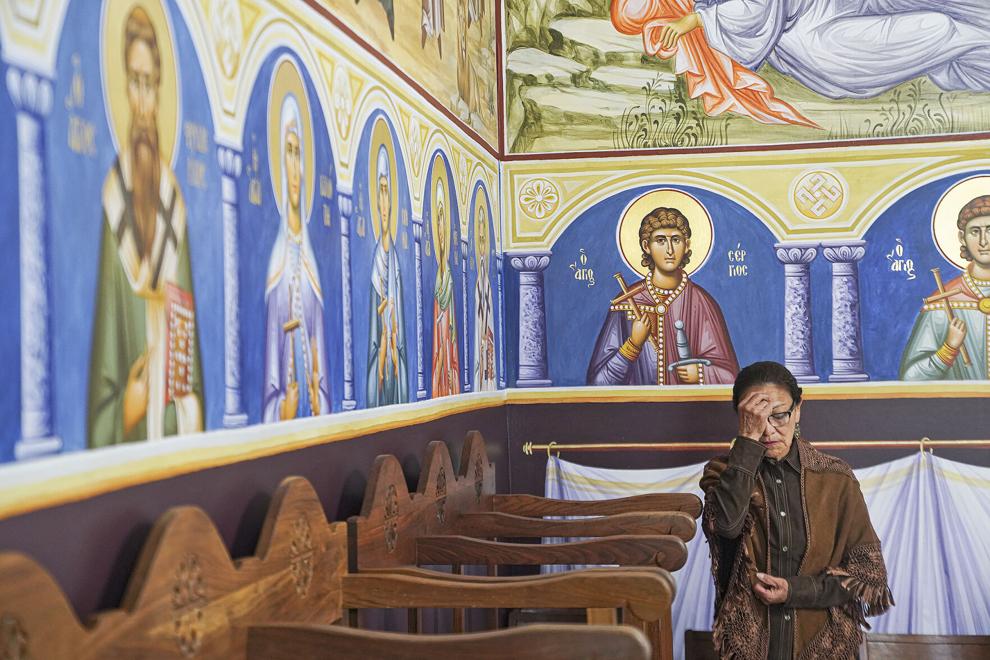 For the holiday, kids usually dress in traditional costumes and recite poetry around feasts.
"It's a huge party usually that we're toning down for the pandemic," said Nicolette Panagopoulos, who also travels from Albuquerque to attend St. Elias and whose parents are from the Arcadia region of the Peloponnese. "It's a small Greek world. Everyone is connected in some way."
Pappas and Panagopoulos grew up in Denver learning the language and culture on the weekends in Greek school — a common experience for first-generation Greeks in the United States. Stavroula Labarge, who also travels from Albuquerque to St. Elias, said she started to pass the language on to her 16-month-old daughter.
"We're starting to introduce her to phrases," said Labarge, whose grandparents are from Grevena, Greece. "It's hard over generations, and the language will be lost if you don't keep it in their lives. The church really helps with that."
Both Panagopoulos and Labarge said they try to prepare vegetarian meals, such as like eggplant moussaka, to celebrate the holiday during Lent. The Santa Fe restaurant scene has a strong Greek influence, although that's not obvious on the menus.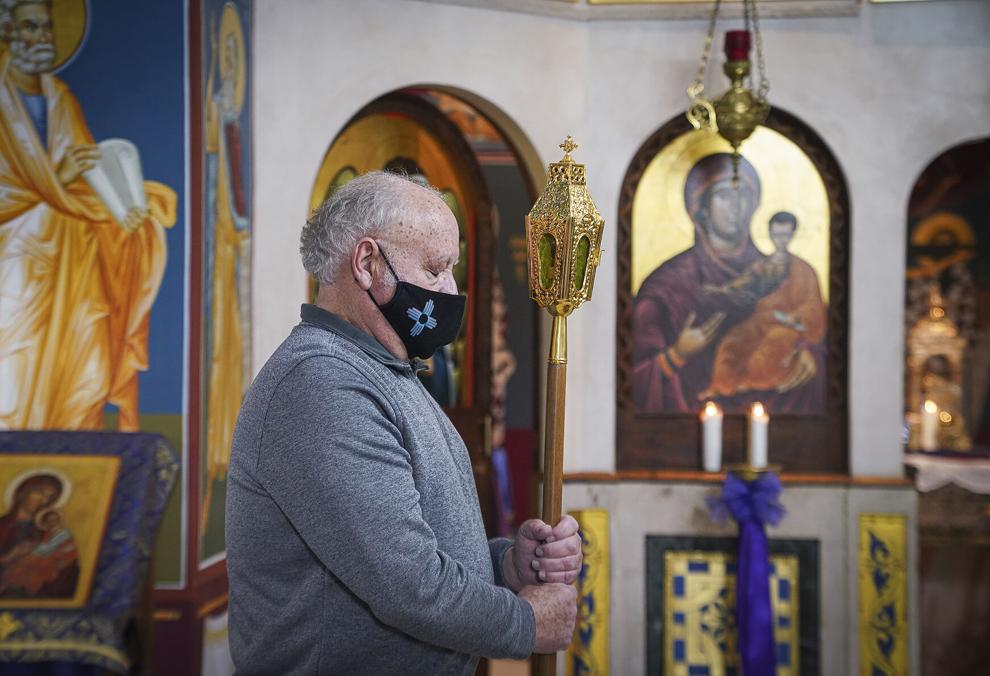 Leonardo Razatos said his dad, Dionysus Razatos, was the second or third Greek to own the Plaza Café when he took over in 1947.
"The Greeks are very good at understanding what people want," Razatos said. "My dad understood people weren't coming to Santa Fe for Greek food."
While his mother still owns the Plaza Café, Razatos serves traditional New Mexican cuisine as owner of the Plaza Café Southside, and his brother, Daniel Razatos, owns the Greek restaurant Yamas Greek Rotisserie on Cerrillos Road. He said other Greek families own Tomasita's, Atrisco Cafe, Tortilla Flats and Tia Sophias.
"If two Greeks happen to meet on the street, they'll open a restaurant," Razatos joked.
Pappas was ordained in Denver, worked in Seattle and Arizona, and was an assistant priest at a church in Athens when the bishop called almost 12 years ago and said he was needed in Santa Fe. In recent years, he added new religious icons on the inside of the structure and a covered patio outside. There's more, though.
"Yeah, the building is nice, but the community is a family. That's what makes the building what it is. Without the people there is no church," Pappas said. "It's just like Greece here with the shrubs in the mountains. All we're missing is the ocean."