When she arrived home and saw a bouquet of red roses, Janis Devoti broke down and cried.
Just an hour or so before, she told her staff that she would retire as principal of Piñon Elementary School after nearly three decades. They somehow managed to get the flowers delivered to her home before she got there.
More tears are bound to come for Devoti, her staff and her students. After 49 years as a teacher, instructional coach and principal, Devoti is leaving a year ahead of schedule to care for her ailing father.
"We can all make plans, but they are not necessarily God's plans," she said of her goal to make it to the 50-year mark.
In a system where a principal's average stay at a school is four years, Devoti's dedication to Piñon is almost unheard of.
The school has been not only her second home, but a place where children know they are welcome and loved, she said.
"This represents a world for our children," she said. "From the moment those students walk in through the doors, we have to make this the best example of what the world can be like."
Devoti held back tears as she strolled through the school on a recent weekday. At the end of June, she'll take one last walk through those halls. She has yet to start cleaning out her office, full of 28 years of memories. She doesn't want to think about that yet, she said.
In one classroom, Devoti leaned down to help a kindergartner who was struggling to create letters and words with a pencil. She patiently led him through the motions.
"For some of them, coming back from remote learning has been a challenge," she said, referring to nearly a year of learning from home during the pandemic. "It's a test for their motor skills. How to form letters can be a challenge."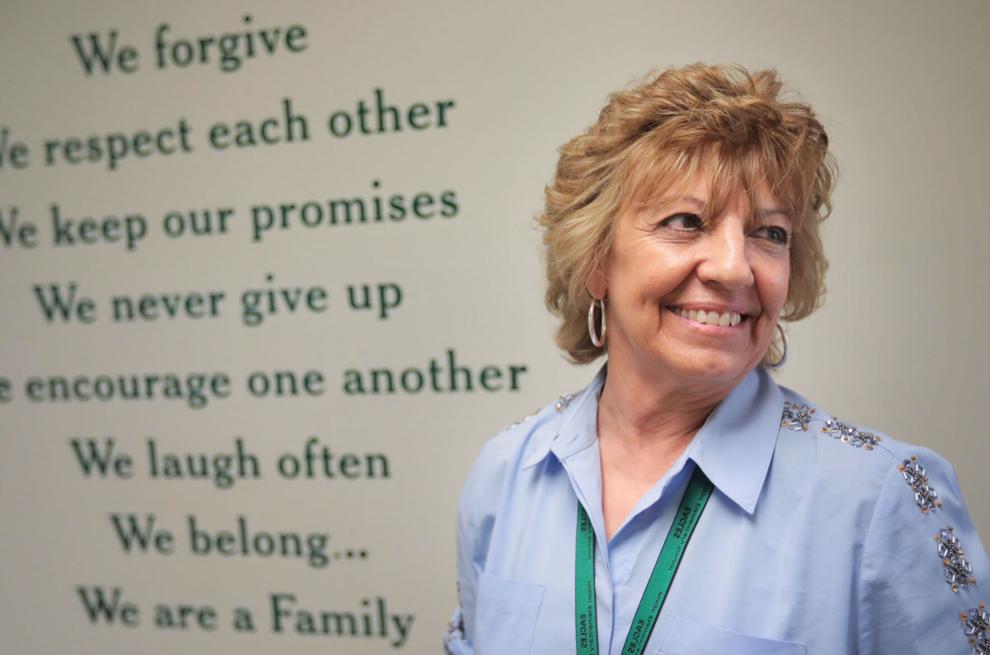 Devoti wasn't the only one fighting back tears. Front office administrator Carla C de Vaca has worked with Devoti for 26 years. "It's been a pleasure to work with someone who has integrity, morality, honesty, dedication," she said. "She always puts her students and staff first."
Then her tears flowed as she recounted how Devoti cleaned the school's bathrooms on days when the janitor was out. She said Devoti is in the school at night, on weekends — everywhere and always, it seemed.
Something about the school will feel empty once Devoti leaves, she said.
"She lives, eats and breathes Piñon," Anne Probst, another front office administrator, said of Devoti.
In an era when principal turnover remains a serious challenge to the success of a school, Devoti has remained a constant force at the south-side campus.
Under her leadership, Piñon's students — many of whom come from low-income households — consistently performed well enough to make the school one of the best in the district.
Last year, the U.S. Department of Education named Piñon one of its National Blue Ribbon Schools, and it was honored for its efforts to close achievement gaps.
That award, Devoti said, is a testament to the teachers "and more importantly, the students who have bought into our mission and goal."
The school's 12-sentence mission statement defines Piñon as a place where "we do second chances, we apologize, we forgive, we respect each other."
"We are a family, a Piñon Eagle family," it says.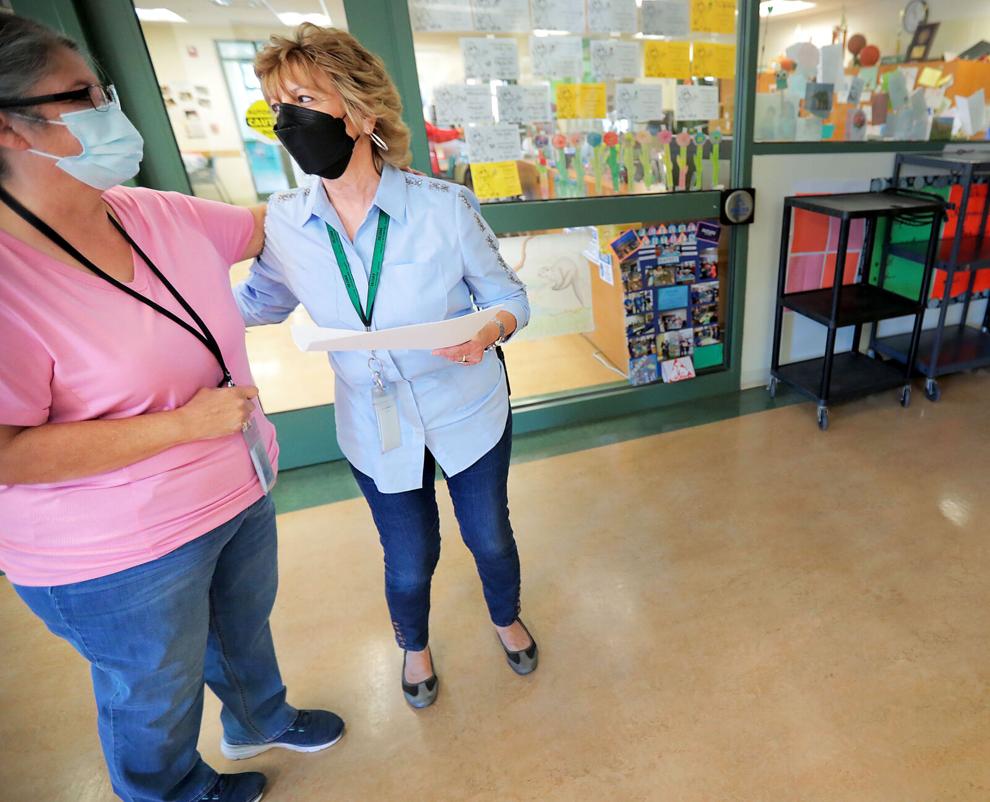 Devoti joined that family and made it stronger after working other jobs in the Santa Fe school district, including a lengthy stint at Atalaya Elementary School.
Intent on working in the medical field, the Albuquerque native earned a degree in science and sociology at the University of New Mexico.
Within a year, she found herself teaching at an open-concept school — with no walls between classrooms, no standardized tests, no curriculum — in Montana. She liked it, but when she woke up on her 21st birthday to so much snow she couldn't open her front door, she began singing "O Fair New Mexico," the state song.
She knew it was time to come home.
In 1972, she stopped by the Santa Fe school district's administrative building to pick up a job application. She was working as a teacher at Atalaya by that afternoon because then-Superintendent Edward Ortiz needed to fill a vacancy.
She had no career plans in mind, she recalled. "I thought it was all by the seat of my pants," she said. "Here I was being led to my passion."
Working with immigrant students clinched it for Devoti. "I had my God moment," she said. "I realized they were just an open book, and the experiences they had in an academic environment could set them on a trajectory to success."
She also realized kids needed to be taught more than just reading, writing and arithmetic.
"We had to teach them they were respected," she said.
She and her staff have done that at Piñon.
"She taught me to treat each child as my own," longtime Piñon teacher John Garcia said.
For years, Devoti joked that, come next year, she would retire. But she never did, leading some to believe she might stay at Piñon forever.
"You have the choice and make the choice to stay," she said.
Vaca said a number of superintendents offered Devoti higher administrative posts. She turned them down.
"Moving up the ladder wasn't the choice," Devoti said. "I went into this for the kids, to be a problem-solver."
She hoped to lead the school for a full year following the end of the pandemic, but caring for her father is a priority now, she said.
"The good Lord is going to show me what's next in my life," she said. "I have to say OK and take the leap."
Come July, Devoti's assistant principal, Danielle Aagaard-Sais, will take over. Devoti said her successor is ready and able.
She has no regrets about her professional decisions.
"It has been a conscious choice to do what I've done," Devoti said.
"I've always worked to make this the best day ever — every day."