More than nine years after city voters said they wanted it and 40 days before the first ballots will be cast in the 2018 municipal election, the City Council has decided how ranked-choice voting will work in Santa Fe.
Councilors, deliberating the minutiae of a ranked-choice voting ordinance at great length Wednesday night, defined various terms to establish the "rules" of how a ranked-choice election would proceed — that is, how to handle different sorts of improperly marked ballots.
Ranked-choice voting permits voters to rank candidates for office in order of preference. If no candidate collects a majority of the vote, the last-place candidate is eliminated. Voters who ranked that eliminated candidate first see their votes transferred to their next-ranked choice, and the ballots are counted again.
This process continues until a candidate crosses the "50 percent plus one vote" threshold.
Notably, councilors unanimously approved an amendment to the ranked-choice ordinance that defines what constitutes a "majority" for the winning candidate. Rather than requiring the winner to get a majority of the total votes cast in the election, the new system would require the winner to get a majority of votes tallied just for "continuing" candidates, or those who aren't eliminated in the system's round-by-round ranking mechanism.
Intended to ensure a ranked-choice election produces a winner with a majority to comport with the city charter, that "majority" language is more in line with the "instant runoff" function envisioned by supporters of a ranked-choice voting system and would seem to preclude the possibility of a second, more traditional runoff following a Santa Fe ranked-choice election.
Councilors also approved a ballot design, though it was not immediately clear whether the state's election software provider, Dominion, could accommodate the city's choice, a horizontally aligned ballot used by the city of Minneapolis.
So councilors simultaneously approved a more vertical secondary ballot design option, one state Elections Director Kari Fresquez said would certainly work with the Dominion software, if the first option is deemed unworkable by Dominion within 48 hours.
While the city is still waiting for a state Supreme Court ruling on whether ranked-choice voting is constitutional in New Mexico, councilors unanimously approved the ranked-choice ordinance late Wednesday.
"I'm tired, but I feel really good about what we've done," Councilor Joseph Maestas said after the vote, at the tail end of the five-hour meeting, to laughter from his fellow councilors.
Councilors also decided five types of incorrectly marked ballots would prompt a system alert to the voter. The voter could then choose to submit his or her ballot as is or request a new ballot from a poll worker. A voter could request as many ballots as needed before casting a final ballot.
How to communicate the rules of the new format to residents before voters pick the city's first full-time mayor and fill four seats on the City Council in March is the next concern.
Ready to roll on the site were cartoon animals intended to help illustrate the ranked-choice format, as well as a cartoon owl mascot: "Olivia Owl says 'Ranked-Choice Voting is EASY!' " reads the text at the bottom of the city site.

Olivia's enthusiasm was not shared by some councilors, who expressed frustration with Dominion's absence Wednesday and an apparent inflexibility in what sorts of ballot design the voting software would accept.
"We seem to have our hands a bit tied here," Councilor Peter Ives said. "For those folks who have said, 'Oh, this is such an easy thing,' I wish I agreed with you."
City Manager Brian Snyder said he and other city officials had met with Dominion representatives earlier this week and that they had expressed an intent to be at Wednesday's meeting to answer questions. But city leaders received notice late Tuesday that Dominion officials had an unspecified "conflict" and could not attend, Snyder said.
Whether the long-awaited ranking format will survive to be used in the March election after all this is a question with no certain answer.
Appealing a lower-court order, the city's attorneys last week made the case to the state Supreme Court that a ranked-choice election format violates the state constitution, and they asked the high court to find the city's own charter unconstitutional.
While that case looms over the well-underway campaign cycle like a sword of Damocles, the city will, with ranked-choice election rules in place, deploy advertisements in print publications and on the radio; post how-to posters in recreational centers, senior centers, libraries and local businesses; host a mock election; distribute voting "ambassadors"; and send direct mailers.
The digital aspect of the city's voter-education outreach — the website, videos, social media posts — will begin to trickle out over the holiday period, city spokesman Matt Ross said, while the full-throated advertising outreach is scheduled to begin in the second week of January.
City staff — Ross, workers from constituent services and the clerk's office — will host "at least two" educational forums in each of the city's four districts beginning in early to mid January as well, the spokesman said.
"The goal is every voter knows when to vote, where to vote and how to vote," Ross said. "Every voter that's interested in learning about the more in-depth process of how the votes are calculated and counted will have access to that information as well. But our main focus is making sure people understand how to fill out the ballot and how to vote correctly."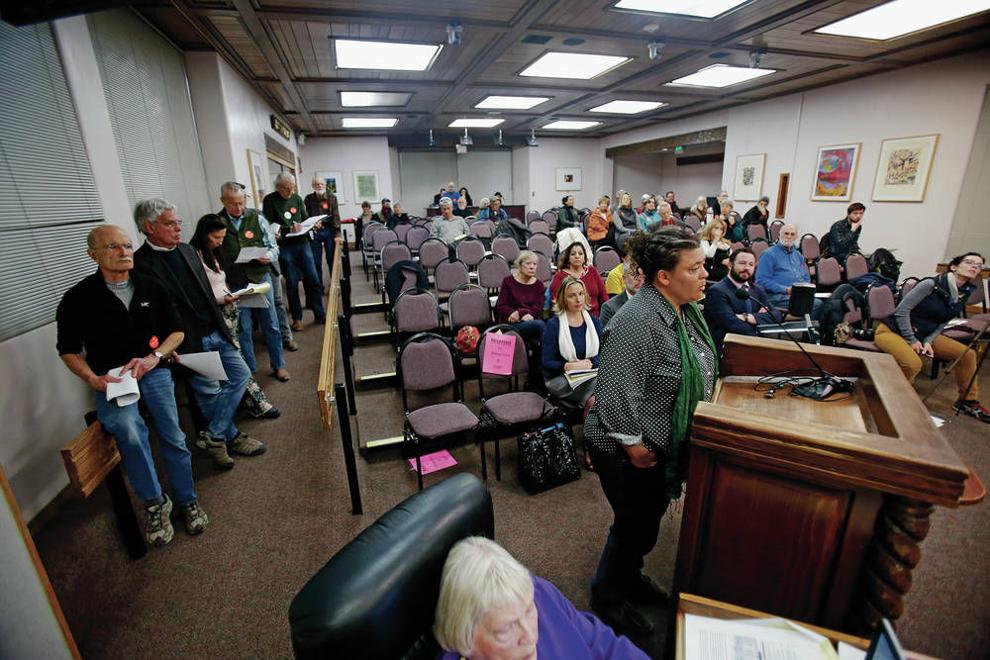 The city's appeal to the state Supreme Court prompted a three-justice panel earlier this week to order ranked-choice supporters to respond to the city's petition by Jan. 8.
Absentee voting begins Jan. 30. Early voting begins Feb. 14. Election Day is March 6.