Shortly after learning about President Donald Trump's zero tolerance policy regarding migrants crossing the nation's southern border without documentation, and the separation of children from their parents, Santa Fe sculptor L.C. Shank wanted to make a strong protest statement.
At first, he wasn't certain how best to express his opposition to a policy that seemed so at odds with the nation's history of welcoming immigrants.
Then Shank recalled a childhood visit to the Statue of Liberty, which he viewed as a "symbol of how America would welcome those folks seeking refuge."
He began working on a clay sculpture of Lady Liberty's crowned head, adding cracks and breaks in the artwork to signify an immigration policy he sees as being in distress.
Within the icon's hollowed head, he plans to place the sculpted figure of a migrant girl, curled up in a sleeping pose, as if seeking respite in a sanctuary.
The Minnesota-born artist, who has lived in Santa Fe for about three years, studied art and art history at the American University of Beirut and at the University of Washington. He also took mold-making and bronze casting courses at the California College of Arts and Crafts in Oakland, Calif., he said.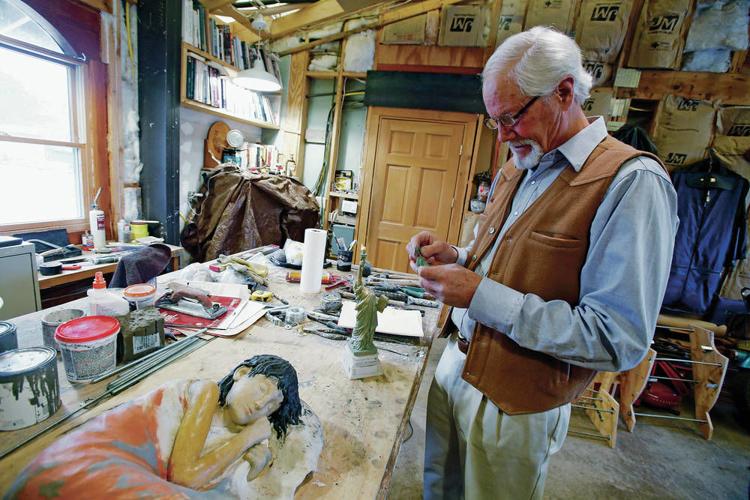 But he considers himself "mostly self-taught."
Shank often works on commissioned pieces, and much of his work incorporates animal figures — with an array of bears, ravens and frogs mixed into the lot.
While he does not necessarily see his work as political, Shank said, he prefers to create pieces that have a greater purpose. "I like the idea of making a statement with my art," he said.
His Lady Liberty head is not his first foray into political issues. Several years ago, he made a large sculpture of a leg trap to draw attention to state legislation proposing a trapping ban on public lands and temporarily displayed the artwork at the state Capitol.
(A similar bill, nicknamed Roxy's Law after a dog caught in one such trap, was introduced in this year's 60-day legislative session. But House Bill 366 stalled in a legislative committee.)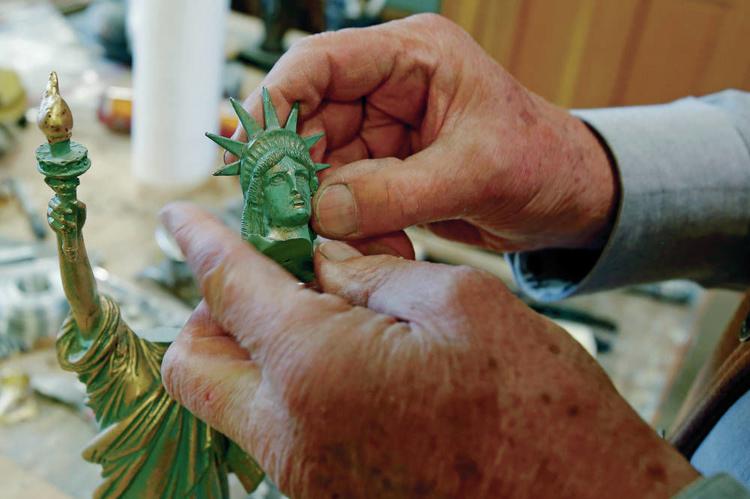 Shank said he could not recall specific details of his visit to the Statue of Liberty National Monument in New York decades ago. But the famous words engraved on a plaque at the entrance to the statue's pedestal — part of a sonnet by Emma Lazarus — stay with him: "Give me your tired, your poor, your huddled masses yearning to breathe free, the wretched refuse of your teeming shore."
The Statue of Liberty was a gift from France to the U.S. and was intended to be ready for the centennial celebration of the Declaration of Independence in 1876. But it was another decade before President Grover Cleveland officially dedicated the colossal statue, placed on a massive pedestal built on Bedloe's Island (now known as Liberty Island) in New York Bay.
Several years later, the U.S. opened a federal immigration processing center on nearby Ellis Island. As a result, migrants coming into the center passed by the statue, seeing it as a welcome and a sign of hope.
Shanks wants his Lady Liberty to play that role again. He's raising funds on a GoFundMe page to create a fiberglass model of the 8-foot-tall head that he can take on tour around the nation to remind people that "the Statue of Liberty represents American ideals of freedom, inclusion and tolerance."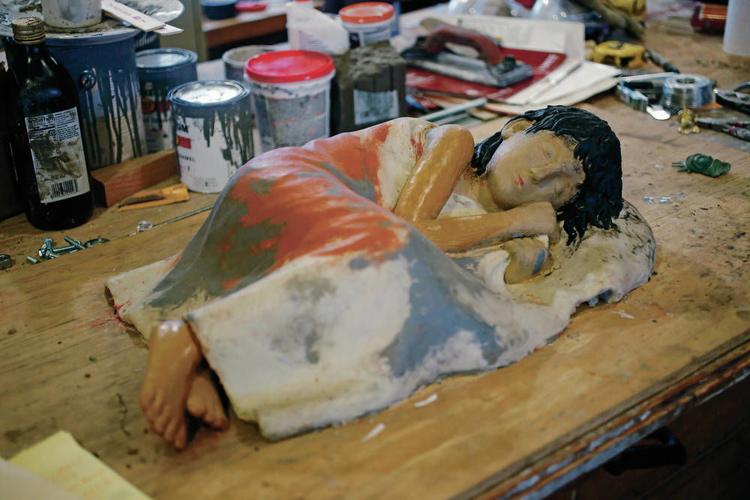 "She's an iconic symbol that represents who we used to be — and who we aren't any more," Shank said.