They hiked the Inca Trail. Rode camels in the Sahara. Got robbed at gunpoint in Peru. Ate chicken feet in Vietnam and sheep's brain in Tunisia, trout eyeballs and manta ray at other remote locations. When they arrived in Istanbul via the Orient Express from Bulgaria, they all had swine flu.
The Santa Fe family's two years on the road, a journey they call The Big Field Trip, was the kind of adventure most young families of five would never contemplate — or be able to pull off.
In 2008, Angela Smith Kirkman, her husband, Jason Kirkman, and their three kids — Cyrus, then 10; Bella, who had just turned 8, and Cruz, 3 — set off on a two-year trip to 12 countries on five continents, staying a few months in most places. They found accommodations via email, sometimes only after arriving. In some cases, they stayed just as long as a tourist visa would allow. Jason, a middle school teacher, home-schooled the children. Angela arranged for them to study local languages and take lessons in riding and guitar along the way.
Since returning home, they haven't lost the urge to experience new cultures — or weird new foods. In various combinations, and sometimes with other relatives, they've traveled to France, Turkey (again) India (also again), Italy, Austria, the Czech Republic, Chile, Argentina, Ireland and Germany. Earlier this year, they went to the Bahamas. Later this month, they are all setting off for an off-grid, solar-powered resort in Mexico — with Internet. A trip to France is in the works for the summer.
In addition, Angela is finishing a 90,000-word memoir of The Big Field Trip. And a piece by her will be published later this year in Asia Literary Review.
Angela, who grew up in a small German Catholic community in Kansas and never traveled much as a child herself, said, "I wanted my kids to see there are different ways of looking at the world, different ways of doing things — different religions — that would help them become more empathetic."
The kids, all smart, open-minded and seemingly well-adjusted, say it worked.
Cyrus, now 17 and a student at the Academy for Technology and the Classics, said, "I feel a lot more open to other cultures than my peers. And [the trip] helped my education a lot."
Bella, now 15 and at the Santa Fe Girls School, said The Big Field Trip "helped me embrace other people's cultures and ways of life and helps me see the different lifestyles of each country."
Angela and her husband, who grew up in upstate New York, already had the travel bug when they graduated from Colorado College. Putting aside their newly minted diplomas, they hitchhiked to the border and spent four months traveling in Mexico and Latin America until their money ran out.
Back home, they began working on their careers and starting a family. Jason became a teacher at Carlos Gilbert Elementary School, and Angela started a translation business that is now thriving. Today, she has 250 translators who convert medical documents into English. Currently, for example, five of her employees are working on a German-to-English translation of a document for the pharmaceutical company Pfizer.
Once their children were of more "portable" ages, they decided they were ready for another adventure, this one as a family of five.
At first Jason sought a teaching job at an international school, but he soon found that such schools were looking for unmarried faculty. So they decided they would have to do it on their own.
One big factor that made it possible was changing technology — the Internet. By 2008, it was available worldwide. In fact, a week after arriving in India, the Kirkmans were online, Jason said.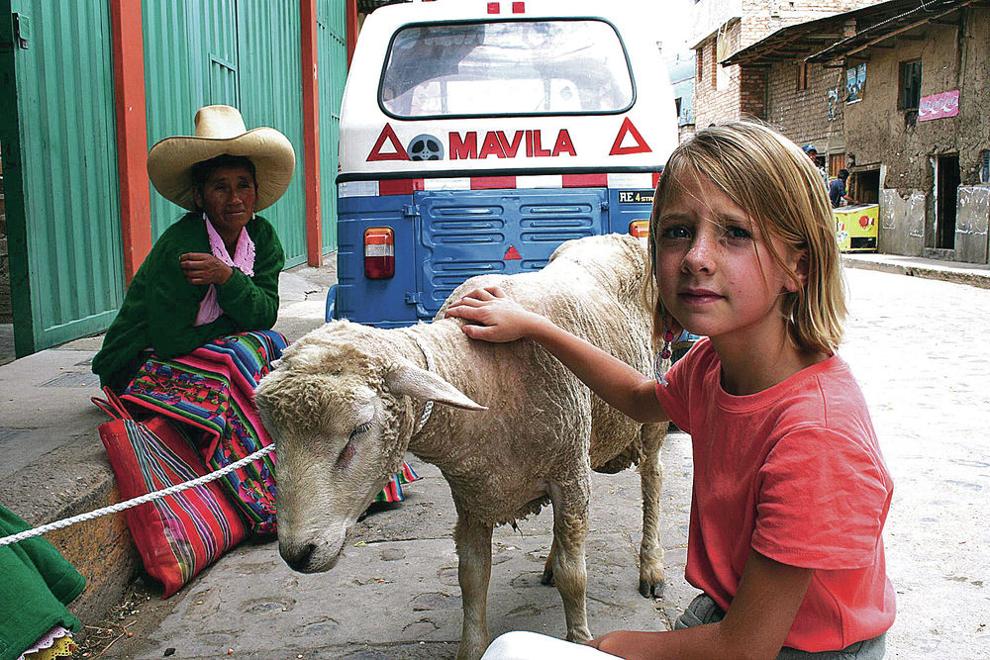 The Internet enabled Angela to continue running her business from the road. By renting out their home for additional income — and staying in places where the cost of living was much lower than Santa Fe — the Kirkmans were able to make the adventure work.
Angela and Jason each prepared a detailed, multimedia itinerary and presented it to the children for a vote.
Angela suggested a tour of the Mediterranean. Jason proposed something far bigger, going around the world. "I thought it was ludicrous," she said.
Jason said he "had to convince her it wouldn't be more expensive."
The kids went with their dad's plan.
He started organizing: buying tickets to Peru, looking for places to stay. There was no Airbnb.com, so they relied mainly on friends and connections abroad. "We tried to live with [local] people whenever we could," in order to have the best experience, Angela said.
Sometimes they had great success with simply booking a hotel for a few days, then asking around for accommodations. "In countries where we did that, we usually liked it better — and it saved us money," Angela said.
Because he was going to home-school the children — and couldn't travel with mounds of workbooks and teaching materials — Jason got himself an iPod and Sony e-reader and loaded them up with enough books for practically a lifetime.
They got a grant to set up a website where they would post photos and travelogues and the children's homework assignments.
Before leaving, Cyrus and Bella visited fifth- and sixth-grade classrooms to give presentations on The Big Field Trip.
Students in Santa Fe followed them on their journey, sometimes sending them questions about food, animals and local culture.
On the road, Angela sought out instructors to give the family language lessons. For her, she said, that's the best way to learn local culture, "and puts you in a different category of tourist. You're not just there to take photos."
She arranged other lessons for the children in each place. Bella learned horseback riding in Peru. Cyrus studied capoeira, a 500-year-old Brazilian martial art. They took guitar lessons and language lessons everywhere.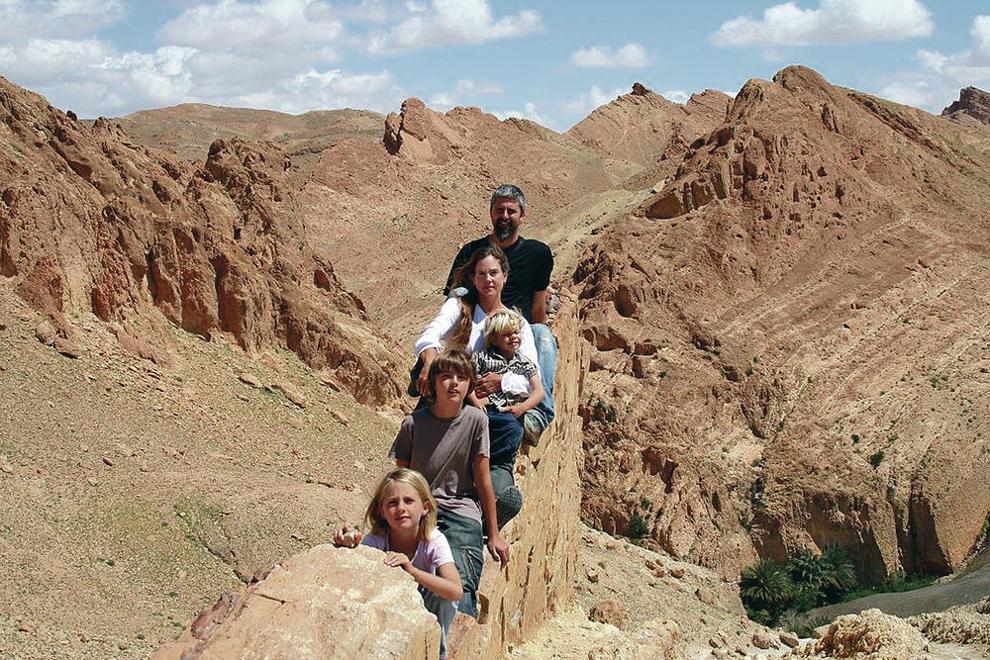 Jason, an enthusiastic cook, found local people to teach him to make traditional dishes. Sometimes he would just walk into a restaurant and ask the chef to help him. He's posted many of the recipes he perfected on the family blog, including those for caponata, an eggplant relish; fried potato balls from Bulgaria; and mechouia, a roasted chile pepper salad from Tunisia.
They got into the habit of eating like local people, which sometimes meant just a bowl of rice and handful of lentils.
Cyrus posted a report from the town of Alhama de Granada in Spain, where he told friends about the family's five-story house, the two English boys who were their neighbors and the formally dressed men who sat in the park all day, even when it was "super hot." Bella, he said, "likes to feed the dogs around the restaurants."
The following year, Bella posted her own report about some words they had learned in Turkey from a man called Alper. Please is loot-van, she wrote.
There were some crises. They were robbed at gunpoint in Peru. Cruz says he got a black eye in Bulgaria, cracked his head on a swing in Peru, broke his leg in Brazil and was run over by a motorcycle in Vietnam.
The hardest thing for them, however, was missing friends. Cyrus would Skype with a couple of friends once a month. In India, where a lot of children spoke English, he found friends with whom he played cricket. One of Bella's best memories was teaching Thai girls how to make friendship bracelets, a skill she learned in Bulgaria. And, she said, "We had each other."
But the children said that as soon as they got home, they were ready to get back to regular school and old friends.
The return home came with a bit of culture shock. Cyrus remembers the huge meal they were served at Chile's after landing at the Chicago airport — and the size of the U.S. passengers.
Although the family traveled light — five backpacks and an equal number of carry-ons among them — they did make it a point to send a box of mementos back from each country as they were leaving it. Each one included a letter written by each of the children addressed to their future selves about what they had learned.
After they returned, they hosted a party once a month for friends, family and those who had visited them along the way. They would open each box and relive a segment of The Big Field Trip.
And the wall hangings, photographs, sittar and guitar in the living room of their home south of Santa Fe are there to remind them every day of their epic adventure.