A raucous crowd of 200 to 300 people gathered at the Roundhouse on Wednesday to show support for President Donald Trump, but the mostly peaceful rally in no way resembled the shocking, destructive and deadly riot in Washington, D.C., where demonstrators stormed the U.S. Capitol.
There were bitter words and deep emotions but no significant violence.
The New Mexico protesters — few of whom wore masks — waved American flags and banners that ranged from "Stop the Steal" to "Don't Tread on Me." Some lined the street cheering loudly as passing cars honked in solidarity. A military-style truck painted in camouflage drove past repeatedly and blasted its horn, firing up the crowd.
Many Roundhouse protesters continued to voice their distrust of election results, though no lawsuits by Trump or his supporters challenging the outcome have stood up in court.
Antonio Martinez of Albuquerque said he questioned the vote count, finding it suspicious that President-elect Joe Biden received so many votes.
"You think someone who can't form a sentence gets more votes than [Barack] Obama?" Martinez, 26, said. "That's kind of hard to believe."
Holly Branch of Albuquerque waved a huge American flag and wore big white sunglasses and sequined red tights.
"We can't let something like election fraud stand without a full investigation," she said.
Nearby, a man named Edward sat in a wheelchair with an assault rifle cradled close to his body.
He said he works with disabled veterans in Deming, where he lives. Speaking quietly, with measured tones, he said he doesn't feel like "we got a fair shake with this election.
"I have some serious doubts about how this election was carried out," he said. "Having confidence in the election process is pretty important."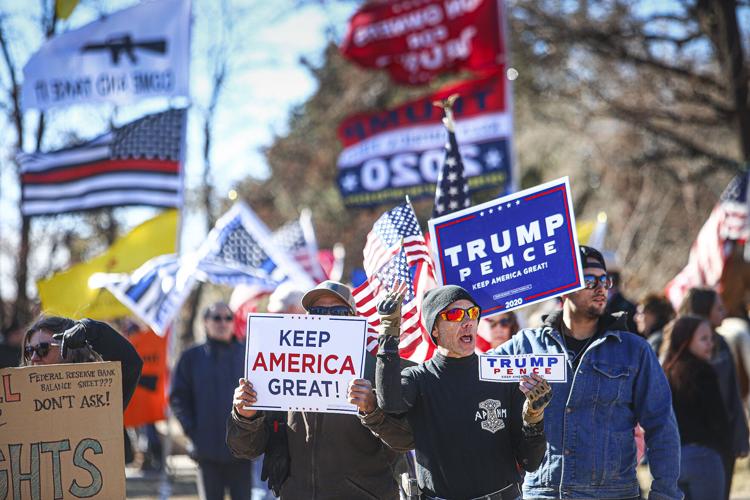 Wednesday's protest was far from the first of the season — pro-Trump demonstrations have been common, usually on Saturdays, in the weeks since the election. As with other rallies, some people came with their horses and banners, determined to have their say on the day Congress was to formalize Biden's election.
Scott Chandler, 49, hauled his horse, Tornado, 300 miles from Deming to protest what he deemed a fraudulent election. He criticized the U.S. Supreme Court for refusing to hear challenges to the election, including a lawsuit brought by 17 state attorneys general.
"All that does is give more people reason to doubt," Chandler said. "We should have our day in court."
When asked about the roughly 60 lawsuits that lower courts rejected because they lacked evidence of widespread fraud, he said these were more examples of bad rulings.
Some offered little to back up their beliefs that the election was stolen, other than it seemed wrong.
"Trump won — there's no question," said Irene McKenzie of Albuquerque. "The people who are doing this are, I don't know, they're bad people. The fraud by itself proves it. All the votes Biden got, they know belong to Trump."
One of the speakers at the rally — Karen Bedonie, a Republican who ran unsuccessfully for the U.S. House seat in the 3rd Congressional District last year — told the crowd the fight is a moral, spiritual and political one.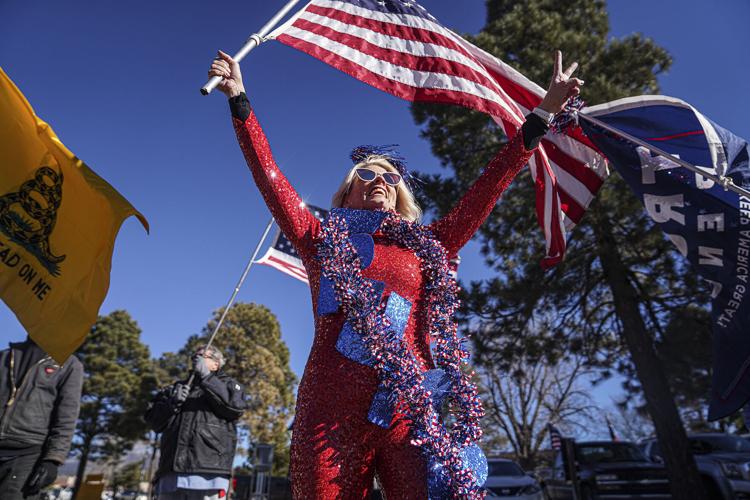 Some in the crowd cheered when she said protesters in Washington were storming the Capitol.
"We're gonna get blamed for the worst parts that are happening," she said, urging the crowd to "love one another, pray for each other, pray for our enemies."
Other speakers from Cowboys for Trump and the New Mexico Freedoms Alliance urged the crowd to support Republican lawmakers in supporting legislation that speaks to who they are as conservatives.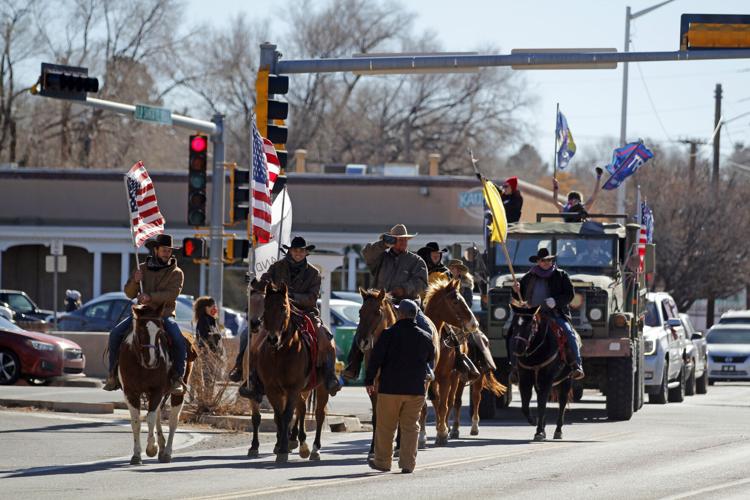 Police presence was not readily visible in the early stages of the rally, though about six officers were seen on the perimeter. But more than a dozen state police vehicles converged on the area when tensions reportedly flared between some pro-Trump protesters and a few counterprotesters across the street from the Roundhouse.
Chaos ensued for about a half-hour while one protester blared through a bullhorn that police should arrest real criminals and not patriots exercising their constitutional rights.
Afterward, a counterprotester drove a truck with BLM — for Black Lives Matter — and an expletive about Trump painted on the sides.
He riled up Trump supporters as he drove past them slowly. One woman hopped onto the truck bed and offered him a middle finger.
The woman, Nadine Trujillo, 41, said she backed the D.C. protesters who invaded the Capitol.
"I do not think it was going too far," the Española woman said. "We must acknowledge and invoke our U.S. constitutional rights — the act of 1776. We have to stand up and we have to be present for the future of our children, our grandchildren."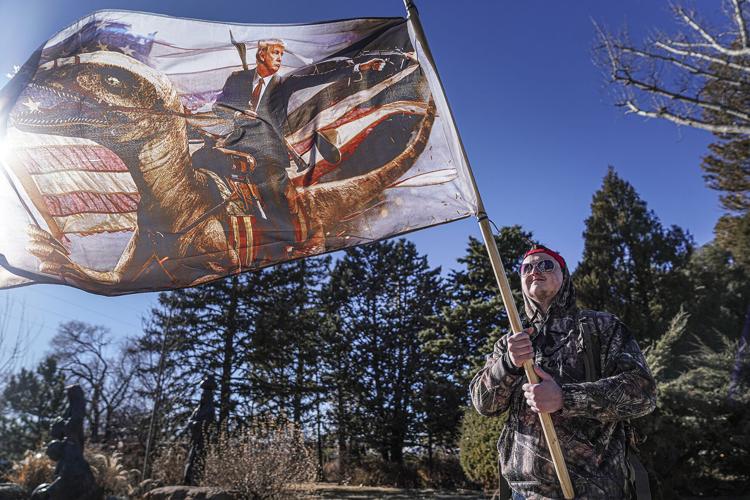 The demonstration went beyond opposition to election results, with participants and speakers bashing the state's public health policies that call for face coverings, limited group sizes and restrictions on business activities.
After a briefly festive atmosphere with loud music, a group of speakers called Gov. Michelle Lujan Grisham's policies tyrannical and illegal.
"Do not comply, and stop wearing those stupid masks!" an unidentified female speaker exhorted.
Neither the Governor's Office nor the state Department of Health would comment on the protesters flouting rules imposed to slow the virus's spread. They merely reiterated that precautions such as donning masks work.
"Mask-wearing, physical distancing and other measures are how we protect our families, friends and communities," Health Department spokesman Matt Bieber said. "They're how we keep our most vulnerable neighbors safe. They're how we save lives."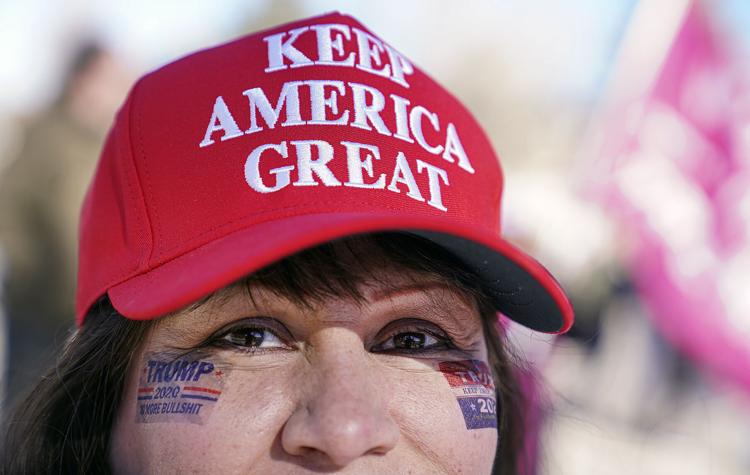 As the main protest waned, a rowdier group started shouting that Lujan Grisham should be arrested.
The state Republican Party issued a statement midday condemning the violence at the U.S. Capitol.
"While we support the right for free speech and to demonstrate peacefully, such violence and threatening actions cannot be tolerated," said state GOP Chairman Steve Pearce.
At the same time as the rally, the Legislative Council, a group of legislators from both parties, was meeting to discuss the upcoming session.
At the end of the meeting, Raúl Burciaga, director of the Legislative Council Service, updated lawmakers on the situation. He said the number of protesters had "thinned considerably" and that there were probably only 50 left on Old Santa Fe Trail.
"As far as I can tell," he said, "the only thing they may have left behind are some horse droppings."
"How appropriate," Rep. Liz Thomson, D-Albuquerque, wrote on Twitter. "What they left is what they are peddling."