Michele Williams couldn't see anything the night she sprinted down a dark alley in pursuit of a burly domestic violence suspect.
A rookie officer at the time, she caught up to the man, who had escaped from police with handcuffs on, and tackled him. But she struggled to control him. The man, Williams later discovered, had managed to flip the handcuffs in front of his body.
"All of a sudden when my eyes adjust, I'm like face to face on the ground with this guy," Williams recalled. "He tried reaching for my gun, and I just remember having this whole thing of like, 'This is a bad position.' "
Even as she fought for her life, Williams took a deep breath.
"I was like, 'This guy is bigger, faster and stronger than me. Why am I sitting on the ground trying to outmuscle him?' It's like, 'Step back. Pepper spray. Ask for help.' And we got him back into custody," Williams said.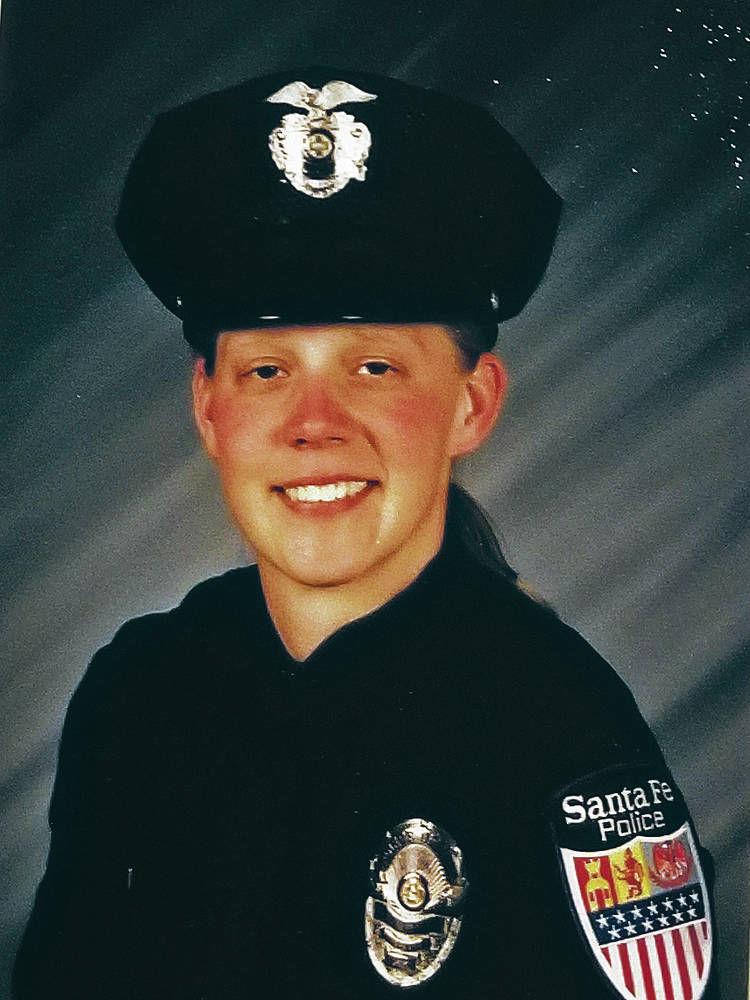 Nearly two decades after one of the scariest encounters in her law enforcement career, the Santa Fe police lieutenant can take another deep breath. Williams, the highest-ranking female officer on the force, retired Thursday — a bittersweet moment for a woman who calls police work the best job in the world.
"I felt like I really hit a glass ceiling and there just wasn't other opportunities for me," Williams, 41, said during a wide-ranging interview with The New Mexican at a homeless shelter late Wednesday.
"I've been in many different positions in the department, and I really was not going to get any other opportunities to do that," she said from the Interfaith Community Shelter at Pete's Place. "If I'm not going to flourish here anymore, then go where you're going to flourish."
Williams developed a good working relationship with the shelter's executive director during her time as a police officer and had gone there to personally tell him she had retired.
Williams declined to elaborate on why she thinks career advancement opportunities were limited at the Santa Fe Police Department.
"I don't like to lie, so I can't tell you the truth," she said, grinning.
Williams said she has never applied for the top job. "After lieutenant it's captain, deputy chief and chief. Lieutenant is the [highest] tested position. Captain and above is all exempt. So the chief has been hand-selecting those promotions."
"At least I earned it," she added.
When asked about her least favorite part of the job, Williams touched on the challenges women face, not only in law enforcement but in other careers and workplaces.
"You're going to put me in that position again where it's like, I don't like to lie, but I can't tell the truth, either," said Williams, who won a 2017 award from the Santa Fe Professional Business Women for mentoring other women in the police department.
"I'll sort of go off topic, but I'll tell you why. Did you see the impeachment hearings? Did you hear Dr. Hill? Fiona Hill? Did you hear any of her testimony?" she asked, referring to the former White House national security adviser who testified in the impeachment hearings of President Donald Trump.
"I can't remember exactly what the Ukraine thing that was happening, but she was talking with [U.S. Ambassador to the European Union Gordon Sondland] about something, and she said, 'I got upset about it. I admit it. I was rude and I whatever,' " Williams said.
"You know," Williams added, "when women do that in the workplace, people view it like hysteria. It must be hormones and hysteria. When women get upset, then people have a tendency to kind of disregard it as being less serious. It's just women being women. So I think probably the hardest thing about it, particularly as a female leader in the department, is trying to be taken seriously and not be viewed as hysteria. Not be dismissed."
In a statement issued by the police department before The New Mexican's interview with Williams, top brass offered Williams congratulations on her "career achievement" in law enforcement.
"We wish her the best of luck as she enters retirement and in her future endeavors," Deputy Chief Ben Valdez wrote.
Valdez declined to comment on Williams' assertions that she had hit a "glass ceiling" at the police department.
"A response was previously provided on behalf of the department concerning the retirement of Lt. Michele Williams," he wrote Friday in an email. "Again, we congratulate Lt. Williams on her retirement, thank her for her service to our community and wish her the best of luck in her future endeavors."
In his Wednesday statement, Valdez said female officers make up 13 percent of all sworn personnel at the Santa Fe Police Department, the same as other law enforcement agencies nationwide who participate in the Federal Bureau of Investigation Uniform Crime Reporting program, also known as UCR.
"The percentage of sworn female officers in the state of New Mexico stands at 10 percent," Valdez wrote. "Based on the data available from UCR, for the past 10 years the Santa Fe Police Department has employed a higher percentage of female sworn officers every year in comparison to the state of New Mexico. In comparison to agencies nationwide, Santa Fe Police Department has had a higher percentage for seven of the 10 years, with the remaining three years the same percentage as the nation."
The department has had only one female chief, Beverly Lennen. Williams said her departure leaves only one female sergeant in a leadership role.
"There's only one female supervisor in the department left, and I was the only administrator — the only female administrator," she said.
The department has "not solely focused" on recruiting female officers but "actively recruits" both men and women, according to Valdez.
"Our department is comprised of women and men who come from different cultures, experiences, lifestyles and education in an effort to be a reflection of the community we serve," he wrote.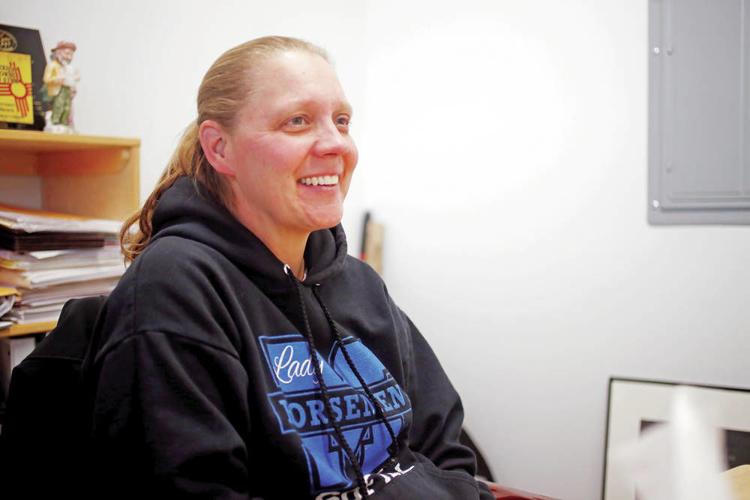 Williams didn't set out to be a cop.
She grew up on a farm in Pennsylvania, and was still in college and an equine studies major when she came to Santa Fe to work as a horse wrangler at Bishop's Lodge to see if it was a career she really wanted to do the rest of her life.
"I've always had horses and farm animals," she said. "My parents raised pigs and cows and big old gardens and all this stuff, so I've just been a simple country girl, I guess."
While living in New Mexico, she said she worked with a corrections academy trainer who tried to recruit her to work in the prison system.
"I almost did it and then I thought, 'I don't want to be in jail all day,' " she said.
Williams said she instead "cold called" the police department to inquire about career opportunities. Former Deputy Chief Ray Byford, a police recruiter at the time, picked up the phone.
"I'll never forget what Ray Byford said, and I tell it to people now. He's like, 'This is the best job ever,' and I tell people that, too, because it's absolutely true," she said. "It's the best job ever. It's so rewarding. I love it."
Williams joined the police department in April 2001 as a cadet. After graduating from the New Mexico Law Enforcement Academy, she served as a patrol officer and later was promoted to detective, patrol sergeant and then detective sergeant before becoming a lieutenant.
As a police commander, Williams was assigned to the Criminal Investigations Division, among other duties, and completed her career in administration, according to Valdez.
Williams "also served in collateral duty assignments during her career as a field training officer, bike patrol officer, domestic violence instructor and firearms instructor," Valdez wrote, adding she was instrumental in the relaunch of the city's Law Enforcement Assisted Diversion program, known as LEAD, which recently was replaced with a more expansive program called THRIVE.
Williams said she's excited about the future but plans to take a break and "decompress."
Though she declined to talk about Chief Andrew Padilla and the job he's doing, Williams wasn't shy about sharing her opinions on other matters, such as officers who commute from Rio Rancho and other long distances in city-owned police vehicles.
"If they want officers to live here, they need to figure out a way to make that happen instead of just saying, 'We don't like the Rio Rancho thing,' " she said. "If whatever their vision is for the police department, action makes that happen. Conversations do not."
Williams doesn't bemoan officers who live outside the city, but she said living in Santa Fe makes a difference.
"I drive past the shelter to go to the grocery store," she said while sitting in the office of Joe Jordan-Berenis, executive director of the Interfaith Community Shelter. What affects Jordan-Berenis and residents who live near the homeless shelter also affects her, Williams said, "because it's my community."
Williams has been involved in the community. She coached girls softball at St. Michael's High School for a couple of seasons. She likes the small-town feel of Santa Fe, especially since she grew up in rural Pennsylvania.
"I'm not a big snow fan, but when it snows this weekend, I'm going to go snowshoeing," she said. "That's the thing. When you live in Rio Rancho, you can't do that."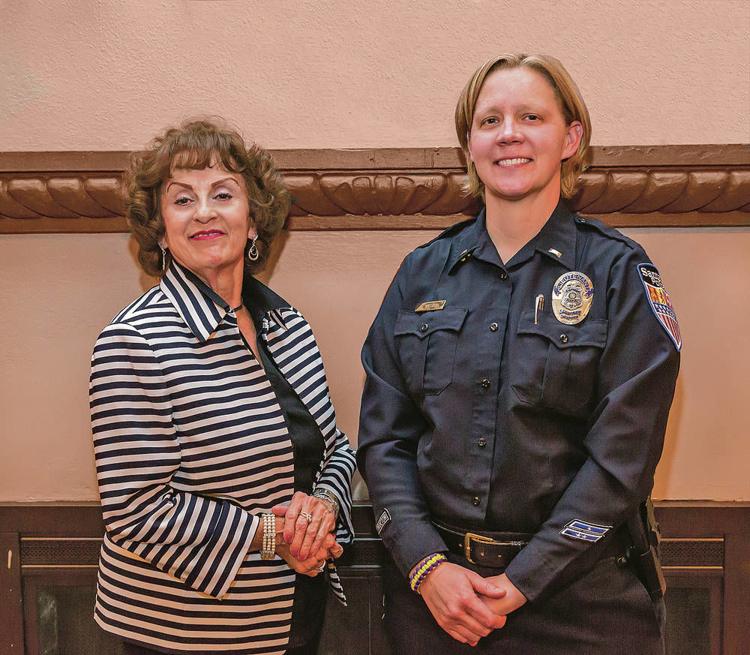 Williams has been outspoken in the past.
In 2007, for example, she was among officers with the police union who proposed a no-confidence vote on former Chief Eric Johnson.
She also made news the following year when former City Councilor Patti Bushee threw her a strand of beads during the city's gay pride parade. Bushee was the parade's grand marshal that year. After Williams put on the necklace, her supervisor told her to take them off — an order she resisted.
"I would feel weird taking them off in front of everybody, like it was rude," said Williams, who had been directing traffic.
Williams said she would handle the incident differently today.
"Yeah, it was out of uniform. That was the technicality that the supervisor was upset with, and he was right. I get it," she said.
Williams said she still has the beads.
"When I have my retirement party, I'm wearing those — no doubt," she said, smiling.
Williams, who has a bachelor's degree in psychology from the University of New Mexico, said she is in graduate school, pursuing a master's in industrial organizational psychology, which she expects to bring "a lot of opportunities."
"Now I gotta figure out what I want to do when I grow up all over again, which is good and exciting," she said.
Williams said she's certain she'll miss being a police officer.
"Of course I'm going to miss it," she said. "Best job ever. Best job ever."
Follow Daniel J. Chacón on Twitter @danieljchacon.