SAN PEDRO — For the past 34 years, Roxanne Swentzell has worked to save the seeds of her ancestors.
"I remember getting a small pouch of a variety of Pueblo white corn that had been passed down from my great-great-grandmother," said Swentzell, pulling out an ear of Pueblo red meal corn from a large storage bin at the Flowering Tree Permaculture Institute's San Pedro Homesite — a farm, permaculture teaching center and future seed bank just outside Santa Clara Pueblo.
"I grew it out [planted it], and the mice got it," she added, returning the piece of corn to the bin of red, maroon and near black-colored cobs. "I was so devastated when I realized that it [the last variety of its kind] just ended."
That sense of loss is something Swentzell, the institute's co-founder, and other Indigenous seed-savers in New Mexico are trying to remedy.
In the past few decades, a growing movement to promote seed-saving — the practice of keeping seeds from the current harvest to plant in subsequent harvests — has taken root in hopes of reclaiming and expanding Native foodways and crops after centuries of land loss, theft and displacement.
"It's grown quite a lot," Clayton Brascoupe, founding member and director of the Traditional Native American Farmers Association, said of the movement.
"When we started farming in Tesuque in 1973, we began growing just a few seeds," Brascoupe, of the Mohawk and Anishinabeg nations, said of his family-run farm in Tesuque. "We began to learn more about what our community grew previously, and since then, we've found a lot more [native seeds]."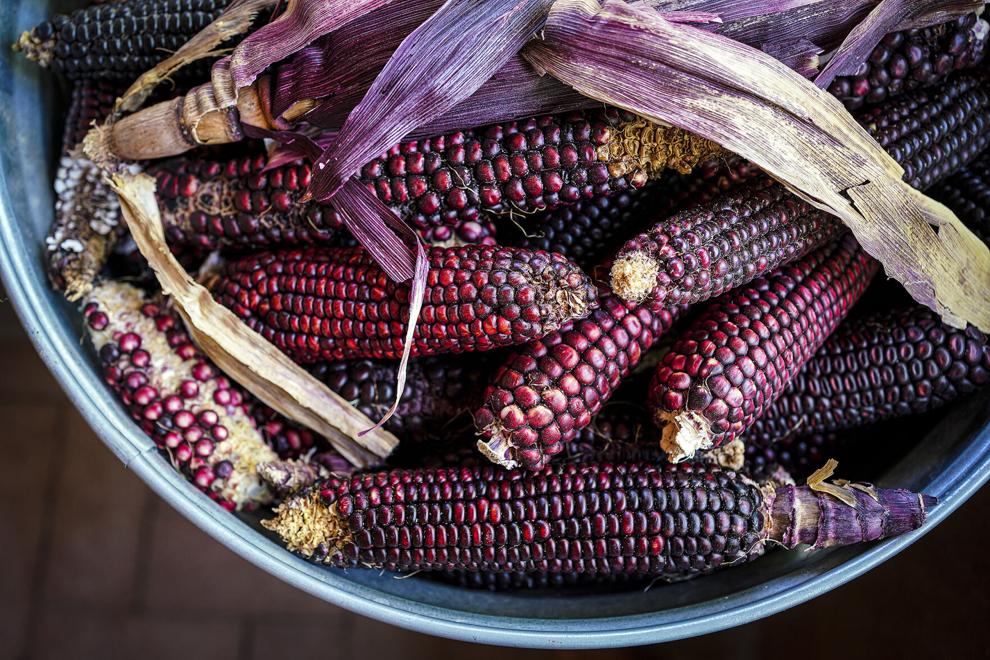 During the coronavirus pandemic, the movement for Indigenous seed sovereignty — and with it, the return of healthy, sustainable and culturally significant crops — expanded greatly.
"Food sovereignty is so important at this moment," said Chrissie Orr, who has worked with dozens of New Mexico seed-savers after co-founding the arts and agriculture collective SeedBroadcast. "COVID showed how fragile the corporate capitalist food system is. The more we have access to healthy, local foods and seeds, the better."
That access has not been easy. In 1987, when Swentzell co-founded the nonprofit Flowering Tree Permaculture Institute, seeds native to the pueblos located along the Rio Grande in Northern New Mexico were difficult to come by as fewer and fewer Pueblo people were growing traditional crops and saving seeds.
"The reduction in our lands and water had a huge impact," Brascoupe said of the loss of Indigenous lands and its seeds through colonization. "We're constantly trying to protect our seeds."
"So much was lost," agreed Swentzell, a celebrated artist and author from Santa Clara Pueblo.
At the pueblo, Swentzell began looking for native seeds. The institute wanted to "set up a site that would be a showpiece for permaculture practices here in the high desert," she said, looking toward a nearly completed complex that includes a greenhouse, turkey pen, beehive, and new and larger seed bank.
"It made sense to be growing crops that had been here for generations," said the mother of two and grandmother of four. "Well, the pueblos have been here a long time and had crops that were very adapted to our environment."
The first seeds came in 1987 from "friends of friends" who had a small seed bank in nearby Ohkay Owingeh Pueblo. However, before they acquired the seeds, kids set fire to the seed bank, leaving just a few varieties intact.
"It made you realize just how fragile it can be," Swentzell said, noting how many of the varieties of seeds at the bank had likely been lost forever.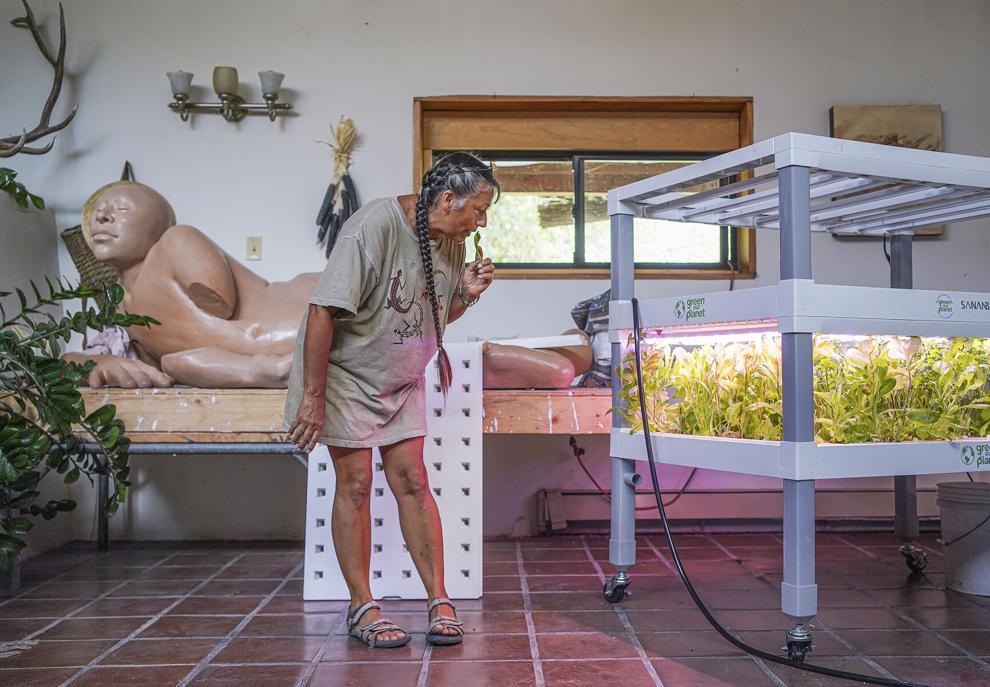 In the decades since, the institute has collected hundreds of unique varieties of seeds. More than half are heirloom seeds native to the Southwest. Some are likely the last of their kind.
"All the seeds at the bank are handed down from those that continue to grow a particular variety of a plant," Swentzell said as nearby a group of interns stuccoed the inside of a windowless adobe building that will become the new seed bank.
"Dark and cool," Santiago Romero, a volunteer who has been working with Swentzell since he was a teenager, said of the optimal conditions to keep seeds.
"Rematriation" — a term that refers to the restoration of feminine seeds back into the communities of origin — has become increasingly common throughout the U.S., with seeds being recovered not only from local farmers but also from seed banks, museums and universities.
The Indigenous Seed Keepers Network, which has a mission to nourish and assist the growing seed sovereignty movement across North America, has found 1,000 varieties of seeds linked to Native American tribes and has organized 60 rematriation events that return seeds to tribes across the country.
"Much of the importance of revitalizing our traditional foodways and bringing back these heritage varieties of seeds is that they are a cornerstone to our cultural identity and our understanding of who we are," network founder Rowen White said in an interview with Modern Farmer, a food news and media website.
Over the years, the Flowering Tree Permaculture Institute has grown numerous Indigenous varieties of native corn, beans, squash, amaranth, tobacco and other crops, also with the goal of furthering Pueblo traditions and strengthening communities.
For Swentzell, who wrote a book about the dramatic benefits of eating native crops, these varieties are healthy, delicious and parts of the symbiotic relationship between the crops and the people who have long cultivated them.
"It takes 20 generations of any species of plant, animal or insect to adapt to a location," Swentzell said, recalling an article she read in a science magazine years back. "If we have been in a place for 20 generations, eating the plants and animals that have been there for 20 generations, then everything starts to line up. Generations and generations have adapted to each other in this beautiful dance."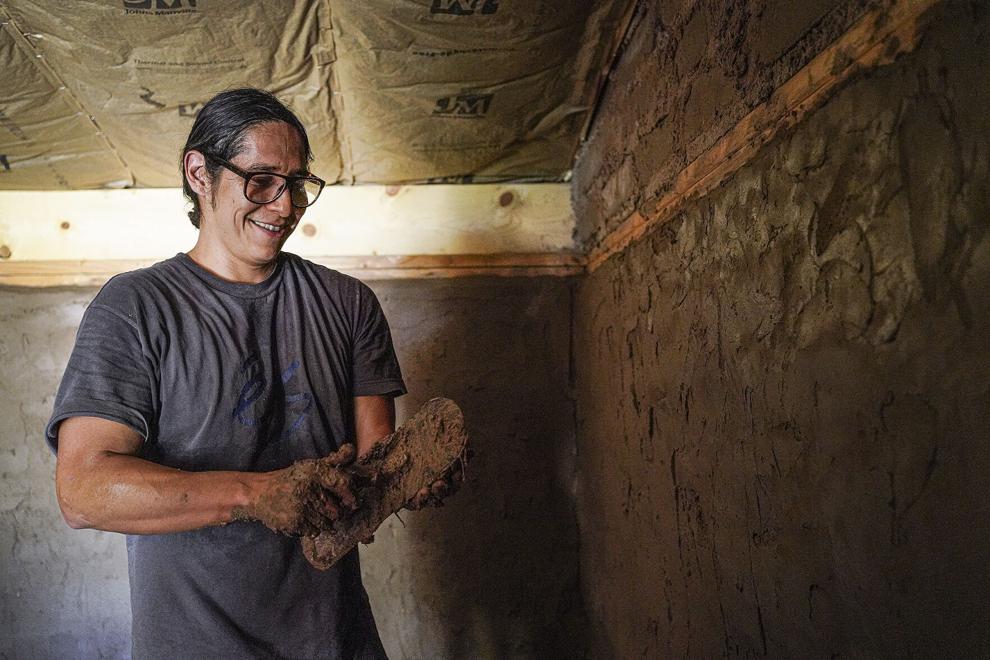 Some of the seeds from the harvested crops at the institute will be collected, stored and given to people in Pueblo communities first "as they belong to us and us to them," Swentzell said. "But I've shared some seed with other folks when it feels right to."
Last year, Swentzell provided a variety of seeds to 30 families in Santa Clara Pueblo.
"It's powerful, when people start growing not only their own food but food that is part of their history and culture," she said.
Amaranth, a plant that was eradicated from Pueblo lands by the Spanish, speaks to that history, Swentzell said.
"When the Spanish came, they didn't know about amaranth or corn," she said, adding the grain was allowed to be planted after the Spanish realized they could feed it to their livestock.
Initially, the Spanish forced the Pueblos to grow imported wheat.
"In order to make Pueblos grow what they wanted, they outlawed growing amaranth," she said. "That's how we lost our crop."
Hundreds of years later, amaranth has returned.
The plant, with its vibrant midsummer red leaves, is scattered around the San Pedro property. The young leaves can be eaten when "cooked like spinach," Swentzell said, and its nutritious grain can be boiled, baked or ground into flour.
"Bringing it back in is pretty special," Swentzell said. "It's relearning something that has been part of us for a very long time."