"How do you get this thing on?" said June Keyser, grunting as she pulled a teal helmet over her curly blonde hair.
She was standing near the helmet rack at New Mexico Bike N Sport on Friday in the Coronado shopping center on Cordova Road, picking out safety gear for the new bicycle she won by participating in the Santa Fe Public Library's summer reading program.
Eventually, she settled on a pink helmet that fit her head a bit better. Keyser, 5, was one of 16 local children to win a free bike.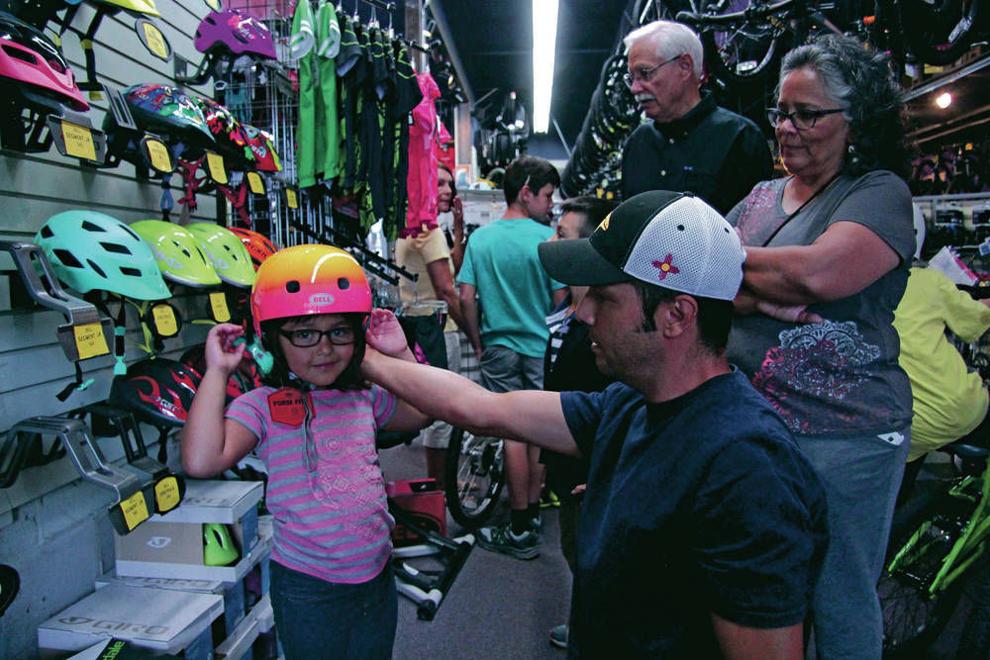 The reading initiative was sponsored by the Santa Fe Public Library and local bike-focused nonprofit Santa Fe Century. The Century board of directors donated the prizes, a news release said, and Bike N Sport sold bikes, helmets and locks to the nonprofit at a discounted price.
The reading competition drew a record number of participants this year, with more than 1,500 children keeping logs of the books they read over the summer. The names of those who completed the program were put into a drawing.
Dylan Alejandro, 8, said his favorite books were about zombies and the video game Minecraft. He doesn't think it was his reading that won him the bike, though.
"I was secretly crossing my fingers behind my back," he said.
As kids ran in and out of the store, 5-year-old Andrea Alcorta waited patiently by the pink-framed bike she had picked out for herself.
She also selected a pink-and-yellow helmet that she liked because it looked like the sunset. She waited until most of the other children were loading bikes into cars before she tried out her new training wheels around the Bike N Sport shop.
Alcorta has another bike at home, grandmother Doreen Saiz Adler said, but not quite as nice as her new one.
"Well, how cool is that?" she said, watching her granddaughter pedal around the store.